Fun Easter Activities & Crafts for Kids
From Easter bunnies to crosses, Easter crafting is such a fun way to celebrate this significant holiday with the kids!
With that said, engaging in fun Easter activities can be another fun way to spend your Easter week.
Check out some of my favorite choices for simple Easter fun!
Religious Easter Egg Activities
Spend Holy week celebrating the true meaning behind the holiday and rejoice in the fact that Jesus lives with these great Easter Activities for kids!
I remember doing resurrection eggs as a young child and it was always the highlight of Easter Sunday for me.
Seriously though, these are so much fun!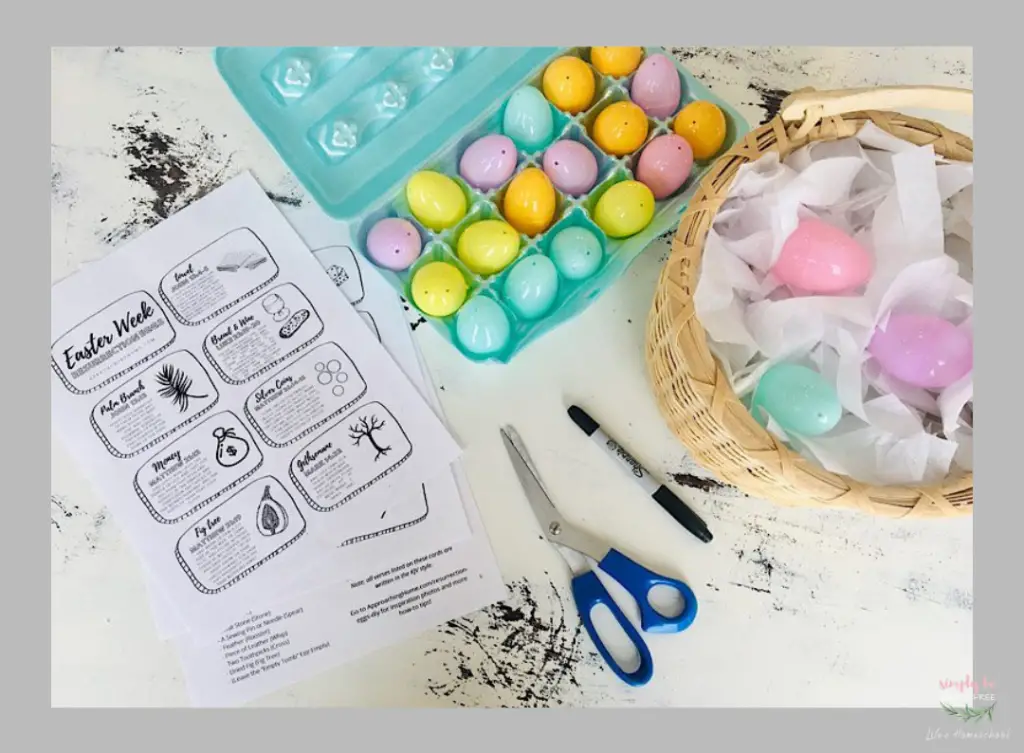 Celebrate Easter with these incredible resurrection eggs via Approaching Home. Not only are they beautifully done, but they include a 3-page FREEbie complete with bible verses, graphics, a cheat sheet, and a list of objects to get for your eggs!
If you want to lean a little more on the traditional or simple side, these resurrection eggs via Saving Talents are a great go-to! They too include a free printable that includes paper strips with bible verses, bible references, and simple supplies for each egg. This one is a great option for older kiddos.
Egg Dyeing Easter Activities
If your idea of an Easter egg activity includes some form of dye, this is the one for you.
I've got so many fun Easter dyeing options for you guys!!
Check them out below.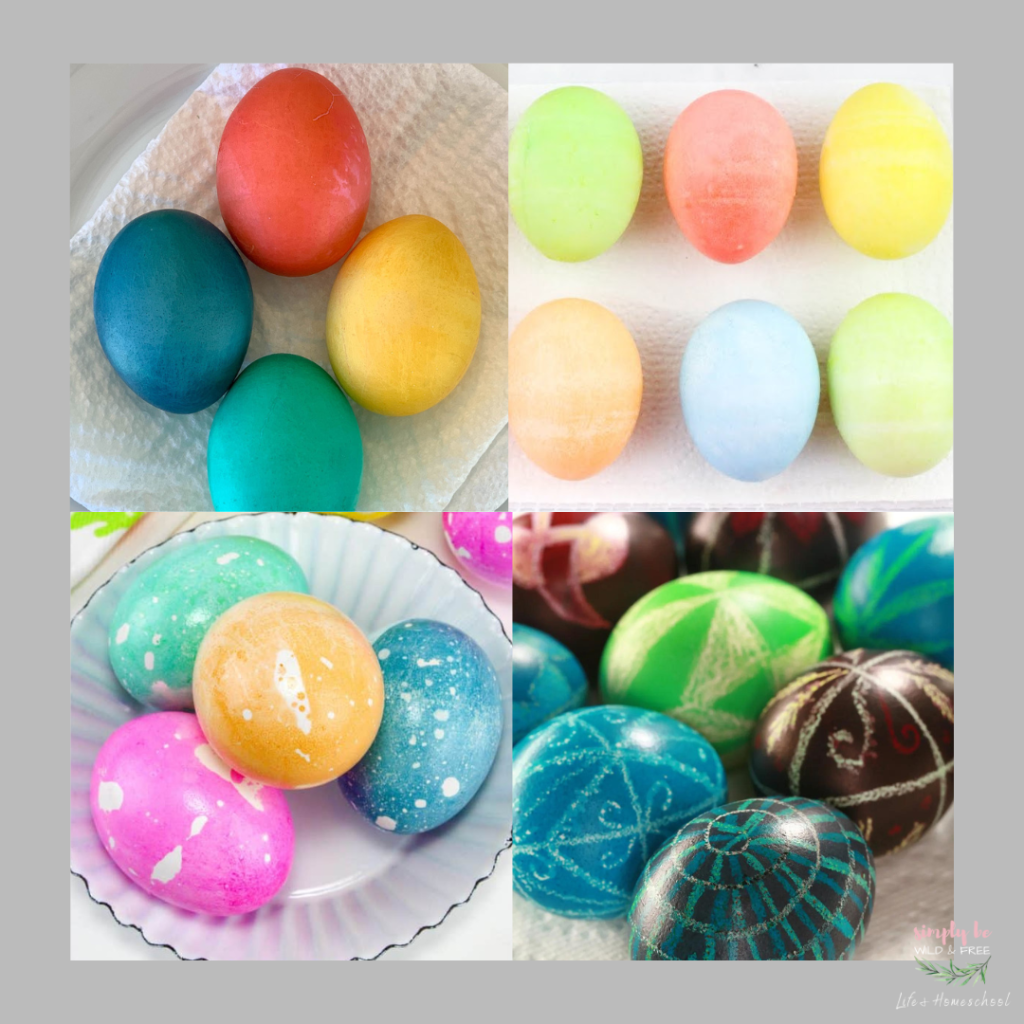 Learn how to dye your own Easter eggs without using a kit with these fun DIY Easter egg ideas (shown above, top left) via Rouse in the House. Find out how to create your own lava eggs, sticker eggs, glitter eggs marbled eggs, rubber band eggs, and more! So many creative ideas in this one, you guys!
Looking for something crazy easy, but different? Try these Skittles-dyed eggs (shown above, top right) via Attachment Mummy instead.
If unique is more your style, consider trying these speckled oil and water eggs (shown above, bottom left) via Happiest Camper or these Pysanky (Ukrainian Easter eggs) (shown above, bottom right) via Celebration Generation.
Both of these options provide an unusual and incredibly beautiful twist to traditional egg dyeing.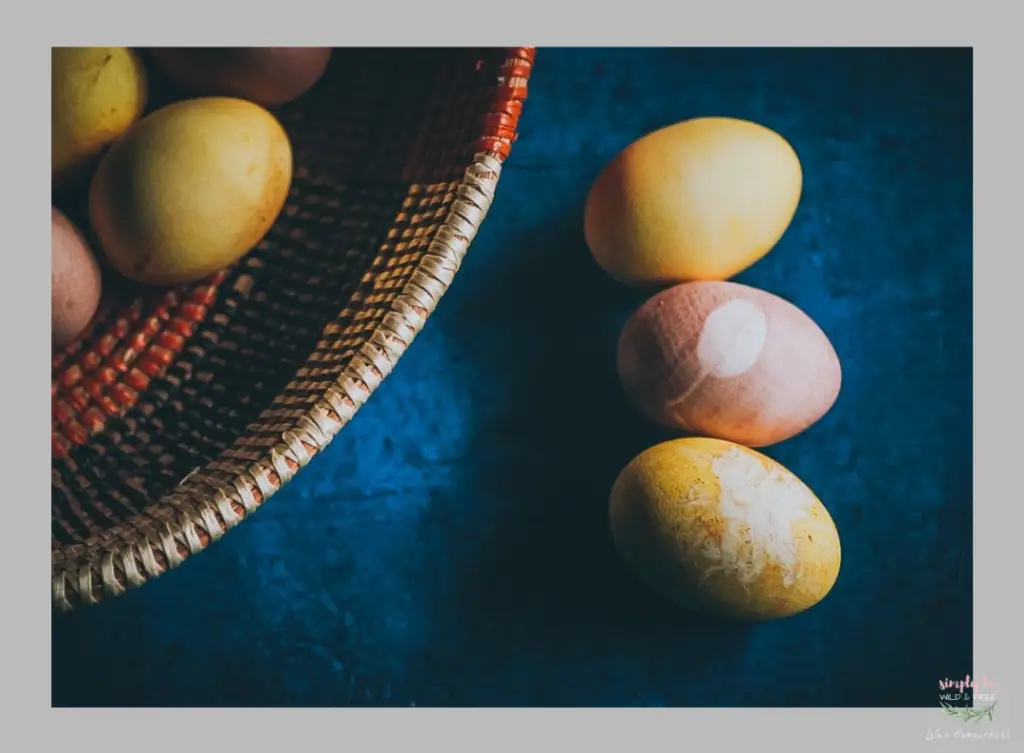 Looking for a creative & environmentally-friendly alternative to dyeing Easter eggs?
These amazing naturally dyed Easter eggs via Moon and Spoon and Yum are not only a natural option but they are made with powerful superfoods — making this a great option for dye-free, health-conscious families (like ours).
Love, love, love this option!
Shaving Cream Eggs
Ever heard of dyeing Easter eggs using shaving cream? This is a new one fo me and it sounds like such a fun activity!
I've got 5 fun different options for you when it comes to this popular way of dyeing Easter eggs.
Check them out below.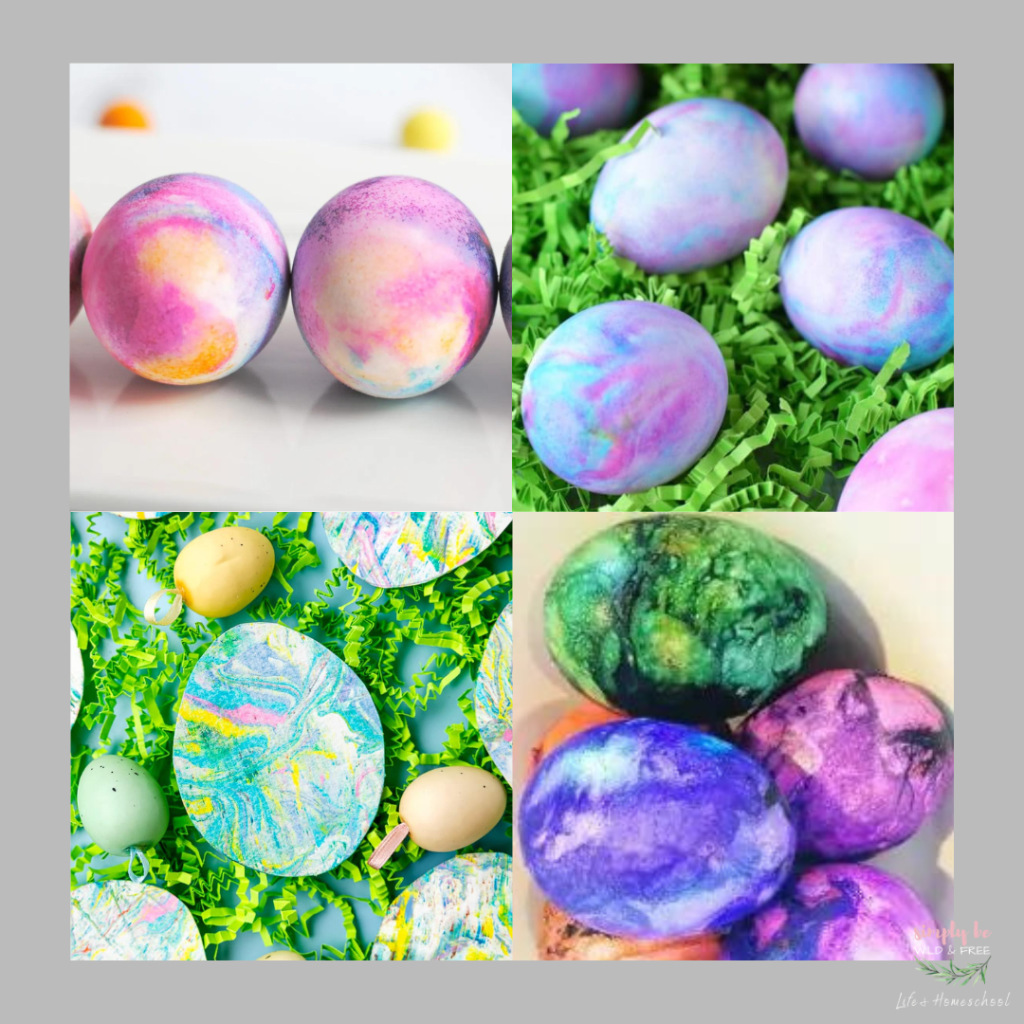 Other Fun Easter Egg Ideas
If Dyeing eggs isn't your Easter style, try some of these fun egg ideas instead!
Plan a fun glow-in-the-dark Easter egg hunt via Where the Smiles Have Been or create these easy crystal eggs via Bitz & Giggles.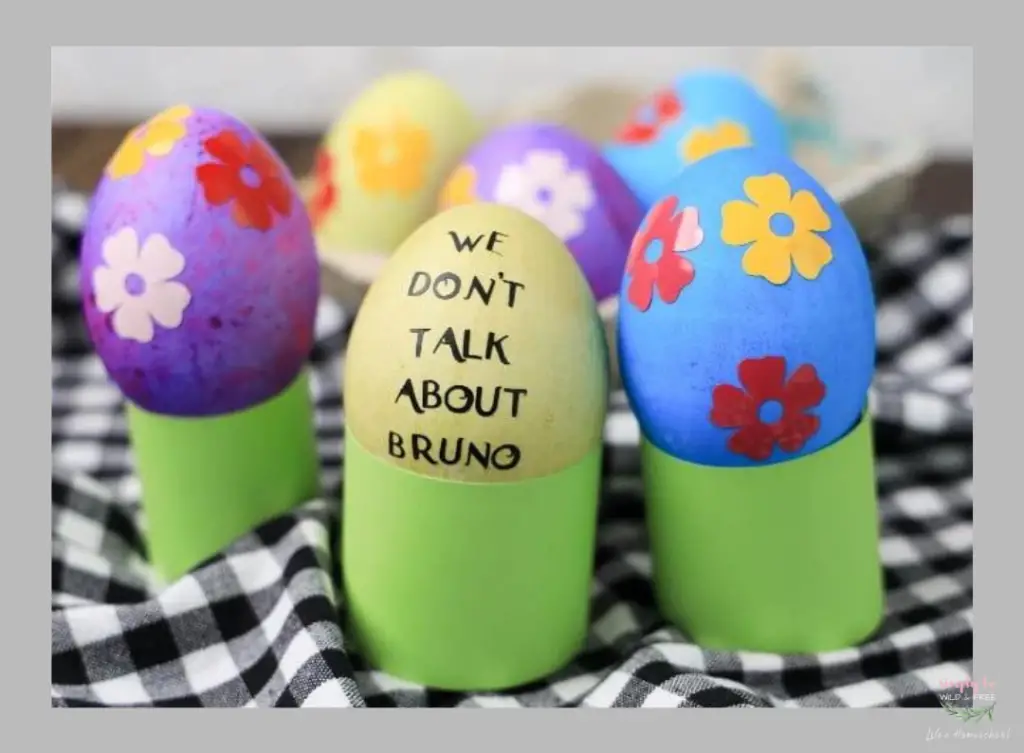 Have an Encanto lover in your home? These adorable Encanto Easter eggs via Ottawa Mommy Club will be right up their alley!
These are super cute but they definitely require extra prep work on Mom's part.
They include simple dyeing instructions and free Entanto SVG files for the Cricut!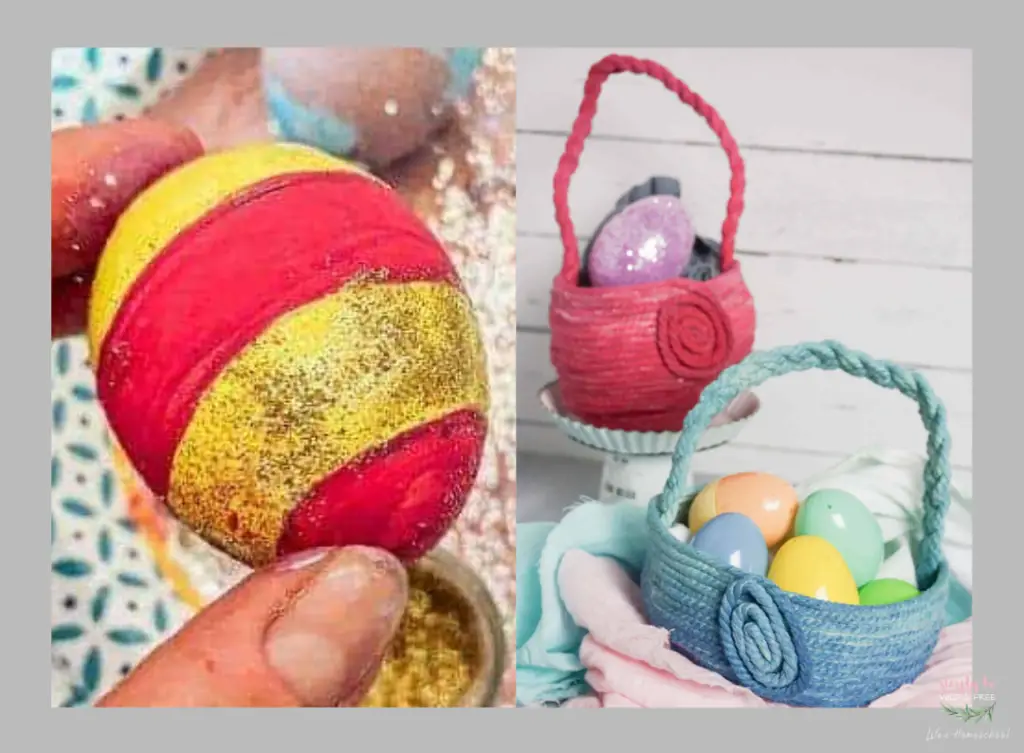 Take your Easter egg game up a notch and try these awesome blown-out eggs (left) via Lorena & Lennox that double as a unique decoration or create these beautiful DIY ombre Easter baskets via Happiest Camper.
While some might consider these Easter craft ideas, I chose to keep them with the traditional egg dyeing projects simply because one uses real eggs and the other makes the perfect companion to traditional Easter egg hunts.
Sensory & STEAM Easter Activities
Encourage educational fun with these incredible STEAM projects, simple games, and sensory Easter activities for kids!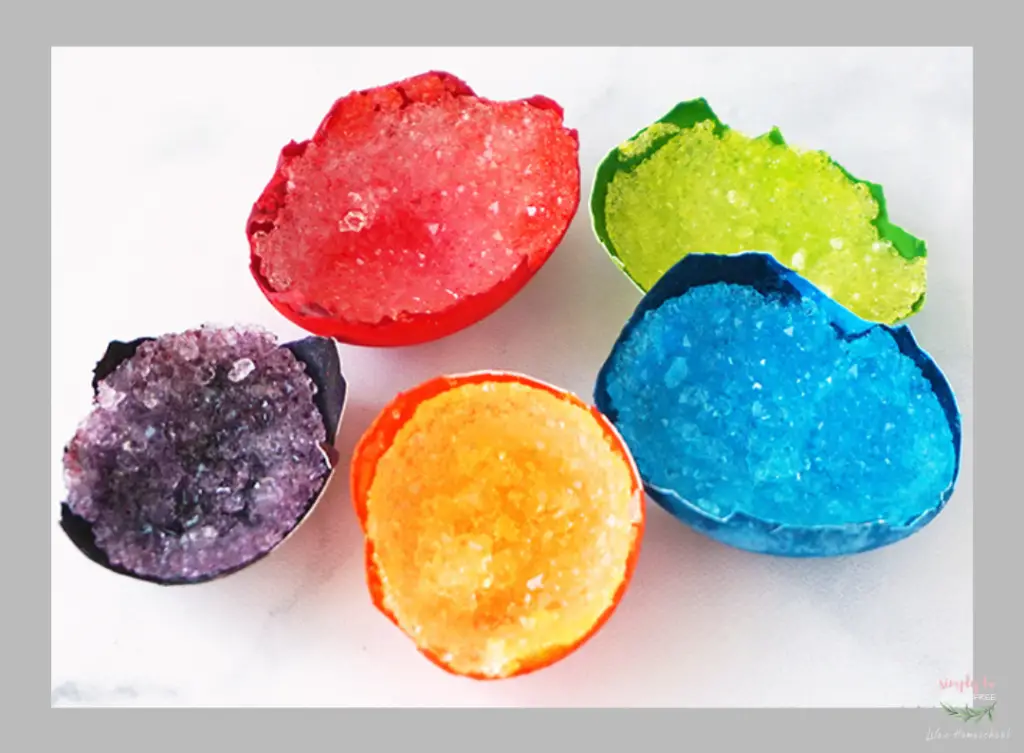 These beautiful crystal egg geodes (seen above) via Artsy Fartsy Mama look like so much fun,  you guys!
With this awesome STEAM activity, your kiddos will get to grow their own crystal geodes in a eggshell — super cool!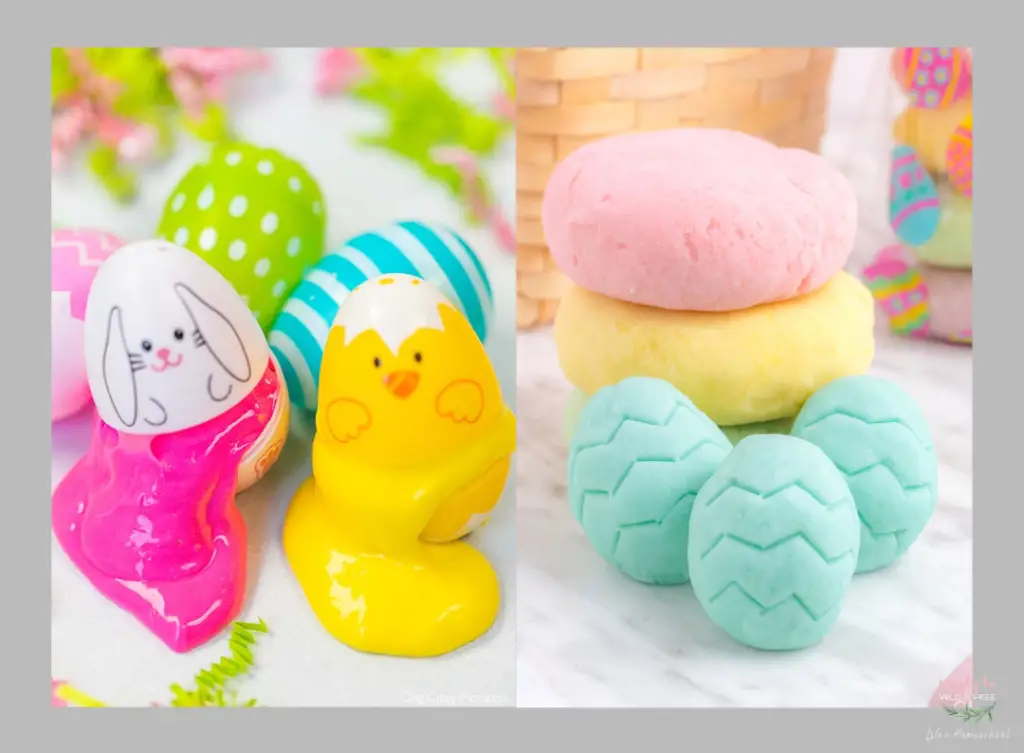 Have a little one that loves all things slime & play dough? These fun recipes look like Easter weekend winners!
Check out this vibrant Easter slime recipe (left) via One Crazy Mom or try this super pretty Easter playdough (right) via Crafts by Amanda — both of which look like so much fun! 
Other Creative Easter Activities for Kids
If you're still on the lookout for hands-on, STEAM, or sensory activities for Easter this year, consider one of these fun ideas!
Religious Easter Printables
Celebrate Holy Week with fun Easter printables that include scripture references and the true story behind Easter.
These are so good, you guys!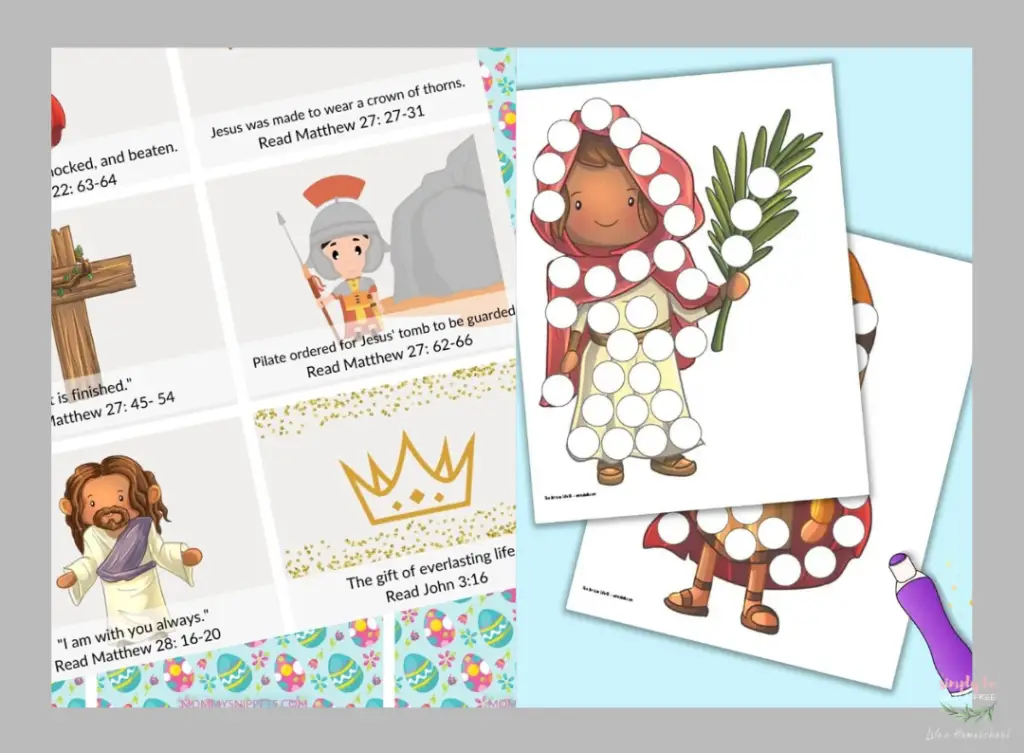 Play an Easter devotional game (left), make Christian Easter cards, and create a fun lift-the-flap Easter story during Holy week with these awesome printables via Mommy Snippets.
If your kiddo is too little for some of those activities, try these simple (little kid-friendly) Easter story dot marker pages via The Artisan Life instead.
Need more faith-based Easter printables? Check out these fun word game options!
Printable Easter Activities
If you live for printables, I've totally got you covered for Easter this year!
Check out our awesome list of printable Easter activities for kids below.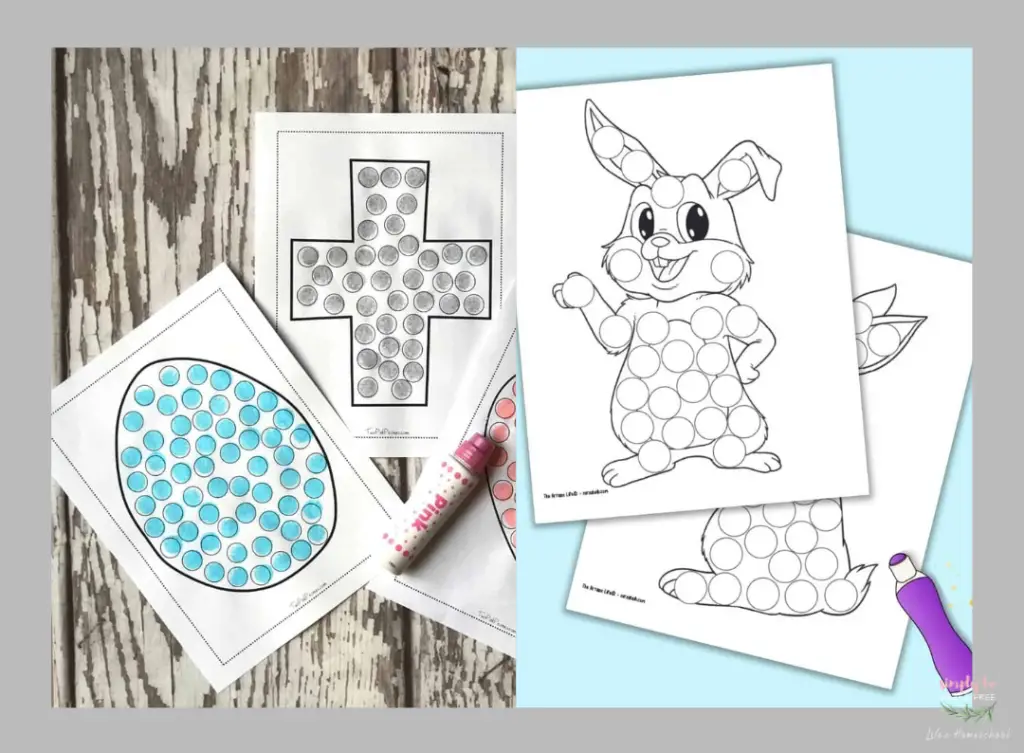 Celebrating Easter with a little one? Try these adorable Easter dot marker activity pages (shown above, left) & Easter dot sticker activity pages (not pictured) via Two Pink Peonies. 
Or try these fun bunny dot marker pages (right) via The Artisan Life or this Easter letter recognition activity via ABCs of Literacy.
DOT activities are perfect for little learners! 
Still, looking for printables for your little one?
Check out these 2 great finds.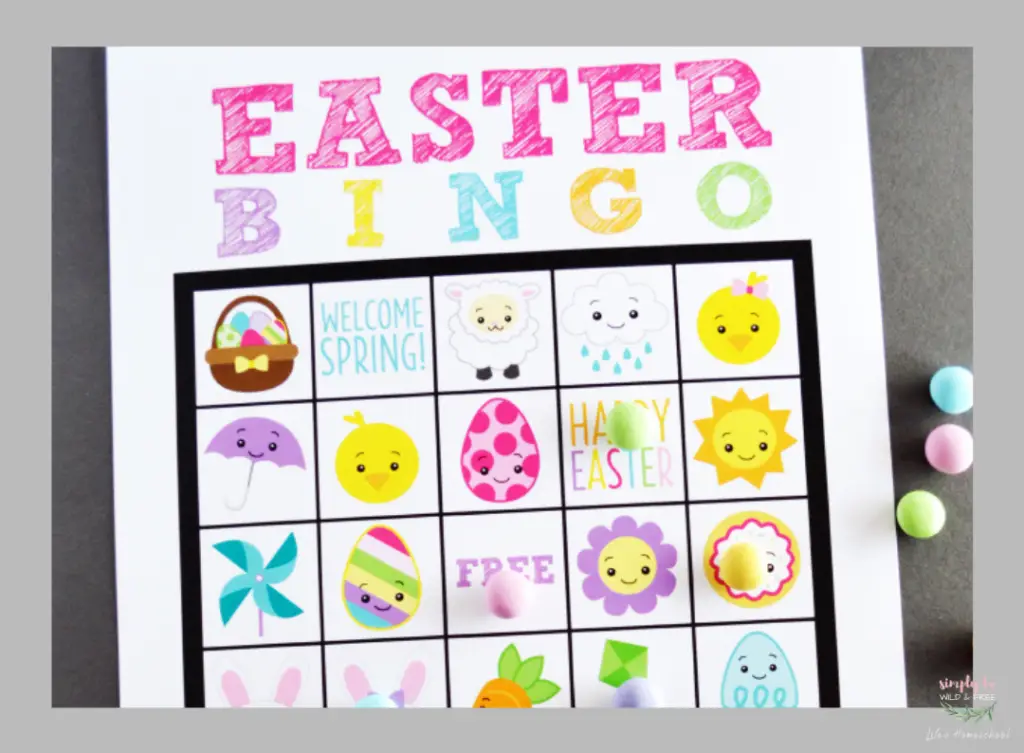 Spend Easter weekend playing games with the kiddos with this fun printable game of Easter BINGO (shown above) via Artsy Fartsy Mama or get outside with this awesome scavenger hunt printable via Attachment Mummy!
Want more game options?
Check out these additional choices.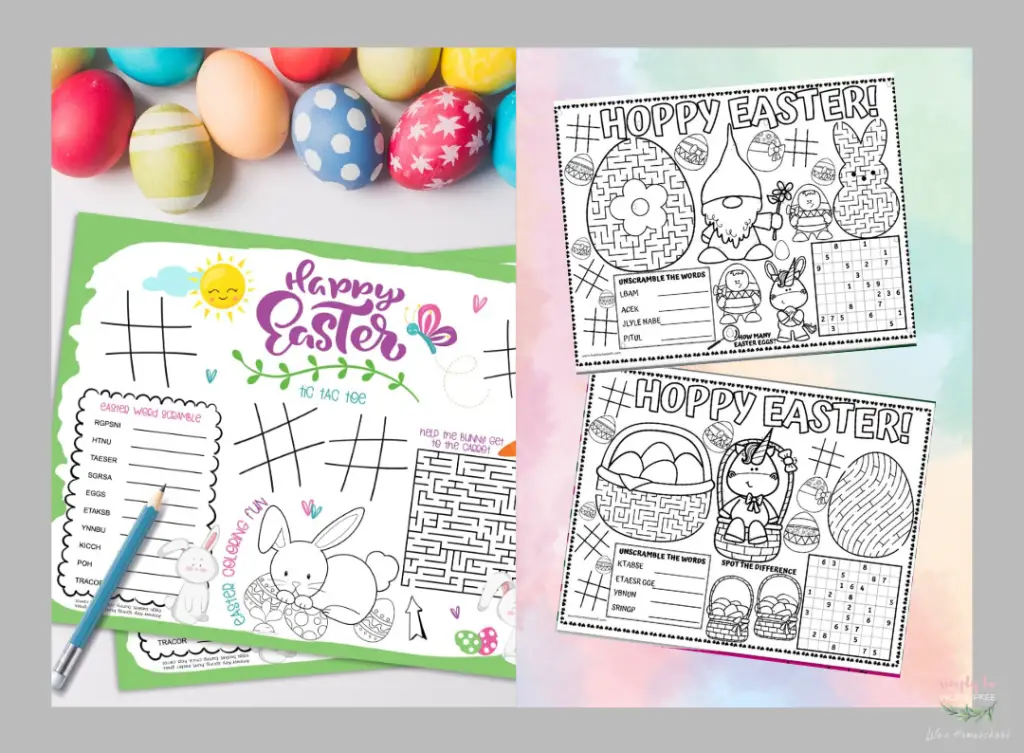 Ah, these are so much fun for holiday mealtime! Give the kids something fun to do with 2 great placement options for Easter dinner.
Try this adorable printable Easter placemat (left) via Wondermom Wannabe or print these super cute placemat activities via Homeschool of 1.
So stinking' cute, you guys!
Looking for other simple activities to keep the kiddos busy this Easter? Check out these fun finds!
Other Fun Easter Printables
Man, oh, man! I seriously had a hard time narrowing down my list of printables to share for Easter this year.
There are seriously so many good ones out there.
Check out the rest of my favorites!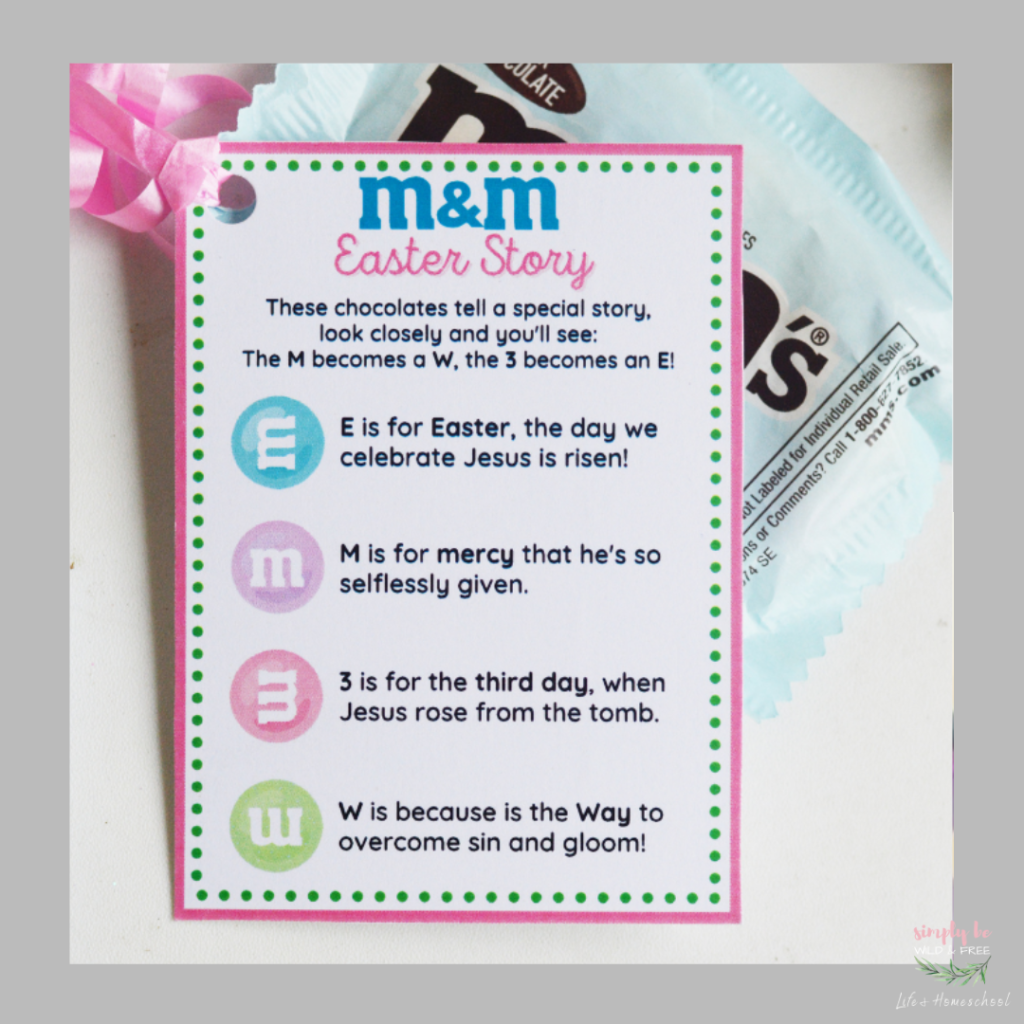 This M&M Easter story printable (shown above) via Making Frugal Fun is hands down my favorite printable on this entire list, you guys! Not only does it help teach kids the true meaning behind this meaningful holiday, but it can also double as a really adorable gift!
Tuck this one in the Easter basket or hand them out to your Sunday school class, either way — you totally need to do this one!
Check out these other fun printable Easter activities for kids.
Printable Easter Activities (SPANISH)
If you're on the hunt for simple Easter activities in Spanish, I've got a handful of great ones from Lorena & Lennox!
Check them out below.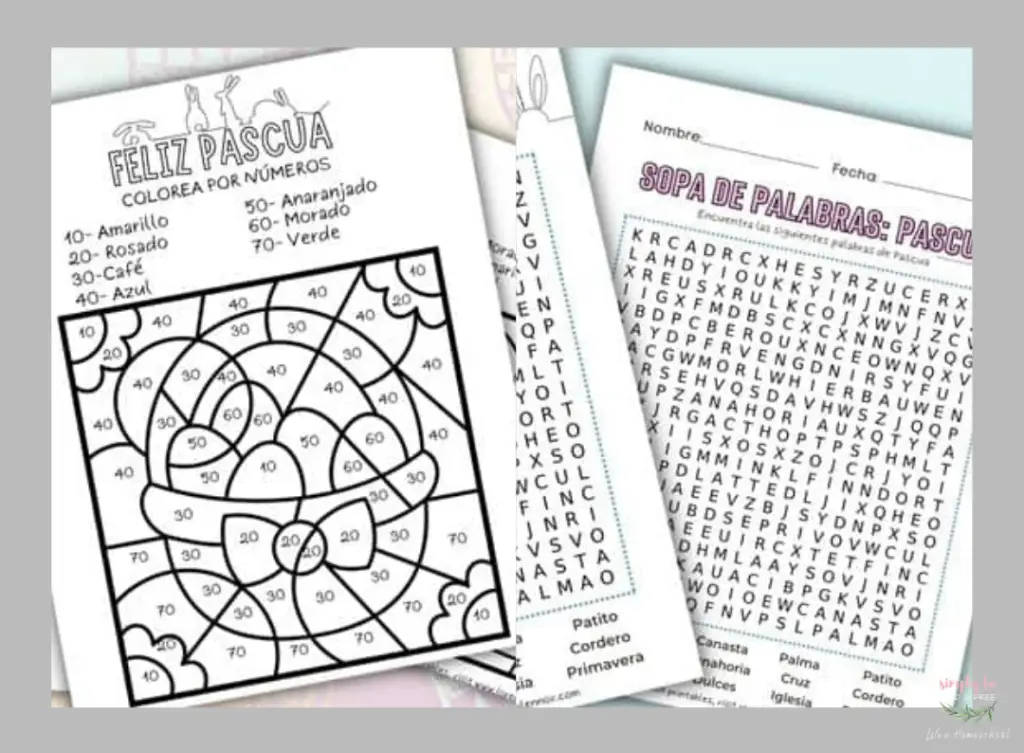 Encourage a little number fun with these color-by-number printable worksheets (left), a little word fun with this Easter word search (right), enjoy a simple game of BINGO using these cute Easter BINGO sheets, or play a classic game with this I spy Easter printable all via Lorena & Lennox.
So many wonderful options for Spanish-speaking kiddos!
Easter Coloring Sheets
Last, but certainly not least, I've got some fun Easter coloring sheets for you all!
Coloring is such an easy way to celebrate any holiday and these options are super cute, you guys.
Check them out below.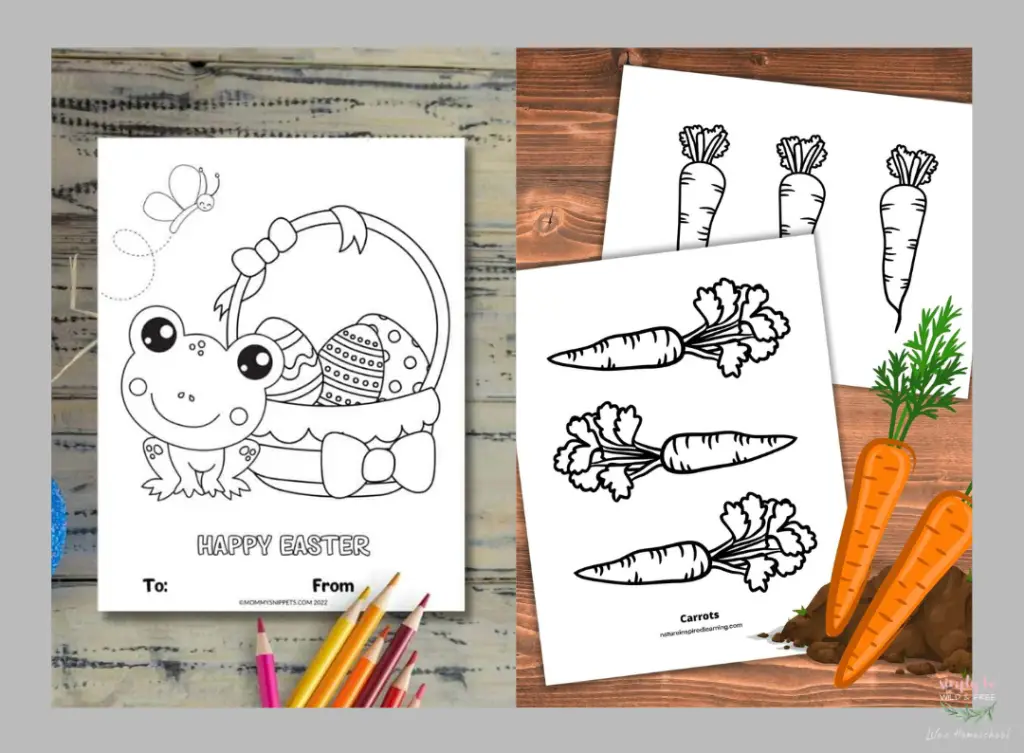 Get your color on with these cute happy Easter coloring cards (left) via Mommy Snippets and these simple carrot coloring pages (right) via Nature Inspired Learning.
Looking for more options?
Check out these additional coloring pages below.
Love these Easter activities for kids?
Share this post on social media for others to see.