K-3 Spelling Activities Practice
The educational system puts way too much pressure on young children these days when it comes to spelling.
Then, as parents, we follow blindly assuming this is the way it's supposed to be.
Unfortunately, that unnecessary pressure that focuses on misspelled words can have a huge negative impact causing children to dislike reading and learning altogether.
With that said, teaching little ones to spell over time is important, it simply isn't the most important.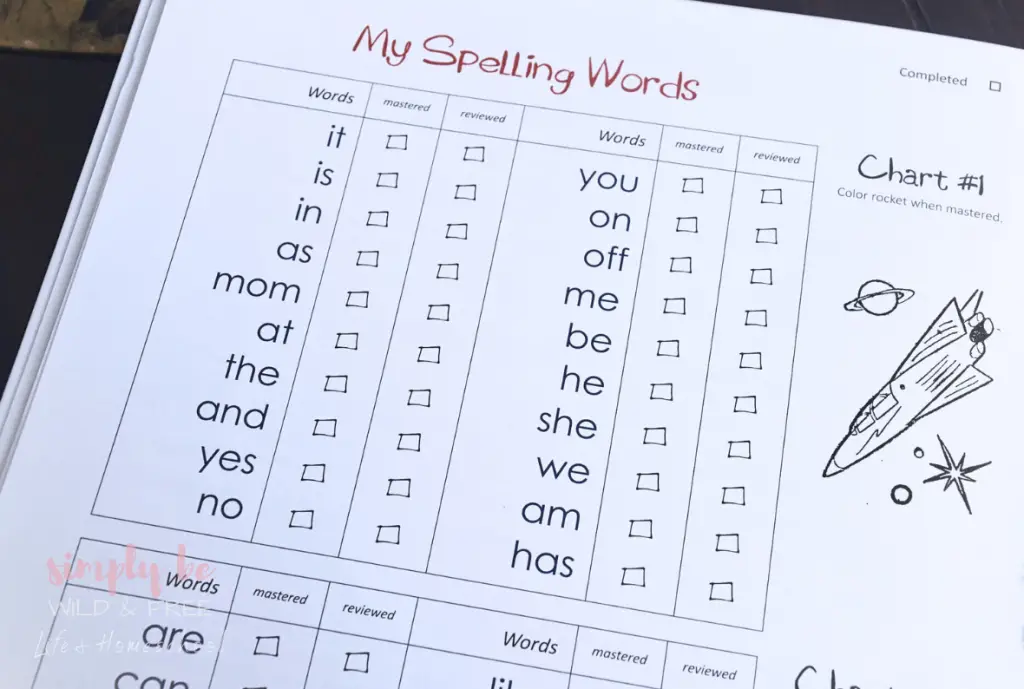 While learning to spell is essential as children grow, it's equally important to make spelling a low to no-pressure activity during the first few school-aged years.
Truth be told, I don't put any pressure on correct spelling until my children reach a level (or grade) 3 reading level.
I follow this method for my own kiddos for one simple reason. 
Those first 3 years of formal learning are focused on learning how to build words and how to read and the main focus should never be how to spell.
While some spelling will come naturally during those years the big stuff won't begin to click until after the understanding of phonics, building words, and learning to read stuff has been conquered!
That is why hands-on spelling activities are the best way to go when it comes to grades K-3.
DIY Spelling Activities Box
Creating a DIY spelling activities box can be a wonderful tool for the homeschool mom of littles.
Plus, these activities can make the art of learning spelling words both simple and fun.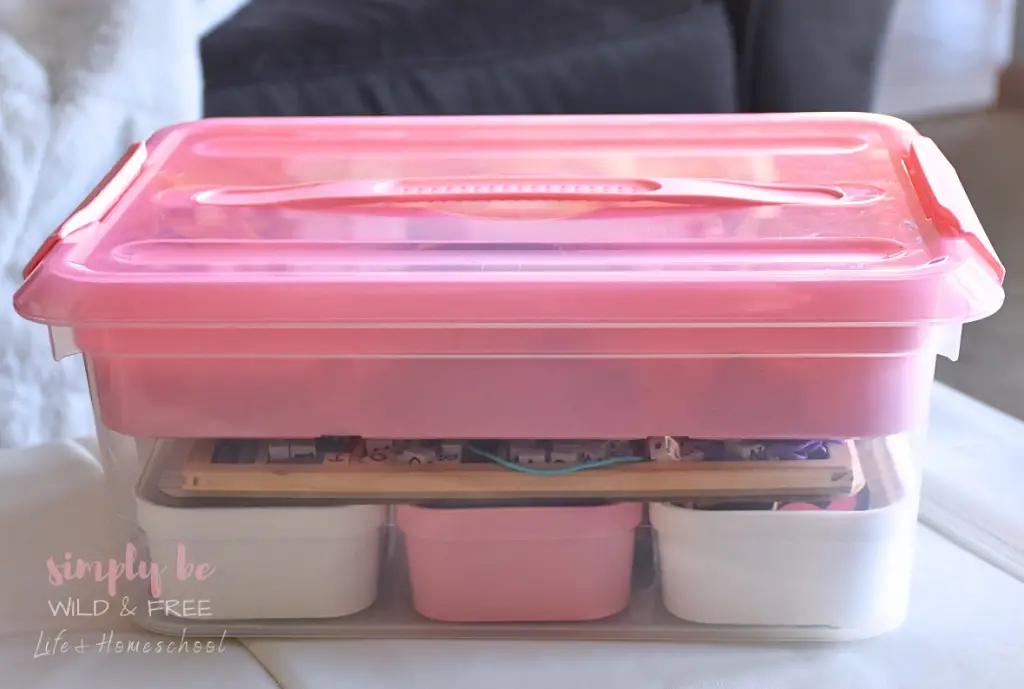 A spelling activity box is incredibly easy for new learners, such as kindergarteners!
Kindergarteners simply aren't designed to sit for hours on end which is why learning to master the hard things, like spelling words, is best done through a multi-option playful approach.
Check out the breakdown of our personal spelling activities box below!
A Peek Inside Our Spelling Activities Box
When my daughter was finishing up her preschool curriculum last spring, I quickly began planning out her upcoming kindergarten year.
Once I settled on a language arts curriculum, it was time to focus on extras & manipulatives.
This is when our kindergarten spelling box was born.
Spelling Activities Box Supplies
Creating our spelling activities box was pretty simple and I was able to utilize a good amount of items we already had on hand while only purchasing a few extras.
The first item I needed to purchase was the box itself.
*Note: when I created our box, the tray was included. It is now something you must purchase separately.
Many other homeschoolers at the time were obsessed with these awesome totes and I knew it would work perfectly for what I had in mind.
You can find all the other makings of our spelling activities box below or by checking out this video.
Most kids thoroughly enjoy using stamps for any occasion, making these the perfect addition to your spelling activity box.
Plus, if your kindergartner is anything like mine, this fun activity can keep them busy for a long period of time!
Take your little one's love of getting crafty and turn it into a no-stress learning moment with these fun alphabet stamps!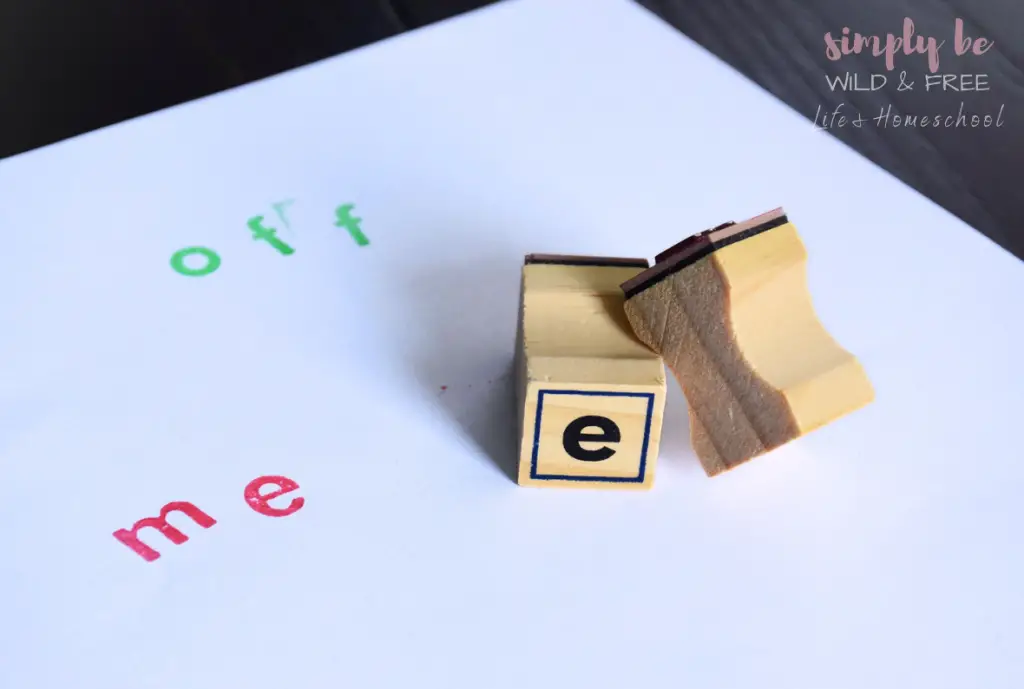 I personally love these stamps because they are bigger, making them easier for little hands to home
Plus, they have both lowercase and uppercase stamps in a single package!
With that said, if utilizing stamps is a no-go for you kinder, try adding an alphabet puzzle to your box instead.
To cut down on the possibility of mess, simply have your child practice spelling words with their puzzle pieces.
Then, encourage them to put the puzzle back together when they are finished practicing.
Bam! Two activities in one — you're welcome!
While simple sit-down learning with puzzles and stamps can be great, this one encourages the kiddos to get up and spell!
I originally purchased these bean bags when my daughter was in preschool.
We basically planned simple or random made-up games to work on practicing letter recognition.
With that said, once kindergarten rolled around I just knew these guys would be finding a new home in our spelling activities box!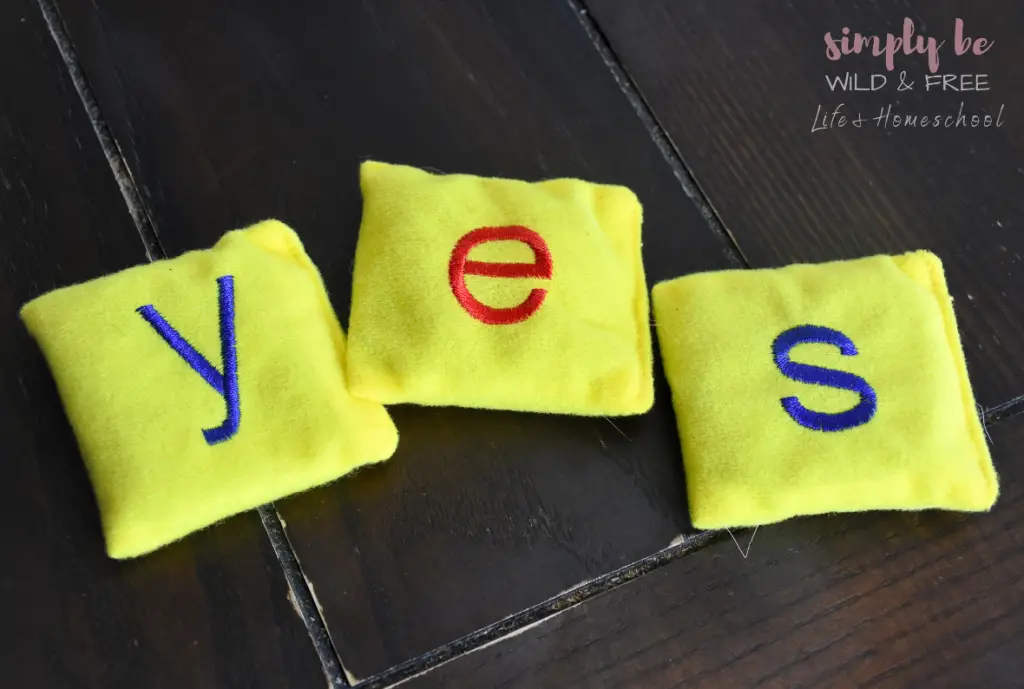 Similar to preschool, we typically use these alphabet bean bags to play simple toss games.
However, instead of letter recognition we now play word games.
For example, I line up all of our bean bags in a row and say a simple word out loud.
Then, my daughter works on sounding it out and gathering the letters she needs to spell it.
Finally, if she spelled the word correctly, she gets to practice her motor skills by tossing her bean bags into a bucket for some added fun.
Super simple and super fun!
While I personally love utilizing bean bags for spelling practice, if your budget doesn't allow for this fun extra, consider using budget-friendly flashcards instead.
You can play a similar game by laying alphabet flashcards in a line, but you will need to nix the tossing.
This is a classic!
A huge part of practicing kindergarten spelling words is handwriting.
Most young children loathe handwriting, but unfortunately, it's a necessity.
We definitely don't use the same method or tool for spelling practice every single day, however, I do rely on a dry-erase board a couple of times a week.
I do this simply because it's good handwriting practice, and my kindergartner actually enjoys it.
With that said, if you have a little one who doesn't enjoy the task of writing, but enjoys drawing, consider having them take turns writing words and drawing on their dry-erase board.
My young daughter absolutely loves this activity, you guys!
While a dry-erase board is our go-to, you can easily keep a notebook in your box instead.
Simply encourage your child to practice their spelling words traditionally by writing then mix it up by adding stickers and stamps!
Letter beads make a great addition to any spelling box!
If you have a hands-on learner who enjoys threading beads or making jewelry, this is definitely the perfect activity to add to their spelling practice routine.
I must say, this is one of my daughter's absolute favorite spelling activities by far.
It's super simple and it keeps her engaged for a long period of time!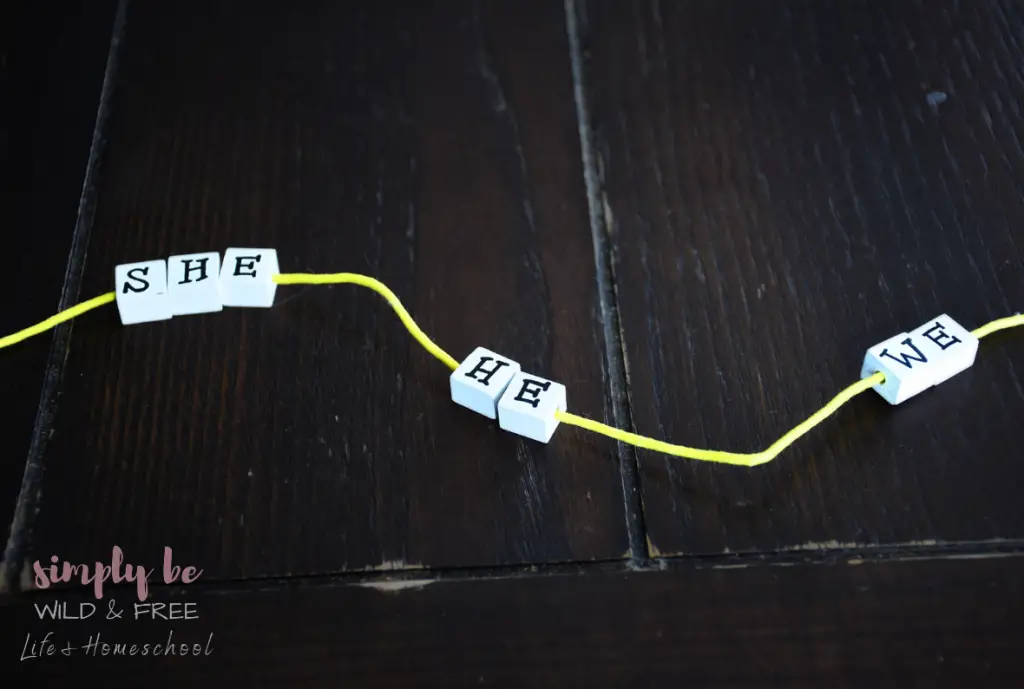 We opted for this set of wooden beads simply because this is a product that can grow with my child.
I originally purchased these beads for name-spelling practice in preschool.
However, they also work amazing for kindergarten spelling and sight word practice!
As my daughter grows, the purpose for these beads will likely grow and change as well.
I can definitely see her using these for jewelry-making and gift-giving down the road.
With that said, if you have a little one who can't handle small beads just yet, consider adding wooden alphabet blocks to your spelling box instead!
While these won't technically fit inside your box, they can still make a great learning tool for spelling practice and letter recognition for littles!
I just had to put something uber-traditional in our box, you guys!
I mean seriously.
Every child needs a good set of magnetic letters, am I right?
My favorite part about using magnetic letters for practicing spelling words is that little to no supervision is required.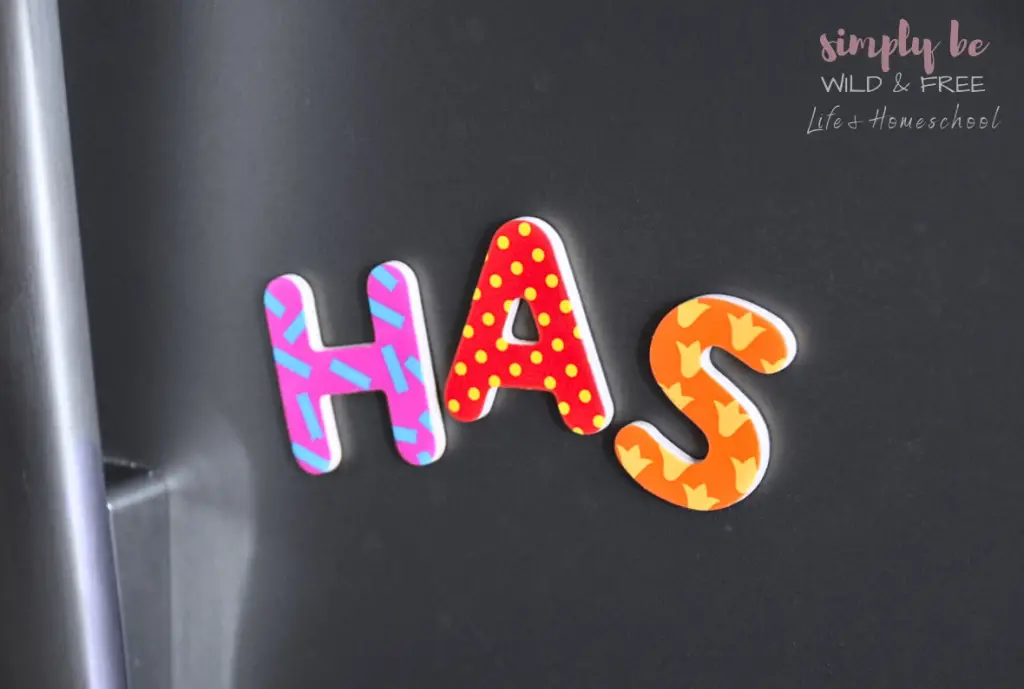 Plus, if you plan to work on spelling word practice while multitasking, utilizing wooden letter magnets is a great option!
You can easily tackle the task of making dinner while your little one builds words on the fridge.
It's so good, you guys!
While the letters we use in our box are sadly no longer available for purchase, you can utilize these simple wooden letter magnets or stock your box with separate lowercase letters and uppercase letters.
Then, simply let your kiddo build words on the fridge, a magnetic door, a magnetic dry-erase board, or even a cookie sheet!
If you have a sticker-obsessed kiddo, like I do, adding foam letter stickers to your spelling activities box will be a must!
I think my kindergartner could fill an entire notebook with stickers in a single day if I would let her!
Seriously though.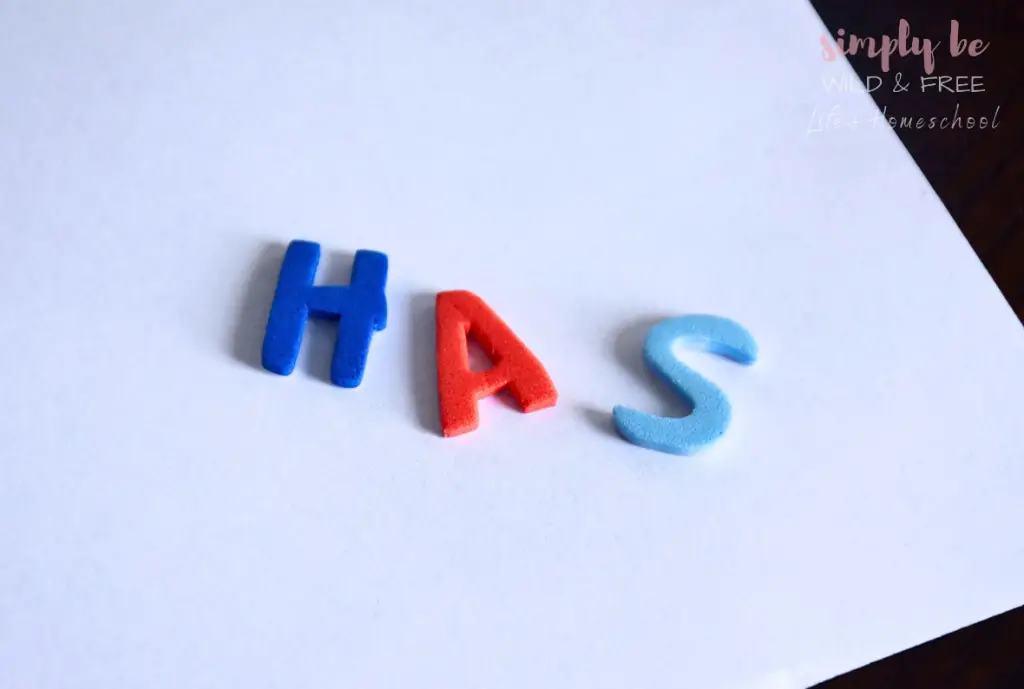 So, give your kiddos their sticker fix, while encouraging a little spelling practice along the way.
While our go-to for this activity is definitely foam stickers, you could easily utilize regular alphabet stickers instead.
With that said, I know not all kiddos have a love for stickers like my little one.
So, if you like the idea of foam but want to take a totally different approach, consider adding some foam alphabet floor tiles to your homeschool room — because these guys will definitely not fit in your box.
Either way, foam word building can be so much fun, you guys!
Simple letter tiles are such an easy choice for spelling practice!
The great thing about letter tiles is that they can essentially be used anywhere.
No need for a magnetic surface or paper.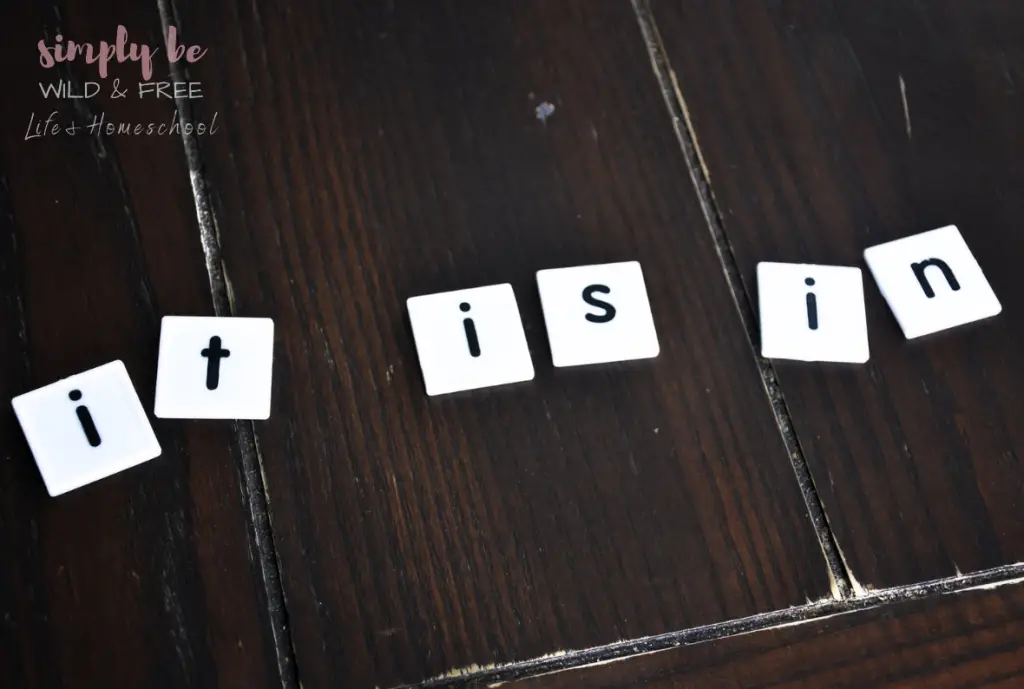 Plus, they take up little to no room — making them a perfect fit for our spelling activities box!
My kindergartner uses these tiles at the table, on the floor, or even sometimes stashed in a reusable pouch for on-the-go spelling practice!
One tub comes with more than enough tiles to spell all early spelling words.
If plastic spelling tiles aren't your thing, you can easily substitute them with Scrabble tiles or banana grams as a fun alternative!
If you have a kindergartner, chances are you already have some Play-Doh hanging around your house.
With that said, if Play-Doh isn't something you typically have on hand, you can easily grab a simple starter pack for this next activity!
I typically only keep 1 color of Play-Doh in our spelling box at a time, but you could easily purchase smaller tubs and include 2-3 instead.
My daughter is pretty much a pink-aholic, so we typically only ever need 1 color anyway.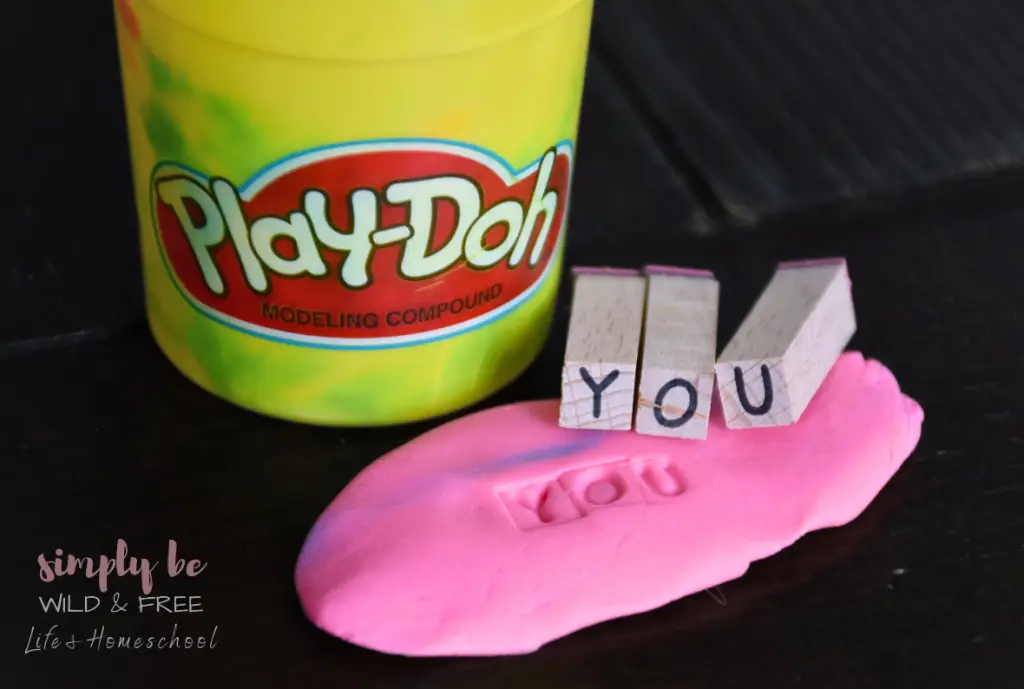 When it comes to spelling with Play-Doh, utilizing small rubber stamps is the best option.
While you can totally utilize the alphabet stamps you already have in your spelling box, I definitely suggest purchasing a second (cheaper) option instead.
Simple Stamping tips:
Small stamps are awesome for homeschooling on the go!
Toss your stamps in a small pouch along with some grab a Play-Doh and you're out the door!
I recently did this when we had a school day at the library and it was the perfect on-the-go spelling activity.
Don't cross-contaminate.
Purchasing new stamps and only using them for this specific spelling activity is definitely the best option!
If you use your stamps with ink pads, then follow up with Play-Doh, some ink might linger and transfer to the doh.
Can we say unwanted mess?
If you have a kiddo that struggles with stamping, consider utilizing alphabet cookie cutters instead!
We sometimes go this route and it's so much fun, you guys!
More Spelling Practice Strategies
Figuring out how to teach spelling can be a daunting task.
However, it truly should be!
Leaning on simplistic spelling strategies and hands-on fun is definitely the way to go, you guys!
Love this post? Bookmark it or share it with a friend today!