The Art of Catching Bugs
We are a bit of an outdoorsy family and catching bugs just comes with the territory when you have little ones.
My wild & free kiddos have always viewed bug catching as a simple pleasure, so when they were little I went all out.
They each had cutesy bug catchers & butterfly nets.
It was so much fun, you guys!
While my preferred catch as a child was rolly pollies or fireflies (we called them lightning bugs in the midwest), my older boys were all about toads, frogs, and snakes instead.
My youngest, however, was a whole new breed of bug catcher.
This kid put my bug-catching days to shame and it was such a treasure to watch her little eyes light up as she caught, named, observed for a few days, then released her catches.
She was definitely a bug girl.
With that said, that little girl isn't a little girl anymore and her bug-catching days have dwindled over the years. However, every now and again she surprises me with her love for these little guys!
While technically not a bug, she spent the better half of a week snail-catching this past summer and it reminded me of how much fun she had collecting & documenting bugs when she was just a little tyke.
Such priceless memories.
Bug Worksheet for Kids
The story behind this bug worksheet is a simple one.
I had an adorable bug-loving kiddo that thrived in an outdoor setting and because of her bug-loving nature, I decided to create a simple paper activity for her to track her favorite finds!
With that said, I created this adorable bug worksheet for personal use (like many of my printables) and I never even thought about sharing it until now!
I'm so excited to finally share this one on the blog and I truly hope your bug lover will enjoy it as much as my daughter did.
Printable Bug Catching Worksheet
Our bug worksheet is simple and straightforward.
However, there are some fun ways you can take it up a notch or turn it into a simple keepsake!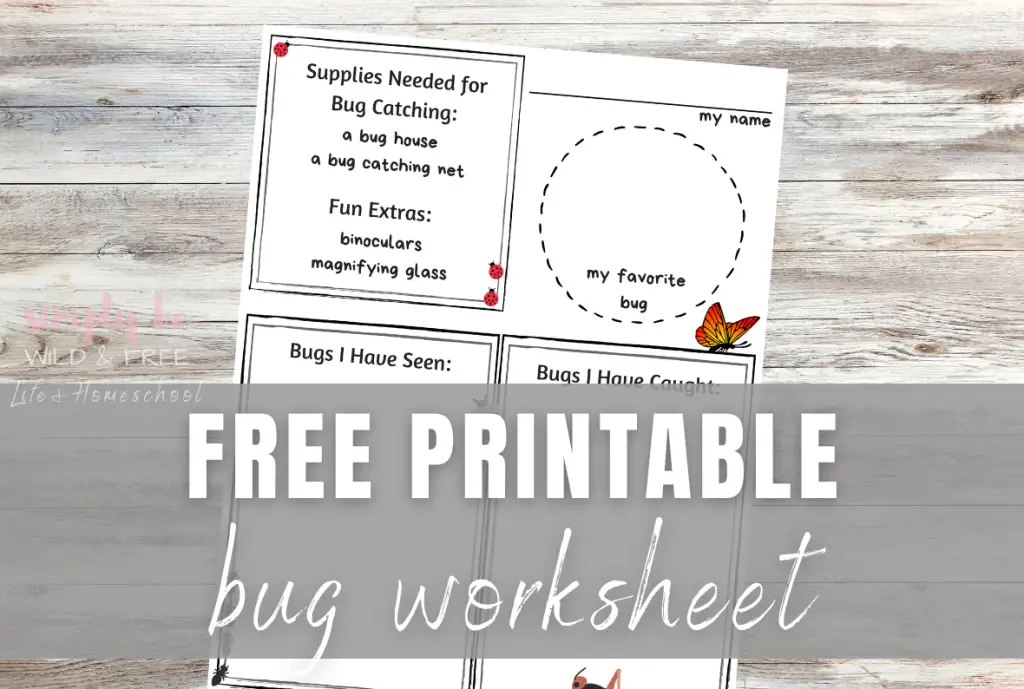 Use your bug worksheet on its own as a simple homeschool activity or partner it with our bird-watching sheet to create a fun nature journal!
You can store your free nature worksheets by stapling them together and creating a fun nature booklet or you can simply hole punch and store them in a 3-ring binder!
Want to reuse your bug worksheet? You can easily purchase a set of dry-erase pockets for your little one to use this fun freebie time and time again.
Download Your Free Printable
Ready to get your hands on our free bug worksheet? You can get this freebie and gain access to all of our other freebies by signing up for our newsletter below!