Homeschool Organization
Organization is the glue that holds a smoothly run homeschool together. Seriously though!
From super simple homeschool organization to unique curriculum organization ideas — it's all an essential part of the homeschool organization journey!
Homeschool art supplies can get out of hand quickly which is why I love leaning on easy solutions like our amazing DIY school supplies organizer!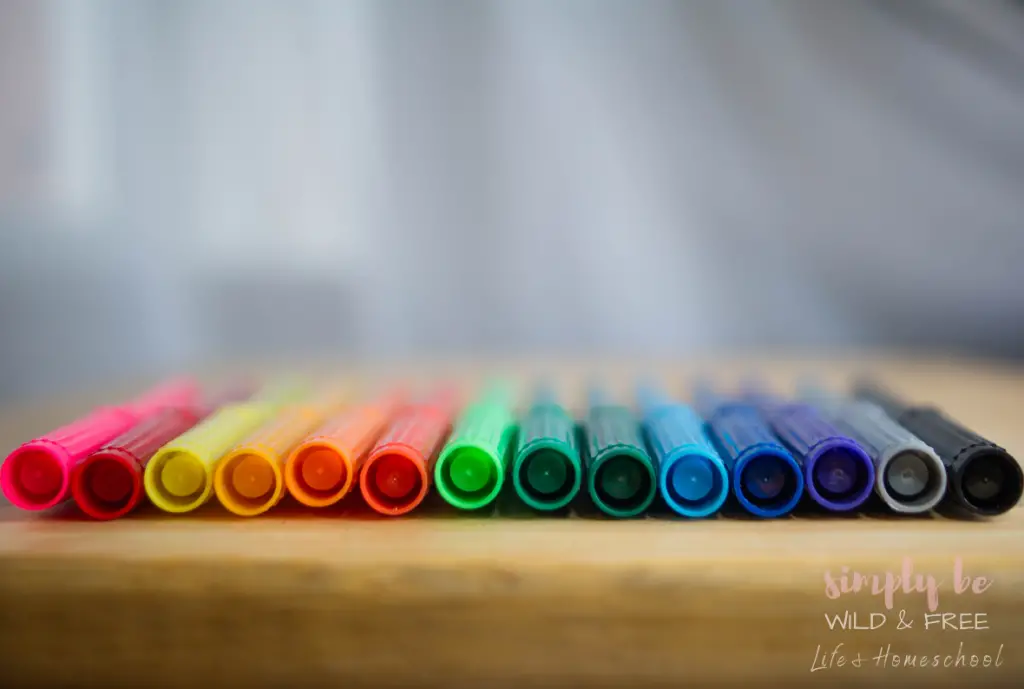 If you struggle with organizing school supplies or keeping your homeschool room tidy, this simple caddy can help!
DIY School Supplies Organizer
As a type A, organization-loving, homeschool mom, totes and baskets will always be my favorite go-to options for any homeschool organization project!
This simple homeschool art caddy was no exception. I simply grabbed one of my favorite little totes and created something so simple, yet incredibly amazing!
You are seriously going to love this art caddy, you guys!
Using a cute little caddy, I created one of our favorite homeschool tools of all time!
These totes seriously make the best holder for pens, pencils, markers, paintbrushes, and so much more!
I have 3 kiddos, so naturally, I bought 3 of these little guys and had each one embroidered with a child's first initial.
My boys both got blue polka dots, while my daughter got pink (shown below).
The idea behind these caddies is super simple!
Create an on-the-go approach to learning & creating.
While we do have a specific spot these awesome little caddies land during their off time, they are so incredibly easy to pick up and use at a moment's notice!
Anytime I have a kiddo that needs access to their markers or glue, they simply pick up their art bin that has all their organized homeschool supplies and head off to wherever learning is happening for the day.
My youngest actually takes hers along on car trips or outside multiple times a week — it's so good, you guys!
Creating a DIY School Supplies Organizer
You could easily toss markers and crayons in your little tote with no real organization method, but that would be utter chaos and would completely defeat the purpose of organizing all the things.
However, with just a few extra steps, you can create the organized art supply caddy of your dreams!
If you chose to create your DIY school supplies organizer using one of the little totes I used, you can easily purchase plastic cups to help separate supplies!
When I first created ours, I knew I wanted something simple, budget-friendly, and pleasing to the eye.
With that said, I also needed something that worked.
After a little searching for just the right thing, I stumbled upon some budget-friendly cups and somehow they were exactly the right fit for creating a functional and organized art caddy!
Unfortunately, the exact cups I used for our caddies are no longer available for purchase but the ones mentioned above are the closest option I could find.
Using a DIY School Supplies Organizer
If getting organized is something you truly desire for your homeschool, but staying there can sometimes be difficult for you. Creating an art bin out of the is the perfect starter project!
It's also a super simple way to encourage your kids to keep their supplies tidy on a daily basis.
I absolutely love having an organized homeschool room (and house for that matter) and teaching my children how to organize their own homeschool supplies is a great first step.
I included my kids in the entire process of making their art bins, what they wanted to put in them, the colors/embroidery we chose – all of it!
Not only was it a fun little homeschool project for us, but it also set the tone for how these caddies were meant to be used!
While we do have to do some minor cleanout and reorganization from time to time, their art caddies have remained fairly organized to this day.
Using this method, even my five-year-old can keep her homeschool art bin organized on her very own!
I consider this a huge win, cause my daughter is very independent and loves to do most things on her own.
Love this article? Share it on social media!