Homeschool Organization Solutions
If you're anything like me, you thrive in an organized space. This is why organizing our homeschool area is seriously one of my favorite parts of the homeschool planning process!
If you've already tackled the paperwork, curriculum, and extras, it's now time to get those pesky supplies under control!
These are just some of the ways I keep our school supplies organized at home.
Organizing Homeschool Supplies Made Simple
Pens, pencils, scissors, and glue sticks — the list goes on and on.
Believe it or not, but organizing school supplies at home can be both simple and fun!
You don't have to devote a lot of time to the organizational process, you just need the use of some functional tools and a little creativity!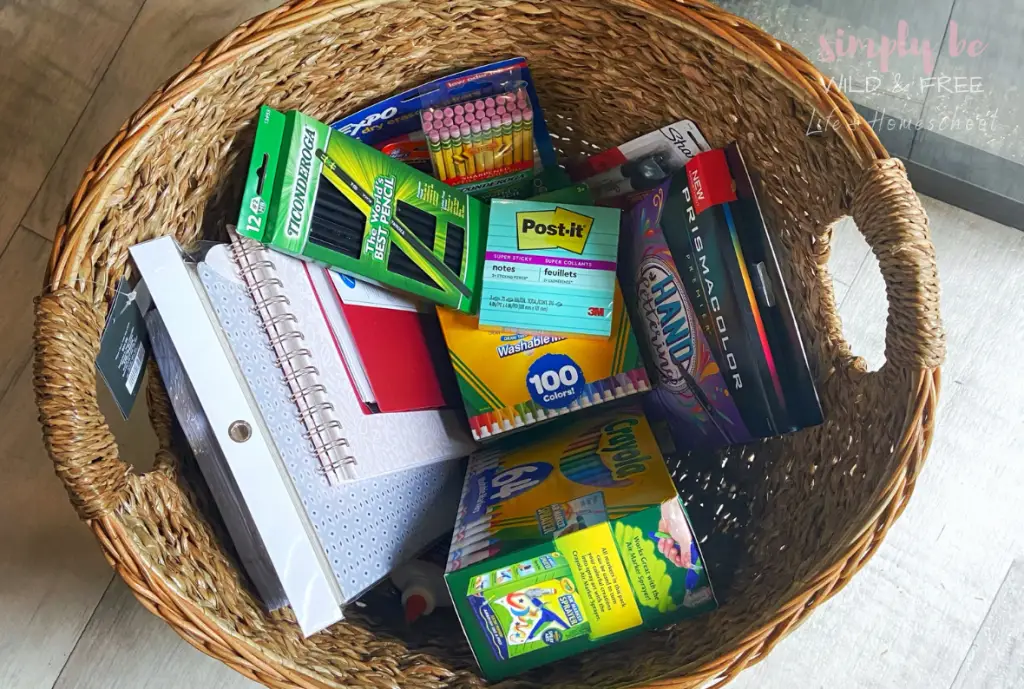 Clutter drives me absolutely crazy!
This is why I have such a love for organizing and problem-solving!
These are the things I lean on each and every day to keep our homeschool space organized and tidy.
Create Supply Stations
One of the biggest issues I had to tackle as a new homeschool mom was pencils!
The darn things seemed like they were everywhere and I was constantly picking them up every time I turned around. Then, my children would claim they couldn't find any when they needed them next – go figure!
I started our homeschool year with a single cup of pencils at each child's desk and I quickly realized that was a horrible idea.
My children don't always do work at their desks.
Sometimes it's the floor, the couch, outside, or the kitchen table. As they move from one location to another, the pencils would get left behind and they would instantly go retrieve a new one.
Thus leaving their cup completely empty, and my house covered in pencils – Something had to give.
The Solution? Multiple supply stations throughout the house.
Learn how creating stations with the use of caddies made organizing school supplies a breeze in our home!
First, we have our stationary supply caddy — this one is my absolute favorite, you guys!
It holds pens, sharpies, scissors, and a stapler for mom, glue sticks & scissors for the kiddos. Plus, pencils — so many pencils!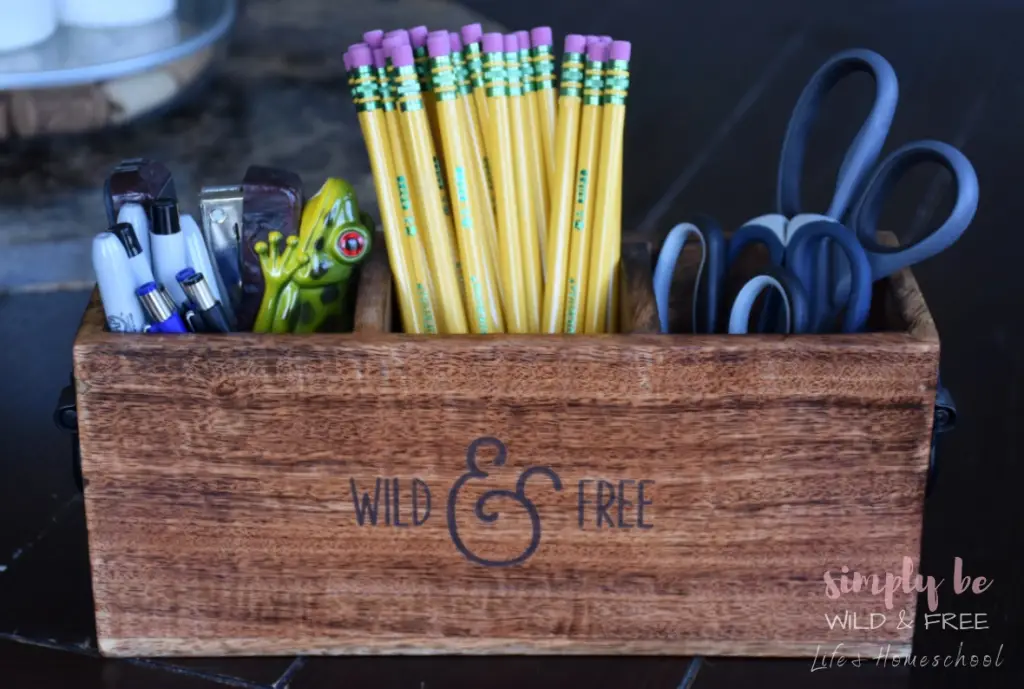 As our homeschool has evolved and changed, so has the location of this helpful organization tool. However, one thing remains the same. This caddy always stays in a central location for everyone to use — such as the kitchen table or the living room. 
I keep our shared caddy simple and to the point — no extras!
We typically use this caddy when we are all sitting down together, making it easier for me to manage the pencil disappearing act.
Plus, I try to encourage my kiddos to help keep it stocked and ready to go by assigning them fun tasks like sharpening pencils or tossing out old glue sticks which also helps to ensure it functions at its absolute best.
This totally works, you guys!
Kids absolutely thrive on these types of simple tasks. Plus, it keeps them busy and frees up mom for more important work.
The things they call fun, I call mundane and redundant — go figure. 
I actually use this method for all of our homeschool organization stations! I typically just pick a child that isn't settled down with work and put them on pencil sharping duty or marker testing for the moment.
These tasks are simple and can help keep all your homeschool areas tidy. Plus, you're keeping broken and worn-out supplies at bay! Win-win!
Next up, seriously one of the easiest ways to organize homeschool supplies!
Splitting up our more unique and lesser-used homeschool supplies into cups has been such an amazing help.
Cups are the perfect option for shared items such as colored pencils, brush markers, and specialty pens.
Plus, they can be stored practically anywhere!
We have some of these in our homeschool art area to hold shared items and I keep a few in my personal rolling cart to house non-shared (for mom only) art items.
They are super easy to relocate and they keep supplies in a nice tidy package.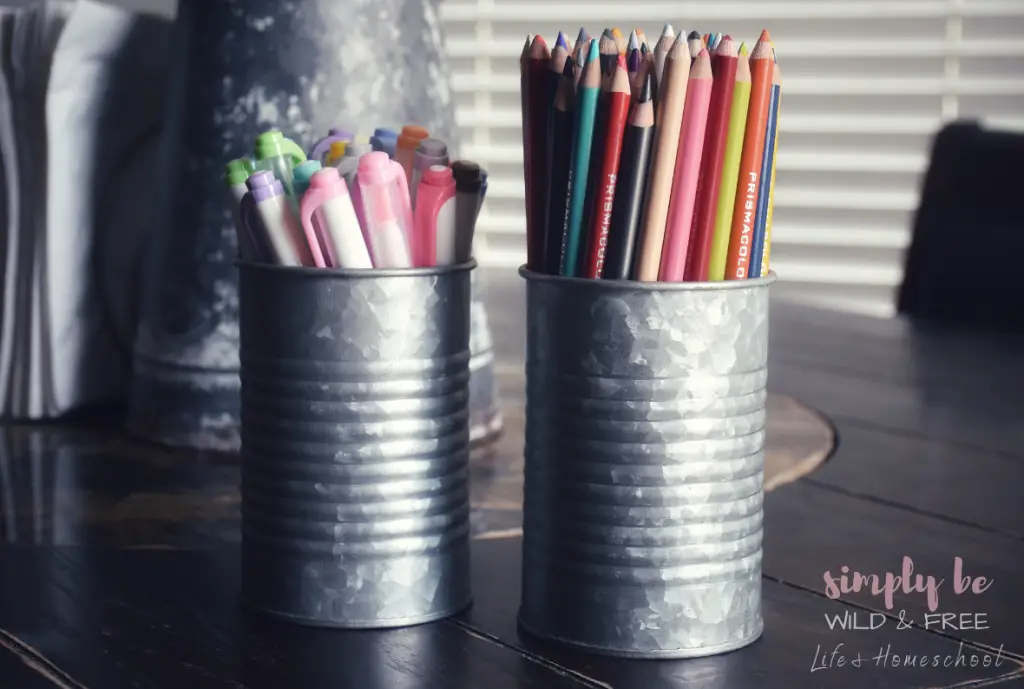 Grab some awesome pencil cups for your homeschool — you can thank me later!
Seriously though. Storing like items together in small, decorative containers is a simple no-brainer.
Oh man, this is the good stuff!
Travel caddies will seriously change your life — not even joking!
I first created these caddies for my kids to store at their desks as a catch-all. Pencils, markers, scissors, erasers, glue sticks — everything they needed lived in these caddies.
Over time they have evolved to meet the needs of each of my children and we still very much use them today!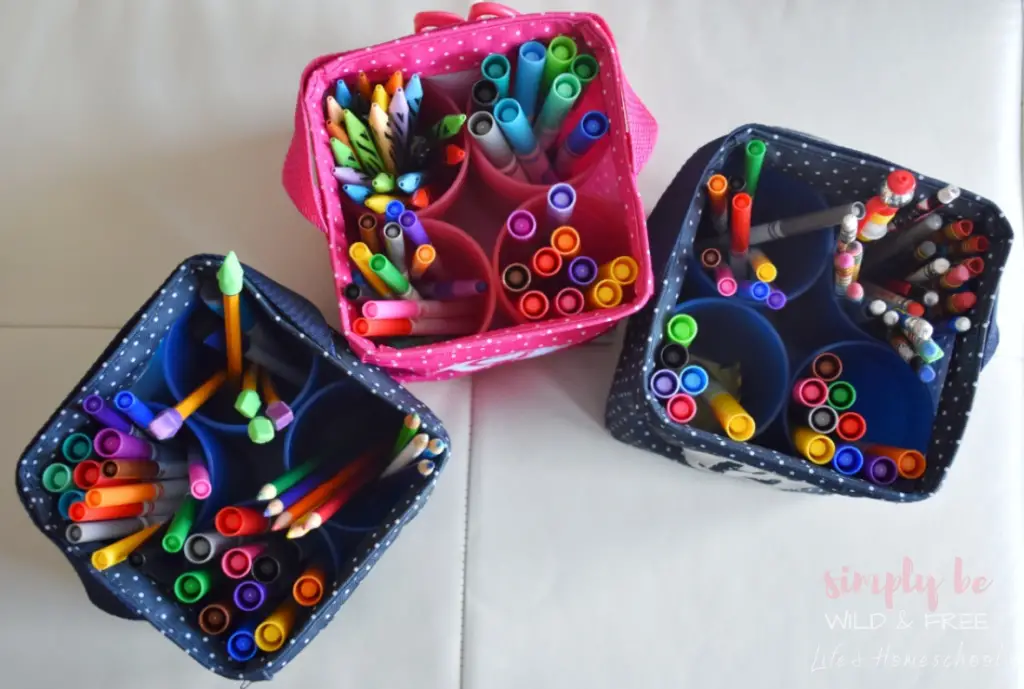 Having a simple caddy with an easy-to-carry handle makes for a great option when kiddos do their work in different areas of the house – as my kids do.
However, they also double as an amazing travel art caddy for long road trips! This is hands down my daughter's new favorite use for her on the supply caddy.
These are definitely a must-have organizational tool for any homeschooled kiddo on the go!
With the right tools, creating stationary art stations for craft extras can be both easy and pleasing to the eye — this carousel made it possible for our homeschool.
I keep this caddy in our homeschool area and it houses all our extra homeschool art supplies. It is seriously perfect for holding all the fun things we don't use on a regular basis but still want easy access to!
We keep extra staples, glue, paint sticks, brush markers, and other fun extras in this art station.
Plus, it rotates to keep all supplies at arm's reach — making this the perfect storage solution for craft supplies!
Use Pouches for Extras
Yes, yes, yes! I use pouches for so many things in our home! Not only are they great at storing like items together, but they also work wonders on cutting surface clutter while saving space!
Organizing school supplies can with the use of pouches is a super simple solution!
Flashcards making a mess of your homeschool area? I totally get it!
I think it's pretty safe to say that we have all been there a time or two. From curriculum-based flash cards to other random sets we seem to have collected over the years, flash card storage can be a real pain!
I use to rubber band them (once the fancy cardboard boxes had been put out to pasture) and simply tossed them all in a bin to live forever.
It wasn't really a system, and it never, ever functioned.
Last year, we made a huge overhaul in our homeschool curriculum mid-year and our new material came with bonus flashcards that were to be used on a daily basis.
I knew I needed a new system for our homeschool flashcards, so I took a deep breath and began the brainstorming process.
I'm a huge fan of storage pouches in general, so this was actually a pretty easy solution for me.
These things are seriously golden when it comes to flash card organization!
We use a large-sized zipper pouch to store our curriculum-based flash cards and smaller-sized zipper pouches for the random sets.
Activities & Manipulatives
Zipper pouches also make the perfect storage solution for simple activities or manipulative items!
We sometimes use these as a part of our homeschool morning basket routine.
Each kiddo has a pouch that houses simple things like devotionals, readers, or activity-based booklets.
Organizing School Supplies on the Go
If you love taking homeschool lessons on the go, having travel-ready supply storage is a must!
Utilizing an on-the-go caddy and simple pouches is a great start to homeschooling outside of the home, but there is one more tool that is essential to homeschool field trips and road schooling — the backpack.
Yes, homeschool kids can still utilize backpacks!
While they may not need a backpack every single day, there will be times they come in very handy throughout the years.
Like homeschool field trips for example.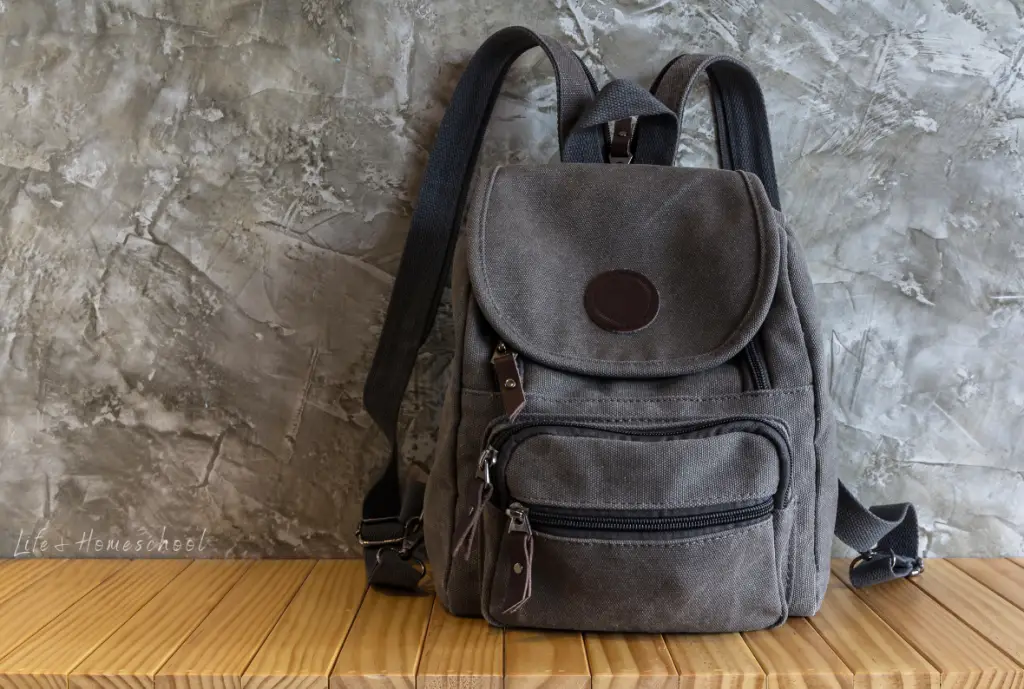 Not all backpacks are created equal though!
These are the 2 awesome bags our family leans on for homeschool outings.
If I'm being completely open and honest with you all, this one is my absolute favorite backpack of all time! I carry this bag nearly everywhere we go as a homeschool family and now my boys are following suit – carrying their very own!
We especially love to lean on this type of backpack for homeschool field trip days.
They aren't quite as bulky as a regular backpack and can hold just enough for simple trips — such as our bi-weekly science classes.
My older children carry one of these bags nearly every time we head out the door! They are plenty large enough to hold a water bottle, a couple of chapter books, their planner (if need be), and possibly a snack or 2.
While smaller backpacks are wonderful for easy days, they simply don't function for a larger trip or a full day of homeschool lessons at the library.
For the full days of homeschooling on the go, we love to lean on larger backpacks that can hold all the things!
When choosing your own backpack, make sure you lean on the side of quality and go after a deluxe version with pockets for organizing supplies.
Each of my kiddos has one of these and let me tell you, they hold up year after year!
While it may sound like a total no-brainer, these tools are incredibly useful to the homeschooler on the go!
We utilize a folder system in our homeschool anyway and tend to lean on clipboards anytime schooling doesn't happen at a desk.
To put it simply, transitioning these items from our at-home organization system to a backpack for on-the-go learning just works.
If you already organize your homeschool with folders, you are totally golden.
Organizing School Supplies & More
From decluttering the house to creating a simple chore routine for your homeschool kiddos, living an organized life is a huge part of keeping up with the added homeschool clutter!