Rewarding Good Behavior
When kids live in a world where it feels like they are rewarded for simply existing, it can be hard to find a good balance where we can reward their good behavior and it actually means something.
Believe it or not but all children need a little recognition and compassion thrown their way from time to time — just like we adults do.
However, finding a way to promote that good behavior in today's society can be extremely tricky!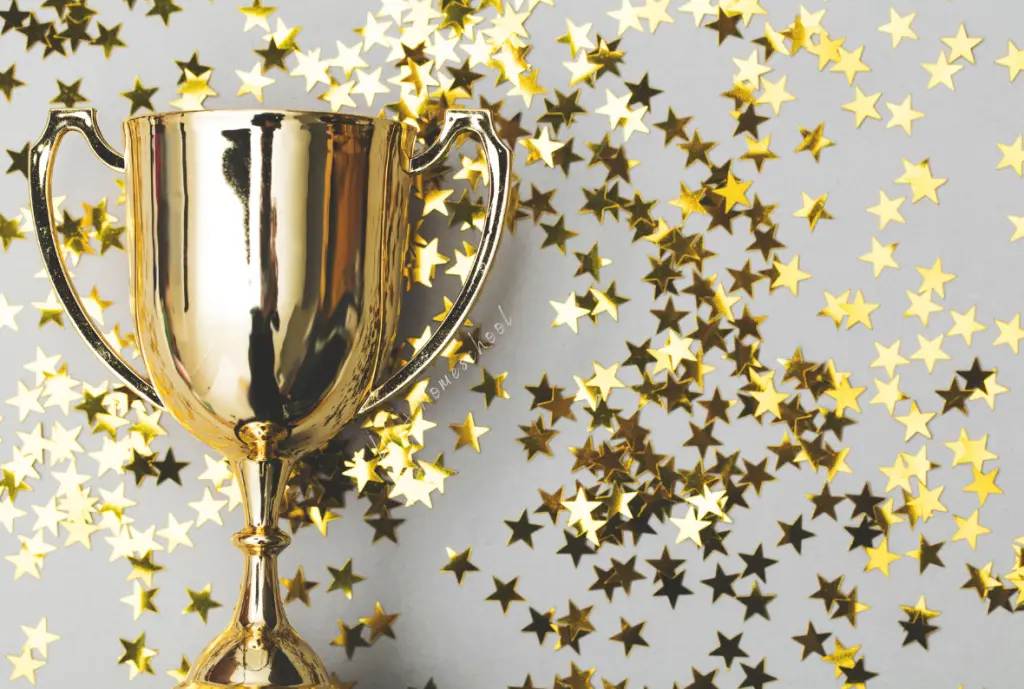 After many years of working with special needs children, hard-to-handle tots, and even well-mannered little ones in both the brick-and-mortar classroom setting & church, I always come back to the same conclusion regarding behavior.
Kids like rewards. 
If I'm being completely honest, adults do too. It's human nature, you guys!
With that said, finding a balance between rewarding the good, and not over-rewarding is key.
Sometimes when it comes to rewarding children's good behavior we can actually create a nasty habit by encouraging children to simply act good to gain a reward, instead of focusing on building their character.
Character and behavior are not the same thing.
That's why being consistent and only honoring the most genuine good behavior is important!
Why I Created Reward Tickets
Much like everything else in my free printables library, I created these simple reward tickets for my own sweet kiddo.
Summer can be a difficult time for my youngest — and by difficult I mean she loves it, almost too much!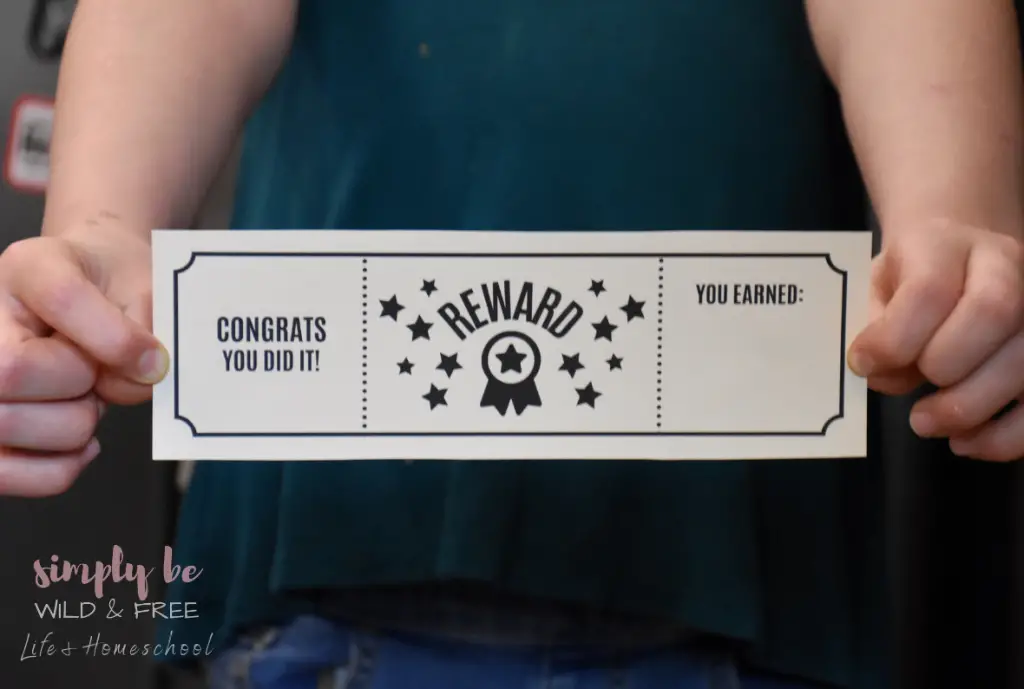 Because of that love, she struggles with her priorities over the summer months and it drives this mama up a wall!
Between friends, playing outside, gymnastics, painting, and playing with her dolls she tends to toss her school lessons and chores on the back burner.
So, this summer we have developed a new system in our home, and these reward tickets will play a small role in that.
How to Use Reward Tickets
While I've already created a separate discipline-based system that has been motivating her to complete her schoolwork earlier in the week.
There has still been a little struggle with forgetfulness in the chores department.
This is where our golden tickets come in!
I intend to use these simple reward tickets randomly throughout our week when I catch this kiddo doing a chore without being told, nagged, or reminded.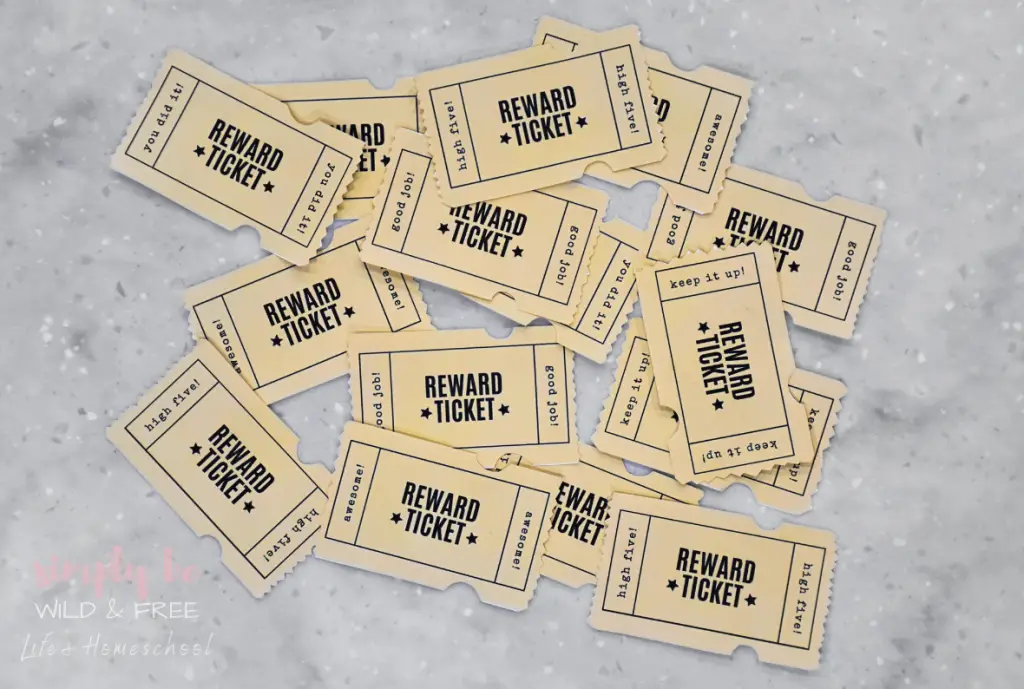 With that said, my daughter is on the older side and I firmly believe there is good in doing work without recognition as well.
This is why I will be sure to use discretion and only utilize these reward tickets on occasion throughout the summer months.
My goal here is to promote good habit-making, productivity before play, and work ethic — not to encourage my kiddo to work for a reward.
If you aren't sure how to use rewards in your home, consider one of these options!
Pair golden tickets with goal-oriented summer projects like our reading challenge
Use them to help reach goals in your homeschool
Create a chore reward system (this is our go-to)
Hand them out after good behavior while out/on car rides
If you plan on using reward tickets in your homeschool, for summer productivity, or in the classroom, try one of these simple methods!
Pick a behavior that needs working on and encourage your children to earn the tickets
Hand tickets out at random, without telling your children when or how they can earn them
Let children collect & turn in their stash of tickets with a store of prizes, cash, & treats
Save up for something specific or big like a movie date with Mom or a new toy
Free Printable Reward Tickets
While I originally created these reward tickets for my 10-year-old daughter, I knew I wanted to create a slight variation to help meet the needs of other struggling mamas.
That's why I created 4 types of tickets.
First, I created the original reward tickets.
These tickets are perfect for collecting and saving to spend for a specific purpose or for using with a treasure chest.
Second, I created immediate reward tickets.
These tickets are designed to be used when (or shortly after) they are earned — kiddos can earn simple things like a scoop of ice cream or a dollar!
Third, I created the empty reward tickets.
These tickets are a fine mixture of everything above!
The empty reward tickets are a blank slate and can easily be used in any way you desire! They are perfect for classroom settings, unique immediate rewards, and reaching specific goals.
Lastly, I created the mega tickets.
These babies are perfect for those over-the-top moments when big goals have been met or your child's behavior has been darn near perfect and you just want to show them you've noticed!
They are much larger than the other 3 ticket choices, making them a big deal.
Bonus Golden Tickets
While the regular reward tickets are great and fully serve their purpose, I totally had to take things up a notch and give you guys some bonus golden tickets!
These golden tickets are absolutely perfect for teachers, themed events, and at-home use.
Use them in one of the ways mentioned above, or come up with your own unique golden ticket use.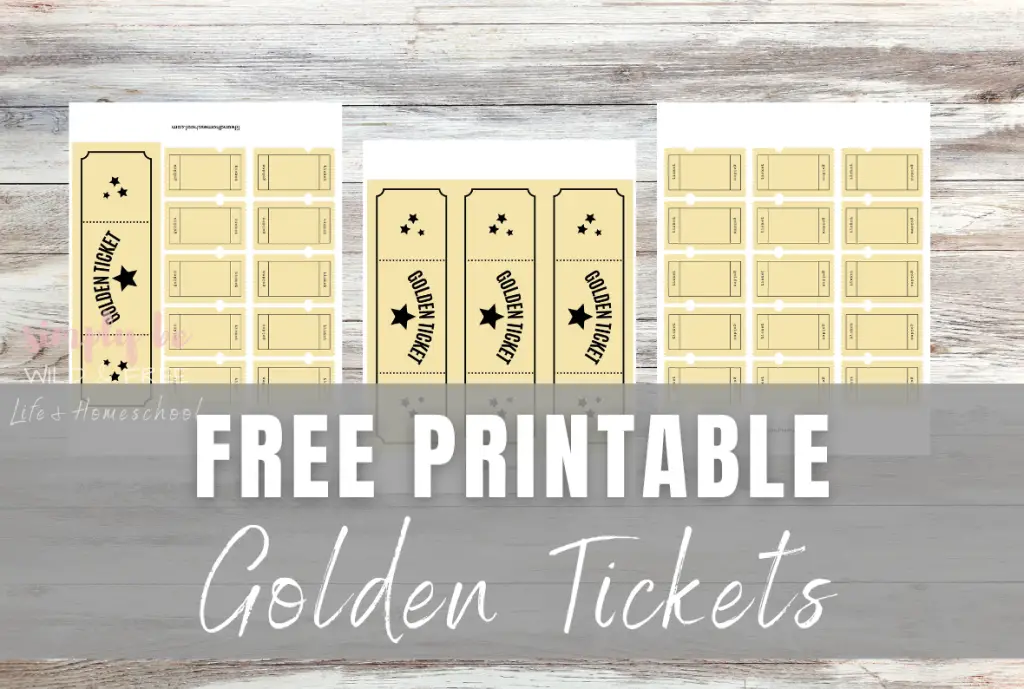 Ready to get your free printable reward tickets for kids? Sign up for our newsletter below!
Enjoy this free printable? Share it on social media today!