The Importance of Summer Reading
Summertime and other long-term breaks from school can play a huge role in education regression — which is why I always encourage a large amount of reading in our home. 
Getting kids off their electronic devices and into a good book during the summer is a must!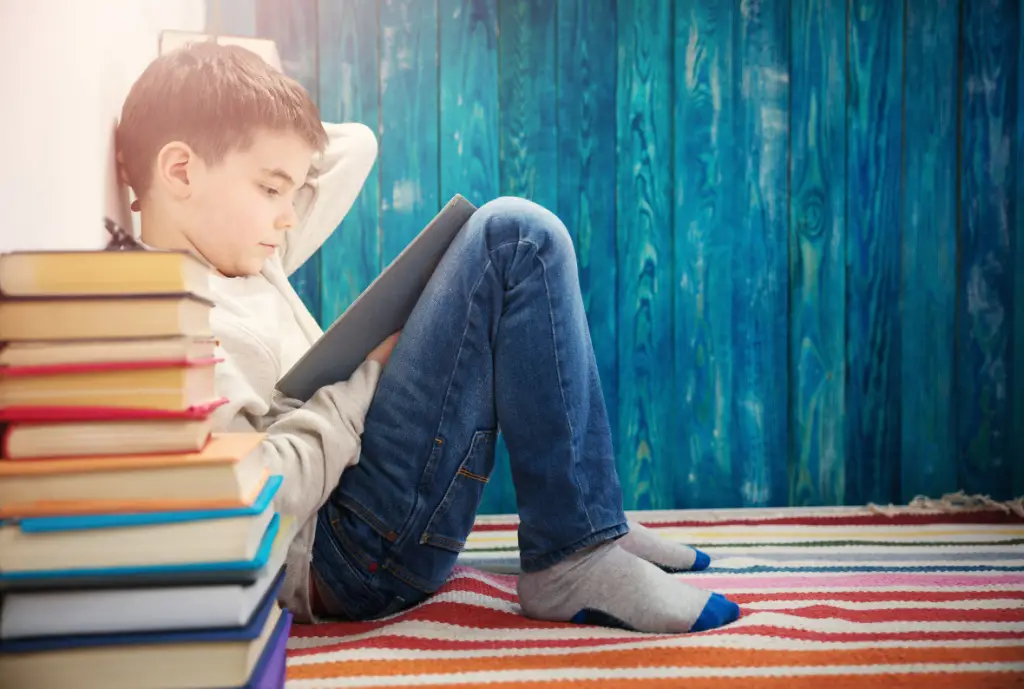 Like any good summer reading program, our summer reading challenge for kids has one purpose – to keep kids reading all summer long!
While it may sound like an overwhelming task at first, it doesn't have to be!
Our reading challenge is meant to be a simple solution for all ages and reading levels.
Have a child that hates reading? Try beating the summer slump with some of our other summer activities for kids! From keeping your kid active with Simple 10-Minute Workouts to tackling their very own Summer Bucket List — we've totally got you covered!
Ready to tackle some light (or heavy) summer reading? Get all the details on our free printables below!
Free Summer Reading Challenge
When I first created this summer reading challenge it was to meet a need for my own kiddos!
While they are all avid readers most of the time, they can still get sucked into the adventure of a good video game. Then, before I even know it, hours have passed and my kids haven't spent a single minute reading all day!
I threw these printables together to mix it up one summer and I haven't looked back since.
Setting goals towards the end of spring sets the tone for our entire summer and it's something I will always do.
Not only does goal setting help my kids be more productive but it also gives them the ability to have more fun during their downtime –– sounds crazy, but it's true.
I'm a huge fan of living a part structure/part free-range life — especially since our family embarked on the new journey or RV living last summer!
We set daily goals and expectations, but tend to be relaxed and informal in between. It's a healthy mix (and the key to my sanity).
Ready to check out what's included in this bundle? Read on!
Reading Program Breakdown
I'm a little bit lazy when it comes to kid activities and tend to lose interest in projects that are elaborate or overwhelming.
This is why I chose to keep our summer reading challenge simple and personal.
With multiple designs to choose from, your kiddo can easily customize their own book lists, goals sheets, and bookmarks all while keeping things simple and age-appropriate.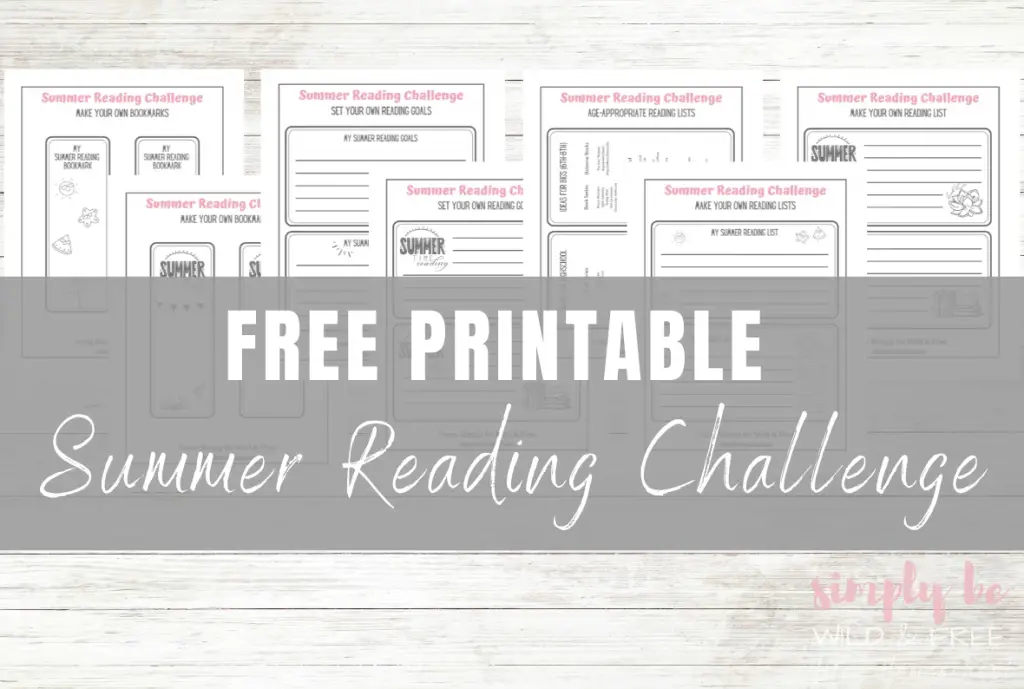 **NOTE: Our printable summer reading challenge recently got an upgrade!
If you are looking for our original summer reading challenge, you can still access the old version (and our new version) in our free printables library by signing up for our email newsletter below!
Ready to find out what's included in our new kit? Check out all the details below!
Age Recommended Book Lists for Kids

Our age-recommended reading lists take the guesswork out of finding that perfect summer book for your little one & our personalized reading lists help your kids narrow down their favorites.
While these are designed to be used alongside the other items in our free printable reading program, you can totally use these on their own to help your kids find and track the great books they read all year long!
Our reading lists are compiled with wonderful titles we have read in our own home, as well as some others from The Good and The Beautiful book list – which I always, always recommend to new homeschool parents!
If your children aren't huge readers or get bored easily, these book lists will come in super handy over the long summer months.
The best part? Most of these titles can be checked out at your local library — which makes this a super budget-friendly summer activity!
However, if purchasing books is your thing (like it is mine) you can find all the Usborne titles on our book lists at my online store!
Printable Bookmarks for Kids

With this bundle, you will also get a set of easy-to-customize printable bookmarks for kids!
These bookmarks can be colored, doodled on, or left as is!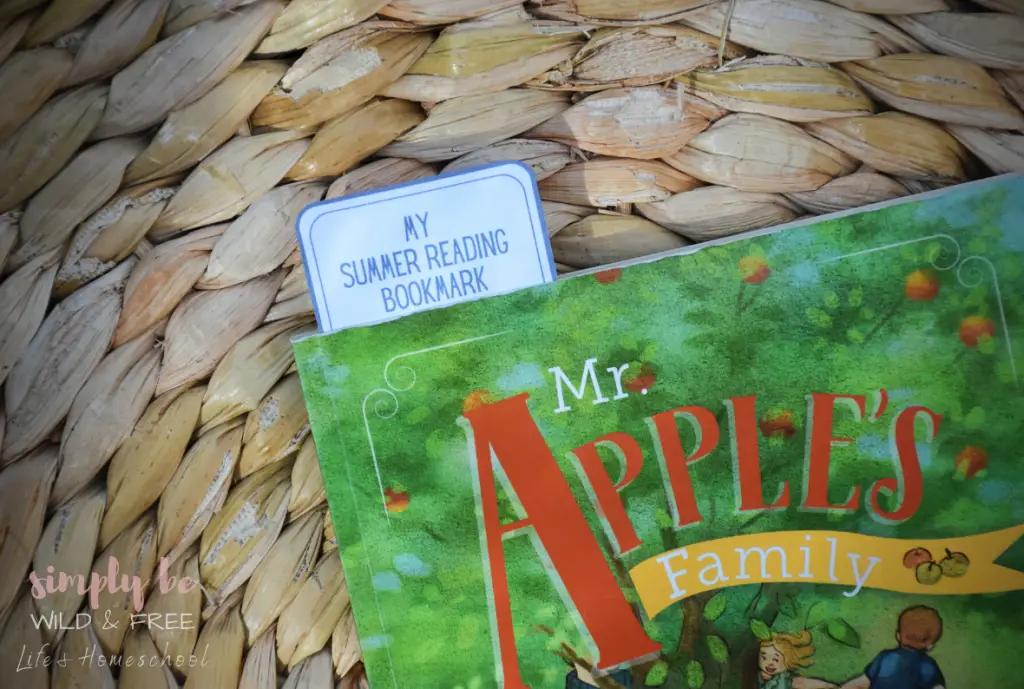 **Pro TIPs: Print your bookmarks on heavy cardstock instead of regular printing paper for a sturdier bookmark — OR — Print your bookmarks on regular printing paper, color, then laminate for a longer-lasting bookmark/keepsake.
If you love the idea of laminating, check out the one we use in our homeschool! I've used several laminators over the years and our current favorite is this Laminator. Not only is the price right, but the results are pretty great too!
Printable Reading Goals & Rewards Sheets for Kids

Last but not least, our reading challenge includes easy-to-use reading goals sheets & reward cards!
With these cards, your children can set their own reading goals for the summer! Once goals have been reached, you will get the chance to pull out a reward card (if you chose).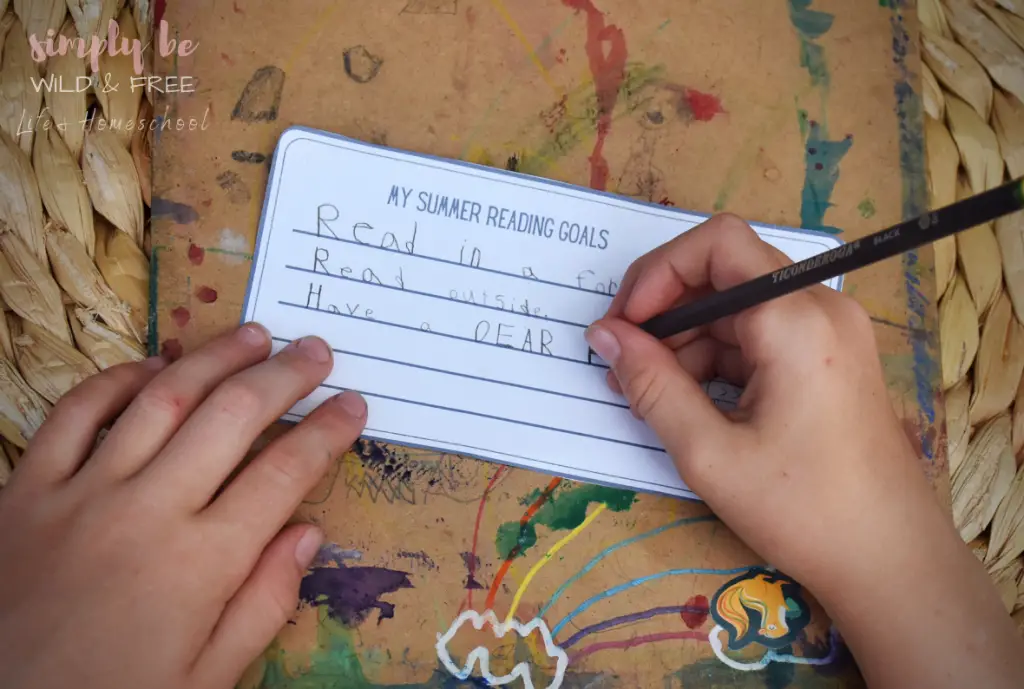 I personally don't use the reward cards for my own children, but I know how important a reward system is for some children which is why I included them in our reading challenge bundle!
Reward cards can easily be hole punched and attached to a special treat, $5 bill, or even a new book to read! Whatever reward you choose, just make sure it's a motivating one for your child.
Every child is different — which is why I chose to make this bundle so customizable! Use parts of it or use all of it — the choice is up to you.
If you have a struggling reader, help them set simple goals and work towards completing this program once over the entire summer! However, if you have a competitive child that is a strong reader, take it up a notch and make it challenging!
Either way, the goal here is to keep all the kiddos reading all summer long! 
Sometimes getting started is the hardest part.
That's why I chose to create this bonus printable which pairs perfectly with our summer reading program!
If your child loves video games or movies, this could be an easy way to encourage them to enjoy a handful of other things before engaging in any type of electronics.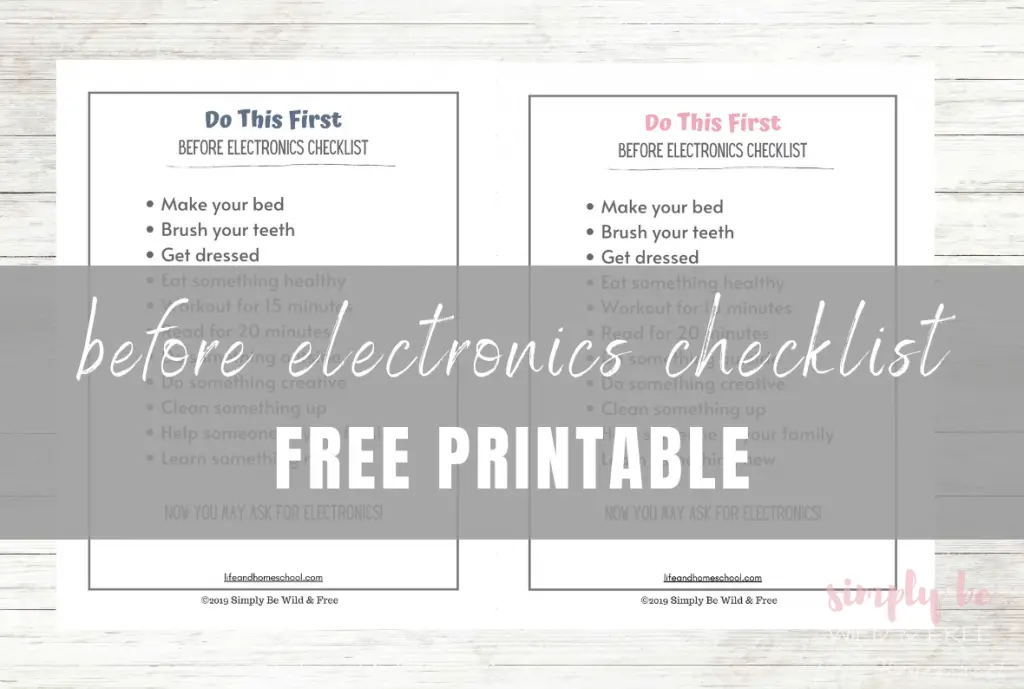 Our Do This First list is a small sheet that can easily be laminated, hung on the fridge, or reprinted as a daily checklist. It's just meant to be a simple reminder for kids to enjoy life, get creative, and make their brains work before they choose to zone out on their electronic devices.
It's the perfect add-on to our summer reading challenge, but also works great as a standalone!
Get Your Free Summer Reading Challenge!
Ready to get your printables? Sign up for our newsletter below!