Rainy Days and Bored Kids…
As a working homeschool mom of 3, I truly believe kids need to be bored from time to time. Not only does being bored boost creativity & imagination, but it can also produce some of life's most memorable moments!
Think about it this way… If a child is bored, they have to think of new and exciting ways to entertain themselves — and sometimes those new things become favorite hobbies, amazing inventions, or even lifelong dreams!
Encouraging kids to cope with their boredom by figuring it out independently is an essential life skill.
With that said, sometimes kids can get in a funk and Mom just needs to break the cycle of boredom — for her own sanity.
This is why I like to lean on a simple list of fun indoor games for kids. These games are perfect for the rainy days that keep kids stuck inside all day long.
Fun Rainy Day Games
Board Games & More…
We are a game-loving family, so it was super hard to narrow down this list! I tried keeping it to 5 (or under) per category, but that was not an easy task! Check out some of our favorite rainy day games below!
Rainy Day Games for Littles
I decided to kick the list off with some super fun options for the smallest game-playing members of your family! Check out all my rainy day game ideas for little kids.
These options are great for nonreaders that can follow simple or visual instructions.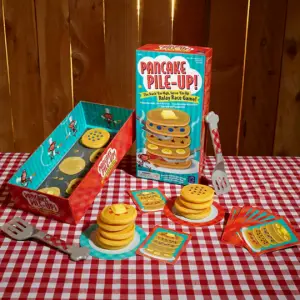 This game is such a blast!
While we don't personally own this game yet, we have played it as a family multiple times and it's tons of fun!
If you have competitive littles, this really is a great option.
The object of the game is to create your own pancake stacks (no hands allowed, only spatulas!) before the other player creates theirs.
This game is great for direction following, motor skill building, and just plain fun!
My 5-year-old absolutely adores this game and to be honest, even my older kids enjoy playing it with her!
Yes! Another beloved game for littles in our home.
My young daughter can play this one independently or it can be played the traditional way with multiple players.
With that said, this game is a wonderful choice for determined kiddos that don't frustrate easily — cause those pesky fish aren't always the easiest to catch.
This game is great for patience building & motor skill development.
A beloved classic for kids that love to play games, but aren't strong readers or simply can't play multi-step games just yet.
This game is seriously as easy as it gets — 4 in a row and you're the winner!
This game is great for turn-taking experiences & practicing motor skills.
While this one isn't my favorite game on the list, my younger kids always adore this one!
I'm personally not a huge fan of the setup time. While it only takes a minute, you will find yourself doing it over and over again during the duration of playtime – making it mundane and a little annoying.
With that said, I had to add this one to the list simply because my kids LOVE this game! Littles will play it over and over again with such excitement.
Want some solid advice if you plan on adding this game to your rainy day games lineup? Have older kids play with your littles, allowing them to take over the setup process.
This game is great for teaching kids to be gentle with subtle movements.
Oh, my word! This game is not only a favorite for my little kids, but it's always a super fun family game! I actually really love playing this game with my own kiddos.
It's super simple, involves some strategy (which I love), and everyone can play it together because even the smallest members of the household can get in on the play!
Plus, kids can totally play this 100% on their own. My young daughter will set this up and play it independently when boredom strikes.
Definitely a great one to have around!
This game is great for turn-taking practice & teaching strategy.
Rainy Day Games for Middles
Next up, some of our favorite games for kids in that in-between stage.
These games are great for children that can read but aren't quite old enough for complex or multi-step games yet.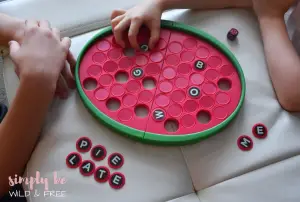 This is a new one for us, we actually just got it about a week ago. So much fun though!
You basically try creating the longest word you possibly can with the number of watermelon seeds you have in play.
The person with the most letter seeds collected at the end is the obvious winner.
My favorite thing about this game? It's super great for early readers!
I played this with my young daughter and she had so much fun sounding out letters and creating words. This can almost double as a curriculum aide, but shhh the kids don't need to know that!
This game is great for spelling practice & homeschooling.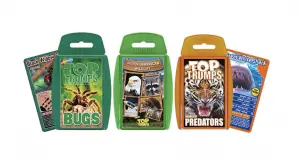 This game is like an 8-year-old's dream game! Not even joking.
While it works great for rainy days, it's also the perfect pick for long car rides, waiting rooms, & downtime.
Each card has a list of categories and each category has a number associated with it.
You simply take turns stating the category you chose and announcing its corresponding number. The one with the higher number wins that round.
Sometimes a game lasts only a few minutes, while other times they can last well over an hour!
It's a game of chance and fun — love, love, love this one!
This game is great for road trips & learning strategy.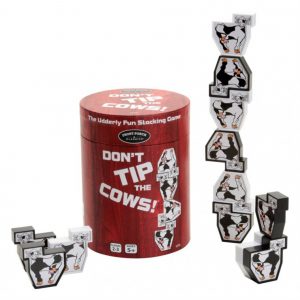 When it comes to rainy day games, I'm all about the games my kids can play SOLO.
This is one of those great picks, plus it's super simple!
Stack the cows, but try not to tip them – so fun!
This game is great for motor skills practice & gentle play.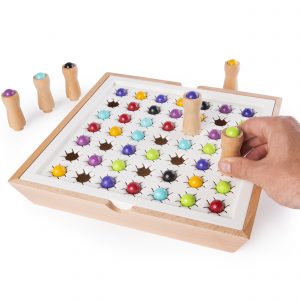 My middle kid is slightly obsessed with this one! Not going to lie, I kind of am too! It's seriously a blast!
The object is simple, knock out as many colored balls as you can to prevent your opponent from being able to move. The person with zero moves left is out, and the person with moves left is the winner!
Another reason I love this one? It's a super quick game! Let's just say I'm not a huge fan of games like Monopoly that take forever and a day. I love the simple!
This game is great for turn-taking practice & strategy building.
Rainy Day Games for Big Kids
This is where I really struggled with narrowing our choices! My older boys absolutely love playing board games – They pretty much created this entire list on their own.!
Check out their top 5!
Any moms out there play this game when they were younger?
Oh, my word! I loved it then, and I still love it now!
Battleship is a year-round favorite in this house.
If you aren't familiar with this game, the object is to blindly guess your opponent's ship locations and sink them!
Seriously, so much fun!
Honestly, my 11-year-old and I play this more than anyone else in our house.
This game is great for strategy building & creating healthy competitions.
This game is super fun for older kids that enjoy a little creative thinking.
Suspend encourages independent play as well as working together with other friends or siblings.
The object of this game is to stack your rods without collapsing or sending the rest crashing down.
My 11 year old tends to play this on his own when he's bored. However, there are times that my kids do enjoy it together.
This one definitely keeps my older boys busy and engaged for long periods of time.
This game is great for teamwork practice & strategy building.
My son got this one as a gift for his birthday. It is such a blast!
It has a similar feel to air hockey or foosball. However, instead of one puck being passed back and forth, each player starts with 8 and tries to get all their pucks to the opposing side.
Obviously, the player with an empty side at the finish is the winner!
While this game might sound super simple, it's actually quite tricky and super fast-paced!
Definitely a winner for competitive big kids!
This game is great for healthy competitions & extreme fun!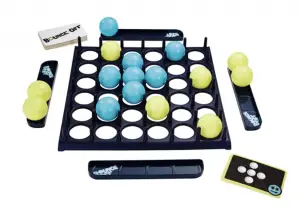 This is a new one for me. I've actually never played it myself.
However, my 13-year-old has with some friends and he tells me it's amazing. So naturally, I had to include it on this list — because a 13-year-old boy rarely has that strong of an opinion on… well, anything!
Bounce Off is pretty much a game of luck and aim.
Each team (or person) is trying to bounce their balls into specific holes in the game board to create a pattern. This game is great for older children or teenagers that just enjoy a good challenge!
This game is great for fun & strategy building.
Ok, if you're on the hunt for a good activity for your children to do on their own… this is the one!
Gravity Maze is a one-player game for kids that love logic games.
The object of this particular game is to get your marble to the red target. So basically, (as my son describes) you use pre-built towers with tunnels inside, to move your marble from place to place.
This kid has spent many hours building and playing with his Gravity Maze.
This game is great for building thinking skills & independence.
Rainy Day Games for the Family
YES! Sometimes rainy days are perfect for a little family bonding time.
Check out all my favorites for family game night!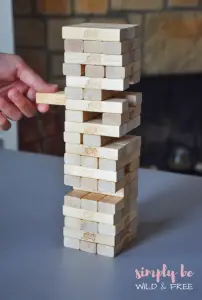 This is such a great one!
Jenga has been around for quite some time, and I would imagine it's already common in most American households.
This game is great at making kids think, as well as encouraging them to have simple moments of calm and steady structure!
While traditional Jenga gameplay is super fun on its own, creating original games out of these blocks can sometimes be even more fun.
My older children thoroughly enjoy doing building challenges with these blocks, and younger children can have just as much fun simply by stacking and re-stacking!
An amazing option for the entire family!
Had to go classic on this one, you guys.
UNO is a huge family favorite around here!
We play the spin version, the attack version, the flip version, and the traditional version. To put it simply, we are UNO obsessed!
This simple card game is a great way to involve everyone in the family.
Have a little and not sure how to include them in this type of game? When my daughter was younger, we included her by letting her team up with another child or adult — worked out great!
Older kids can also play this game completely on their own for hours on end with much ease.
This one is hands down my favorite game on the list!
This game is seriously amazing!
I actually purchased it for my kids around Easter this year, and they have already played it for countless hours!
This game is a crazy-twisted version of tic-tac-toe. You can laterally win multiple times during a single game.
So much fun!
Even my 5-year-old has a blast with this one. Otrio is definitely a must-have for the game-loving family!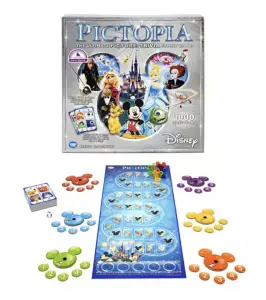 Yes! We recently played this game for the first time and I'm a huge fan!! We currently own the Disney version, but this game also comes in Harry Potter & Star Wars!
This is such a fun way to quiz each other on favorite movie trivia. The best part? Your kiddos don't have to be strong readers to participate!
Love These Rainy Day Games?
Check out some of our other favorite kid activities for busting the boredom!
Don't forget to share this list of rainy day games on social media!