Cooking With Kids in the Kitchen
Encouraging your kiddos to join you in the kitchen will help them build essential skills that will last a lifetime.
From making homemade snacks together to creating holiday meals for the family, get yourself in the kitchen and invite those kiddos to join!
3 Reasons to Cook with Kids
If you worry that the benefits of teaching kids to cook won't outweigh the struggle, I hear you!
Learning to cook with kids can be a challenge at first, but the more you do it, the easier it will get — trust me!
Check out my top 3 reasons you should be cooking with your kids.
Say what?
Math doesn't always have to be taught in a bookwork fashion.
Cooking with kids is the perfect time to bring math to life.
Focus on teaching measurements & fractions during the cooking process and you might just be surprised at how quickly things click!
This is my favorite reason, you guys!
Once your kids get a little older and more confident in the kitchen, let them take charge of meals once or twice a week.
This encourages responsibility and productivity.
If your kids are younger, however, simply let them focus on minimal tasks like getting breakfast together for themselves and their siblings by setting out bowls, cereal, and milk.
Tasks like this can help them feel accomplished and helpful!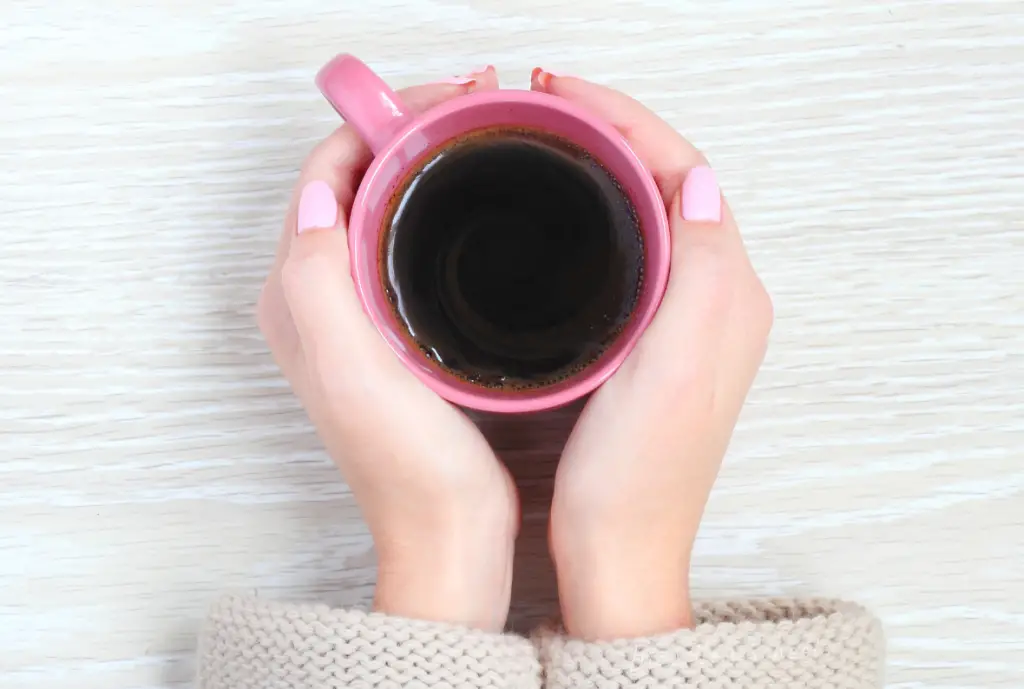 Not only does this help them practice their kitchen skills (and a little independence), but it also allows mom to place her focus elsewhere or possibly even take a small breather.
To Prepare Them for Adulthood
Yes, 100% this!
Preparing your children for adulthood is the #1 reason you should be cooking with kids in the kitchen!
By teaching simple cooking skills during the grade-school years, your kids will be more prepared for life after homeschooling.
Having basic kitchen knowledge & the ability to cook meals on their own is an essential skill in my book.
5 Tips for Cooking with Kids
While it's important to encourage your kiddos to hang out in the kitchen while you cook, it's also essential to teach them along the way!
Teaching kids just got easier with these 5 simple steps.
1) Introduce Simple Kitchen Tasks
If you're afraid to jump into cooking with kids head first.
Start off small by introducing simple (non-cooking) tasks to children at a young age.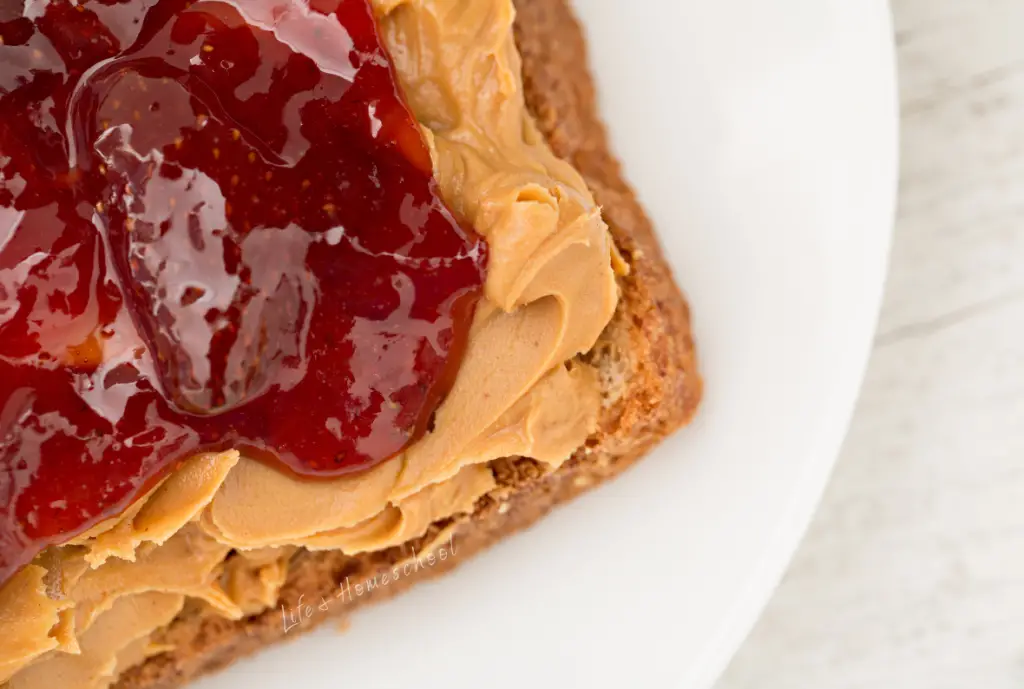 First, encourage children to help mom in the kitchen by grabbing ingredients out of the pantry or fridge.
Then, instruct children through simple tasks such as getting pre-packaged snacks for siblings and pouring things into bowls.
Finally, move on to simple snack and meal making such as homemade trail mixes and peanut butter sandwiches!
Fewer steps = Less mess
2) Encourage Proper Clean-Up & Safety Methods
Before attempting to conquer larger tasks or multi-step recipes in the kitchen with kids, try introducing proper clean-up procedures and discussing safety methods first!
Start with simple recipes that you can cook with your child.
During the cooking process, teach your child how to clean up along the way by discarding wrappers and vegetable skins, wiping up messes, and placing measuring devices in the sink.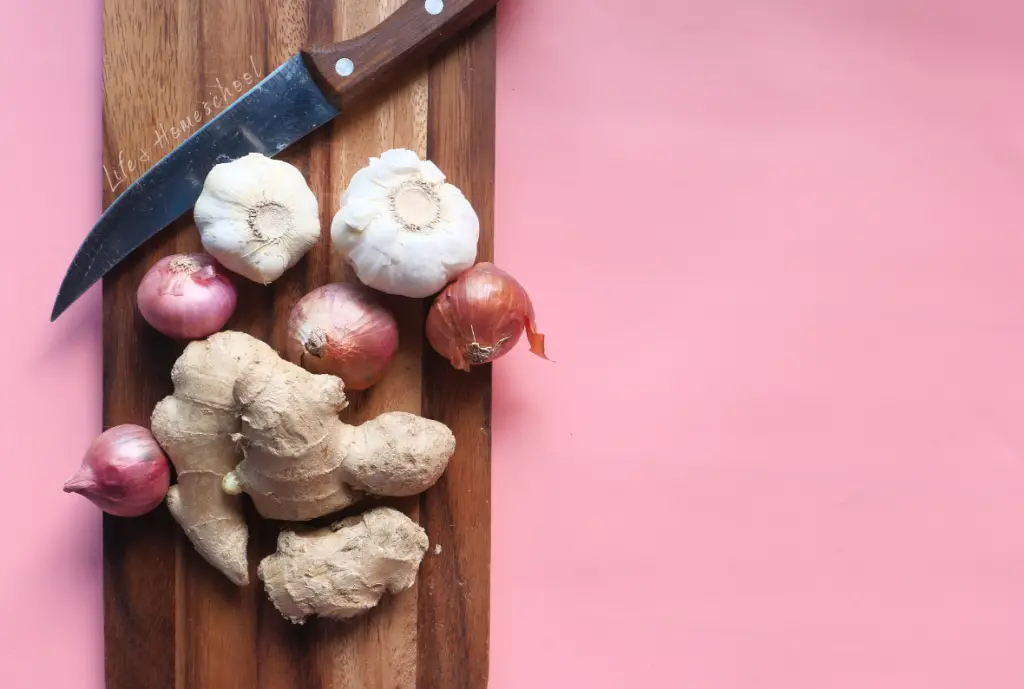 Also spend some time discussing kitchen safety tips and demonstrating the proper use of specific kitchen tools, such as knives, graters, and peelers.
Our favorite tool for this was The Good and the Beautiful Safety Unit (Lesson 6) — this unit was so good you guys!
3) Utilize Pre-Packaged Foods as a Starting Point
For a simple first cooking experience for your child, try using a pre-packaged meal or baking mix instead of a traditional recipe card that may involve more difficult steps such as chopping.
This simply allows your child to focus on the simple process of following steps instead of being overwhelmed by the recipe as a whole.
If using pre-packaged food isn't your style, try a super simple 2-3 step recipe or adapt a more detailed recipe by prepping chopped ingredients ahead of time and allowing your child to simply put the ingredients together.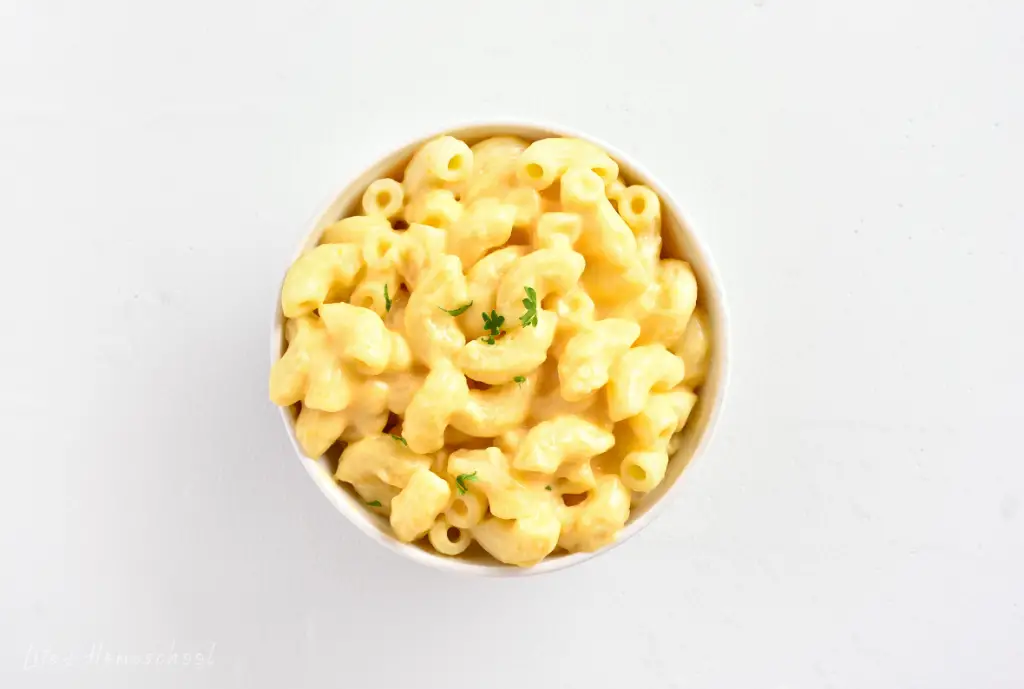 I opted for a simple box of macaroni and cheese as my son's first cooking experience, but did a simple oven nachos as my daughter's – both options made a great first cooking experience!
4) Teach Terms & Prepping Steps
Once you are ready to dive deeper into cooking with kids, teaching proper terms and techniques will be a must!
When your child is ready for multi-step recipes that involve the use of kitchen tools, fresh ingredients that need chopping, or lots of measurements – simply start off by teaching them proper prepping steps!
Measuring, chopping, and setting aside ingredients till they are needed, will help keep the process simple and stress-free!
Also spend time teaching them terms (such as whisking, simmering, and browning) as they go along.
5) Encourage Creativity and Flexibility
Now that your child has mastered simple recipes by following step-by-step instructions, it's time to encourage a little creativity in the kitchen!
Spend some time experimenting with your child at first by giving them options to mix up ingredients or make fun additions.
Simple starters would be things like trying a different type of cheese in place of the kind mentioned in a recipe or simple additions such as adding herbs and spices to existing recipes.
Once your child is ready to move on and get creative on their own, let them – it's the best way to learn what works and what doesn't!
Also, discuss simple replacement options when a specific ingredient may not be available.
The Importance of Cooking with Kids
While cooking with kids can be a mixture of fun, mess, and stress –  it's also an essential life skill!
Help your children transition into their teenage years with skills that will follow them into adulthood by focusing on these 3 areas.
Menu Making & List Creating
Keep it light and simple, but walk don't forget to walk through all the important steps of creating a weekly menu and grocery shopping list!
Budgeting for Essentials & Extras
Help your child learn proper shopping skills by covering budget-making and follow-through!
Don't forget to cover the importance of sticking to a grocery shopping list to stay on budget and only allowing the occasional extras.
Grocery Shopping & Proper Food Storage
Allowing older children to walk through the entire grocery shopping scenario on their own (while encouraging them to put things away in their proper places), will help the transition into adulthood be an easier one.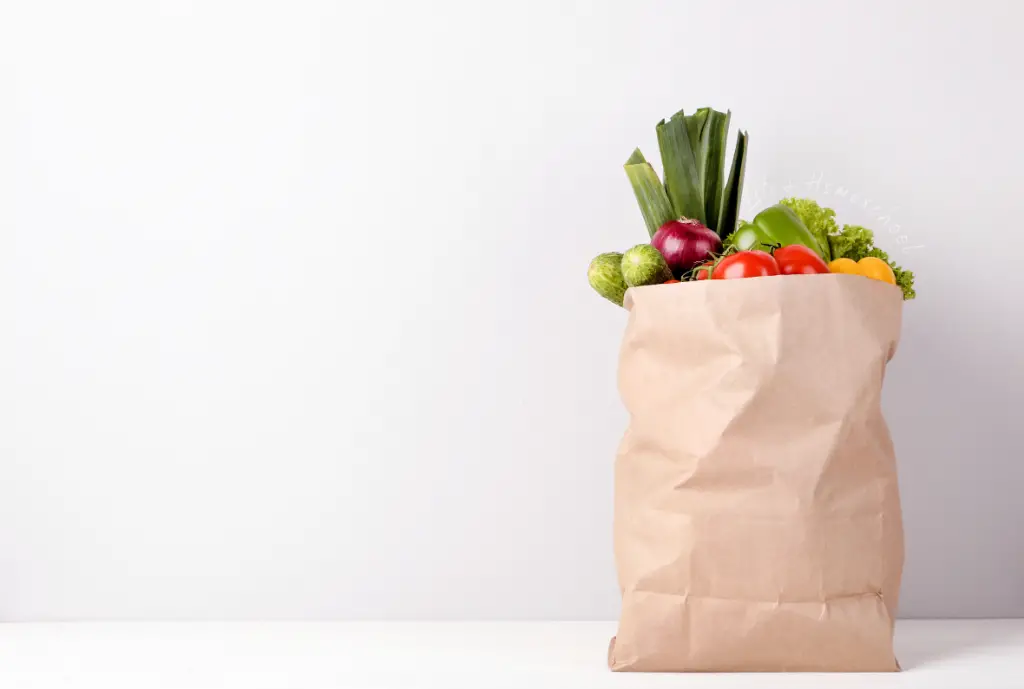 My 15-year-old son can tackle an entire grocery shopping tip on his very own and this introverted homeschool mom is incredibly grateful.
It's so good, you guys!
Love this article on teaching kids to cook? Share it on social media for other parents!