Easter Crafts & Activities for Kids
Holidays are the perfect time for simple crafting and themed activities — Easter is no different.
I absolutely love everything about this holiday. From the momentous historical events that we celebrate to the Easter egg hunts and the food.
If you love Easter, like I do, and want to spend it with your kiddos, this one is for you!
Enjoy crafting with your little ones this Easter season with these awesome craft ideas, but also check out these fun Easter activities for kids while you're at it!
Religious Easter Crafts
This is it, you guys!
Celebrating the fact that our Savior lives is what Easter is truly about, so I totally had to cover these crafts first.
Check out these fun holy week craft ideas!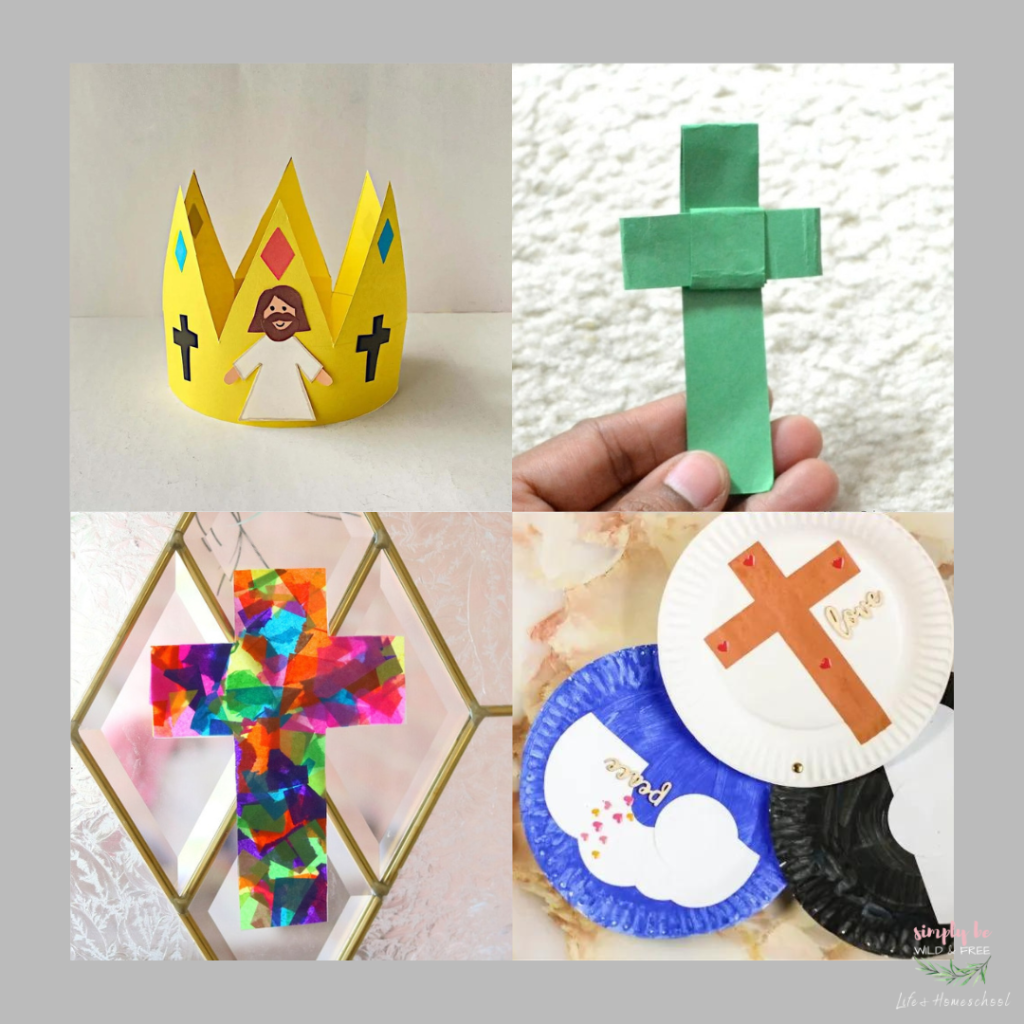 Start Holy week off with this adorable crown craft (top left) & these simple resurrection crafts (bottom right) via Easy Crafts for Kids. Not only are these perfect for doing at home with your own kiddos throughout the week, but they would make great Sunday school craft ideas as well!
Next, create one of these awesome crosses via Mommy Snippets! 
This paper palm cross (top right) is the perfect fit for Palm Sunday, while this stained glass cross (bottom left), & this adorable cross craft would be better suited for Easter Sunday.
Love, love, love all of these resurrection Sunday craft ideas!
Easter Egg & Basket Crafts
While I had to start this list of Easter crafts for kids off with the real thing, Easter is also very much associated with eggs, baskets, bunnies, and other cutesy spring animals.
Check out some of these fun Easter egg craft ideas below!
Paper Crafts
Does it get any easier than paper crafting?
Seriously though.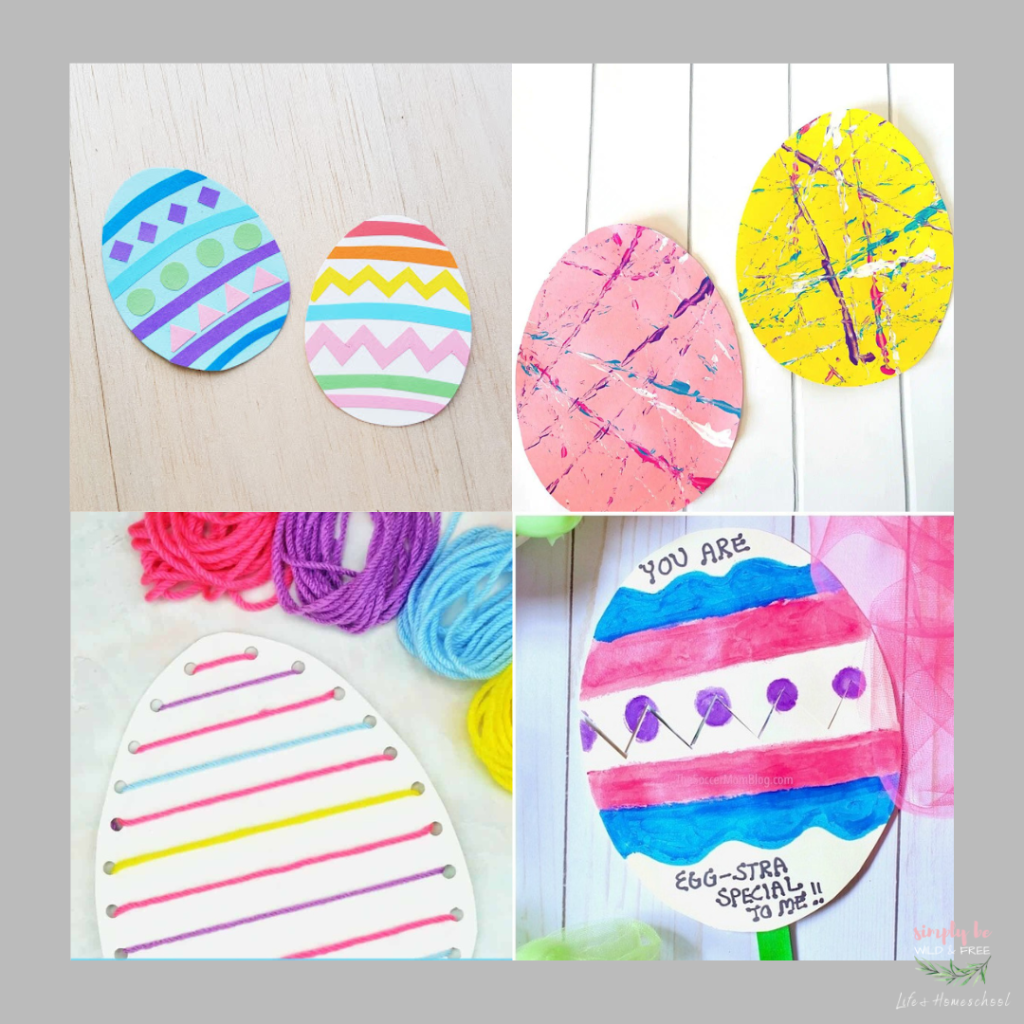 This simple Easter egg paper craft (top left) via Attachment Mummy has to be one of the easiest crafts on this list! A little paper, glue, and scissors is all you need. Plus, is adorable to boot! 
If painting is more your kiddo's style, try this fun Easter egg marble craft (top right) via Simply Full of Delight. Little ones will seriously love this one! So, so fun!
Have older kiddos that aren't into paper crafting? Or even little ones that could use good motor skills activity? Consider this lacing egg craft (bottom left) via Ruffles & Rainboots. This one is fun, uses everyday supplies, and can be used across age gaps! Making it the perfect go-to craft for Easter this year.
Ok, this one is adorable, you guys! Encourage your kiddo to make something personal for a friend or family member with this charming pop-up Easter egg card (bottom right) via The Soccer Mom Blog.
So stinkin' cute!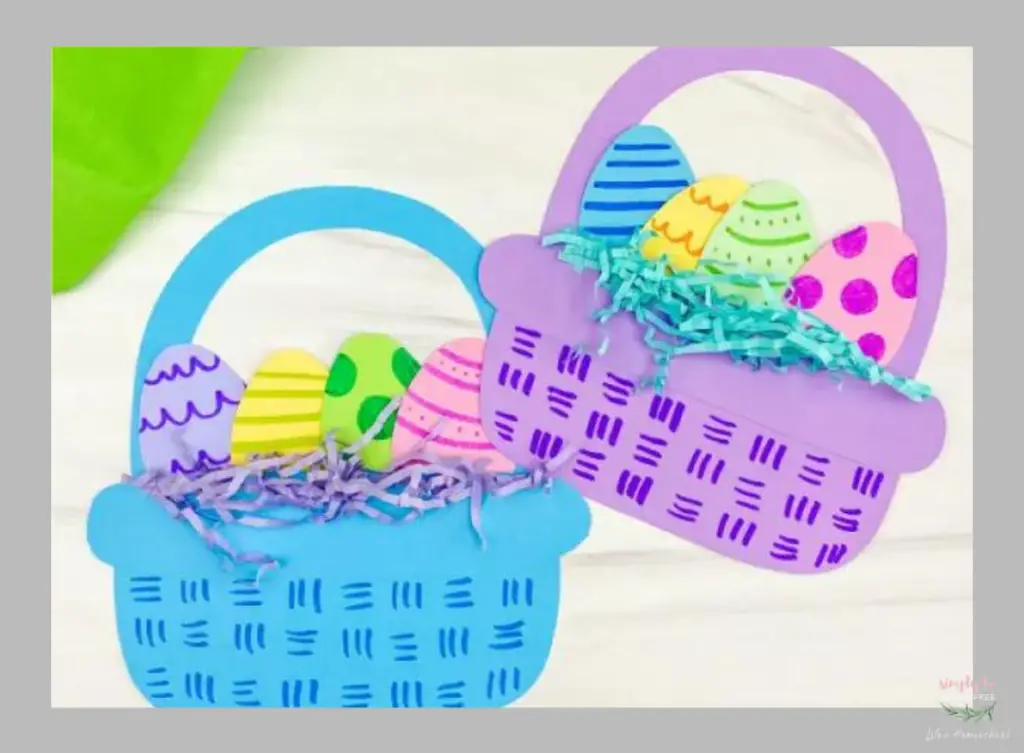 If you love paper crafting, these cute Easter basket paper crafts via Simple Everyday Mom will be right up your alley! These are both easy and adorable. Plus, they can totally be used as a fun decoration for classrooms or parties.
Check out these other fun Easter basket craft options!
Crafty Egg Decorations
While paper crafting can be simple and fun, sometimes getting a little more complex with your crafting is a great way to mix things up!
From excellent egg-shaped sun catchers for little ones to an awesome egg wreath for older kids — I've got you covered for all your egg decorating needs.
Check them out below.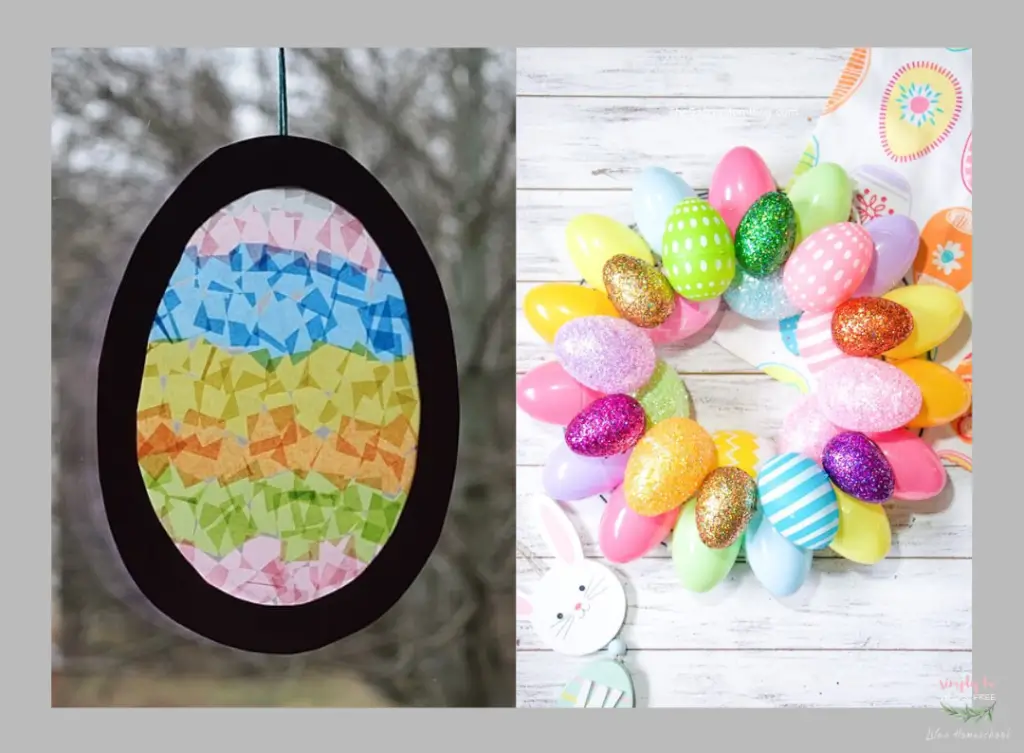 Encourage little ones to get crafty this Easter by helping them make this beautiful egg suncatcher (left) via Crafts by Amanda. Not only is this a fun craft, but it also doubles as a wonderful motor skills activity! Plus, it makes a beautiful window decoration for the entire Easter season.
Looking for other fun suncatcher ideas? Try this washi tape variation via The Gingerbread House — so simple and fun!
Love the idea of creating crafts that double as decorations? Make this Easter egg wreath (right) using plastic Easter eggs via The Soccer Mom Blog. 
While slightly more time-consuming, this is the perfect craft to make with older kiddos, and the result is so pretty!
Other Fun Egg Crafts
Man, oh, man. Who remembers the days of paper mache crafts from their time in elementary school? Those were definitely some of my most memorable times in art class!
If you like everything from paper mache to homemade maracas, these are the crafts for you!
Check out some of these more elaborate egg crafts for kids.
If you like the idea of attempting paper mache at home with the kiddos, you definitely have to give these paper mache eggs (top left) via Mommy Evolution a try! They seriously look like so much fun, you guys!
Don't forget to check out these other fun egg crafts too!
If you have multiple age ranges in your home, simple egg stamping can be a simple way to go!
Grab some potatoes & paint, then try this fun potato egg stamp (shown above) via Kids Activity Zone or attempt this potato egg stamping craft variation via In the Kids Kitchen that includes a FREE printable!
So much fun, you guys!!
Easter Bunny Crafts
While I'm not a huge Easter bunny fan, I know it takes the cake for many when it comes to Easter.
So naturally, I couldn't have a list of Easter crafts for kids without this fun guy!
With that said, I am a bunny, bunny fan and some of these crafts are so darn cute, you guys!
Paper Bunny Crafts
I've got a handful of cute paper bunnies for you guys! From super simple and quick, to elaborate and unique!
Check them out below!
Is there anything cuter than these adorable paper crafts via Simple Everyday Mom? 
Create this cute bunny gnome paper craft or with tradition by making these adorable Easter bunny cards.
Both of these crafts are incredibly simple and so darn cute!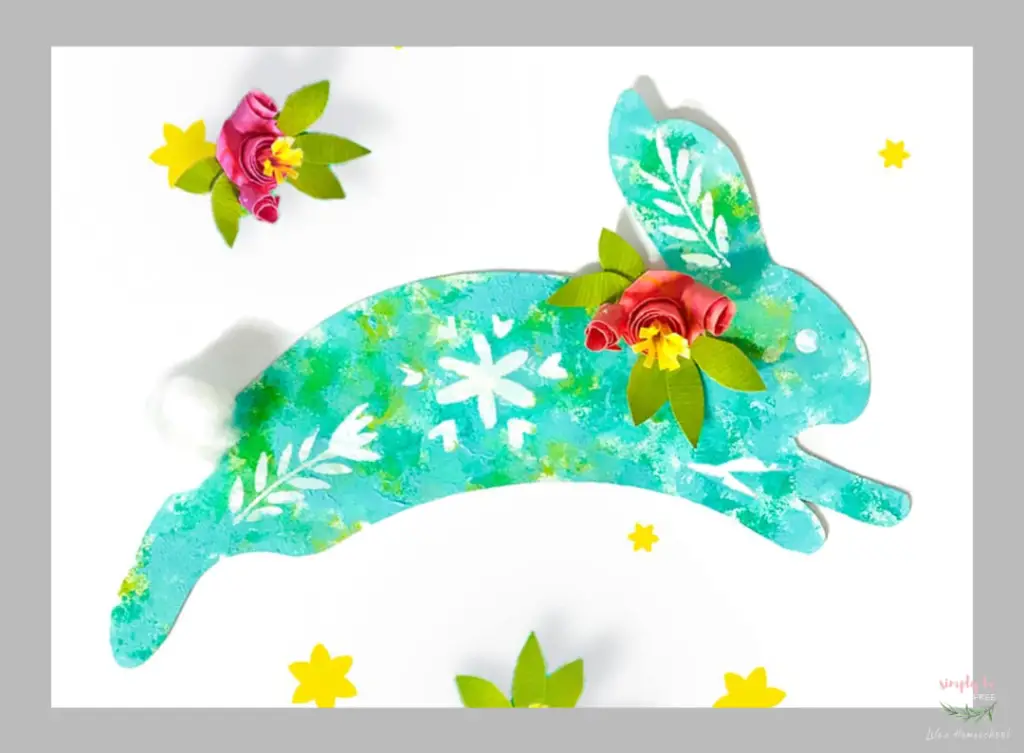 Want to take your paper bunny game up a notch? Try these beautiful folk art bunnies ($) via Barley & Birch.
These are perfect for older kids and are seriously gorgeous, you guys!
Get crafty by creating this adorable Easter bunny scene (left) via Attachment Mummy that is absolutely perfect for showcasing on the fridge!
Or, try one of these fun Easter bunny crafts for kids!
Other Fun Easter Bunny Crafts for Kids
While paper crafting is fun, I seriously can't get over some of these other creative bunny crafts!
Check out all of my favorites below!
This has got to be the absolute cutest bunny I have ever seen! While more complex than some of the other crafts I've shared, this terra cotta bunny craft (top left) via Ruffles & Rainboots looks like so much fun, you guys!
Plus, it will make the cutest tabletop decoration or centerpiece for your Easter dinner celebration!
Ok, this is another fun one, but oh, so simple! Using simple supplies, you can easily create this cardboard tube bunny (top right) via Crafts by Amanda with your kiddos. What a cute little craft idea!
If Easter bunny is your jam, check out these other Easter bunny crafts for kids.
Spring Animal Crafts
Nothing quite says spring like adorable little fuzz balls and these fun chick & sheep crafts make the perfect companion to the Easter bunny.
Check them out below!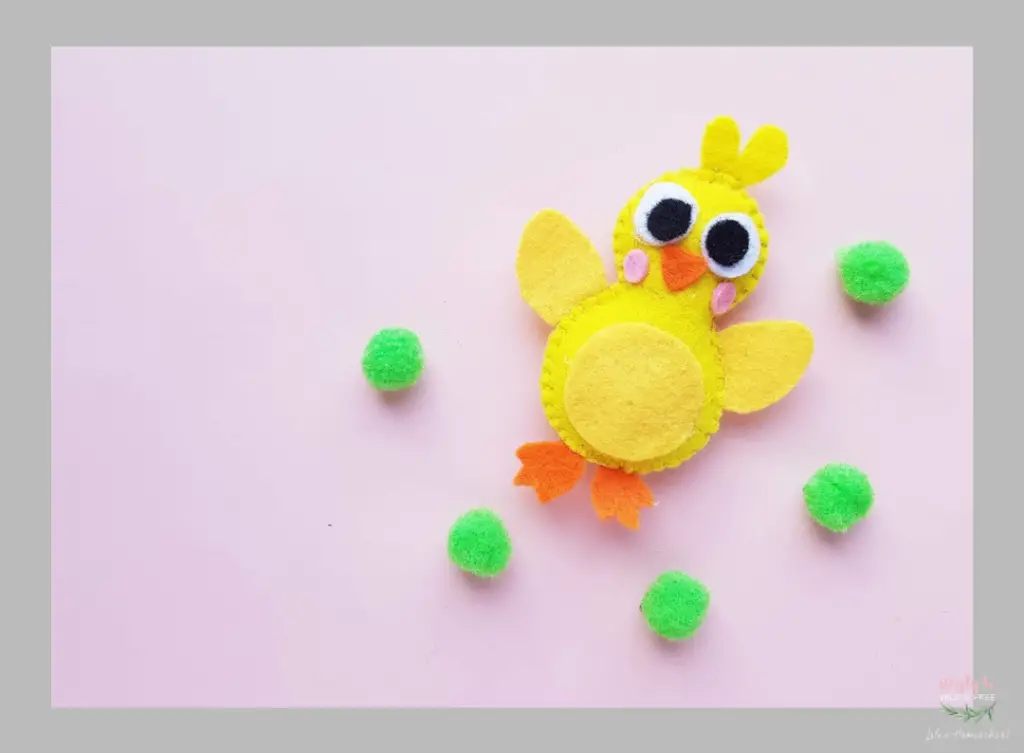 This felt Easter chick (above) via Attachment Mummy is so stinkin' cute, you guys! If felt crafting is your thing, you need to try this one.
Check out these fun baby chick crafts for kids too!
Looking for something perfect for older kiddos? Try these DIY Easter rocks (above) via Sustain My Craft Habit that can double as a great garden decoration for spring.
Or, create some cardboard spring sculptures via Barley & Birch
Both of these crafts ideas are so darn cute, you guys!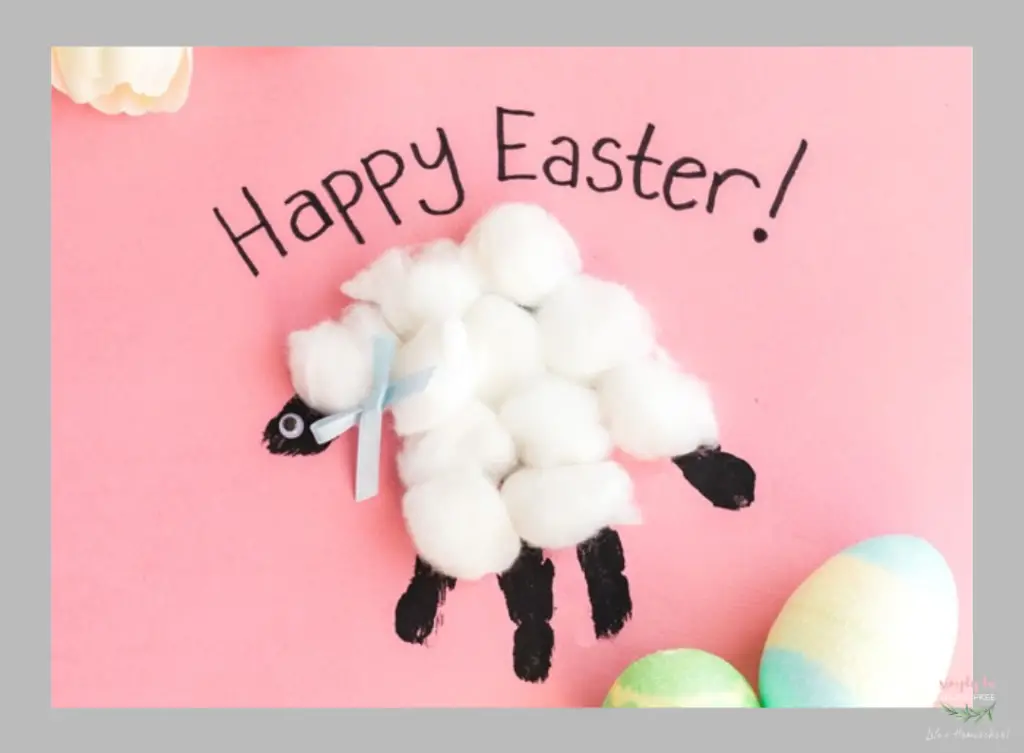 Sheep crafts are perfect for Easter time! Not only are they adorable and fit in perfectly with the other fuzz ball, cutesy, baby animal crafts, but they can also represent an important symbol for many Christians celebrating Easter Sunday.
Check out these fun Easter sheep crafts for kids. 
Carrot Crafts
Last, but definitely not least, I've got 3 fun carrot crafts for you guys!
Check them out below.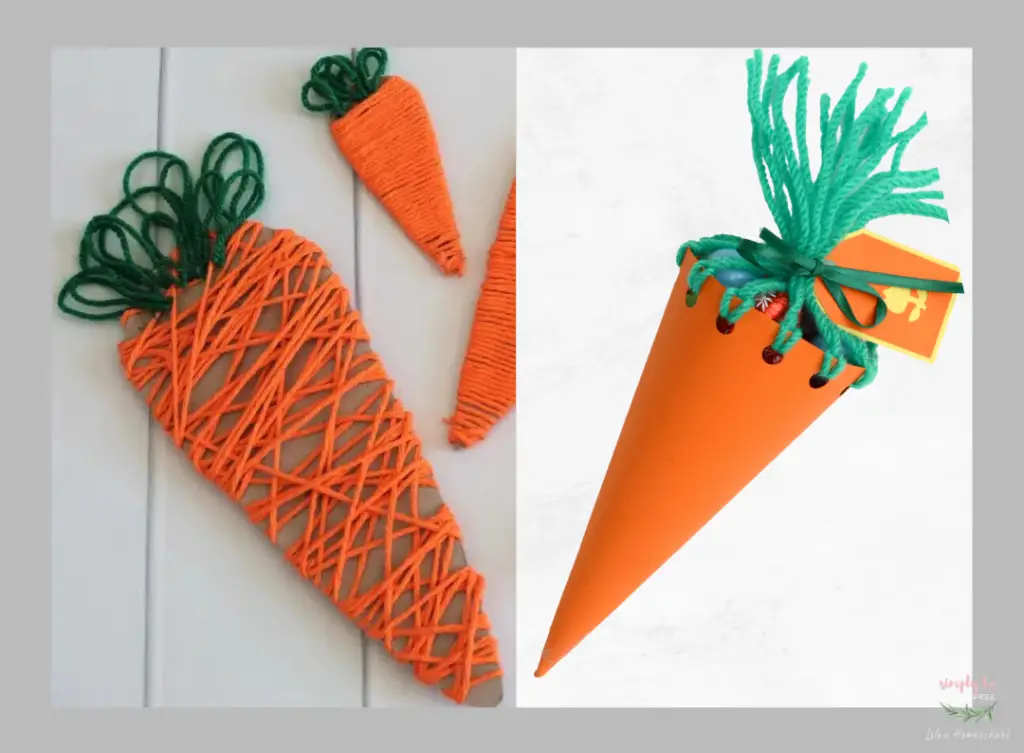 Get creative with yarn by making this fun carrot craft (left) via Simply Full of Delight. This is such an easy craft idea, you guys!! So cute too!
Finally, make an adorable treat box for your kiddos Easter basket or class party by using one of these fun carrot craft ideas.
Other Fun Holiday Activities & Crafts
Love crafting, creating, and playing with your kiddos every holiday?
Check out our entire kid activities page on the blog to get your hands on fun printables, seasonal activities, and holiday crafts!
Love this list of Easter crafts for kids? Share it on social media for all your friends to see!