The Importance of Showing Gratitude
The month of November hosts a very strong theme of thankfulness and gratitude with Thanksgiving being presented at the absolute center.
With that said, showing gratitude doesn't have to be limited to just Thanksgiving.
Encourage kiddos to live out the life is the short mantra all season long by presenting it in a brand new way.
Life is short and we never know just how much time we have with those important to us. Show someone just how much you appreciate them today!
Using Gratitude Writing Prompts
Gratitude writing prompts can easily be used in a classroom setting or at home.
Encourage students to take the time to truly think about a person who has impacted or influenced their life in some way.
For most children, this will likely be a parent or grandparent.
However, it's incredibly important for kiddos to look beyond family members as well.
There are so many incredible people who are in our lives for a season and have had a momentous impact on our lives in some manner.
From teachers to school bus drivers.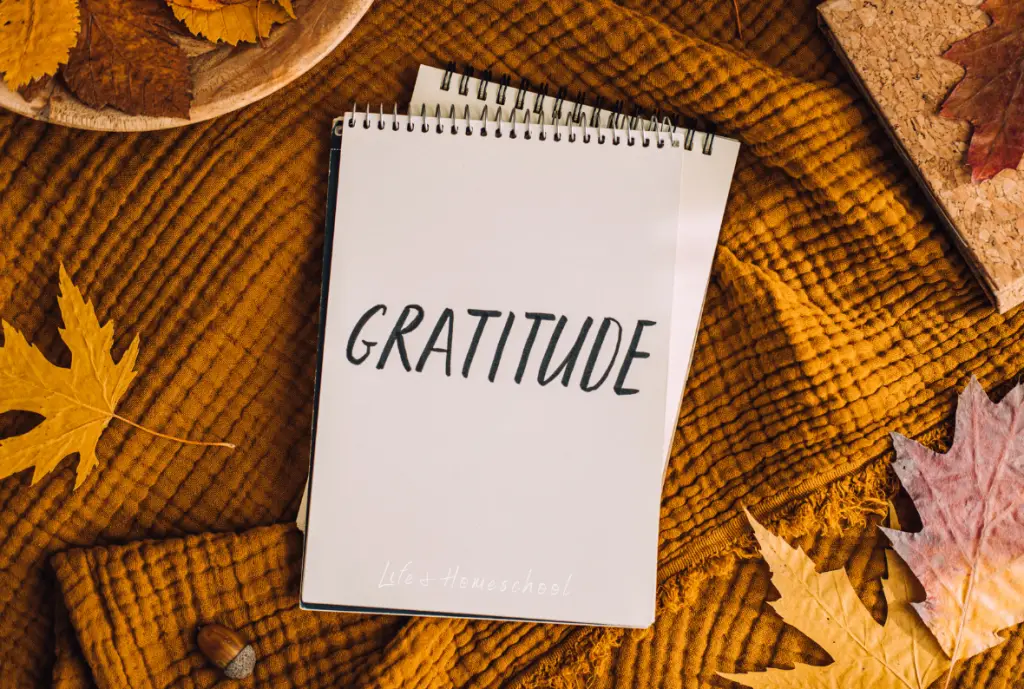 If you plan to use these grateful writing prompts in your homeschool, encourage your children to think about adults outside the home, neighborhood friends, and other wonderful people who have been a part of their story in some way.
Help them brainstorm both small and life-altering events that have happened in their lives and the humans that were there to pick up the pieces.
This can be as minor as a grandma bringing soup when the child was sick or it can be as deep as a terrible loss that an adult helped them grieve through.
Then, remind them of the incredible people who helped them bring something amazing in their lives to fruition.
For example, if your child is saved, the person or persons who helped plant those seeds and water that garden are incredibly deserving of our (and our child's) gratitude.
All that said, no matter what event your children think of, or who they decide to write about, reminding children to appreciate those important to us is the most important lesson that can be learned.
Writing Prompts for Big Kids
When I began creating these writing prompts, I immediately knew I wanted to create a version for all major age groups
First, I created 2 variations for middle & big kids.
While one version has dashed middle lines for lower to mid-elementary grades, the second has smaller lines for upper grades.
Plus, they are slightly more in-depth than the little kid version.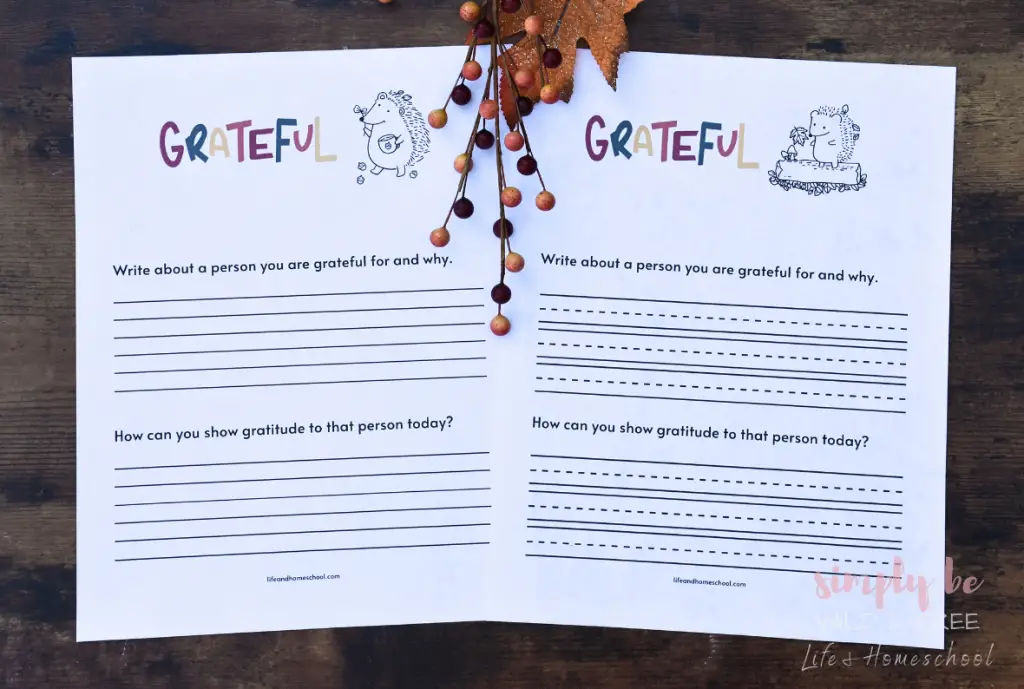 Motivate your kiddos to color their hedgehog graphic and write in their absolute neatest handwriting!
Then, help them turn their sheet into a wonderful keepsake to be presented to the person they wrote about.
Or simply encourage them to hang it in their home as a reminder for themselves.
Writing Prompts for Little Kids
While the big kid prompts are slightly more in-depth, I chose to keep these prompts simplistic and to the point.
I created two very similar versions to cover multiple skill levels for young children in grades K-3.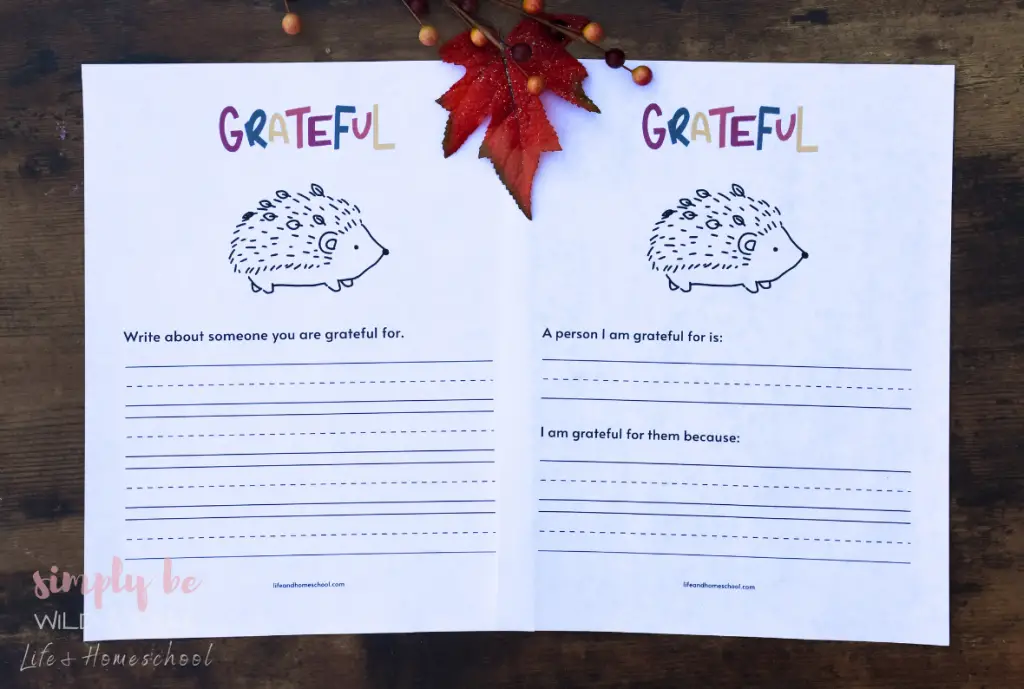 Simply encourage little ones to think of someone important in their life and write simple sentences or explanations.
Focus on simplicity while reinforcing proper handwriting skills and sentence formation.
Consider laminating this fun project for children to gift to their loved ones.
Free Gratitude Writing Prompts
These simple gratitude writing prompts can be used by any child with a writing ability.
With multiple versions that cover a wide variety of skills to choose from, you are sure to find the right fit for your kiddos!
From kindergarten to 6th grade and beyond.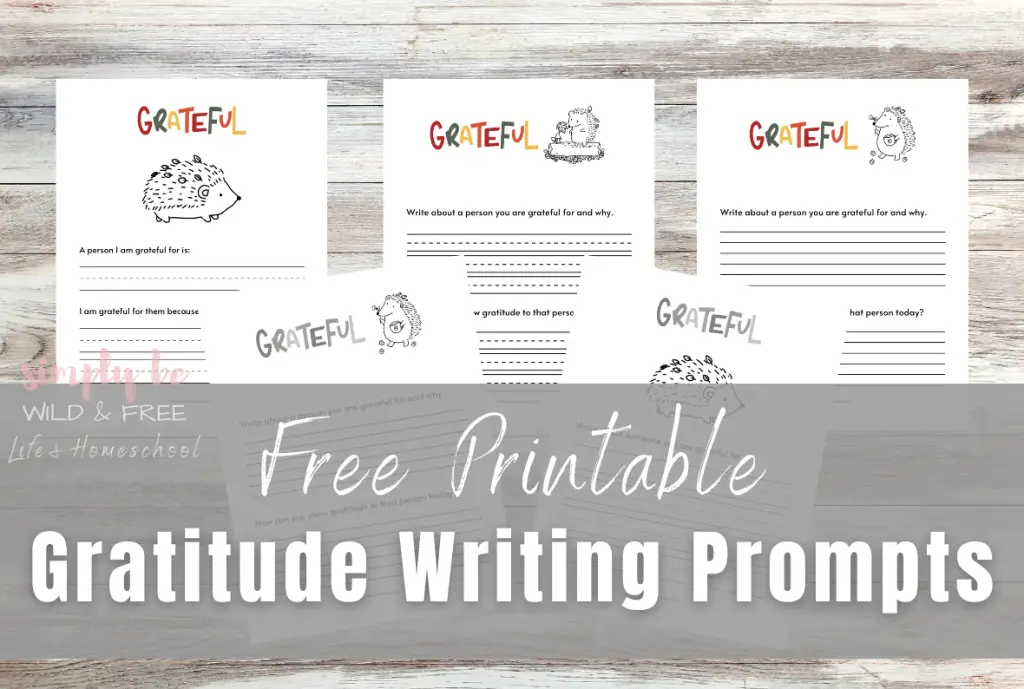 If you're ready to get your free grateful writing prompts printables simply sign up for our newsletter below!
Signing up not only gives you an all-access pass to our free printables library that includes this awesome freebie (and many more), but you will also be signed up to receive our monthly e-newsletter!
Being Grateful All Year Long
While Thanksgiving and the entire month of November are both wonderful times to practice being grateful, it's so important to teach kiddos to show gratitude to those around them all year long!
First, teach your children to be grateful by practicing simple gratitude activities throughout the year.
Then, utilize Thanksgiving-specific activities such as fall crafts and grateful worksheets for an added boost!
Love this post? Bookmark it or share it on social media today!