*This post was written as a review for Beautiful Feet Books in exchange for compensation. Everything you read in this article is based on my personal experience with using their US geography curriculum and is 100% truthful. If you'd like to read my full disclosure, you can find it HERE.
Beautiful Feet Books Geography Curriculum
Beautiful Feet Books US geography curriculum includes 37 lessons and is designed to be completed over the course of a year (at one lesson per week).
Through this curriculum, children will learn mapping skills, the importance of geography, and important facts about the United States.
We have some experience with using Beautiful Feet Books' American history curriculum program in the past, so at first glance, I already knew I was going to love this one!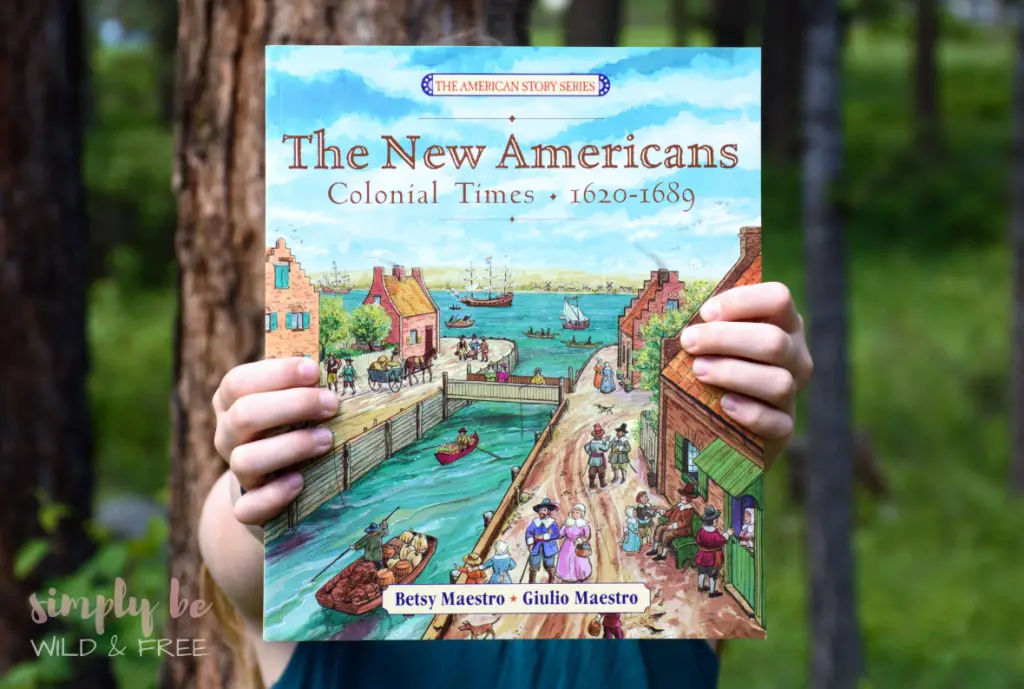 This US geography curriculum includes 11 unique literature books, 1 teacher guide, and a large map of the United States.
It's such a beautiful unit, you guys!
The Need for Geography Curriculum
While learning simple geography skills is important for all young children, the need for this particular geography curriculum was essential for my 10-year-old daughter this year!
Nearly 2 years ago we transitioned over to full-time RV living with our kids and travel part-time.
We recently just got back from a 6-month trip exploring much of the United States and I couldn't wait to get my hands on these awesome books to back up all the amazing things my daughter had recently seen and experienced.
With that said, you don't have to be full-time RVers to benefit from everything this curriculum has to offer.
Since geography isn't considered a core subject by most, it tends to get overlooked — making it a skill many young children do not master.
That's why I'm so thankful for the blessing of travel & wonderful geographical resources like this one!
The simple approach of this geography curriculum & the engaging literature books will bring geography to life for your young learner — whether you travel or not.
US Geography Curriculum for Kids
I will forever be a fan of all things Beautiful Feet Books.
My young daughter thrives when learning through literature and their books never disappoint.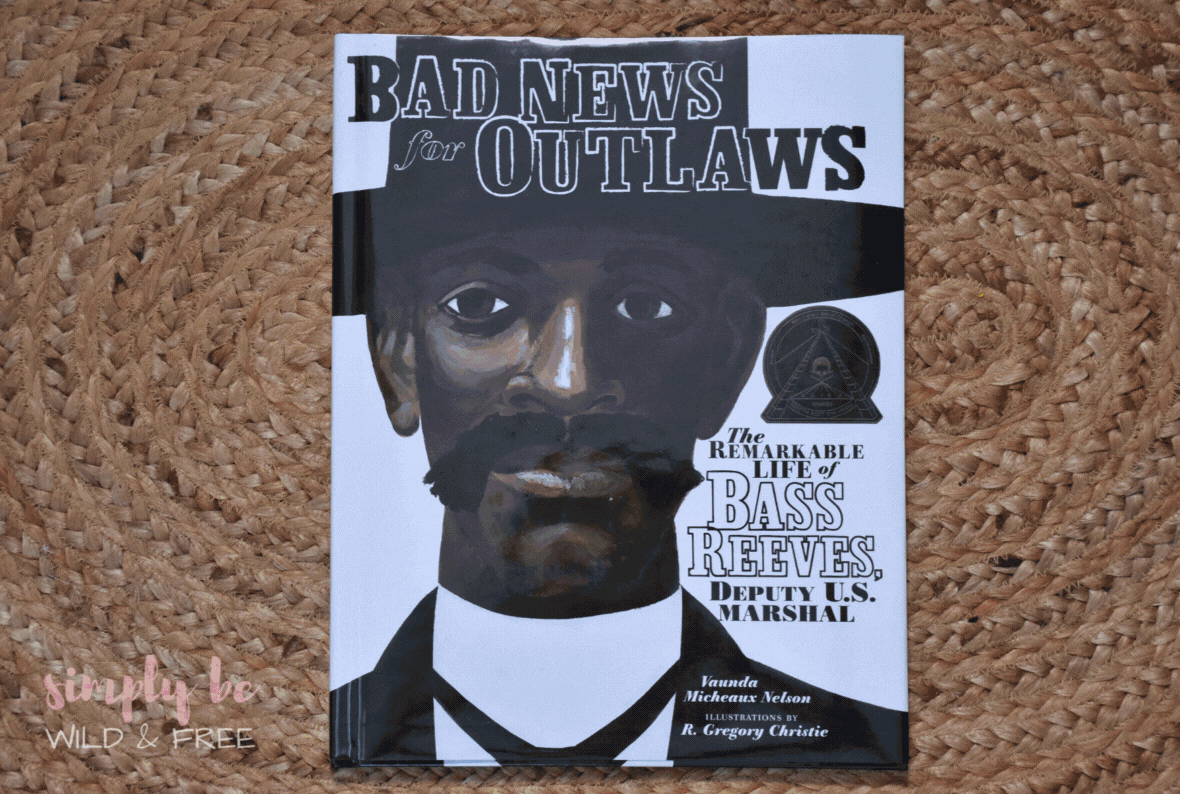 Even though this particular curriculum is slightly more minimalistic than the history curriculum that Beautiful Feel Books is known for, it still packs a huge punch and I had such a blast digging through it, you guys!
There are so many wonderful resources that cover topics and places we recently visited and I could hardly wait to work through them with my 10-year-old.
Geography Curriculum Breakdown
This US geography curriculum is designed to be used with 4th-6th grade students, introducing them to important concepts while helping them identify landmarks and explore all the amazing natural wonders of The United States.
As with any new curriculum that enters my home, I always take an in-depth look through everything before introducing it to my child and this time was no different.
The first thing I dove into? The incredible teacher's guide.
Teacher's Guide
I already knew I was going to love this one before it even arrived in the mail, you guys!
This teacher's guide has a very similar vibe to the teacher's guide in the American history curriculum we used and I absolutely love everything it has to offer.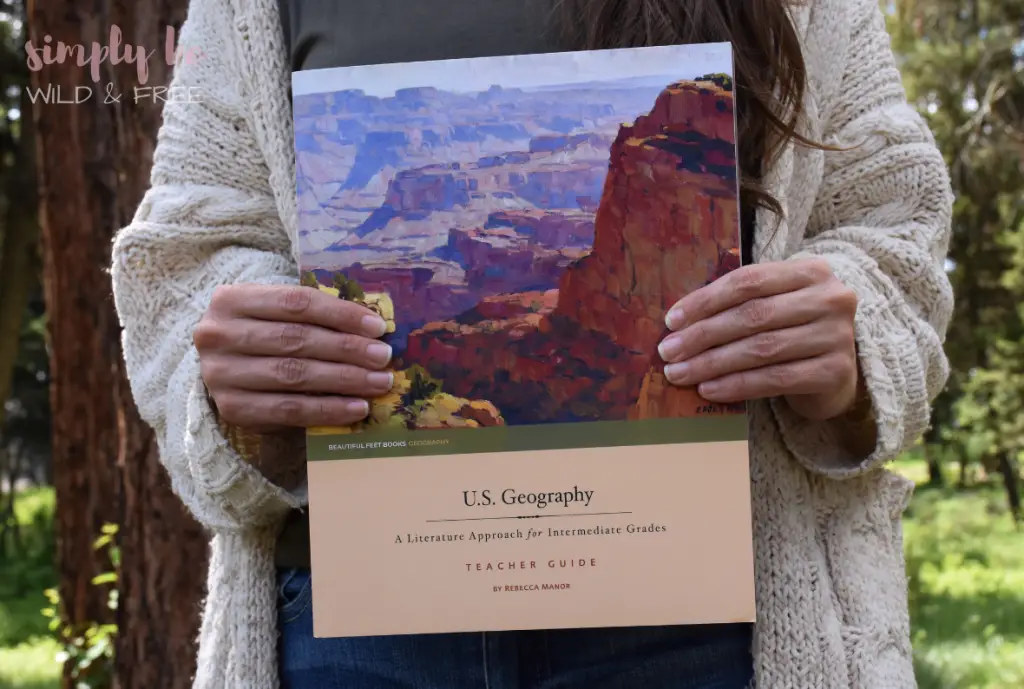 The how-to-use-this-guide section includes a simple breakdown of all the included literature books and covers many important resources for getting started.
This book is then broken up into 6 units, focusing on one region of the United States at a time.
The first section, however, is an introduction to geography where children will learn what geography is, how to use a compass and read a map, how to determine the direction of something, and so on.
Then from there, children will learn about one region at a time starting with the Northeast and ending with the Southwest.
While I love this book as a whole, there are 7 important features that make it an incredible tool for your homeschool.
I loved this in the history curriculum teacher's guide and I'm loving it all over again.
Rabbit trails are basically a list of suggested books at the beginning of each unit.
These books can easily be checked out at your local library or skipped over.
Making them 100% optional.
As a book-loving family, I absolutely love the rabbit trails for additional exploration and my kids always enjoy a good excuse for reading something new.
Some of the additional titles mentioned cover topics such as the 50 states, national parks, and North American animals.
Ok, I didn't think I was going to like the lesson portion quite as much as I did, but they are so simplistic, you guys!
Each lesson is easily broken down into small chunks.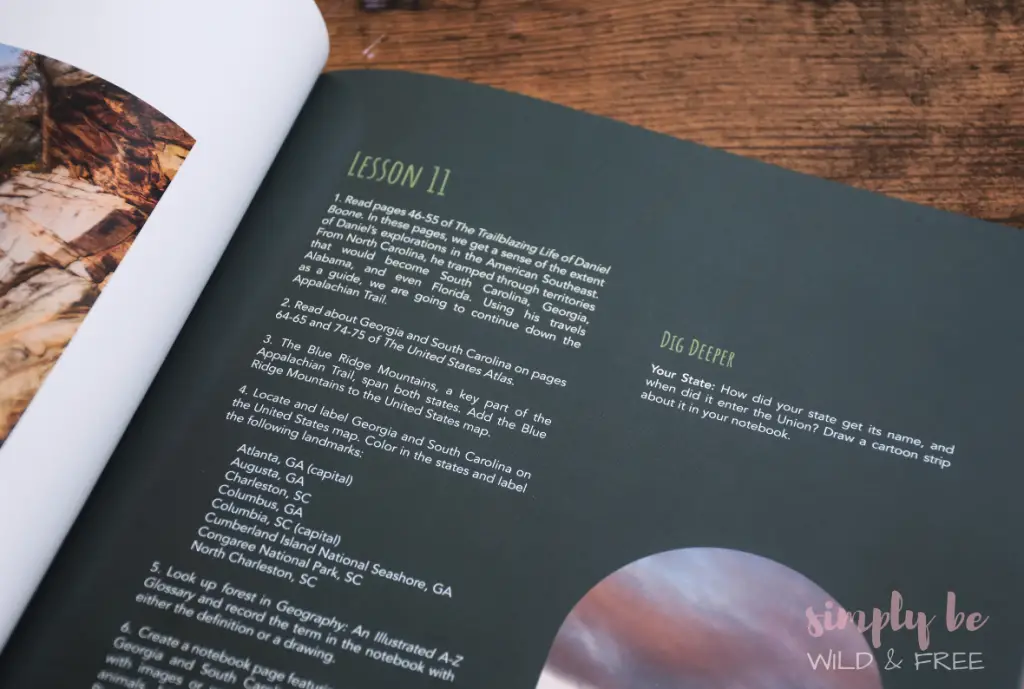 Some of those chunks include teaching, discussion, reading, and activities.
Lessons will also occasionally contain some of the optional resources (dig deeper, explore your world, nature journaling, and culinary connection) mentioned below.
These optional activities are so much fun, you guys!
Kiddos get to experience the lessons at an even deeper level with unique hands-on activities (such as making your own compass), creative projects, engaging videos, and fun STEAM experiments.
This is definitely one of my favorite parts!
The explore your world activities vary from encouraging kiddos to get outdoors and experience the natural world around them to visiting specific places (like National Parks) if you can.
We have already hit some of the awesome places mentioned (like Glacier National Park & Theodore Roosevelt National Park) in this section and I know we will have some fun points for discussion when we get to those lessons.
I was also super happy to see Beautiful Feet Books give a shoutout to the Every Kid Outdoors program — which is something we are actively doing this year while traveling with our 4th-grader!!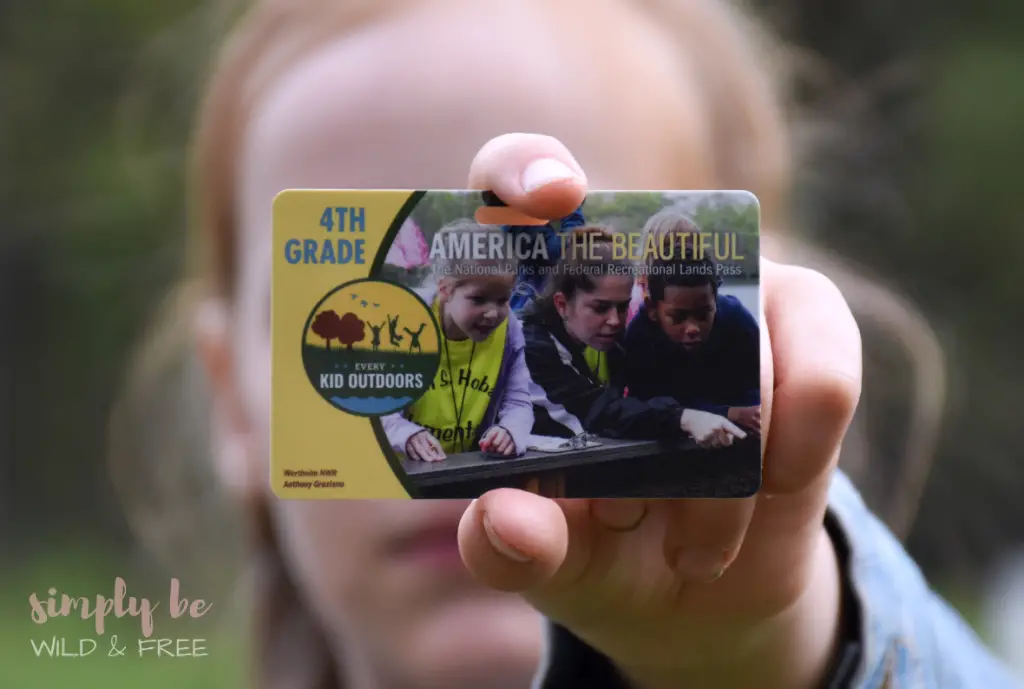 I cannot even describe how perfectly this curriculum works for full-time RV families! 
My list of places to visit next fall when we hit the road again seriously just got even longer.
With that said, you don't have to be a full-timer to enjoy National Parks.
If traveling is out of the question for your family, you can easily expand the lessons in this curriculum by checking out books on specific National Parks and check out the NPS websites as many have webcams!
The nature journaling activities encourage kiddos to get outside, explore using their curiosity, and ask lots of important questions.
Children can observe and catalog what they see and experience while out in nature, which is such a wonderful tool/skill to have!
From sketching their findings and drawing maps to describing what they saw on a hike — these nature activities are such an exciting way to explore the world.
This is quite possibly my daughter's favorite part of the entire curriculum!
Anything involving a little mess in the kitchen and delicious food is right up her alley.
These are so fun too, you guys!
Most foods mentioned in the culinary connection section of the teacher's guide are state-related foods (such as the state fruit or state dessert).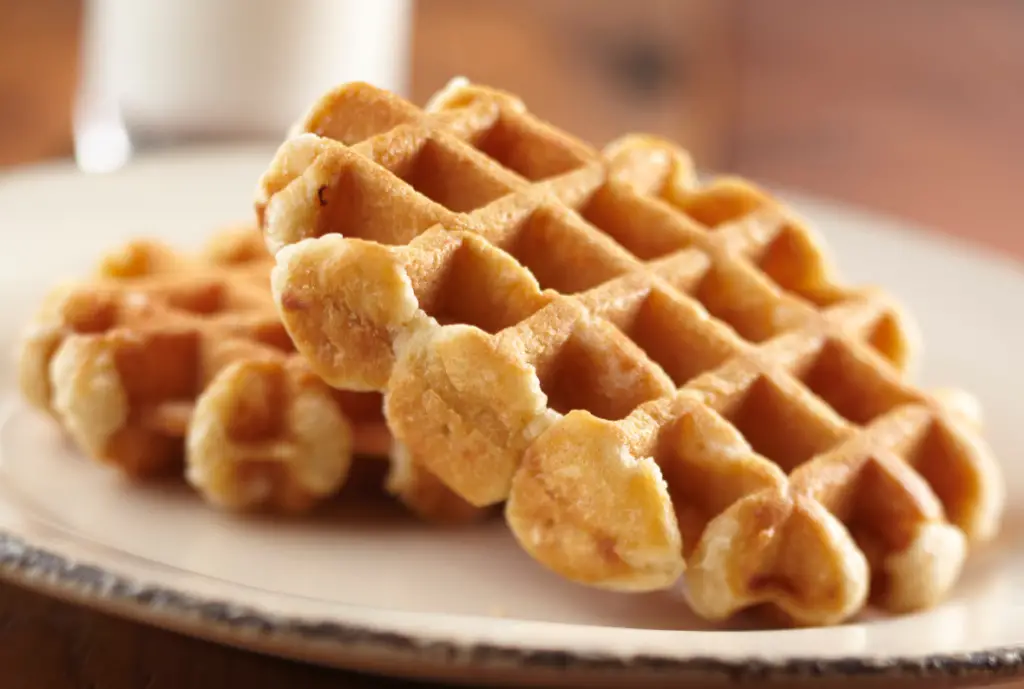 While many of these include recipes, you can easily adapt them by ordering out or picking up a pre-made dessert instead.
For example, Connecticut's state food is pizza. You can totally follow the recipe and make an awesome pizza in the kitchen with your kiddos or you can go the simplistic route and order in.
These fun projects help guide children to take their learning to the next level.
From making salt dough maps to creating a weather station.
While these aren't listed as optional projects, I truly feel like the curriculum itself is enough so if you chose to skip these for a more simplistic approach, you totally could.
With that said, I absolutely love that these in-depth projects are included as some children crave that extra hands-on learning!
Man, is this teacher's guide packed with some good stuff!
Since I can't go in-depth on every little thing, I just want to touch on some of the other awesome things this guide has to offer.
Some of the extras included in this guide are links to important educational videos that will expand your child's view of the world, a free downloadable picture packet, a bible verse download, and other online resources.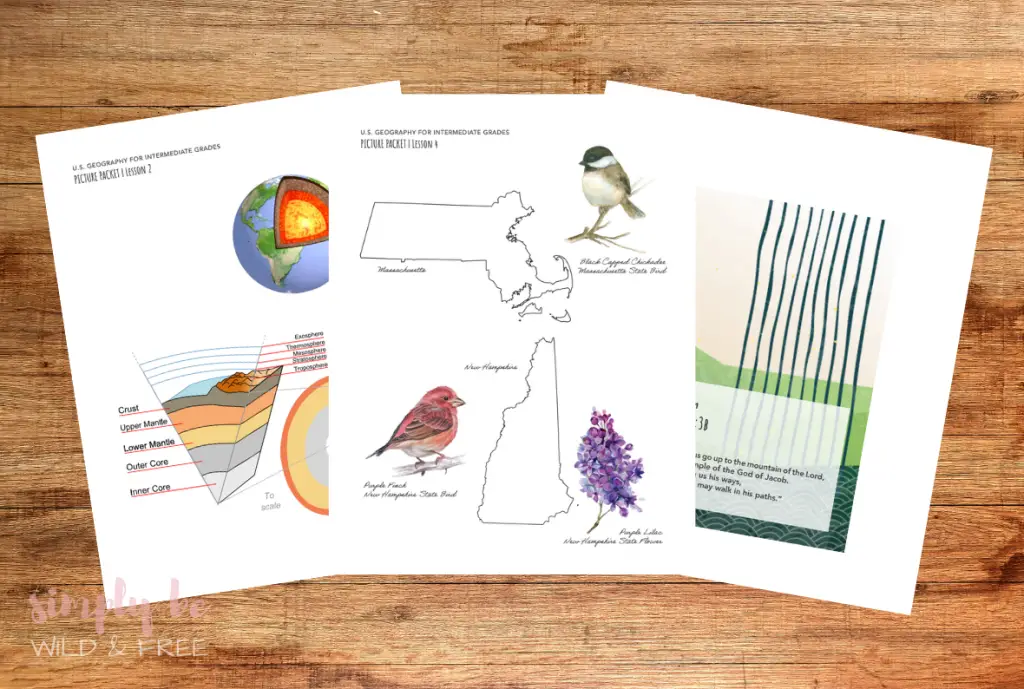 Each teacher guide also includes a QR code that will give you access to some of these great downloads!
Finally, there is a map included that children will label throughout the course by coloring and noting landmarks.
*NOTE: Children will also need a notebook to complete this course.
Literature Books
This incredible curriculum includes 11 literature titles that cover many historical events & geography facts.
Some of these titles cover topics that I can hardly wait to share with my daughter.
From awesome places we recently visited to important historical events we haven't covered in our homeschool yet.
Mapping Penny's World is the first book your child will open up with this curriculum and will be used during the first 3 lessons.
This book follows a young girl learning how to make a map as a class project and she decides to make a map of her bedroom — including the space where her dog Penny sleeps.
She then proceeds to make maps of all of Penny's favorite places!
This is such a cute title, you guys!
My daughter and I thoroughly enjoyed reading this one together and it's a great way to back up map-making skills by encouraging kiddos to make maps of all their favorite places!
The New Americans: Colonial Times
Betsy Maestro & Giulio Maestro are at it again with another great title — The New Americans: Colonial Times.
We absolutely loved reading The Discover of the Americas while completing our American history unit, and this book is just as lovely!
This title will be the second one you dive into and will be completed over the first 18 lessons.
The New Americans is a wonderful history literature book, filled with beautiful illustrations sure to engage young readers. It follows the colonists that came from Europe and focuses on some of the struggles they faced as they started over in a new world.
While we aren't quite finished with this title yet, we are definitely enjoying it!
National Geographic Kids United States Atlas
This National Geographic Kids United States Atlas is more than just a book, you guys!
It's an incredible tool for your homeschool! 
This will be the third book you dive into with this curriculum and it will be used throughout the entire school year.
With that said, this book is filled with so much incredible information that it will be worth keeping in your homeschool library for years to come!
There is an in-depth look at each state, including facts and a map, as well as other key information for studying geography.
I'm totally in love with this one, you guys!
The next book in this amazing set is the Geography A-Z glossary.
While this is an informative title, it's so incredibly simple as well!
It is filled with straightforward definitions and colorful illustrations!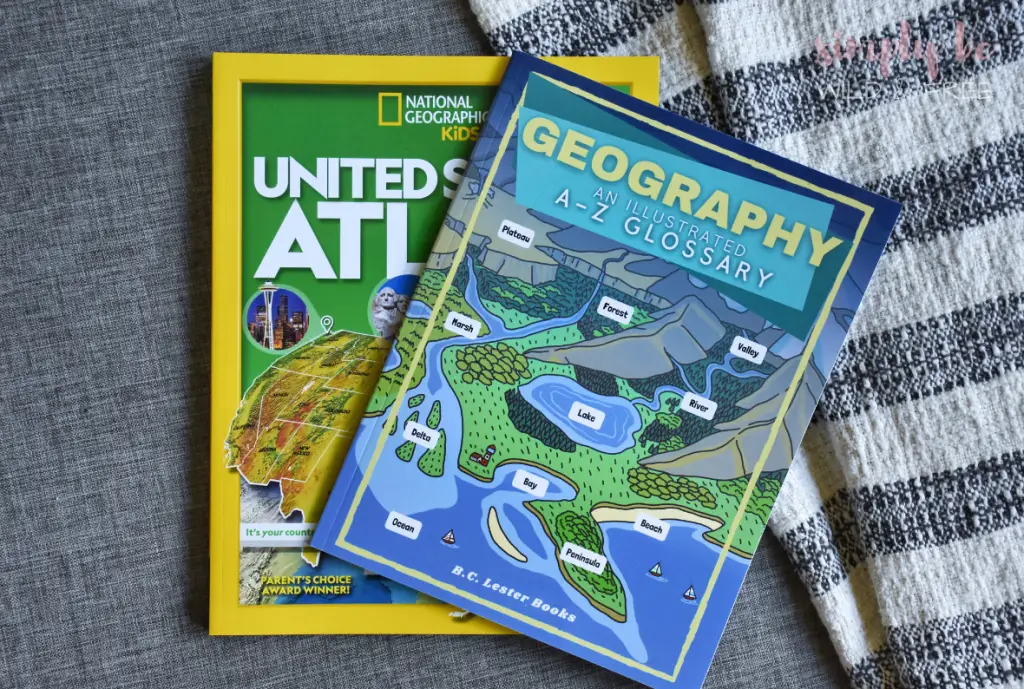 Beginning in lesson 4 children will look up important terms and lean on this book throughout the entire school year.
I actually really love this one and intend to keep it in our truck as we travel so that my young daughter can refresh her memory and look up terms while we are out exploring new areas!
Definitely another great tool for the homeschool library.
The Trailblazing Life of Daniel Boone
The Trailblazing Life of Daniel Boone is the next title on the list and is read over the course of 8 lessons.
It is a beautifully written hardback history literature book that follows the lifespan of Daniel Boone and there are many detailed illustrations & an incredible timeline throughout the pages of this book.
While my daughter and I are only partway through this title, it has been very informative and engaging thus far.
With that said, this one is totally a keeper, you guys!!
This title follows the story of Buffalo Bird Girl, a young girl named after a prairie bird that was raised by her grandmother and aunt.
It will be completed over the course of 4 lessons.
Buffalo Bird Girl is filled with beautiful illustrations throughout and covers many important topics about the Hidatsa people.
Including where they lived, the crops they planted, some of their spiritual beliefs, strangers that visited, games they played, and more.
It is also written in storybook format, from Buffalo Bird Girl's point of view which makes it incredibly easy to get sucked into.
I also really loved that they included real photographs of Hidatsa women from the late 1800s to the early 1900s mixed in with the illustrations — it brings the story to life!
While we haven't gotten to this book in our studies yet, I have looked over it thoroughly and I cannot wait to get to this title with my young daughter!
Native American history is one of my favorite historical topics to study and this book is a true delight.
So excited for this one, you guys!!
John Muir was definitely one of the first titles to catch my eye when I started digging into this curriculum and I can hardly wait to read it with my daughter!
This biography is read over the course of 3 lessons and covers the life of John Muir — from moving to America to playing an important role in the founding of Yosemite National Park!
It is filled with lovely illustrations and is very simple to read.
This one looks so good, you guys!
Ok, as excited as I was for John Muir, I was even more excited for this one!!
We recently got back from a trip to the Redwood National Forest, so the thought of building on what we recently experienced as a family was definitely something to look forward to!
Redwoods is read over the course of 2 lessons and is quite possibly the easiest read of them all!
It is a very simple storybook that is filled with creative illustrations of a boy reading the very same book (Redwoods) and is jam-packed with informative text about the great Redwood trees.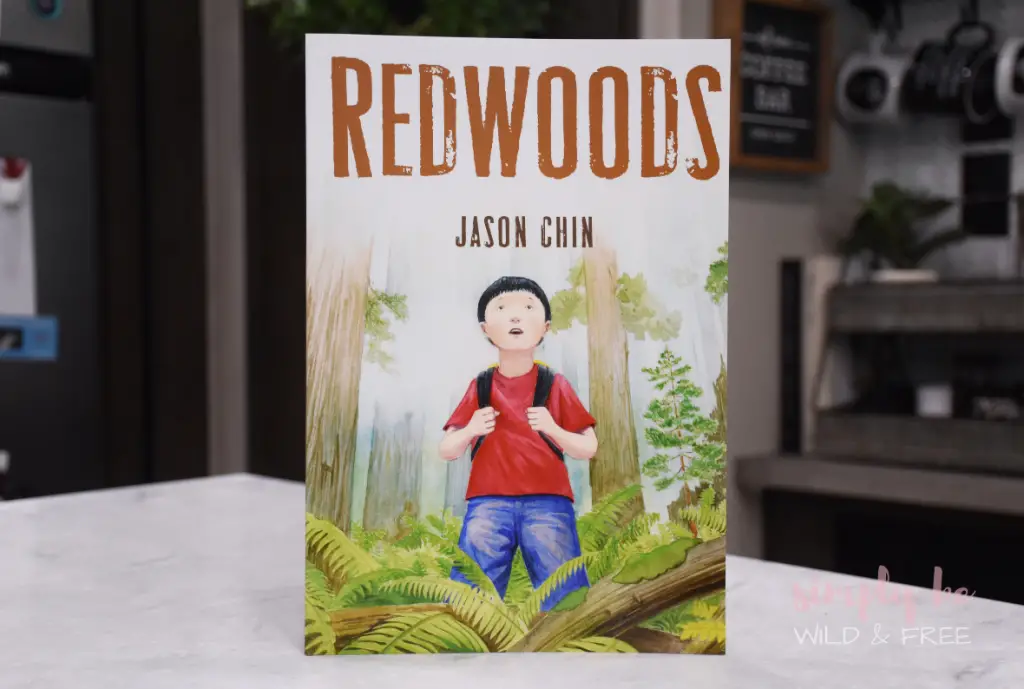 I Can't wait to share this one with my daughter as we discuss and compare it to what we experienced while we visited the Redwoods!
Final Geography Literature Books
There are 3 other great titles used over the last 7 lessons of this geography curriculum.
Starting with Ten-Mile Day — a simple paperback history book about the building of the Transcontinental railroad.
Followed by The Last River & Bad News for Outlaws.
While I won't go in-depth, all three of these titles look like great additions to this curriculum and I look forward to reading all of these remarkable stories!
*NOTE: some of the books in this geography course cover difficult topics such as war, slavery, and suffering.
With that said, they are all filled with important historical facts & geography knowledge that help to aid this geography course and will be wonderful tools in your homeschool!
Why We Love This Geography Curriculum
My young daughter is still working toward finishing out her 4th-grade year and this has been a lovely addition to her summer studies!
We work slightly backward than most homeschoolers and do a majority of our core learning over the summer months since we are year-round homeschoolers who travel during the fall & winter months.
With that said, this geography curriculum was exactly what we needed to finish out our current homeschool year!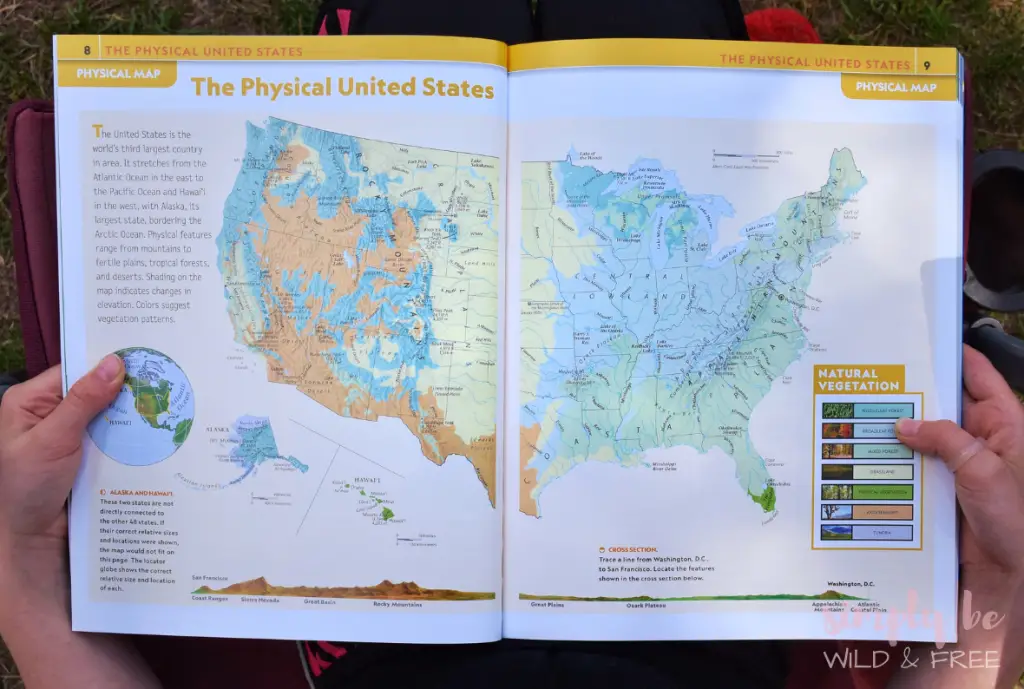 There are 5 main reasons we are loving this curriculum so far and you will too!
This might just be my favorite part!
As a true curriculum junkie, I love any curriculum that you can make your own.
You can truly use this curriculum however it works best for your homeschool.
With so many activities being optional, you can easily keep it simplistic or you can turn it into an in-depth study instead!
I'm not a fan of an over-complex curriculum that takes a ton of time out of my day, so this was huge for me!
Since lessons are already broken up into easy-to-swallow chunks and you only have to complete 1 lesson a week, you can easily spread lessons out over the course of a couple of days if you wish!
I totally do this!
A curriculum that includes all the things is always a win in my book!
Aside from a notebook for your kiddos, you won't need anything extra for this study.
All the other extra supplies mentioned are for additional activities and are 100% optional!
It Covers Multiple Subjects
I absolutely love this, you guys!!
There is so much important historical information tied into this geography course as well as some fun projects that dabble in science, art, math, and more!
It's Perfect for RV Families
While this may not be a bonus for everyone, it definitely was for us!
This curriculum is perfect for road school families — especially those with fourth graders who are visiting National Parks!
Get Your US Geography Curriculum
If you are in the market for a simple, yet in-depth geography resources for your 4th-6th grade child, this is the one, you guys!!
Beautiful Feet Books has done a wonderful job and this US geography curriculum is a definite winner.
Shop Beautiful Feet Books for the first time and use promo code IgniteWonder for free shipping on your first order of any size!
Love this article? Share it on social media & stay on top of all things BFB by joining their email list today.