*This post was written as a review for 1THRIVE in exchange for compensation. Everything in this article is based on my personal experience with using a 1THRIVE wall organizer and is completely truthful. If you'd like to read my full disclosure, you can find it HERE.
*If you would like to purchase your own 1THRIVE wall organizer, make sure you read to the end of this post for a special discount code!
The 1THRIVE Wall Organizer
1THRIVE wall organizers are super versatile & incredibly easy to use.
1THRIVERs simply hang the frame, then add and remove components using the super simple hook system.
Many pieces are magnetic and work with the 1WRITE liquid chalk markers.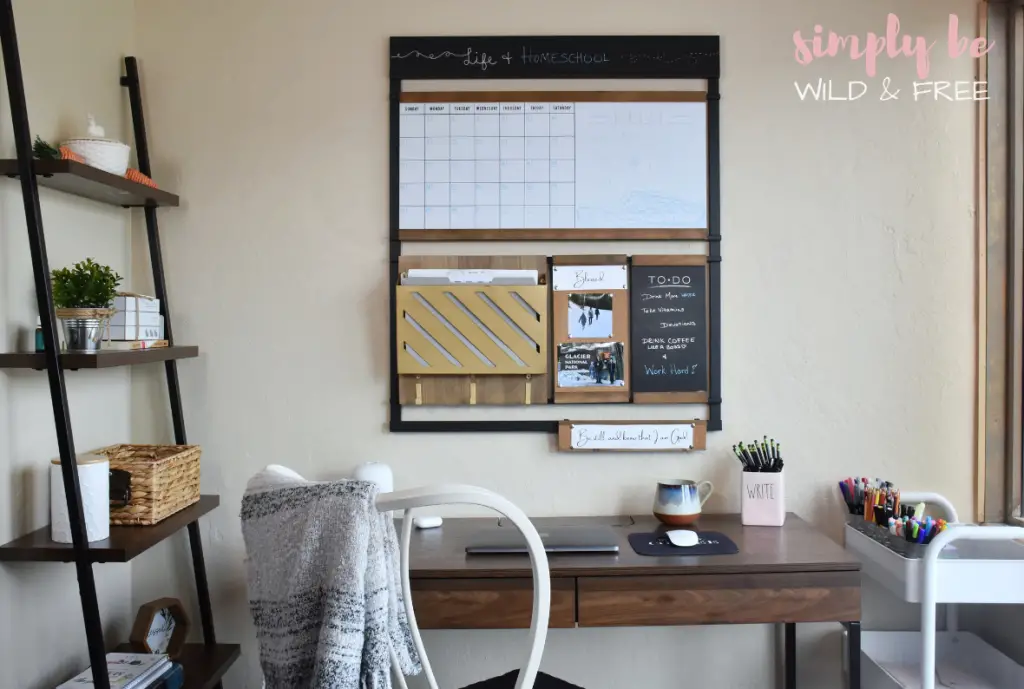 When I got the opportunity to try out a 1THRIVE wall organizer, I immediately jumped at the chance.
These amazing wall organizers were already on my radar and if I'm being completely honest — they were at the very top of my wishlist!
Why I Needed This Wall Organizer
I'm a huge planner and always function best in an organized space, but since our family is currently living in a temporary housing situation, my organizational methods have been somewhat nonexistent.
This wall organizer has been a total lifesaver!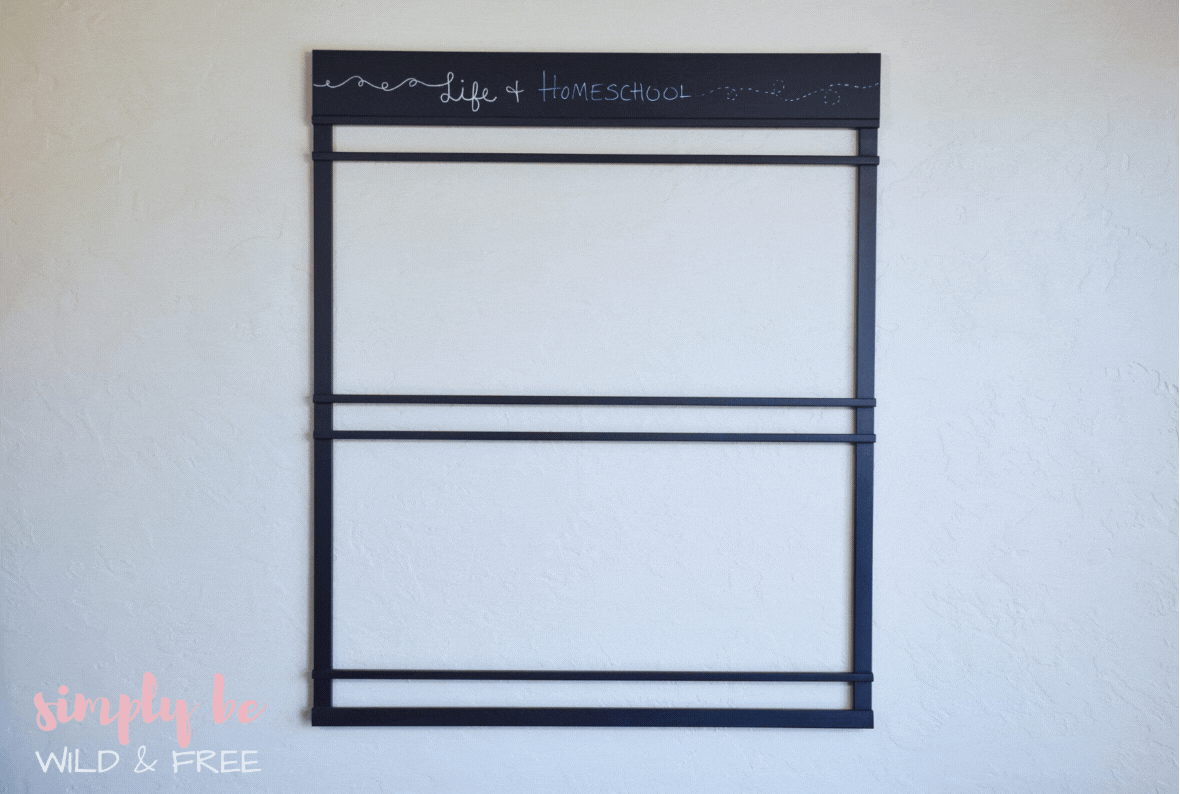 Living out of boxes while house hunting has been a harsh reality for me.
I crave structure and the past 4 months haven't had a single ounce of it!
That all began to change shortly after my wall organizer arrived.
When I opened that box, I immediately felt a huge weight being lifted off my shoulders. Each piece I pulled out brought excitement to my soul — I seriously felt like a kid on Christmas morning.
I needed this.
Since that day, I have been able to organize my workspace & keep track of homeschool things all in one place – it has motivated me in a way I never could have imagined!
I feel more productive and engaged each day that I sit down at my desk — something I haven't felt in a really long time!
A Simple Breakdown of My Wall Organizer
For starters, I chose The Susan wall organizer for my space. I love the look and the concept, and it has absolutely everything I need!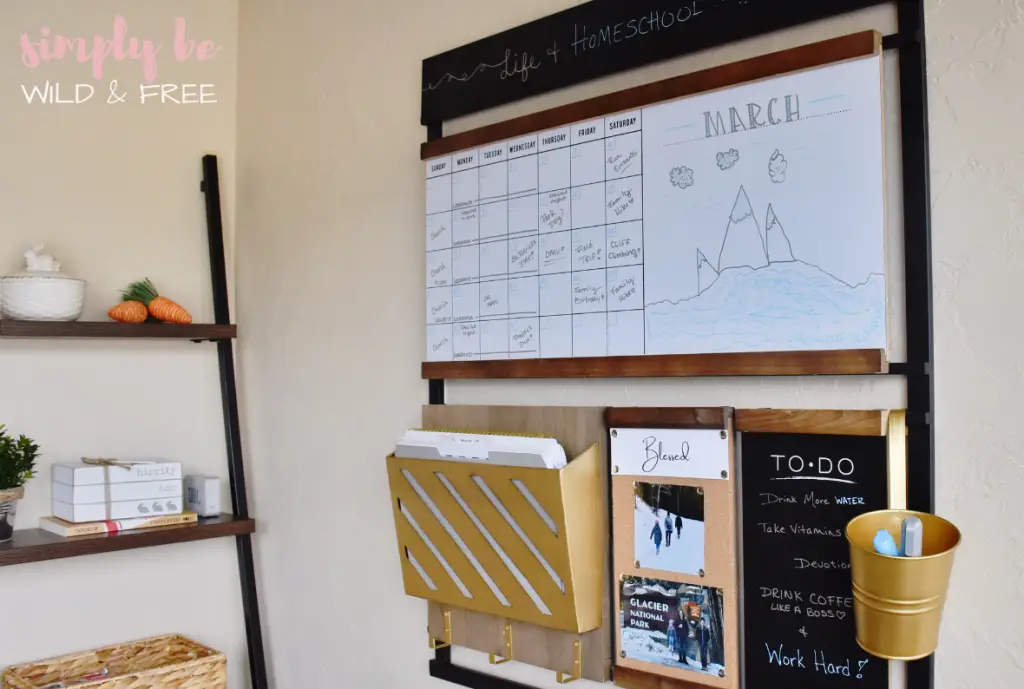 Check out the detailed breakdown of how I use this wall organizer as a life & homeschool organizer.
I'm somewhat minimalistic and chose to keep my header super simple.
Life + Homeschool
These 2 words represent everything to me!
As a busy homeschool mom, I have so many things to keep track of each and every day.
Work, homeschool lessons, family plans, personal goals, meals, doctor appointments — the list is seriously endless. 
That's why I chose to use this board as a mixture of everything on my plate, instead of focusing on just one avenue.
I've always been a huge fan of calendars & planners and this one did not disappoint!
I kept mine pretty simple and straightforward – using this area to keep track of family plans, homeschool lessons, field trips, birthdays, appointments, and holidays!
Having a visual reminder like this not only helps me stay focused and on track but also gives this planner girl a sense of calm in the storm — which I totally need!
The best part?! This board is also magnetic!
I seriously cannot wait to get my hands on some cute little magnets for this area!
I hate paper clutter — making this is my absolute favorite feature! 
While it's great to have written reminders & whiteboards, having a place to organize physical things takes this wall organizer to a whole new level.
This area works great for keeping track of my homeschool planner, homeschool schedules, and other current paperwork I might need at arms reach.
Plus, it keeps everything OFF my desk — which I totally love!
Since I already use a folder system as part of our homeschool organization methods, this file folder was a welcomed addition!
Using our weekly lesson folders, I was able to take my organization game up a notch and it has been a total game changer!
Love, love, love this file folder!
Yes! These are so good!
I totally love personalizing my space with pictures & phrases, but I can't function with excess clutter.
So needless to say, I totally love these little guys!
Cork boards can be such a simple way to personalize your work-from-home office without taking up primo-work space on your desk!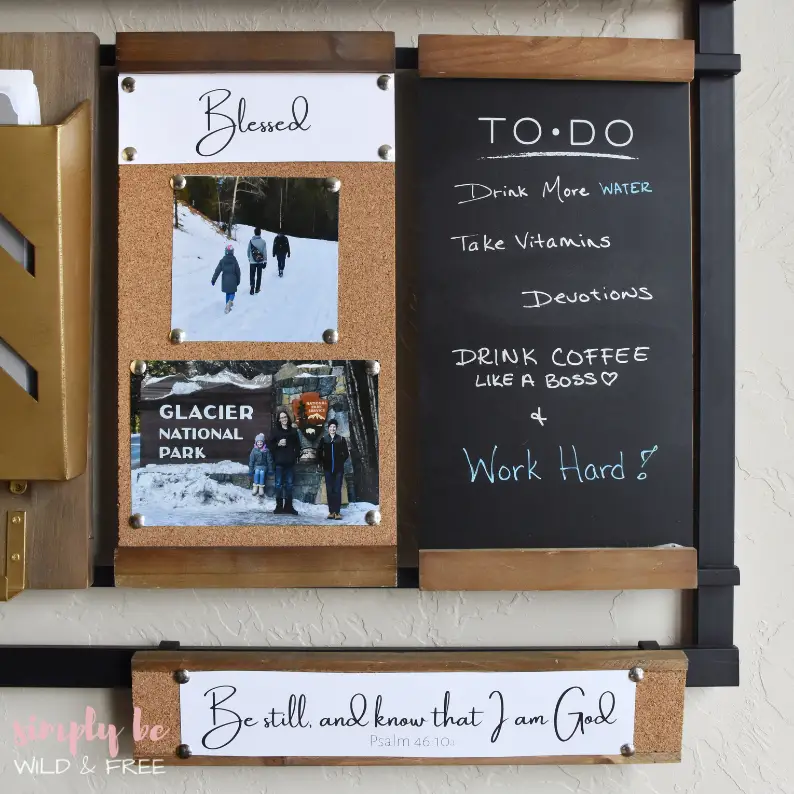 My larger corkboard displays photos of my kids & the word BLESSED to act as a simple reminder of why I'm working so hard on a daily basis.
While the smaller corkboard holds my life verse – Psalm 46:10(a)
I use this verse as a visual aid, reminding me to take a few minutes from my hectic day to rest & be still.
Love these simple reminders!
I'm pretty sure this component was made for homeschool moms like myself.
I absolutely love a good to-do list and will write one for just about anything — not even joking!
With that said, I chose to use this one as a personal reminder for the one thing I struggle to keep up with the most.
Self-care.
Sometimes I work so hard that I forget to feed myself, both physically and spiritually.
Having this list stare me down each and every morning has been an unexpected stress reliever. It reminds me to take care of myself, so that I can take care of those around me just a little bit better.
Plus, it's another magnetic component! Does it get any better than that??
This one makes my list loving heart full!
Accessories are seriously the best!
The cute cups are perfect for pen storage or adding a little decorating flair, and the pens are hands down the best chalk markers I have ever tried in my life!
Not only are they easy to use, but they clean up incredibly well! Most other chalk markers I've used leave behind what I like to call a chalk ghost (which is just a fancy way of saying a horrible stain).
These markers are wet erase and don't ever leave a trace behind! They are so good!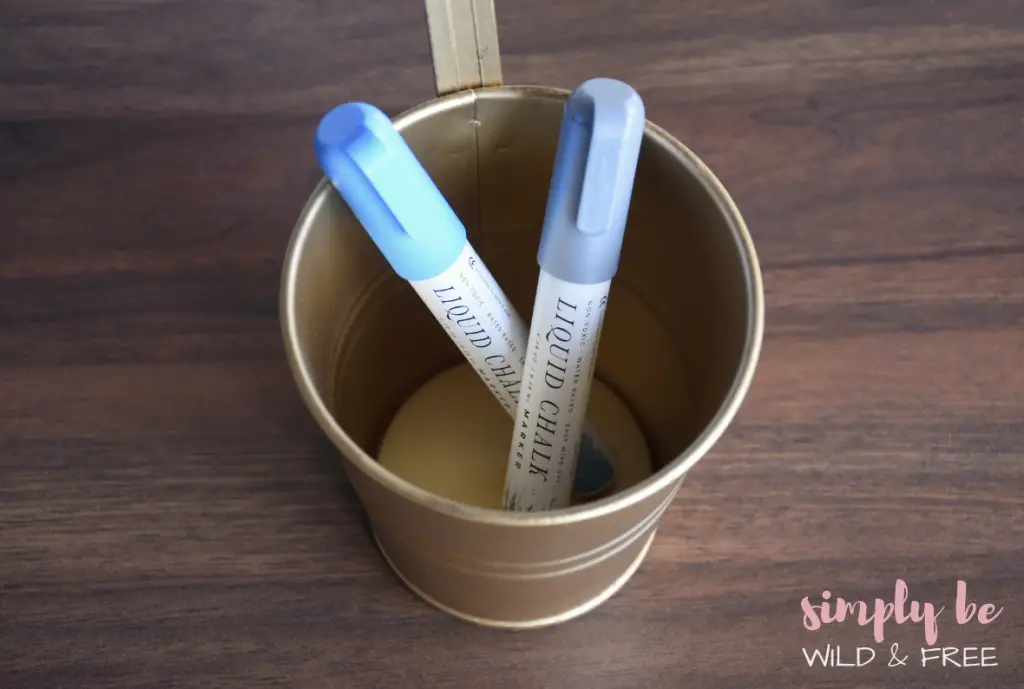 Each wall organizer comes with 2 markers. However, you can shop 1THRIVE's amazing accessories collection to get additional markers and other fun accessories for your wall organizer!
I seriously cannot wait to get my hands on some more colors!
3 Other Ways to Use Your
1Thrive Wall Organizer…
While I opted to use my wall organizer as a work/homeschool mix, you could easily use it for just one OR the other – which is what makes 1THRIVE wall organizers so amazing!
Check out these helpful hints for using your 1THRIVE organizer for a more singular purpose instead.
If you decide to set your wall organizer up as a homeschool organization station, try getting your kids involved!
Have older kids write out the schedule & fill in all the details for the week while encouraging younger children to help with themes or decorating.
Trust me on this one!
If you want your homeschool area to stay organized, always get the kids involved in new processes and methods!
Don't forget to personalize your homeschool board & have fun with it!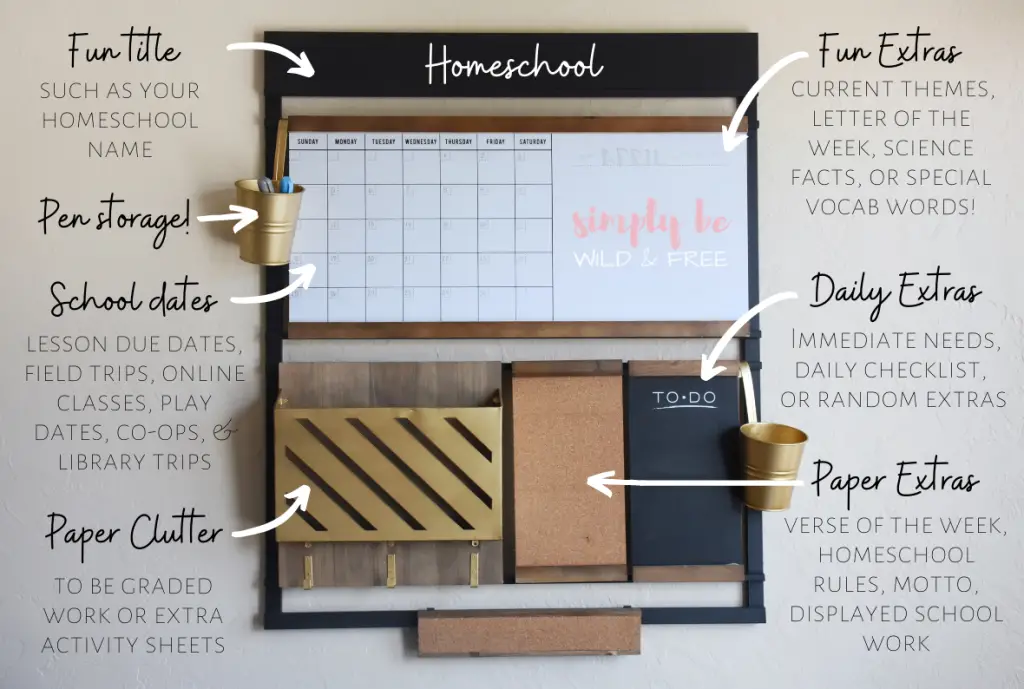 If you struggle with homeschool organization in general, check out some of the other ways I like to organize supplies in our homeschool!
With such a large rise in parents who need to work from home, a wall organizer like this one could be life-changing!
I've been doing the work-from-home-while-homeschooling gig for some time now and it can be a huge challenge to keep all my ducks in a row! This is why I absolutely love using this board to manage both areas of my life.
With that said, many work-from-home parents don't have flexibility with their jobs like I do. So if you're working a high-demanding job and need to make your workspace a little more organized, a 1Thrive wall organizer is the perfect start!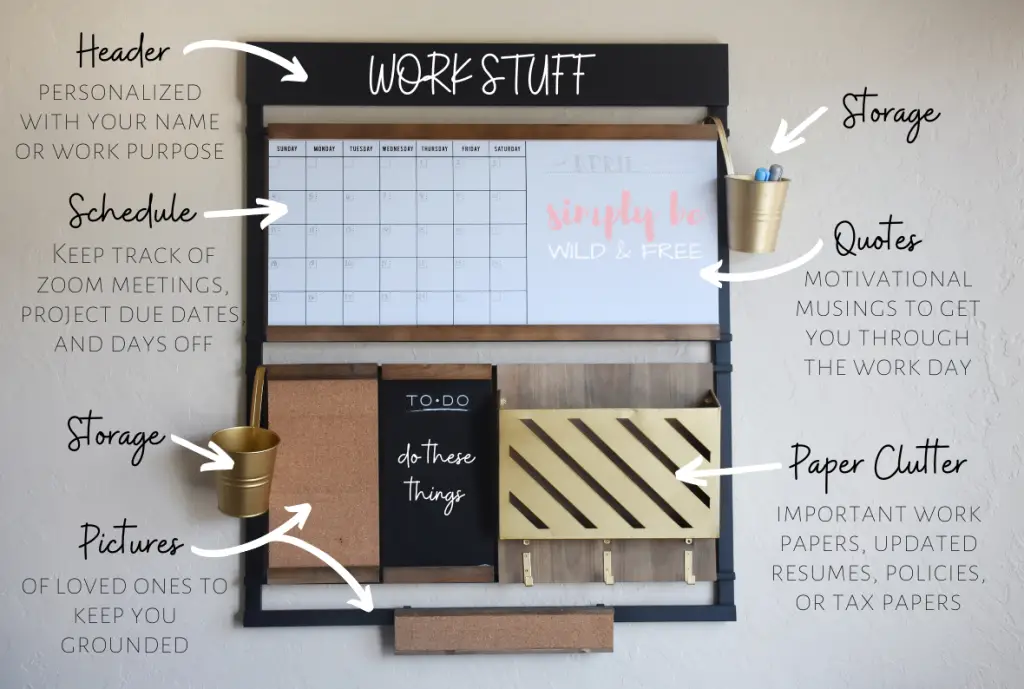 If working from home while homeschooling is a new gig for you, check out my tips for working from home while homeschooling!
If you find yourself torn between sports, school events, and other kid activities this might just be the perfect way to use a wall organizer in your home!
Before I started homeschooling my own kids, we were overwhelmed by the sheer amount of events we had going each week. Not to mention the large volume of paperwork we had to keep track of. It was hectic, to say the least.
A wall organizer like this would have been a huge sanity saver for me!
Plus, it would look great in any entryway! These boards are super eye-catching and keep the clutter at a minimum — definitely a must for any busy mom!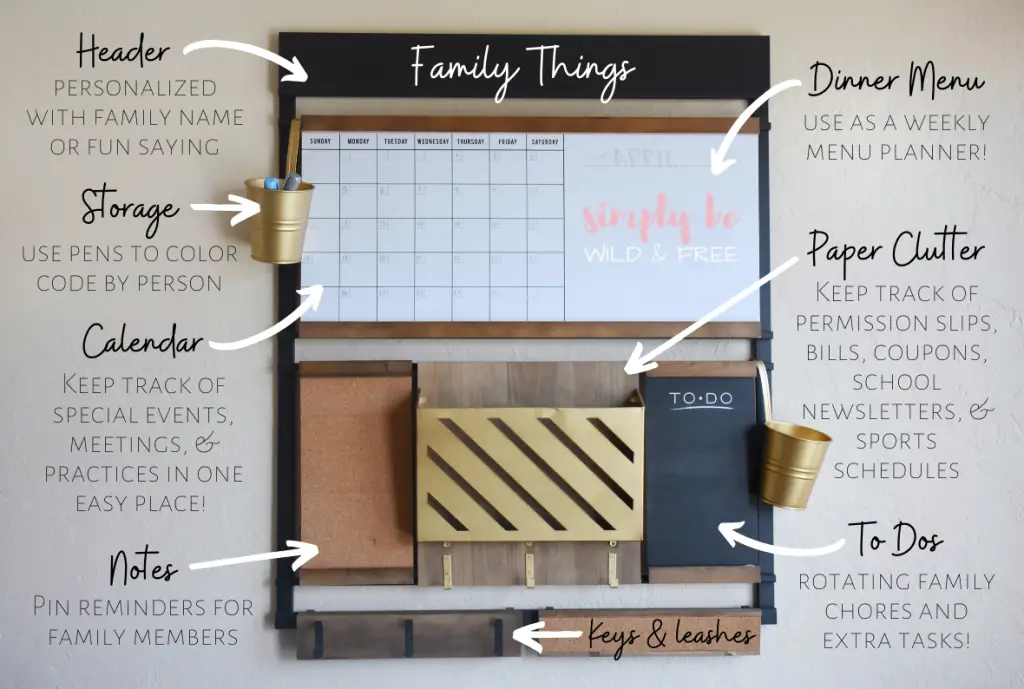 I seriously cannot get enough of this wall organizer, you guys!
Being able to mix it up, accessorize, and personalize sets it apart from any other organization product I have tried. It really is that good.
Ready to Get Organized?
Set up your own functional work/homeschool space by purchasing a 1THRIVE wall organizer today. Just don't forget to use the discount code homeschool10 for 10% off your first wall organizer!!
If you loved everything you saw here, make sure you follow 1THRIVE on all their social networks for even more wall organizer inspiration!
Follow 1Thrive on Instagram, Facebook, and Pinterest
Enjoy this content? Share it on social media!