Butter Coffee Recipe for Coffee Lovers
Before I share my butter coffee recipe, you need to know something incredibly important about me — I'm a coffee addict.
I absolutely love coffee in all forms, especially its truest form – freshly ground, pressed, and black.
On the rare occasion, I do enjoy a simple latte or a touch of vanilla-flavored almond milk, but the truth is — I like it unaltered most of all. 
There's something else you should know…
Before I created this power coffee recipe, I was constantly drinking a new cup of coffee just to make it through the day.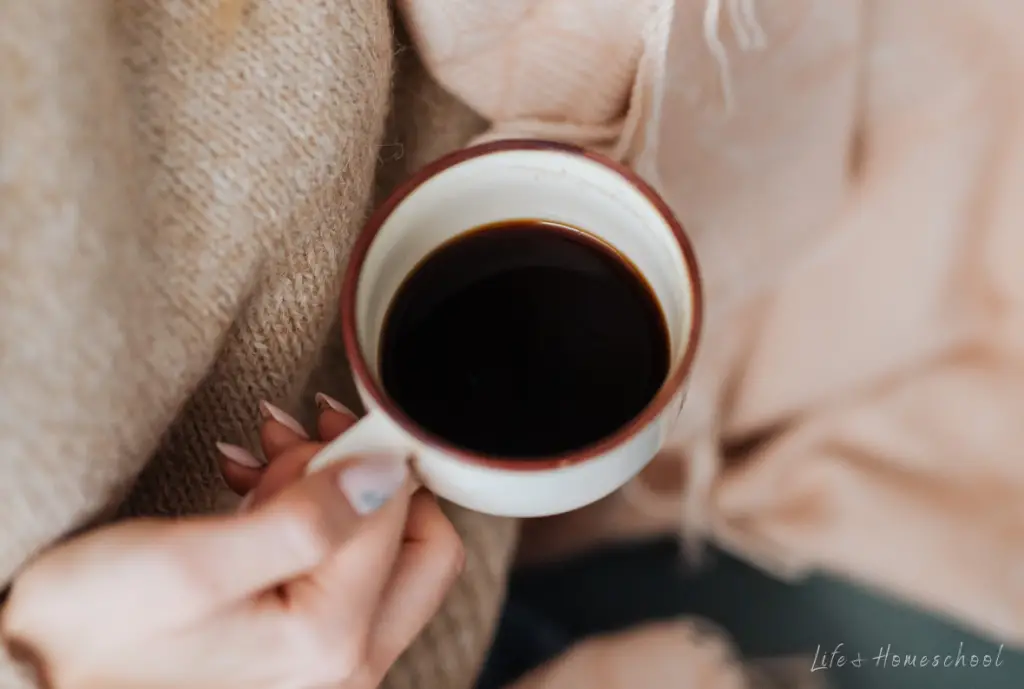 I always started with at least 10-12 oz in the morning, adding on an additional 6-8 oz in the afternoon, then another cup in the evening hours. It really didn't seem to matter how much coffee I got in my system, my energy level never really changed.
Guess what though?! After I started drinking this butter coffee recipe on a regular basis, I began to notice a huge difference!
Do I still need coffee to become less zombie-like in the morning hours? Heck yes!
Do I still drink way too much coffee sometimes? Also yes.
However, when I make time for myself by starting the day with a simple cup of butter (ghee) coffee — I definitely feel the difference. 
Bullet Proof Coffee & the Collagen Difference
After some quick research on the benefits of collagen – skin, gut, and joint health were all advertised. I decided to jump on the bandwagon and added collagen to my daily regimen.
While skin and gut health are both great benefits, my main purpose for trying was definitely joint health!
I had some hip discomfort as well as constant knee popping and clicking.  Keep in mind, I'm barely in my thirties! However, my body was feeling much, much older.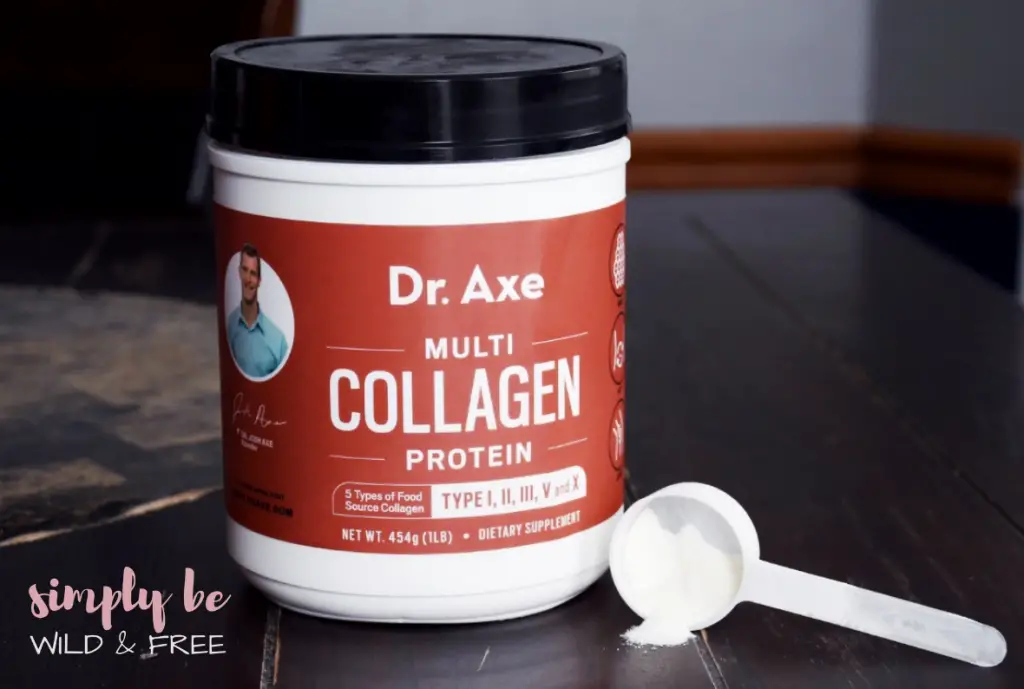 So I broke down, got myself some collagen powder, started adding a scoop to my morning butter coffee recipe, then waited and prayed for some results.
After several weeks, something struck me.
Sweet relief had come! My joint discomfort had definitely improved and it was so gradual I almost didn't even notice the change till it was practically gone.
I can't say I've seen a huge improvement in my skin or gut health. However, I have had many people comment on my skin recently, so maybe there is a difference and I'm just my own worst critic? Most likely the case.
This was the start of my bulletproof coffee recipe, and it only gets better from here!
Finalizing my Butter Coffee Recipe
Adding collagen powder to my coffee was just the beginning.
Before too long MCT oil joined the party.
End result? A bulletproof coffee recipe that changed my life.
It all started with ghee, then I added powdered collagen, and MCT oil.
Ghee is clarified butter.
Probably sounds like something you probably wouldn't want in your coffee, right?
Absolutely Wrong. This stuff is fabulous!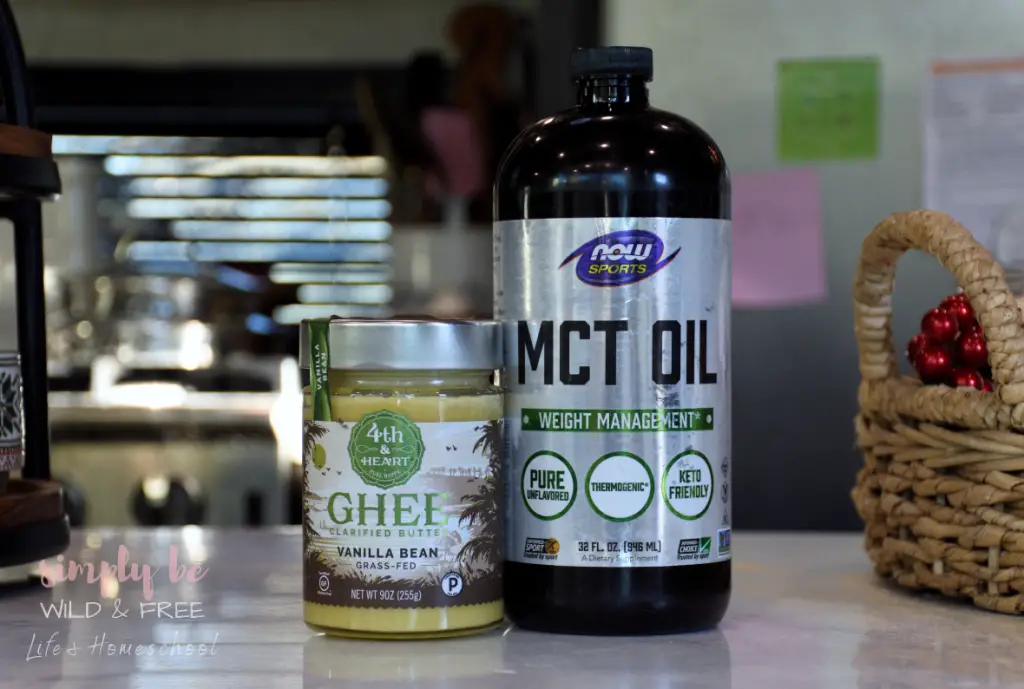 Not only does it promote good digestion, but it's also a natural mood and energy booster! Plus, it froths up really nice — adding an incredibly yummy and smooth flavor to my bold cup of coffee.
MCT oil (medium chain triglycerides)
I seriously love this stuff!
If you are struggling with a little extra jiggle in your middle, this could be a great option for you. MCT oil can help with weight management and encourage a healthy body composition. Plus, it's absolutely great for boosting your metabolism.
The plus side? The plain version is totally flavorless!
Simple Bulletproof Coffee Recipe…
Ready for the main event? This bulletproof coffee recipe is where it's at, you guys!
Ingredients:
Freshly brewed or pressed coffee – around 10 oz
Multi collagen powder  – 1 scoop or recommended dosage (mine is around 7g)
Ghee – 1 tbsp (my ghee of choice is a 50/50 blend of ghee and coconut oil)
MCT oil -1 tbsp
Optional: almond milk creamer or heavy cream.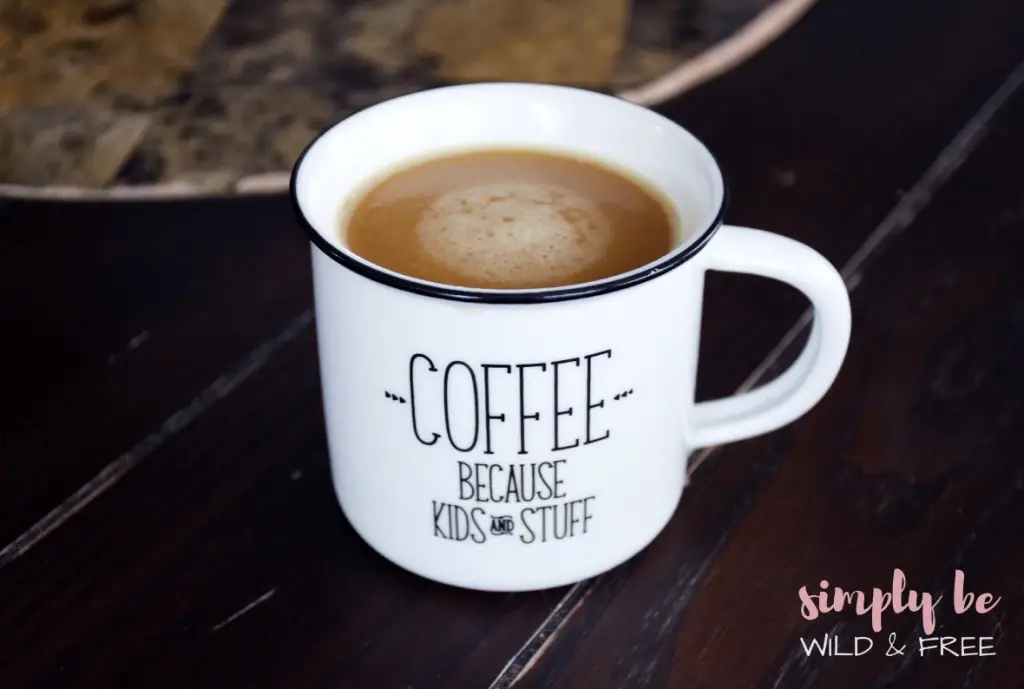 Instructions:
First, add the collagen supplement (and sometimes a little ground turmeric) to the bottom of a coffee cup.
Then, pour freshly pressed coffee over the top.
Next, add in MCT oil & ghee (yes, the gross-looking oil separation is totally normal — don't let that keep you from trying this amazing concoction!!).
Last, add a splash of heavy cream (or almond milk creamer) and use a hand-held frother to froth that bad boy!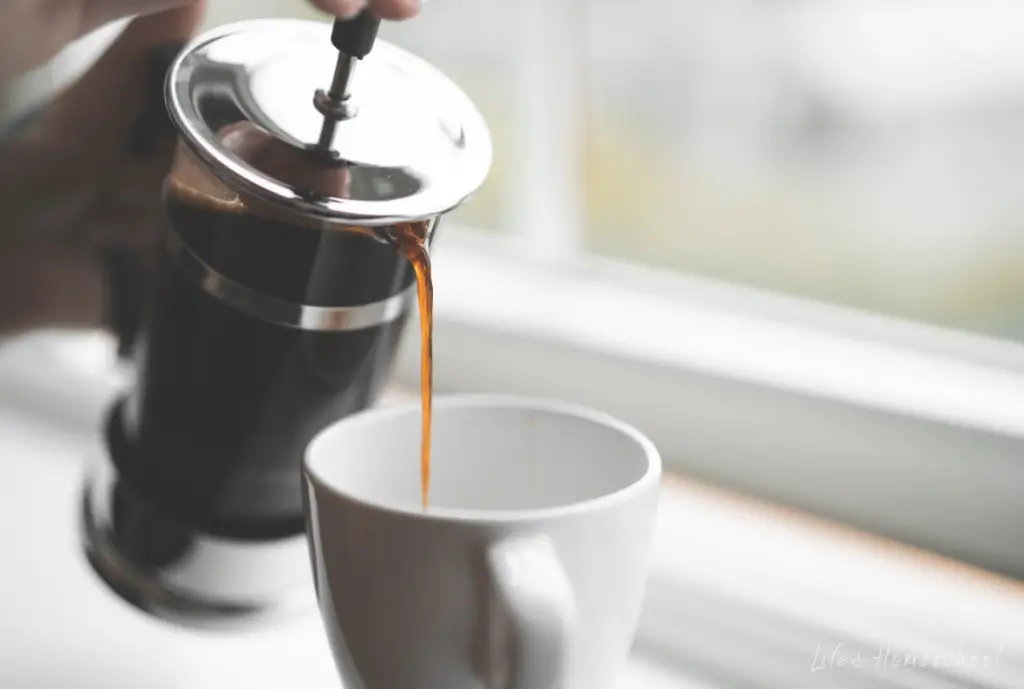 Told you this bulletproof coffee recipe was super simple, you guys!!
Frothing simply allows the oils and milk to combine, leaving you with a very smooth and enjoyable drink! You are totally welcome to skip the creamer or stir by hand — Just keep in mind that it doesn't look nearly as pleasant without the frothing step.
*Note: I use a classic french press coffee maker for this recipe (and most of my coffee needs). However, a single-serve coffee maker would work as well.
Simply adjust how you add your collagen powder by adding it to your cup prior to brewing! Then, brew your cup directly over the powder!
Love this recipe but want to mix it up? Sweeten it up a bit by turning it into a mocha latte instead!
Bulletproof Coffee Recipe Add Ons
At first, I thought I had taken this power coffee recipe a little too far.
However, the way I feel when I drink this on a regular basis has me totally sold. I feel incredible and it's possible that I have even trimmed up a little. This coffee is liquid gold, you guys!
Additional add-ins to try:
If you just can't get the hang of drinking bulletproof coffee on a daily basis or simply get bored with the flavor over time, you can easily mix it up by adding a little sweet or spicy to this butter coffee recipe!
Check out some of my favorite add-ons!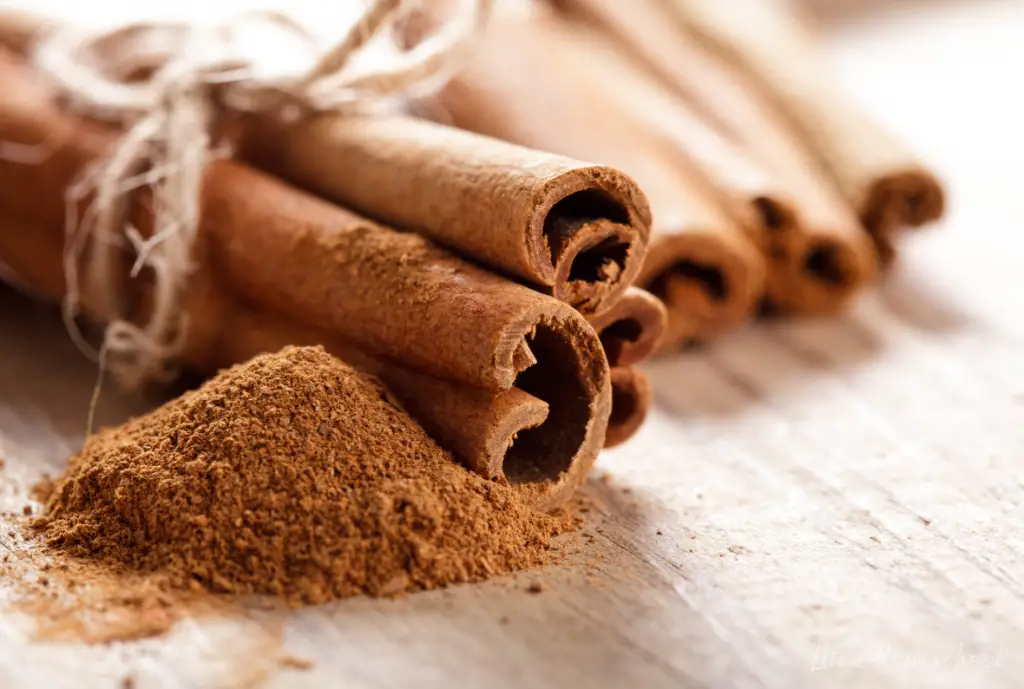 2 drops of peppermint vitality oil (my top pick!)
 a sprinkle of cinnamon and cardamom
1 drop cinnamon bark vitality oil
Low Sugar or homemade whip cream
1/4 tsp Ground Turmeric – Turmeric is a powerful tool against inflammation and is great for the brain, heart, and gut! It also works with your immune system, not against it. Adding it to your coffee can heat up the flavor a touch. So if it's not your thing, I highly suggest trying it in pill form instead (that's typically my go-to option)!
Love this butter coffee recipe?? Take a moment to share it on social media for others to try!