Homemade Mocha Latte
Love specialty bistro-style coffees? Hate toxic ingredients and artificial additives? Why not try creating your own healthy mocha latte recipe at home?!
This latte recipe is a simple rendition of my original power coffee recipe – this stuff is SO good!
Drinking butter coffee is a great option for those going keto or just someone that wants to incorporate more healthy fats into their daily diet.
I highly encourage you to try out both recipes for some added variety to your morning coffee routine.
The Mocha Latte Recipe
You can easily make at home…
**NOTE: I typically french press my coffee each morning. However, I chose to make this recipe using a one-cup brewing machine (Keurig) instead.
This simply illustrates just how easy it is to make a single serving latte. You can totally adapt this recipe with a full pot of brewed, pour-over, or pressed coffee!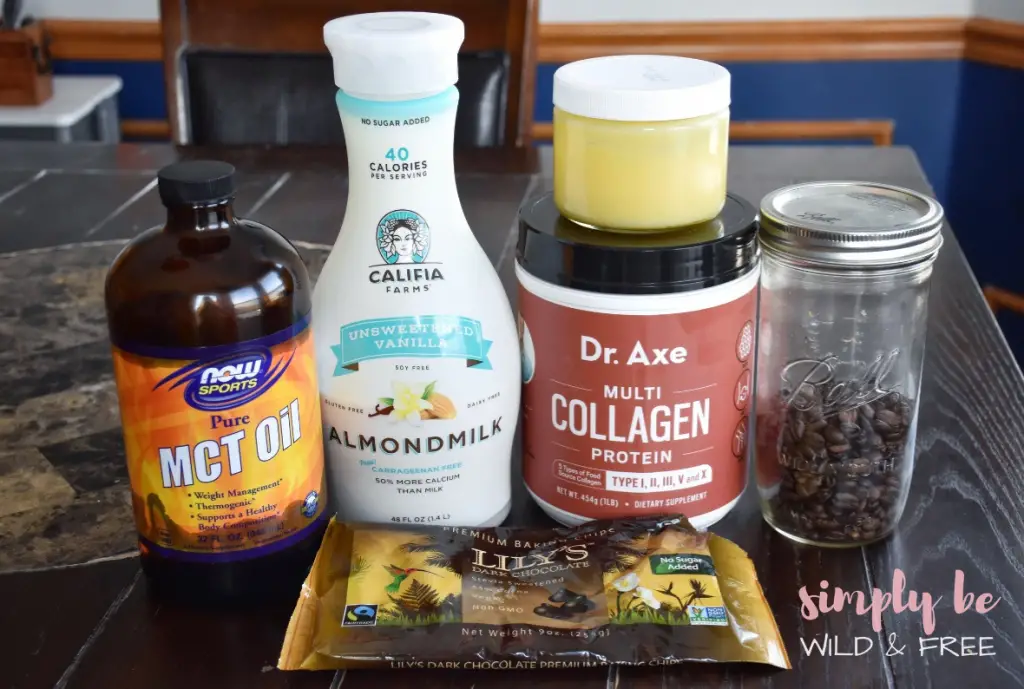 Ingredients:
8oz of freshly brewed coffee
1 tbsp collagen protein powder
Small pinch (or handful) of chocolate chips (dark chocolate sweetened with Stevia is what I used)
A splash of unsweetened almond milk
1 tsp ghee
1 tbsp MCT oil
**Note: collagen & MCT oil are both what I would consider optional ingredients for this latte recipe and can easily be omitted.
Instructions:
First, add collagen to your cup & pour 8oz of coffee directly over the powder. Mix until powder is fully dissolved & set aside.
Next, add all other ingredients to a small pot.
Warm over medium heat, whisking until all the chocolate is melted.
Slowly pour the mixture into the pre-made collagen coffee, while frothing (this is what gives the coffee that perfect latte-like texture. Skipping this step may affect the final result).
Lastly, sip and enjoy!
Easy, right?
This mocha latte recipe is a perfect mixture of coffee & chocolate, with no added sweeteners.
Just keep in mind, I'm not huge into sweet coffee recipes so this is meant to be a bitter-sweet chocolate latte!
If you prefer something sweeter, try adding some of the extras below to make it your own!
Other Simple Add-Ins:
Sprinkle of fermented turmeric or cardamom to add some spice
A TSP of maple syrup or organic coffee syrup to sweeten it up (erythritol or monk fruit work great too)
Splash of vanilla extract to the warmed ingredients for added flavor
Homemade whipped cream for that specialty coffee feel
Substitutions or Swap outs:
Mocha flavored MCT oil in place of regular MCT oil
White chocolate chips in place of dark chocolate chips
Mocha cold brew, toasted coconut, or french vanilla creamer in place of plain almond milk
Love this mocha latte recipe? Take a moment to share it on Facebook or Pinterest for all the coffee lovers in your life!