Easy Cabbage Soup Recipe
the Whole Family Will Love…
For those of you that follow me, you all know that I'm totally not a food blogger.
However, I'm still super excited to share one of the easiest meals we make in our home on a regular basis. This cabbage soup recipe is not only incredibly easy to make, but it's also super healthy – and quite tasty!
In our home, we eat soup year round and this one is no exception! 
I absolutely love cooking with cabbage and this recipe is seriously one of the easiest. Check out Cabbage Health Benefits to get all the healthy details on this incredible food!
Ready to dive straight into my cabbage soup recipe?
Check it out below!
5 Ingredient Cabbage Soup Recipe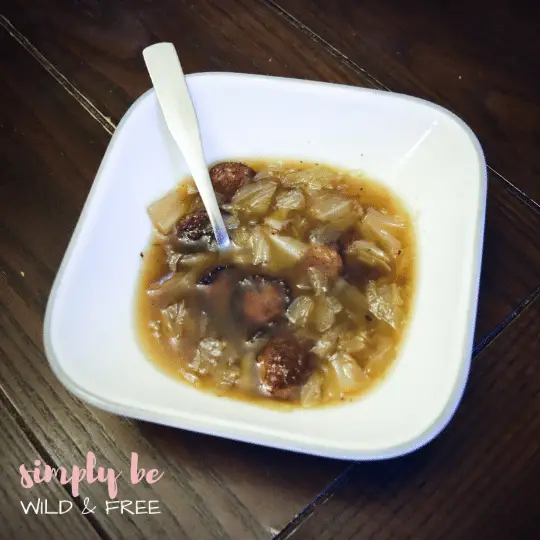 Ingredients:
8 cups homemade veggie stock (store-bought works as well)
1 large head of cabbage
2 pkg kielbasa
2 tbsp olive oil
Salt & pepper to taste* Try substituting 4-5 drop black pepper essential oil in place of ground pepper – so good!
Instructions:
Cut kielbasa into 1/8 inch – 1/4 inch slices.
Pour olive oil into a hot skillet, add kielbasa sausage, and cook until the sausage is brown. Drain excess grease on a paper towel.
Cut cabbage off around core, chop up into 1-2 inch size pieces.
Toss chopped cabbage and cooked sausage into a large stockpot. Pour your veggie stock over the top. Heat on high, almost to a boil.
Turn heat down to low and simmer for 2 1/2 – 3 hours, adding seasonings or essential oils about 1 hour in. Stir occasionally.
*Note: I do not salt my cabbage soup. I salt my veggie stock when I make it, so there is no need to add any salt directly to the soup. Depending on your veggie stock method, you may or may not choose to use salt.
Make Your Own Veggie Stock
for Simple Fall Soup Recipes…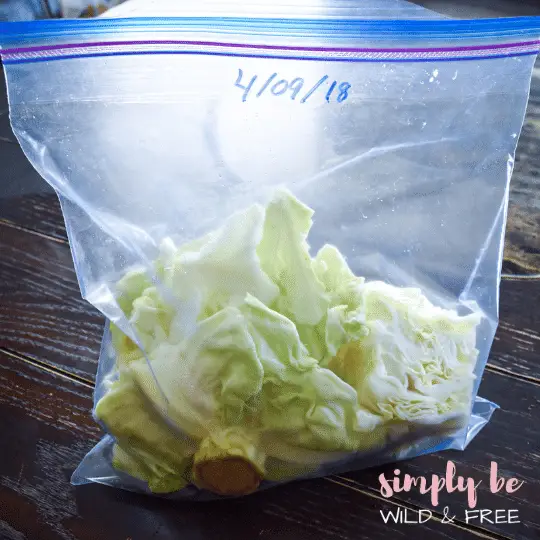 If you want to make your own veggie stock for future soup recipes, now is the perfect time to start your very first veggie stock bag! Simply toss the core from your cabbage into a gallon freezer baggie.
For full instructions on how to make your own veggie stock for this cabbage soup recipe and others – check out my complete recipe for Homemade Veggie Stock!
Check back soon for new recipes on our recipes page!
Love My Easy Cabbage Soup Recipe?
Take a moment to share it on social media!
Want to Connect?
Follow our social accounts on Facebook or Instagram,  join our Facebook group for homeschool parents, or sign up for our email newsletter below!