Eliminating Living Room Clutter
I thrive in an organized space and simply can't stand excess clutter.
Productivity, to-do lists, and simplistic organization are my life!
While I tend to keep a clean and organized home, for the most part, there are zones of clutter that stump me from time to time.
Like DVDs for example.
I kind of have a love-hate relationship with these things.
We don't have cable and don't do Netflix, YouTube, or any other streaming services in our home. So DVD and Blu-Ray movies are our only options.
While we do check movies out from the library on a regular basis, purchasing the movies we watch over and over again is just a given!
Thus making proper DVD organization a must!
Before Minimalistic DVD Storage
Between our veggie tale obsession, amazing Disney collection, and other family favorites, our movie selection was taking over my living room bookshelf —  quite literally.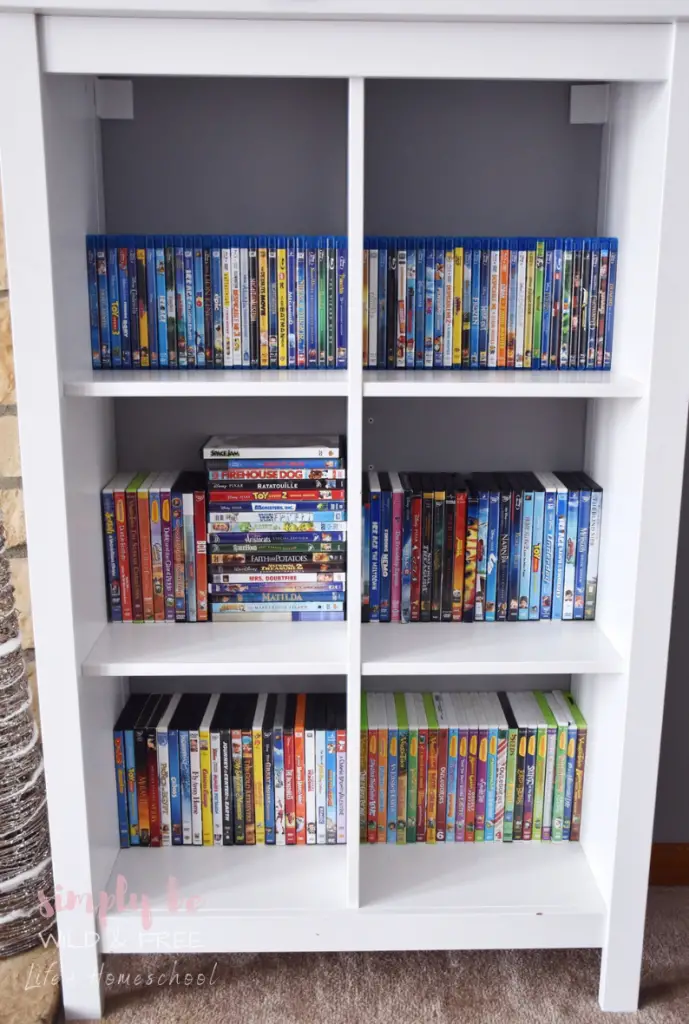 While it didn't look terribly messy or cluttered, our movie collection didn't leave any room to display decorations — which would give our living space that homey feel I so desperately craved!
I tried baskets and bins, sorting them this way or that, and even splitting them up between 2 different TV areas at one point.
Nothing worked, you guys!
The sheer amount of DVDs was simply too much for the space.
I needed a solution and I needed it fast.
Our DVD Storage Solution
At first, my husband suggested doing a DVD binder, which I was intrigued by, but never entirely on board with — it did however, give me that little shove I needed to research all of my options.
First, I checked out binders, then slimline cases, and eventually stumbled upon an amazing find!
After a little brainstorming and some intense research, I came across these budget-friendly movie sleeves.
These sleeves are seriously amazing, you guys!!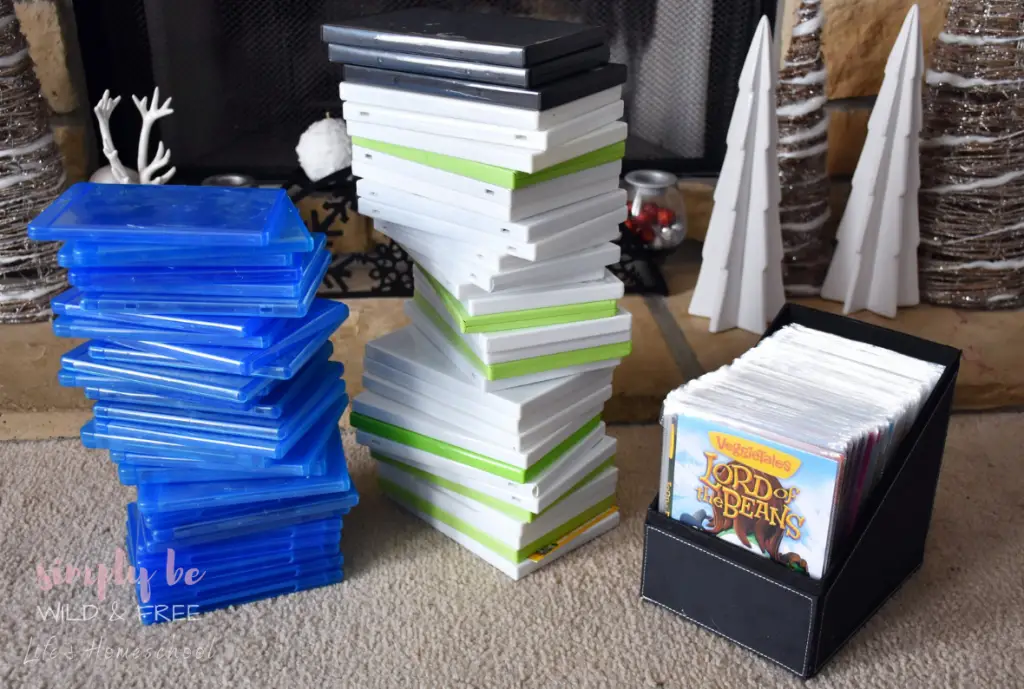 I immediately knew these sleeves were the answer to my constant battle with DVD clutter.
A couple of clicks and a few days later, I had 2 1/2 cubbies of movies cut down to less than one!
I was instantly impressed.
With that said, this only fixed part of my problem — I had 3 1/2 additional cubbies to minimize!
Obviously, this meant I needed to purchase more sleeves.
Unfortunately, living life on a budget meant I had to take my time with this incredible living room makeover.
After Minimalistic DVD Storage
This is it, you guys!
The moment I had been waiting for a very, very long time.
Finally, the last bin of movie sleeves was dropped on my porch and I was ready to tackle this project once and for all!
First, I assembly-lined my kids and husband.
Then, we got to work!
My oldest emptied the DVD and Blu-Ray cases, my husband folded all the cover pages, I stuffed the brand new sleeves with discs, and my youngest 2 boxed up the old DVD cases to be recycled & donated.
This was the final result!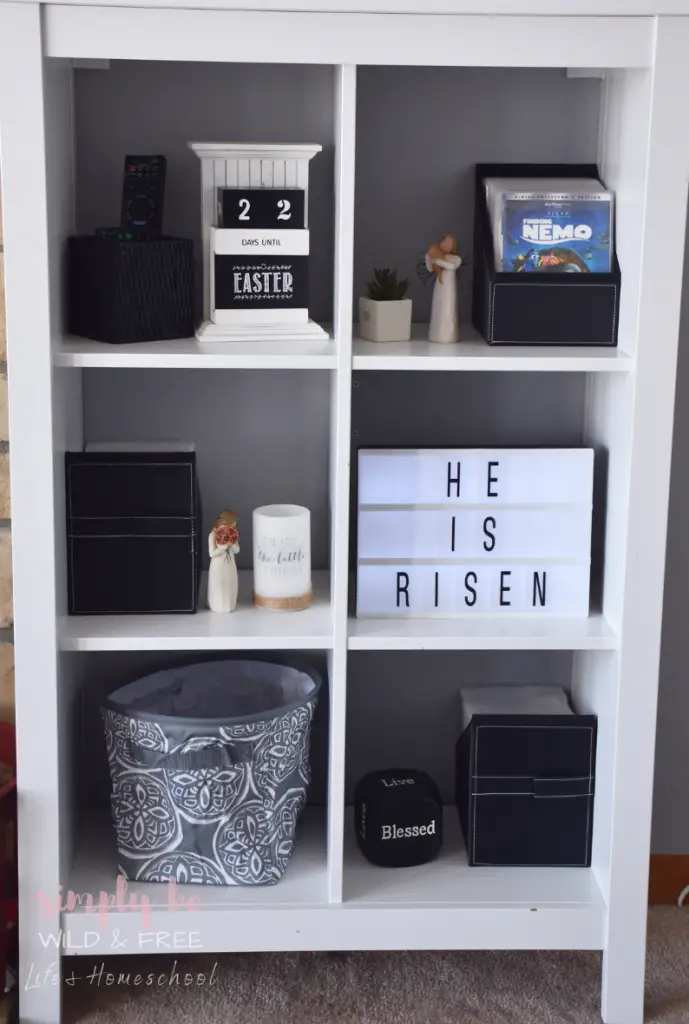 Not only did completing this project make my organizational heart happy, but it also worked wonders on my momma heart as well!
This officially turned into a family project and I thoroughly enjoyed every second of it.
The results were simply beautiful!
I had finally tackled our excess of DVD movies and accomplished the minimalist look I was going for.
Additional DVD Storage Tips
If you chose to organize your own DVDs using minimalistic movie sleeves, there will still be a bit of organizing left to do after purchasing and filling.
Slipping discs into sleeves may minimize the look of clutter, but it doesn't automatically create a functioning system.
Keep in mind, DVD sleeves don't have that fancy binding that cases do. You will no longer be able to view the titles of your movies at a simple glance.
You will definitely want to organize your movies by title, genre, or type.
We chose to organize our movies in 2 different ways.
First, I created kid bins and grown-up bins.
The kid bins are filled with fun animated features and family movies we all enjoy watching together. While the grown-up bins are filled with more mature movies (such as war movies) that my youngest simply isn't quite ready for.
Second, we organized our movies alphabetically.
This was kind of a no-brainer for me.
While I briefly thought about doing genres or themes, I knew that wouldn't work in our home. Five different people using this system would also mean 5 different opinions on what fits into each genre category.
Plus, my youngest was learning all about alphabetizing — so putting movies away became a real-life homeschool lesson!
Win, win!
With that said, there are so many creative ways you can customize your own DVD storage methods!
Ways to Organize Your DVDs
While we opted to go the alphabetical route, there are many other ways to personalize your own DVD collection.
Below are just a handful of my favorite ideas.
This was definitely our go-to.
Such a simple solution for DVD storage!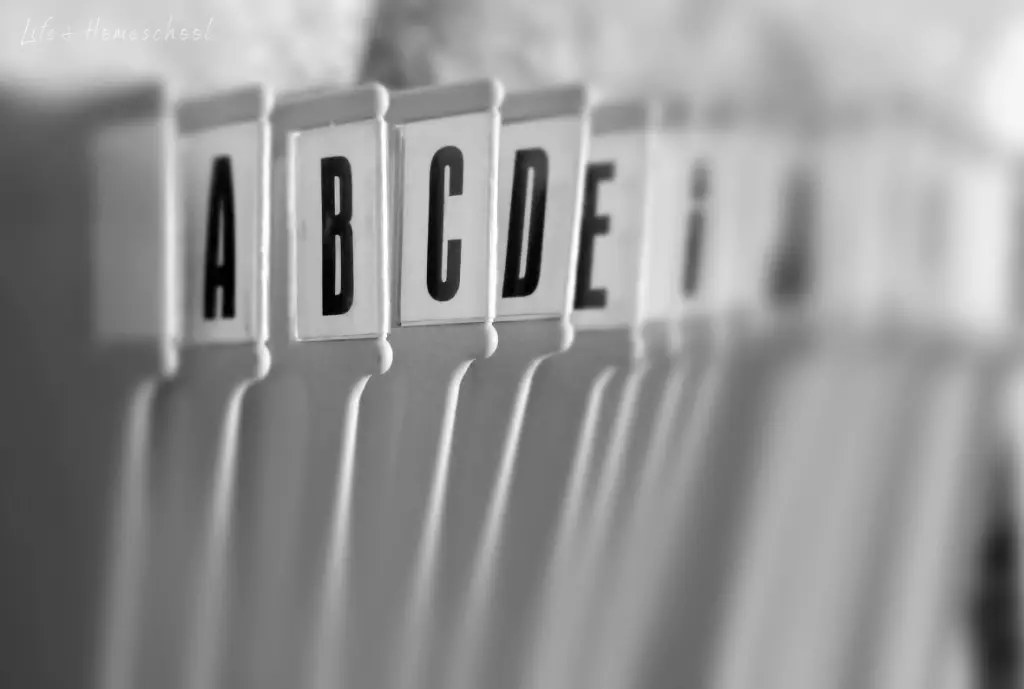 Sorting your movies or TV shows in alphabetical order will help eliminate any question as to which movie goes in which bin. Easy peasy.
With that said, movies beginning with articles (such as the word the) can cause some major confusion when alphabetizing.
Make sure to discuss how those will fit into your system.
Another simple solution? If you are utilizing a bin where all your movies can be seen at a glance. Consider using letter dividers to make finding a movie even easier!
This can be a great option if you have titles from many different genres.
While it was something I briefly considered, we honestly don't own a ton of different genres in our home.
Most of our movies are animated or drama, with a handful of action mixed in there.
With that said, sorting movies by different genres, instead of titles, can be super fun! Especially if picking movies for a family movie night tends to be dependent upon your mood.
Ok, this one sounds pretty fun, not gonna lie.
If we hadn't opted to go with an age-appropriate followed by alphabetical approach, I would have totally done themes!
The beauty of doing themes, instead of genres or alphabetical, means you can literally do anything you want!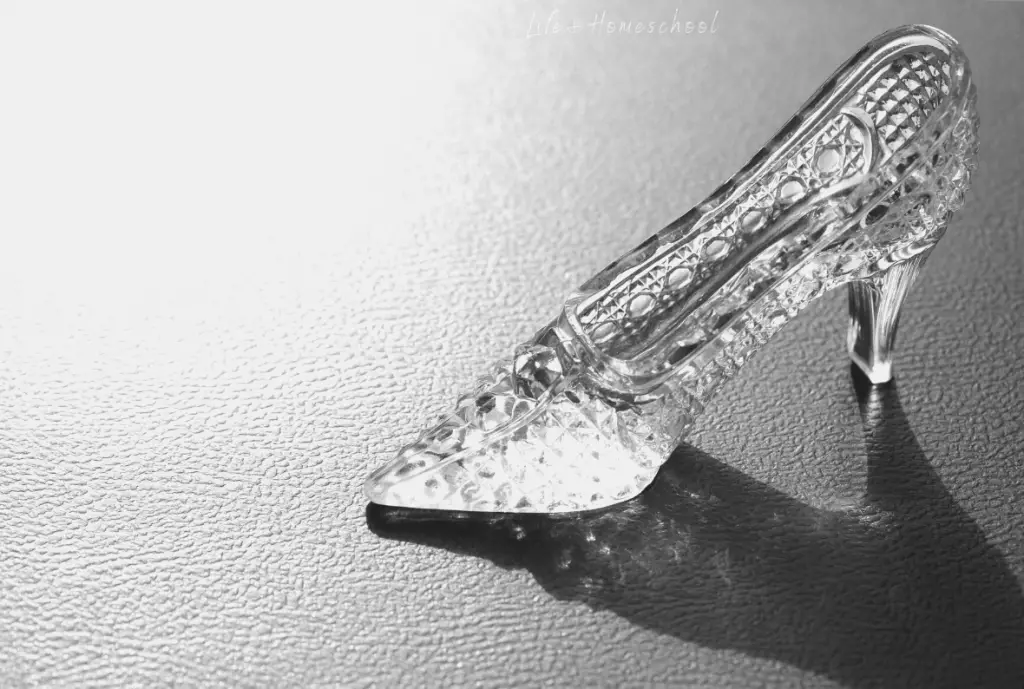 If had decided on themes for our DVD storage, our top three categories would go something like this — animated princess movies, talking vegetables, and based on a true story.
Haha, not even joking!
It's rare that you will find a movie in our home rated above PG 13, but there are a handful of true stories with graphic images or concepts we keep tucked away from our 6-year-old.
If you have plenty of movies in each rating zone, this might be a well-suited option for your family.
Plus, splitting your movies into certain age-appropriate categories can be really helpful if you have multiple children at different maturity levels!
You can keep a bin for family movies, one for toddler shows, and even a parents-only bin.
Sorting by rating or age levels simply allows you to keep certain movies out of reach while keeping others easily available at a young child's level.
We love having our personal DVD movies sorted this way, then alphabetized.
It's definitely the perfect fit for us.
Love this article? Share it on social media for others to see!