The Overwhelming
to-do list…
If you're anything like me, you thrive on list-making, goal setting, and definitive plans. Having a to-do list a mile long, however, definitely an overwhelming feeling I'm not a fan of.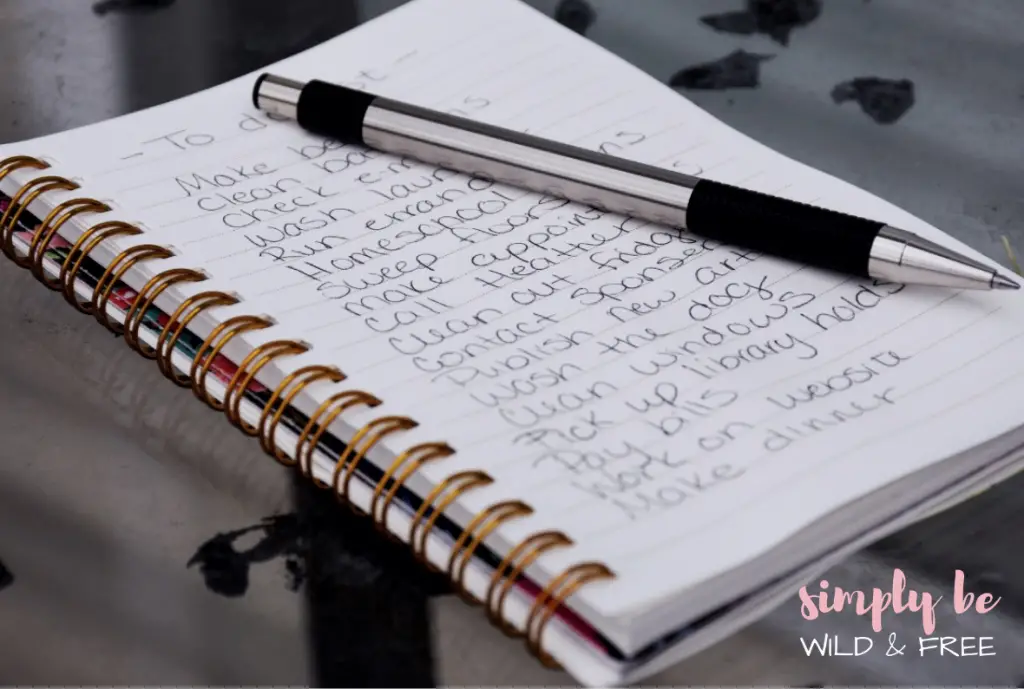 One day while attempting to tackle my daily routine of never-ending tasks, it totally hit me. I wasn't getting anything important accomplished. I mean, I was definitely getting stuff done, I just wasn't getting the right stuff done.
Each evening I was left with feelings of failure and overwhelm that would soon be followed with wishes and thoughts that I could hopefully do better tomorrow. Guess what? It totally wasn't happening. This had become my life.
My Top 5
Printable Priorities To-Do List…
I made this to-do list printable for myself, plain and simple. I was feeling overwhelmed and overworked, never knowing what task I should tackle next. Then before I knew it I was going to sleep and I hadn't spent quality time with my children or I forgot to pray.
No more. I had had enough.
My top 5 is a different approach on your typical to-do list…
It's simple. 5 important categories + 5 things to do in each!
This is such an easy way to be present and aware of how you spend your time on a daily basis. It's time to skip the traditional to do list and focus on what really matters in life.
Love the idea of using a simple to do list like this one, but stuck too far behind to even consider it yet? Try planning a simple Catch Up Day first!
My Top 5
Categories…
For my personal top 5 I chose God, Family, Home, Work, and Self. I had gotten to a point in my life where work was taking over and I needed to re-prioritize everything! I needed to grow spiritually, devote more time to the housework I was putting off, and make sure I was spending quality time with each of my children every single day.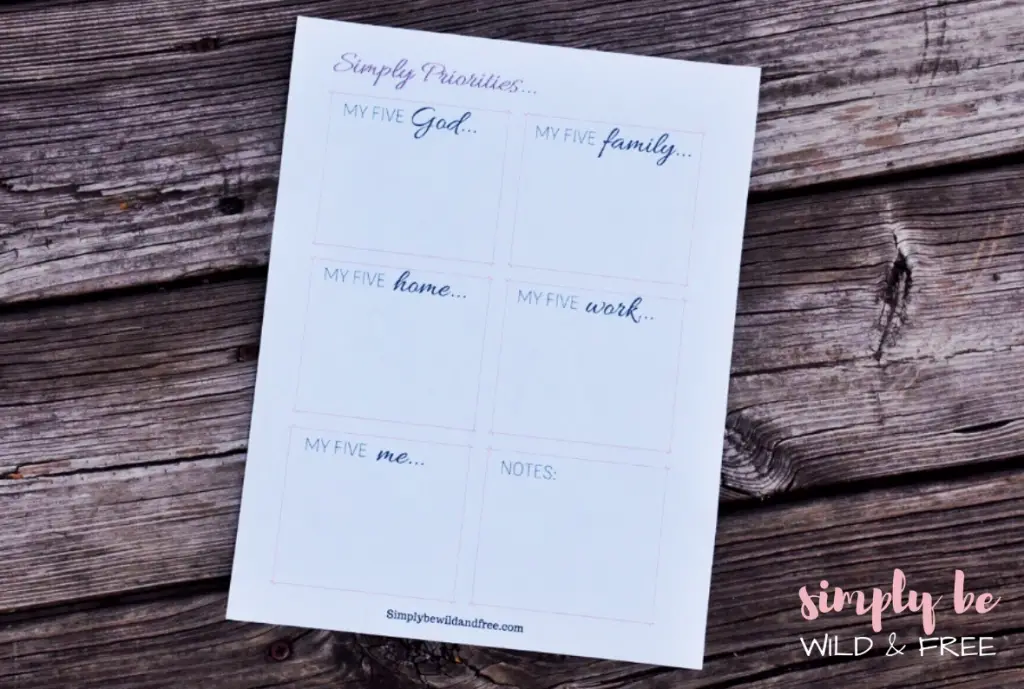 God
While I want God to be first in my life, always… I will not complete all five in this column first. I simply start my day with prayer and go from there. I feel it's incredibly important to space the things on my top 5 to do list out throughout my day. Not only does this help me stay focused on the right things, but it also gives me something to go back to when I'm feeling stuck.
Example? When I'm working on tackling my home list and the laundry or dishes have become overwhelming… I simply take a moment and mark something off from the God column. It keeps me grounded and helps me push forward.
Top 5 Ideas
God Column…
Morning Prayer Time
Morning Devotion
Devotion with Children
Afternoon Scripture Reading
Evening Family Devotions
Devotions with Spouse
Family Prayer Time
Scripture Memorization
Evening Prayer Time
Scripture or Prayer Journal
Serving or Volunteering
Listening to Worship Music
Reading Hymns
Family
This! I never thought I would need to put moments with my family on a to do list. I mean, I homeschool. I'm literally around my children 24/7. What more could they possibly need from me? How can I even possibly give them more of my time?
Something I have learned from homeschooling my kids? Quantity doesn't always mean Quality.
I spend a large portion of my time interacting with and teaching my children each day. However, our one on one time was seriously lacking. When I created my top 5 to-do list, this was something I was determined to change!
No longer will my children go to bed feeling like they hadn't spent any time with their mother (you know, the one who was teaching them lessons all day, haha). Seriously though.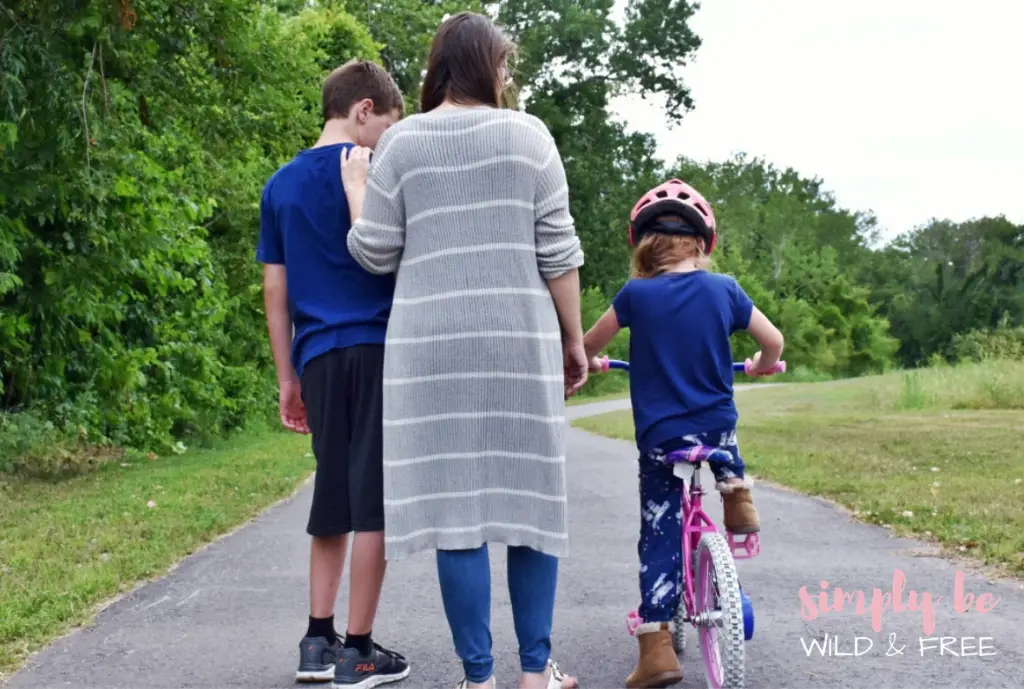 Top 5 Ideas
Family Column…
Read with a Child
Do a 15 Min Activity With a Child
Play a Family Game
Have an in Depth Conversation
Hug Your Kids & Spouse
Go for a Walk as a Family
Read Together as a Family
Play Make-Believe with a Child
Sit and do Nothing but Snuggle
Home
Confession time… Before we homeschooled, my children were enrolled in a private school and I spent nearly 8 hours each day homemaking. My house was spotless, the laundry was folded and put away, the errands were always taken care of, and dinner was miraculously on the table each night.
Once we started homeschooling my story completely changed. Homemaking got placed on the back burner. Then, around the time I started getting a handle on things again, I added working from home to the mix.
Can you guess what happened? That's right… housework got placed on the back burner, yet again!
For this reason alone, I needed home on my top 5.
Five daily tasks… that's my new goal. Forget the mile long to do list each day, because seriously, it will never all get done… not in a single day at least. Keeping it simple keeps the stress away and gives me a feeling of accomplishment when the day is done. Five tasks is all I need.
Top 5 Ideas
Home Column…
Wash One Load of Laundry
Sweep the Floors
Clean the Kitchen
Organize 1 Thing
Fill a Box for the Thrift Store
Clean out a Closet
Clean the Bathrooms
Vacuum the Floors
Clean out Car
Dust
Get rid of Old Toys
Self
Yes. Self-care is essential to this homeschool mom! If you don't think you need self-care, think again momma! It's hard to continue filling your kid's cups when yours is completely empty all of the time. I needed this to be on my top 5 priorities to do list… and you probably need it to be on yours as well!
Need more ideas for self-care & love? Check out these articles!
Top 5 Ideas
Self Column…
Journal
Color
Take a Shower
Paint Nails
Fix Hair & Makeup
Coffee, Tea, or Wine
Read (a non kid book)
Eat Chocolate
Go to the Store Alone
Doodle or Draw
Sit and do Nothing for 10 Minutes
Work
Work. This will always be the last priority on my top 5 to do list! Work is essential to life. It's not always welcomed or beautiful… but it's necessary. My work is this blog, running an online business, and helping other homeschool moms find solutions to their everyday needs. It's hard, it's messy, but it's necessary.
On one hand I love my work. I love helping others, making connections, and offering advice – but I sometimes dislike the amount of time I spend devoted to it. For this reason alone, work always goes last. I've chosen to put God, my family, home, and self before work on any given day.
Do I still work my tush off? Heck yes! Do I feel better about the order of things? 100%
Since everyone's work is different, I won't be including an ideas list. However, I chose to keep these tasks light and simple. This way I can always end my day feeling accomplished and knowing my top priorities were met.
If I get extra work done, wonderful. If I don't, that's OK too.
My 5 Free Printable Priorities To-Do List
The My 5 printable priorities to-do list comes in both a black and white customizable version (as in you handwrite in the different categories you want) and a colored version I personalized for myself with the categories God, family, home, self, and work.
Want your free download? Simply sign up for my newsletter below!