Christmas Time
is Here (almost)…
Now that we are knee-deep in November, my mind is officially on all things Christmas! I'm a huge stickler for celebrating one holiday before decorating for the next, but I just can't seem to help myself this year. I'm so excited to take part in our family holiday traditions, you guys!!
And yes, we do ALL of these every single year!
Gift Giving
Holiday Traditions…
In our home, we do gift-giving in a very specific way.
While we do like to mix it up slightly on occasion, we generally stick to the same base idea. Check out our holiday traditions for gift-giving below!
Pre-Christmas Gifts
Have you ever heard of the 25 days of Christmas books tradition?
Well, this is my own personal (and condensed, cause let's be honest – I'm a little lazy) version of that.
Each year I wrap 4 new Christmas books for my kids and we open one each week in December leading up to Christmas. On the rare occasion, I will wrap a 5th to open up on Christmas eve. I like to pretend that I do this because it's fun to add an element of surprise from time to time, but really it just meant I struggled with narrowing down my choices that year. Haha!
I try to get the following type of books each year…
1 Family Devotional (or advent book)
2 Story Books
1 Activity Book
We typically open the family devotional first, leaving us all month to read from it and enjoy the advent activities together. I tend to follow with a storybook more geared towards my youngest child as book 2 and a longer storybook for my older children as book 3. Finally, we finish up this simple Christmas tradition with a fun activity book we can work on that final week leading up to Christmas.
Looking for some fun activity books to add to your collection this year? Check out Christmas Books for Kids for a few of our favorite picks.
Love these ideas? Check out our complete list of Family Devotions & Activities for Christmas time too!
Christmas Eve Gifts
Yes! This is a super fun Christmas tradition that I look forward to every year. I try to keep gift giving simple and minimalistic in our home and Christmas Eve is no exception.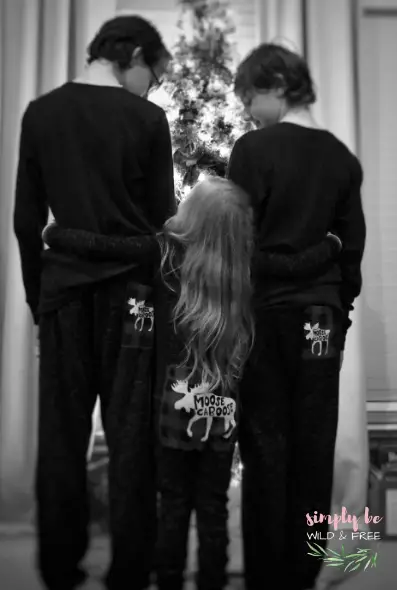 My kids get the following Christmas Eve gifts every single year…
Matching Pajamas
Shared Family Movie
Shared Family Game
I typically buy and wash all pajamas in advance, then wrap them and place them under the tree for the entire holiday season. I also grab a fun movie we either love and don't own or simply pick a new one we haven't seen yet. Then, I purchase a fun new game for us to try out as a family.
My kids start this Christmas tradition by opening and slipping into their new Christmas pajamas, then they open their new movie & game. Sometimes we play our game right off the bat, other times we save it till Christmas day. Then, we snuggle up with snacks & watch our movie together as a family.
Definitely one of my favorite holiday traditions!
Christmas Day Gifts
This holiday tradition is just another example of how I like to keep gift-giving super simple around the Christmas season. While I do love watching my children light up when they open a new gift, I also don't like Christmas to only be about the getting. I want to teach my children to be appreciative and content during the holidays – and always.
In our home, we all get 4 gifts – 1 gift in each of the following categories…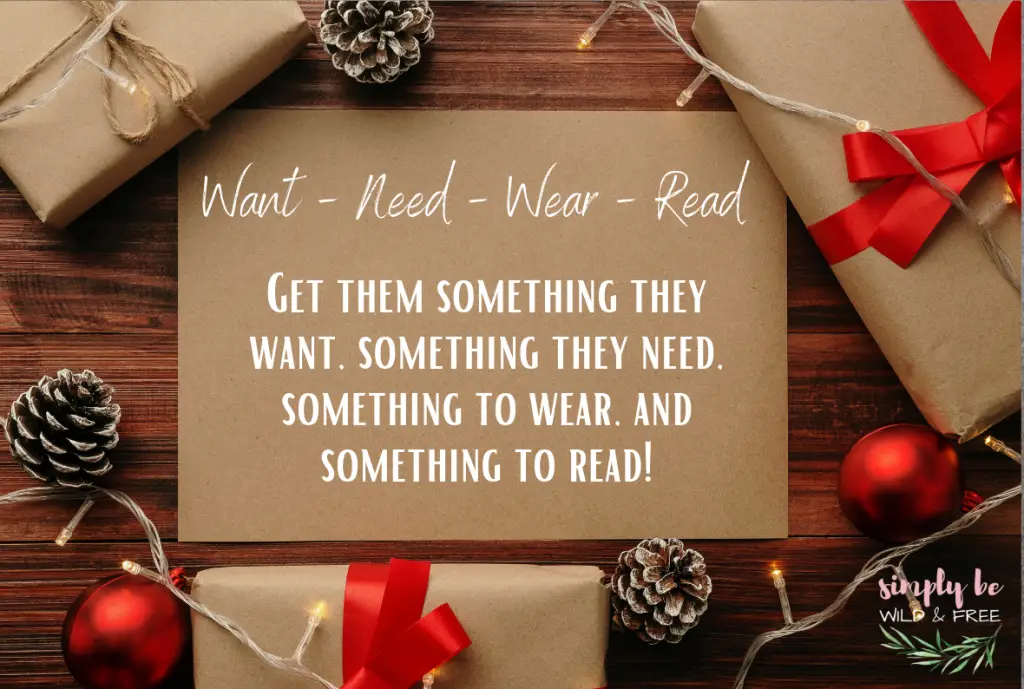 When opening our gifts we tend to start with the reads and inch our way up to the wants.
Even though I want to make my kid's dreams come true to an extent, I still tend to keep this gift pretty simple. I don't like to spend a large amount on something my kids may only want for a small period of time, so I simply pay attention to what makes them light up in the months that lead up to Christmas and focus on the one thing I think will be most valued by them.
Looking for other fun ways to do Christmas gifts on Christmas Day? Check out the fun ways we have mixed it up over the years!
Wrapping Paper Surprise
This little addition is so much fun! We've been doing this for a few years now and my kids absolutely love it.
How it works…
Each person gets their own wrapping paper, but it MUST remain a surprise.
In our home, I choose who gets what paper. Then I spend a little time making a personalized card with a scrap of their wrapping paper inside. This card goes in the bottom of each person's stocking on Christmas eve night.
My kids always love waking up to see the Christmas gifts of many shapes and sizes, while guessing which gifts belong to them. Such a fun little holiday tradition!
Drawing Names
Mixing it up can be so much fun sometimes!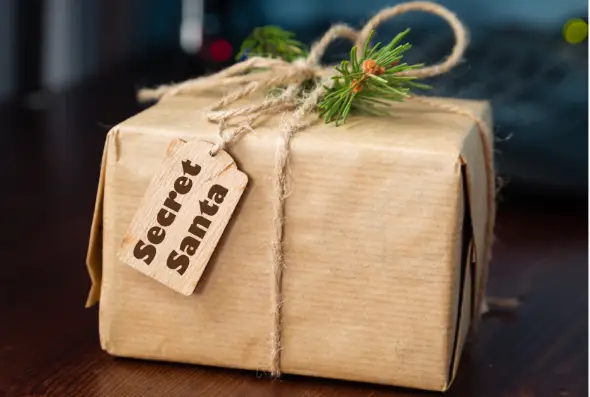 Last year we decided to draw names. Each family member drew 1 name of another family member in each category (want, need, wear, read). They were then in charge of taking care of those particular gifts.
With that said, wrapping paper wasn't exactly a surprise that year. However, it was still a fun way to complete our Christmas traditions – with a little twist!
Holiday Traditions
for the Entire Family…
While gift-giving tends to be a huge part of the American family Christmas, there are some other fun ways that we love to celebrate the season in our home each year! Check out our favorites below.
Elf on the Shelf alternative
I was just introduced to this little guy last year and it was such a blessing to add him to our holiday traditions! If you are on the lookout for something new and exciting to add to your holiday line-up, I encourage checking this one out!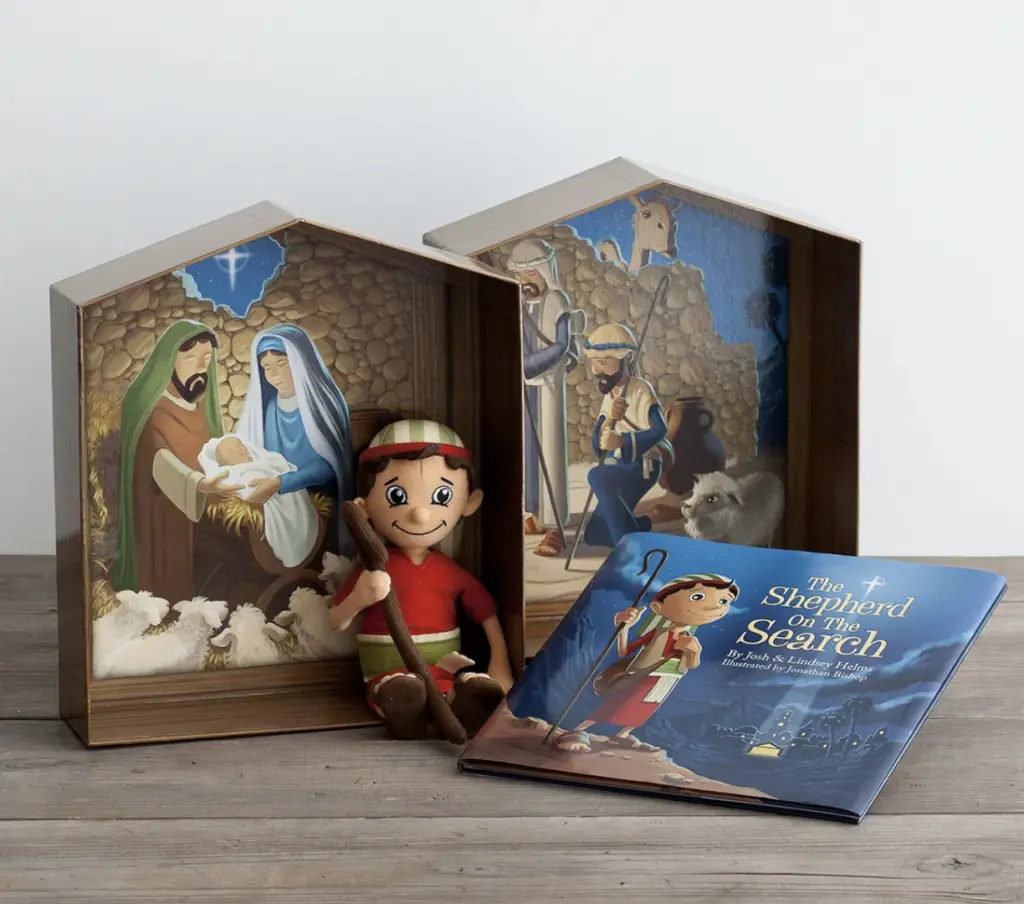 *NOTE: While I had originally planned to write an entire post on this fun holiday activity, our family just recently moved 22 hours across the county and our entire life was put on hold for about a month. I do apologize for the delay as I now won't get to that until next fall. You can however still shop all things Shepherd on the Search below!
Want to know when new posts are live on the blog? Sign up for our real-time post notifications at the bottom of this post to receive an email the day it's posted!
The book of LUKE
YES! Throughout the years, our family has always read Luke chapter 2 every Christmas morning (and we still do). However, last year we added to that by reading the entire book of Luke throughout the month of December.
It was such an awesome experience!
Feel free to save the image below for yourself, or share it on your social media accounts with friends and family! You can also share our direct post on Facebook by clicking HERE.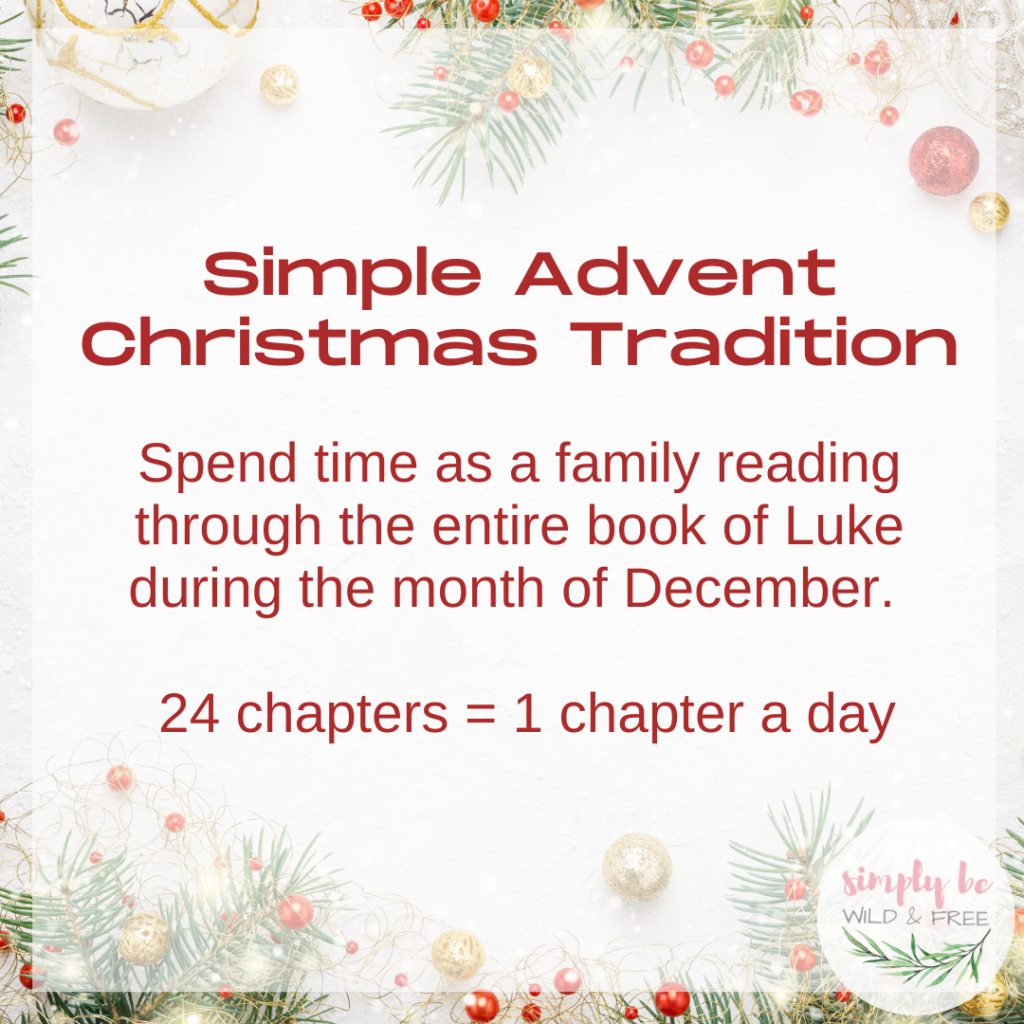 Hot Cocoa Station
This is a holiday tradition that I had way too much fun putting together!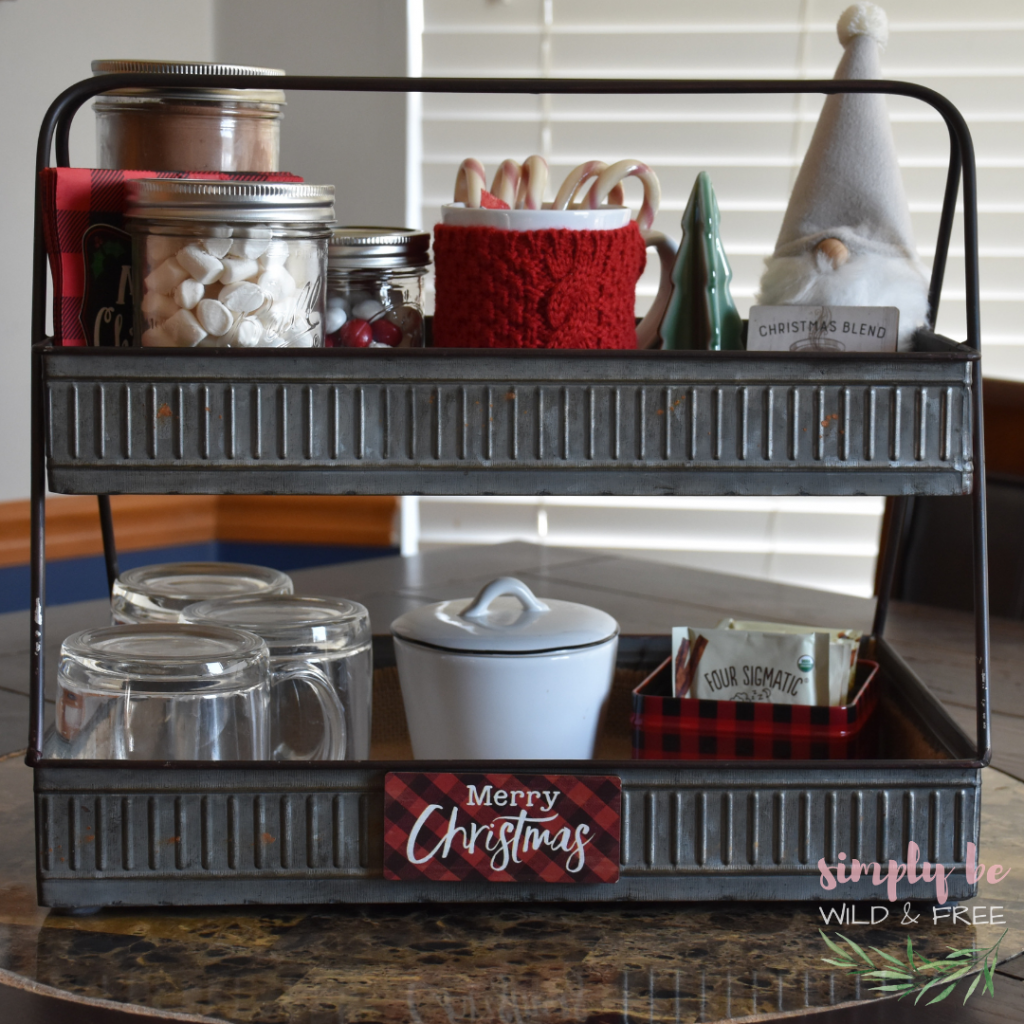 With a quick trip to Hobby Lobby under my belt and a simple Target pickup order, I was able to put this little masterpiece together in just a handful of minutes.
I made it as self serve as possible, but really I just love the way it looks on my counter each year.
Ready to make your own? Shop all the supplies below!
*Note: I made our hot cocoa bar a couple of winters ago and some items may no longer be available. For those things, I tried to find similar items or something I would use if I were currently building my hot cocoa bar this year! Check out my selections below and don't be afraid to mix it up and make it your own!
Time off from Homeschooling over the Holidays
Okay, this isn't technically a tradition… but it is definitely a must for the holiday season – in our home anyway.
We did this for the first time last year, and I will never go back. Taking extra time off around the holiday season simply allows me to reset. Plus, the no rush feeling really helps me to be able to soak up all those little moments! Life is way too short to be confined to schedule all the time!
Want to know more about our experience with taking all of December off? Read Extended Holiday Breaks for Homeschoolers to get all the pros and cons!
Love this post? Share it on social media!