Homeschool Morning Time
As a homeschool mom who struggles with motivation in the early morning hours, planning a simple homeschool morning time routine was a must!
In our home, we utilize what I like to call a lazy morning basket full of simplistic homeschool activities.
Our morning basket is about as structured as it gets for our homeschool morning routine!
Homeschool Morning Time Activities
With that said, diving straight into our core curriculum is simply never an option for me, and I do like to mix things up from time to time!
Check out some of these simple ways to start your homeschool morning time.
As a homeschool mom with kiddos who love to read, this homeschool morning activity is always a win in our home!
Adding read-aloud books to your homeschool morning routine can be a simple way to start any homeschool day.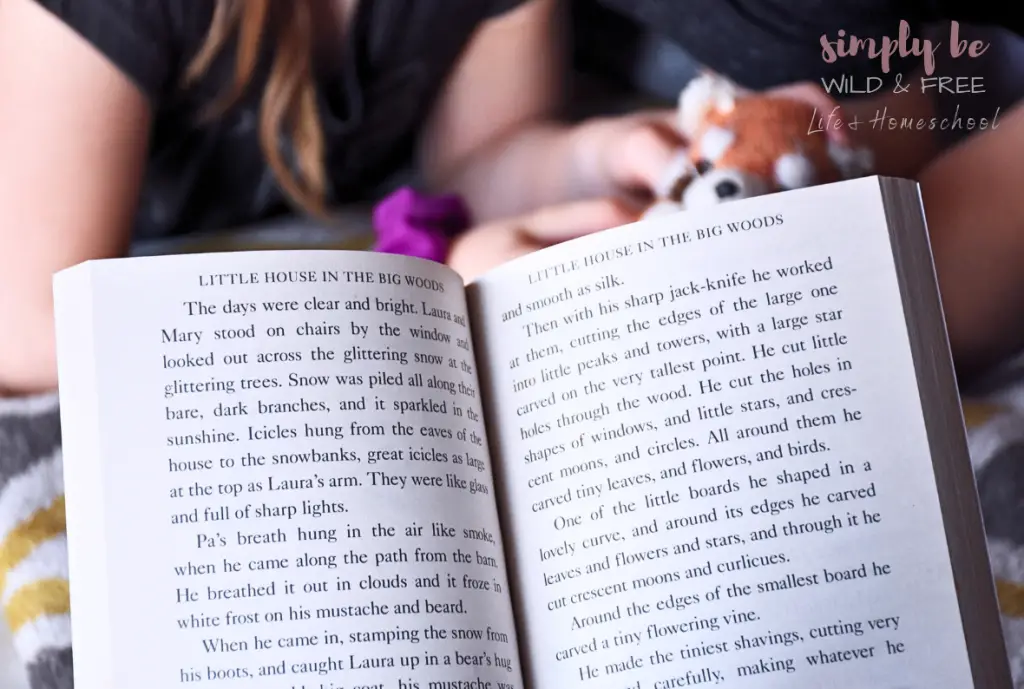 Check out these pointers for choosing your homeschool read-aloud books.
Choose non-curriculum-supplied readers to mix things up.
Pick a series to work through over the entire school year. Then, simply add themed activities to go along with each book. Such as cooking a recipe mentioned in the book or dressing up like the characters.
When reading to multiple ages, lean on simplistic story books with pictures so younger homeschoolers can follow along more easily. These types of easy readers are also great for practicing turn-taking by encouraging everyone to take turns reading. Plus, kids can work on mastering those pesky listening skills when someone else is reading.
Choose separate read-aloud books for each child in your family to engage their individual interests. Not only is this a great way to create quality one-on-one time with your kiddos, but they can work on their independent reading skills. Simply read in 10 – 15 minute increments tackling reading time with each student every day or utilize a loop schedule by reading with a different child each morning
Read Aloud Book Series for Morning Time
Check out our top picks for homeschool read-aloud time!
While my kids are avid book readers, they also thoroughly enjoy audiobooks!
This one is definitely a favorite in our home.
With that said, if holding a read-aloud time with physical books during your homeschool morning routine simply isn't an option or you have a reluctant reader, try introducing audio books into your homeschool morning time instead!
Utilize these tips for adding audiobooks to your homeschool morning time.
If budget allows and your children absolutely love the title you have chosen, purchasing your own copy of the audiobook can be a wonderful option. This way your children can listen to it whenever they want, even outside of morning time!
If your budget is tight or you aren't sure the book is a keeper, try using your local library, online resources, or reading apps instead.
This morning activity can easily fit into any budget or time frame, you guys!
I'm such a huge music person and so are my kiddos, which makes this one of our favorite go-to homeschool morning activities (or any time of day activity really)!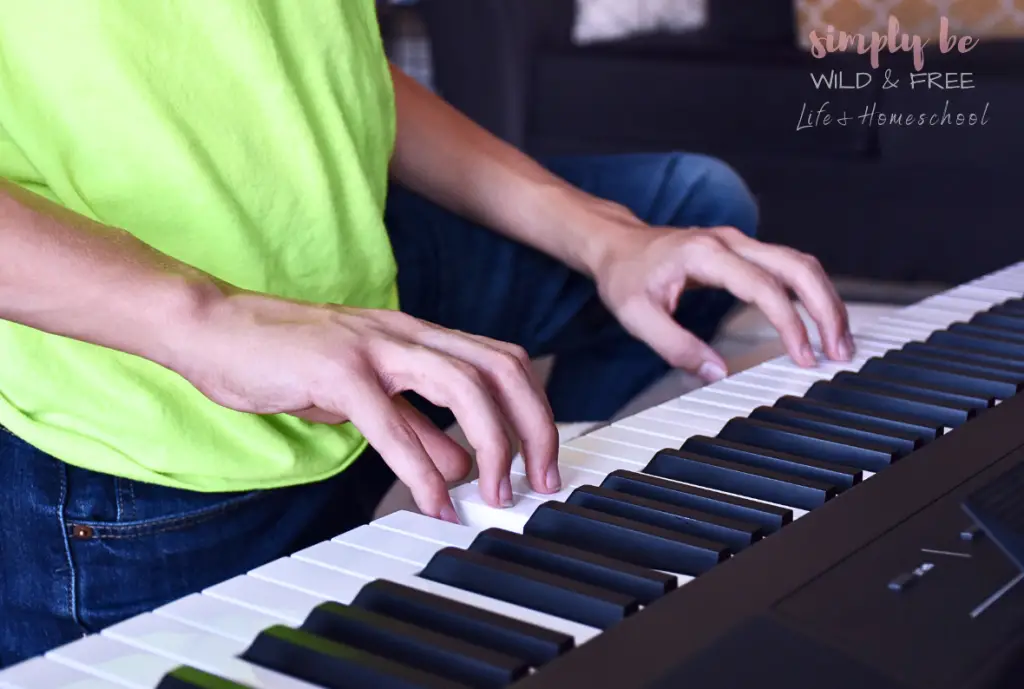 Try these fun options for adding music to your homeschool morning time.
Stream Pandora, listen to the radio, or pop in your favorite CD during your homeschool morning basket or breakfast time routine! This is a simple way to motivate everyone to start their day with a little pep in their step.
Pick some of your favorite hymns to study as a family, encouraging your older students to summarize the meaning of the hymn in their own words. Discuss it with younger children or non-writers verbally!
Encourage acapella singing or instrument practice during your homeschool morning time.
Inviting music into your home first thing in the morning sets the stage for a great day!
I have always been a fan of beautiful poetry and tea, but I've never truly combined the two until recently.
While poetry tea time is a huge deal with many homeschoolers, it is typically considered an afternoon activity.
With that said, we have been known to keep poetry books in our homeschool morning basket so I thought, why not add a little tea and give it a shot?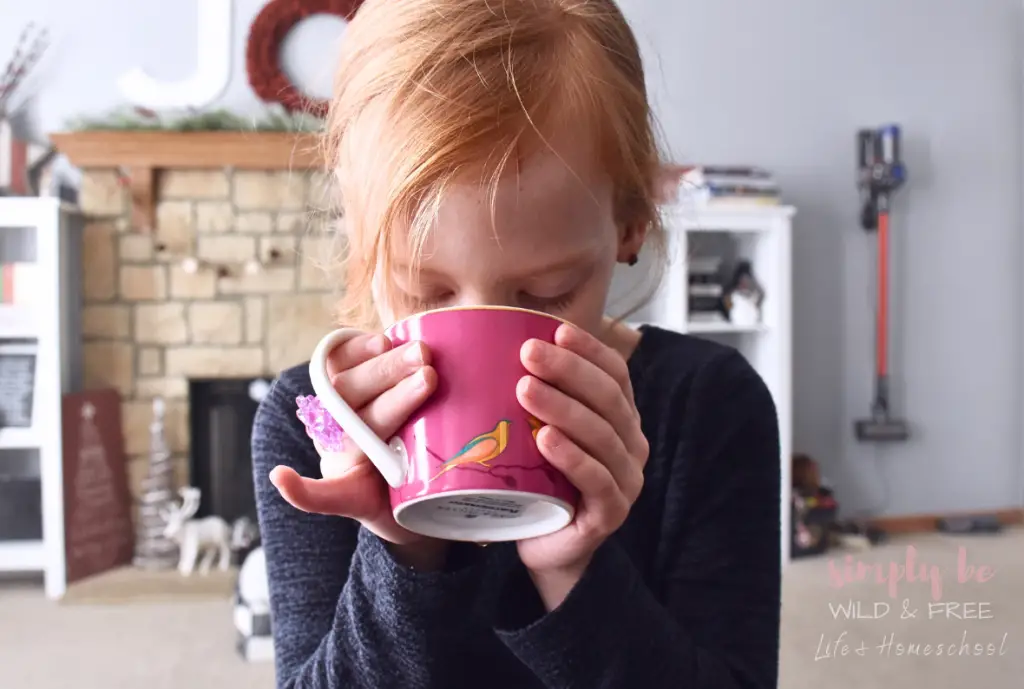 Check out some simple ways you can add poetry (and tea) to your homeschool lineup!
Include poetry books in your homeschool morning basket and encourage your children to read in them a little each day! These can be themed poetry books (such as animals, seasons, etc.) or poetry collections from your favorite famous poets!
Study a famous poet and encourage your children to go in-depth by reading the poems, studying their lives, and discovering the meaning behind the poet's work! Add in time period treats and herbal teas.
Research different types of poetry with your children and have them practice creating their own work! Then, follow it up by having a reading hour in the afternoon or the following morning with tea and treats for the listeners to enjoy.
Encourage kiddos to make an I am poem for simple handwriting practice, mastering poem writing skills, and for creating a keepsake all at the same time!
This is such a simple way to add extra morning activities to your homeschool routine with ease!
Topic discussion as a homeschool morning time activity is one of the best ways to fit in some of those extras, themed projects, or holiday activities you just don't seem to have time for!
You can simply work through a new topic or theme each week, or you can try creating a morning loop schedule to mix it up.
Check out some of these fun topics for your homeschool morning routine.
Pick an item in nature, a season, an animal, or a plant to study and discuss over breakfast each morning. This time can include themed worksheets, coloring projects, or hands-on activities for younger learners and simple book reading & discussion for older children!
Study a specific historical event or war using easy readers, flashcards, and open Q&A sessions.
Provide holiday-themed activities and discuss the history behind each holiday over holiday-themed snacks.
Topic discussion is such a fun way to start the day with no-pressure learning.
Yes, yes, yes!
The single most important thing any homeschool mom could add to her list of homeschool morning activities is prayer!
Teaching your children to start their homeschool day with prayer can be such a beautiful and rewarding thing.
Check out these easy ways to incorporate morning prayer into your homeschool routine.
Take prayer requests daily or weekly and pray over them together, or encourage your children to pray for the requests individually! You can keep track of prayer requests by writing them on a whiteboard or creating a simple prayer notebook.
Create a weekly prayer schedule where you pray for something or someone specific each day of the week (such as pray for Mom on Monday, Dad on Tuesday, etc.).
Practice praying through the scriptures together. You can easily encourage older children to do this on their own while walking through the scriptures with your younger homeschoolers. Simply start with well-known and easily understood bible verses.
Not only can this set the tone for your upcoming homeschool day, but it helps build good spiritual habits.
If you thought adding prayer to your homeschool schedule was a must, you will likely feel a similar way about adding homeschool bible lessons to your morning line-up!
With that said, adding scripture to your homeschool morning time doesn't have to be overwhelming or difficult!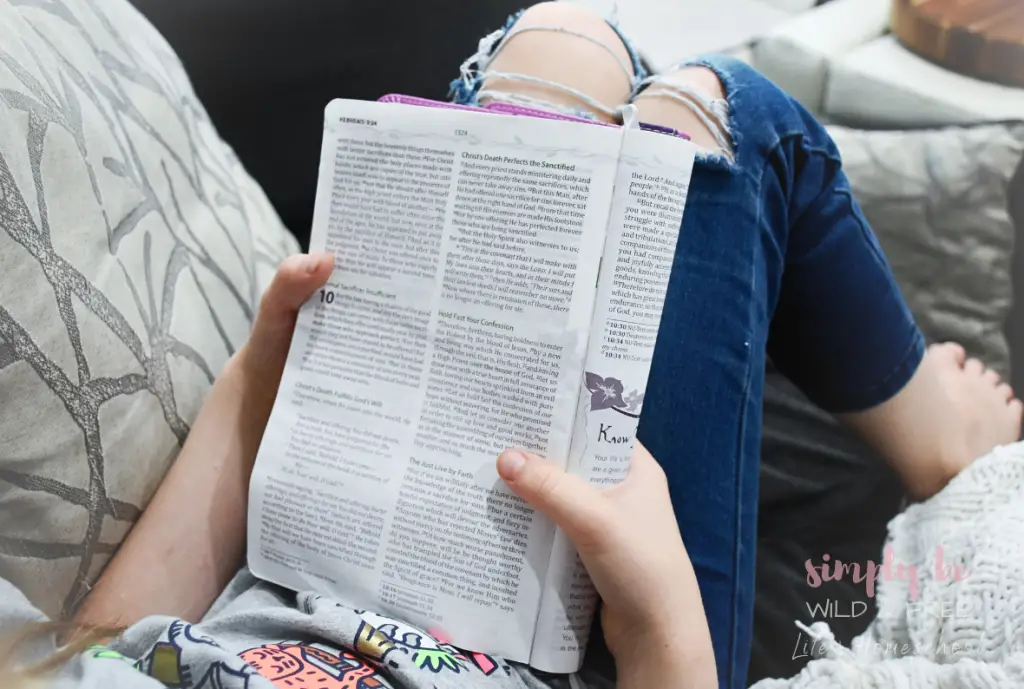 These simple ideas can easily be tucked into your morning basket time or done at the breakfast table!
Incorporate scripture into your morning routine by having a homeschool verse of the week! This can simply be handwritten on a chalkboard and read on the first day of each homeschool week or you can get more elaborate by printing your verses and having daily bible study time.
Keep it simple and skip the prep, printing, writing, and memorizing by picking a book of the Bible to read over the course of your homeschool year. Read a few verses each day, or take it up a notch by reading a full chapter.
Dig deeper by practicing bible verse memorization. Try memorizing popular verses such as the entire 23rd Psalm with your children this homeschool year! Then, incorporate extra copy work into this project by having children write the verses they are currently practicing.
Teaching children to have a love for His word is so important, you guys!
More Homeschool Morning Ideas
While keeping the homeschool morning light and simple is my style, you may have kiddos that need to jump right into their routine.
For those kiddos, consider leaning on a simple morning chore routine or diving straight into lessons instead!
Love this post? Share it on social media with other homeschool parents today!