Teach Spelling Words Through Activities
When you have a new speller in the house, encouraging them to get their daily practice in can feel overwhelming!
That is why it's essential to skip the pressure of traditional spelling methods and lean on hands-on spelling word activities instead.
Skip the tears by making spelling fun.
Preparing for Kindergarten Spelling
While I'm technically a mom of 3, I only have 1 kiddo who has been homeschooled from the very beginning.
That said, that kiddo is officially a kindergartner now, and teaching spelling words has become a new reality for me.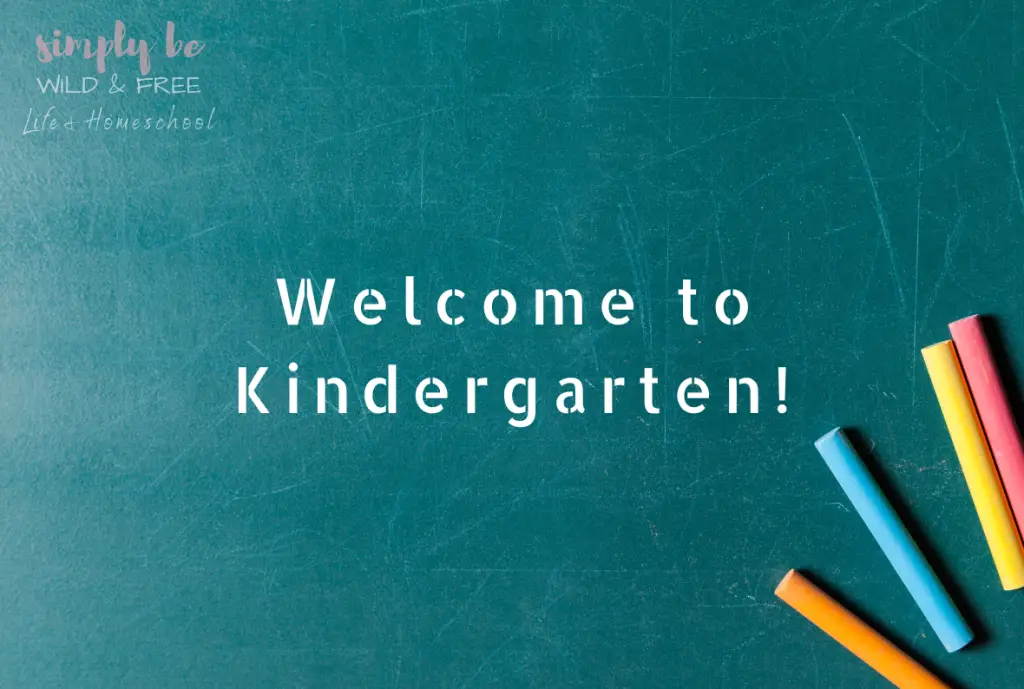 My older boys learned all the primary stuff in school and spelling was only something I had to practice with them, not teach.
Even so, spelling was an absolute chore.
That's why spelling was one of the first things I decided to tackle when planning our homeschool year over the summer.
First, I created a simple list of go-to spelling word activities and assembled a fun spelling activities box to house some of those awesome ideas.
Then, we started the year off with a bang!
Alternative Spelling Word Activities
While traditional spelling has its place, kindergarten is not the time for expansive lists and constant writing.
Take the pressure off of correct spelling by leaning on these simple ideas!
Ok, ok. I know I made a point about focusing on less writing and leaning more on hands-on fun, but this first spelling word activity is still a good one, you guys!
Little kids just love dry-erase boards.
I'm not sure what it is exactly, but for some reason, dry-erase boards can take something that feels like an absolute chore on paper and turn it into a fun activity.
Go figure!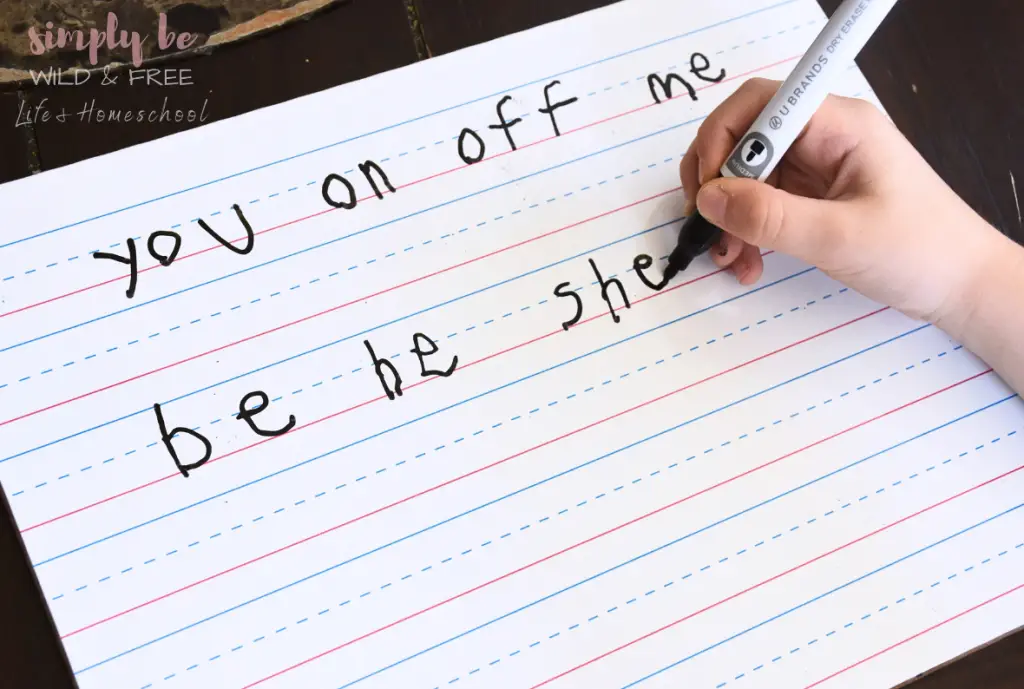 With that said we keep our dry-erase board in our spelling box and it is turned into one of my daughter's favorite go-to spelling activities!
Not only is the board we use sturdy and durable, but it's also double-sided which makes it the perfect option for spelling practice and play.
One side is lined for writing, while the other side is completely blank for doodling.
If you have a little artist on your hands, this board can also act as a wonderful incentive.
My 5-year-old daughter loves to draw and doodle after spelling practice has commenced.
I simply have her work on a few words, then give her some free time to draw and do whatever she wants.
Simple, yet effective!
Yes, yes, yes! This one is so much fun, you guys!
My young daughter is super active and sidewalk chalk activities are her jam right now.
Since staying cooped up indoors doing our spelling work at the table isn't always the best option, sidewalk chalk is a great tool to utilize.
Practicing spelling words outdoors with a little bit of sidewalk chalk is the perfect way to get in some outdoor hours while working on homeschool lessons.
We definitely lean on this fun spelling activity often whenever we get the chance.
While going simple and just having your child write words all over your driveway is totally fine, you can definitely mix it up a little as well!
There are so many fun ways to incorporate chalk spelling into your spelling practice routine.
For example, one way we mix it up is by color coding.
Simply assign specific colors to certain letters (consonants/vowels) or word families.
Or, you can create a color pattern of words, which tends to be our go-to.
First, have your child choose 3 different colors, assigning each color to a specific place in that pattern (first, second, third).
Then, go through a handful of spelling words encouraging them to repeat the colors once they reach the 4th word.
If your little one loves this activity, consider making some DIY sidewalk chalk for even more fun!
If you have a kiddo with sensory needs, this is the one for them!
Sand tracing is a super fun option for kids who thrive on sensory learning activities.
All you need is some colored art sand and a cookie sheet!
This one is so easy, you guys!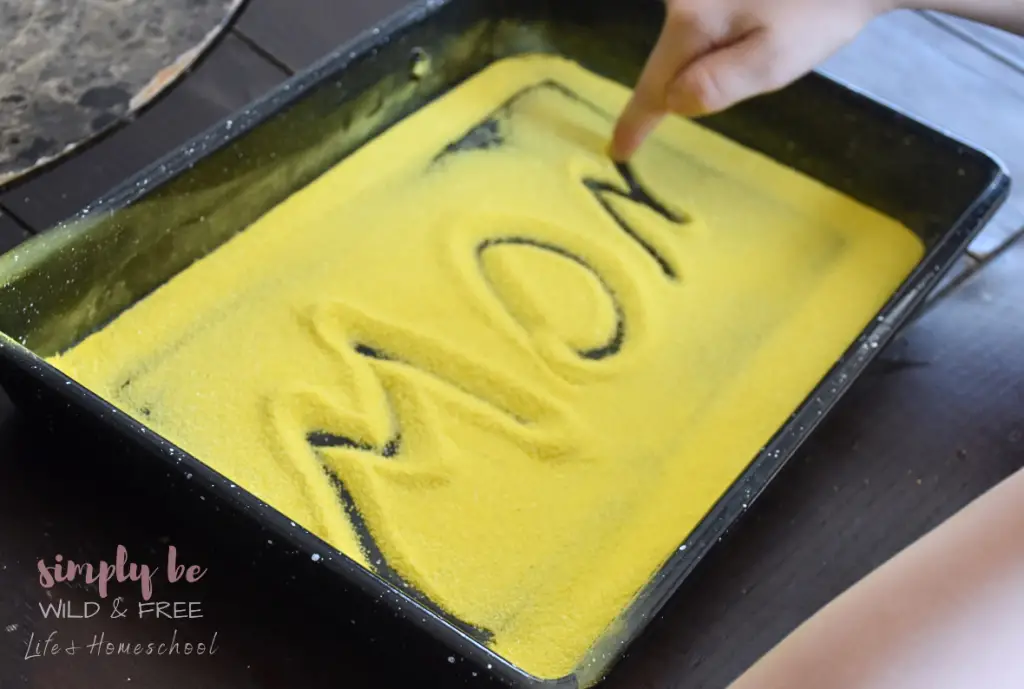 While this spelling words activity doesn't technically help with the handwriting aspect, it can still get the job done spelling-wise.
Since this one can be a tad on the messier side, we don't do it too often.
I tend to keep this idea tucked in my back pocket for a rainy day.
Actually, I utilize it on the hard days or as a reward.
When my kindergartener is struggling (and behavior isn't the issue) I throw in this fun spelling activity to mix it up.
Or, I simply surprise her with it when she's doing extra well or reaches a new milestone!
If your kiddo enjoyed the sand spelling, they are definitely going to dig this next one.
While yes, finger painting can be a tad bit on the messier side, it's also a ton of fun for little ones.
Budget-friendly washable paints are ideal for this fun spelling words activity!
Simply give your kiddos a few colors, say some easy words out loud, and let them practice!
This is such an easy way to practice those pesky kindergarten spelling words.
This spelling activity is probably the most classic idea of them all.
All you need is a refrigerator, a metal door, or a magnet board (like the one pictured below).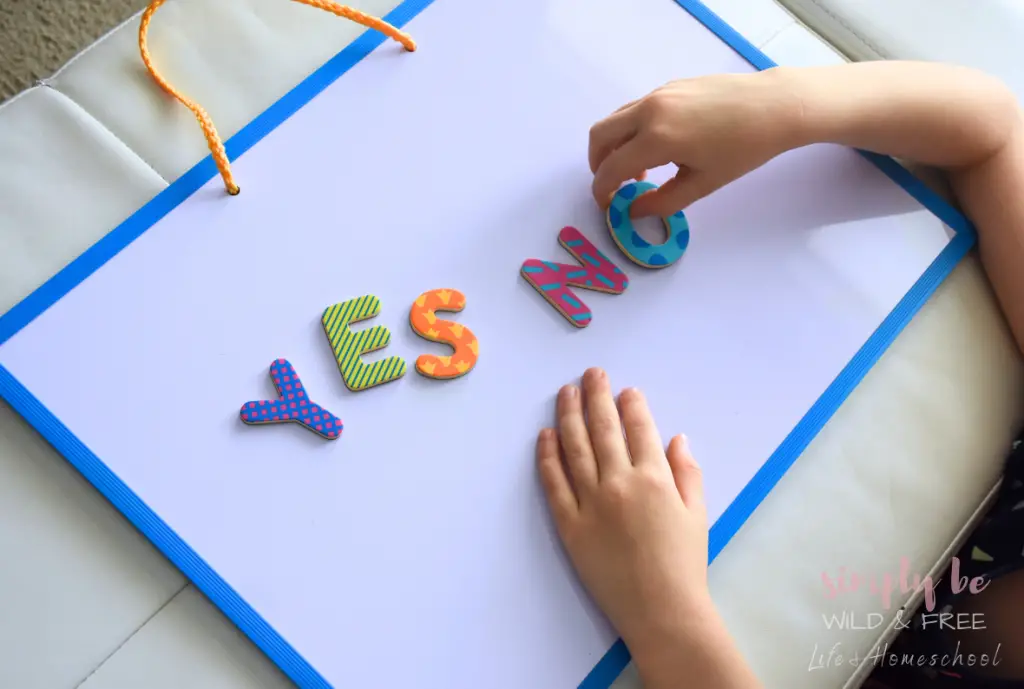 Utilizing magnetic letters for spelling practice is a fun way to keep kids busy and learning — with zero mess.
This method is so incredibly simple, that you might just be tempted to practice kindergarten spelling words this way every single day!
Plus, spelling with letter magnets can easily be done while Mom is multitasking.
While I do understand the importance of being in the moment and spending quality time with our kids, it's just unrealistic to give them our undivided attention 24/7.
So if you need a quick moment to give the soup on the stove a good stir, swap the laundry to the dryer, or maybe just rewarm your coffee for the 12th time, this is the spelling method for you!
You can easily recite words to your kindergartner while working on something else.
You don't have to worry about mess, checking handwriting progress, correcting backward letters, or any other pencil lead frustrations.
Last, but certainly not least, this is another fun one from our spelling activities box!
Letter beads are perfect for spelling simple words and names.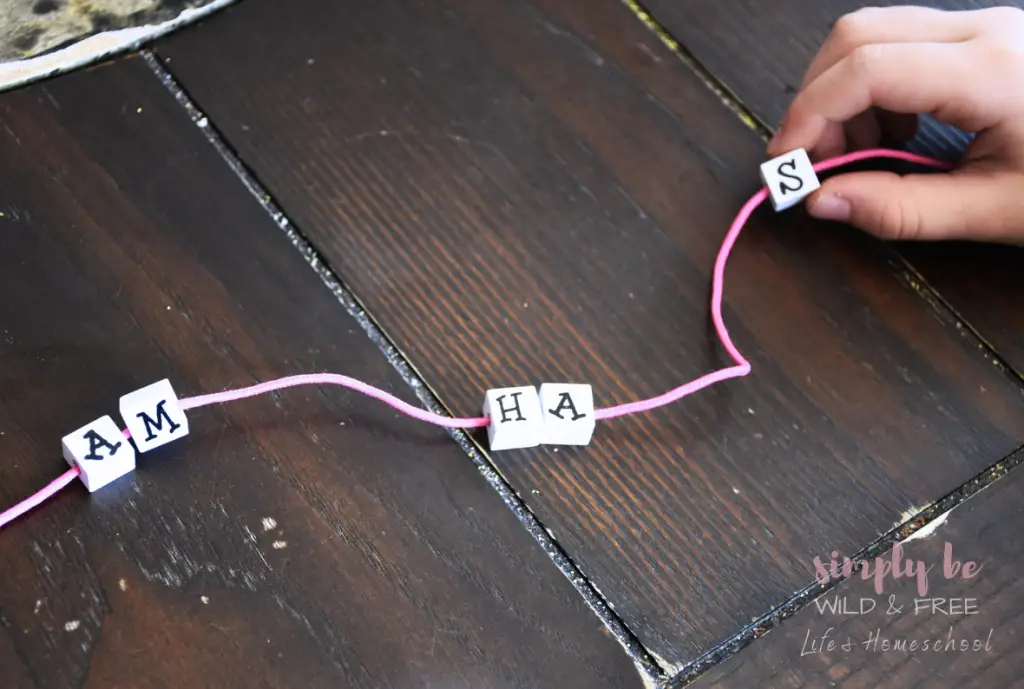 My daughter simply threads some beads onto a string, sometimes practicing 2-3 small words at once!
Not only is this super fun, but these needs fit perfectly in our spelling box!
Spelling Word Strategies
While these fun hands-on spelling ideas are great sometimes all you need is a good spelling strategy!
From playing word games to reading together, these spelling strategies can help you take your spelling game to the next level.
Love this post? Share it on social media!