Teaching Language Arts at Home
From teaching handwriting and proper sentence structure to mastering sight words and spelling lists, teaching language arts can feel overwhelming!
That is why keeping things light and simple is key.
Thankfully, we live in a time where free language arts resources and spelling strategy options are nearly endless, which can turn that overwhelming task into something less complicated.
Using Sentence Dictation in Your Homeschool
When I first started teaching my children at home, we leaned on the K12 online school program.
A few years later, we switched gears and started our traditional homeschool journey by leaning on an open-and-go language arts curriculum.
One of the strategies this amazing curriculum included multiple times a week was sentence dictation.
To be completely honest, my kiddos didn't exactly love this part, but totally did!
With that said, I quickly realized just how important this activity was for our homeschool.
Not only does sentence dictation improve spelling, but it's an essential for learning proper sentence structure.
It's just so good, you guys!
How to Utilize a Sentence Dictation Notebook
While I'm all about the hands-on learning fun for grades K-3, sometimes the structure of a simple notebook is all you need when introducing a new concept.
When it comes time to add sentence dictation to your homeschool activities lineup, starting with a notebook truly is the best option.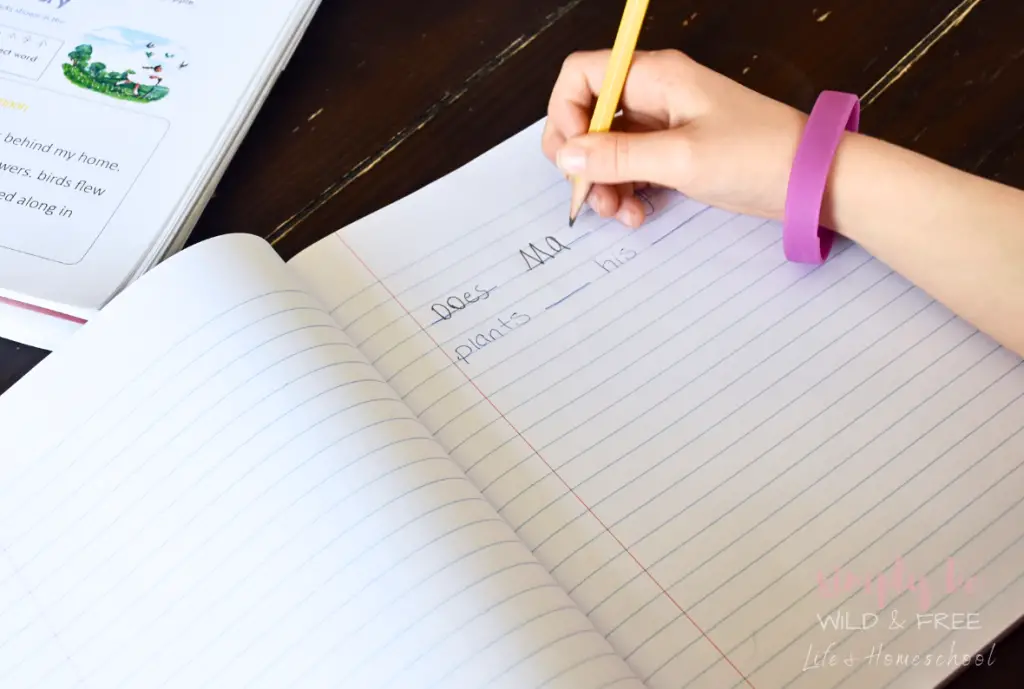 First, let your kiddos pick out a fun notebook to use for this activity only.
Then, introduce sentence dictation by starting small and building your way up to more complex sentences.
Finally, mix it up and keep it fun by allowing your child to decorate their sentence pages with stickers and doodles throughout the year.
This allows for a simple creative outlet during language arts time.
All that said, if your kiddo has a hard time writing an entire sentence by themselves, consider writing a portion of the sentence for them, leaving blank spots for them to fill in as you dictate the sentence.
Make sure to leave the first and last words blank often, so children can practice capitalization and proper punctuation.
Other K-3 Sentence Dictation Ideas
Teaching language arts to grades K-3 requires a simple approach.
To keep sentence dictation from becoming an overwhelming (or boring) task, consider trying a few of these additional methods.
Start with a notebook, then try some of these fun ideas to mix it up from time to time!
While the traditional method of using a notebook is great for starting out, sometimes mixing it up by introducing fresh ideas will be the motivation your kiddo needs to keep going.
Take sentence writing up a notch by allowing your little one to practice their language arts skills on sticky notes.
This activity can be so much fun, you guys!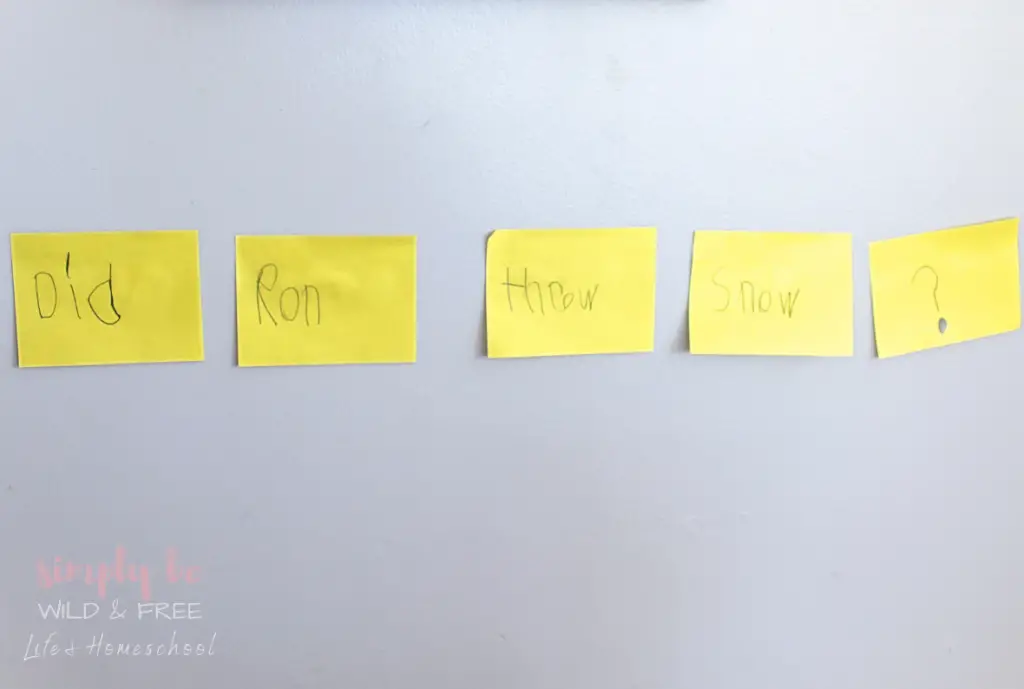 Encourage your child to write individual words on each sticky note, then decorate the walls with their completed sentence!
You can make it more complex by utilizing different colors for verbs and nouns or keep it simple.
Either way, this simple hands-on activity is the perfect way to make language arts fun! 
If you have a child who struggles or gets frustrated easily with pen-to-paper sentence dictation, consider using special writing tools instead!
Since the main goal of this popular language arts activity is to enhance a child's sentence writing ability, actual writing is kind of essential.
So, try skipping the traditional and lean on tools such as whiteboards or boogie boards.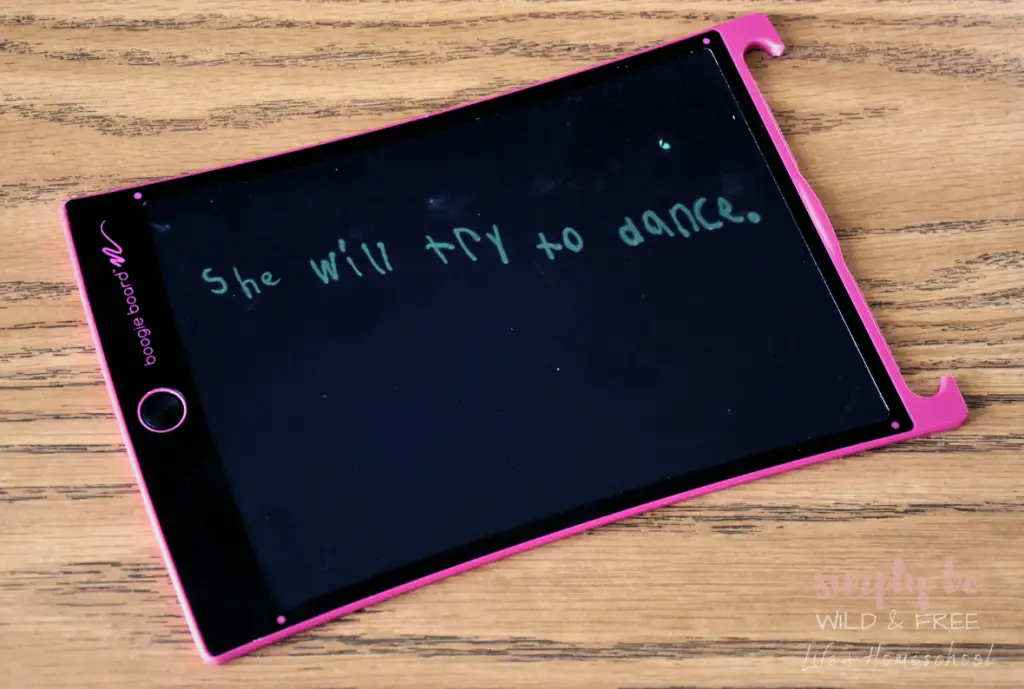 Set aside these special learning tools and utilize them strictly for this purpose to help keep kids excited and motivated!
My daughter absolutely thrives with this one, you guys!
If you are teaching a mini Picasso, try adding some fun creative outlets to your sentence dictation practice!
Teaching language arts doesn't have to be bland, you guys.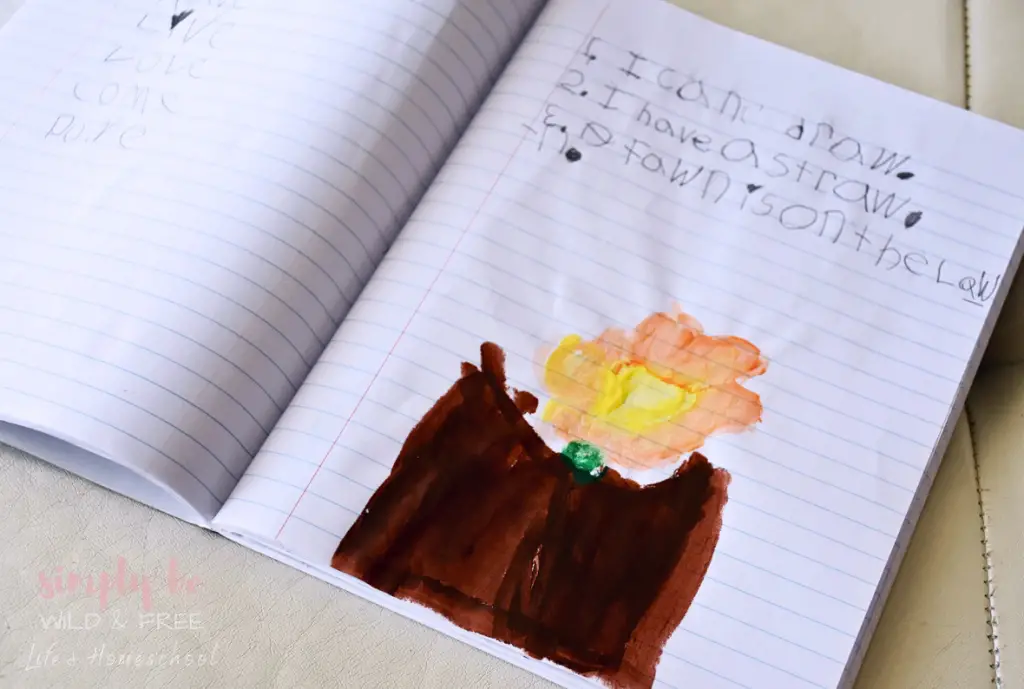 Allow your child to get creative and draw pictures that go along with their sentence.
For example, if your child is writing a sentence about a farm simply have them draw a farm scene or print out farm coloring pages for them to color after their writing is complete.
You can easily utilize free handwriting sheets that have space for both writing and drawing or utilize your sentence dictation notebook as mentioned above!
Last, but certainly not least, if you have a kiddo that absolutely loathes (or isn't ready for) tons of sit-down learning, try leaning on manipulative fun instead!
While yes, encouraging handwriting is important for this activity, sometimes skipping all forms of traditional learning by utilizing hands-on activities is just as essential.
Try thinking inside the box for this one, you guys!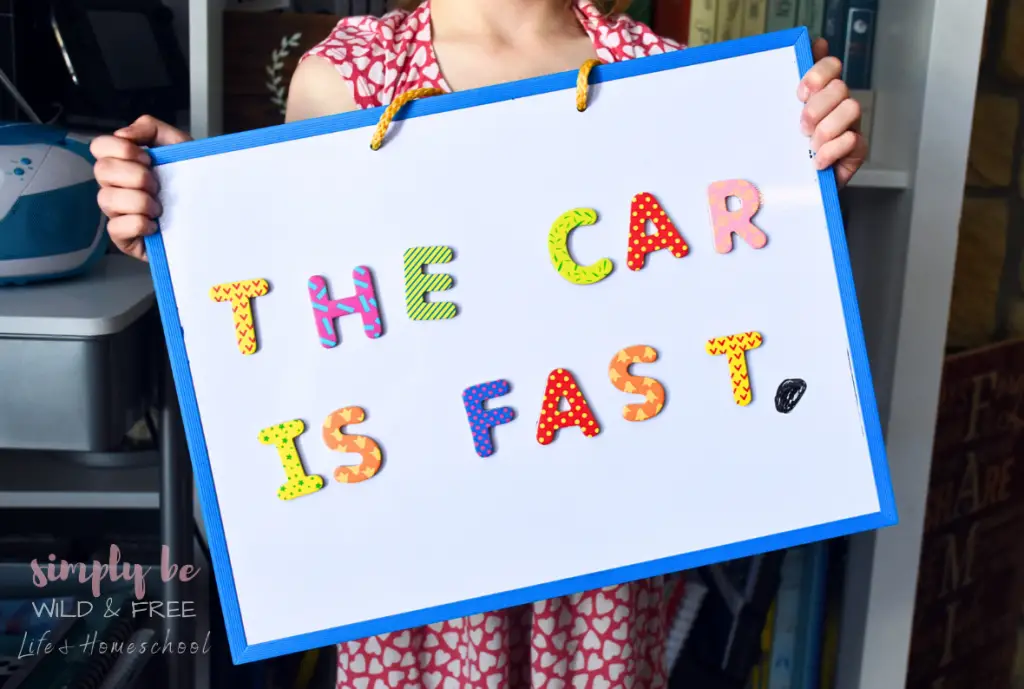 Consider creating a simple box of manipulatives, such as a spelling activities box, for your child to use during their language arts learning time.
Then, utilize some of those fun manipulatives for hands-on sentence dictation!
This simply takes the focus off of perfect form and turns this daunting language arts activity into something simple and fun.
Plus, it can take unnecessary pressure off an overwhelmed student.
With that said, if using manipulatives is out of the question (or budget) for your homeschool, try thinking outside the box instead.
You can easily practice sentence dictation just like we practice spelling words — by using sidewalk chalk in the driveway!
There are seriously so many simple ways to practice sentence writing at home, you guys!
Love this post? Share it on social media!