Simple Side Walk Chalk Ideas for Kids
Whether you make your own sidewalk chalk or you pick some up from the store, these fun sidewalk chalk ideas for kids are the perfect way to kick off your summer!
This one is so incredibly simple, you guys!!
Get crafty with your kiddos by creating a fun 30-day work of art!
If weather permits, simply section off a small area on your driveway using masking tape. You can keep it super simple and go with a giant square, or get a little more creative by doing a unique shape.
Then, simply tape off 30 individual shapes within that shape.
Realistically though, most regions won't have perfect weather for outdoor kid activities 30 days in a row — so doing a similar activity over the course of a couple of days or in a single afternoon is a great alternative!
My kiddos love this type of sidewalk chalk art — they worked on the above piece in a single setting.
*PRO-TIPS:
If doing this activity over 30 days (or more), try to pick a place that isn't in direct sunlight, such as a covered patio or porch to avoid a masking tape meltdown.
Use four fingers to rub the sidewalk chalk in before removing the masking tape. This will create a more solid-looking finish!
Get creative by adding simple shapes to the middle of your chalk art or turn your entire chalk masterpiece into an even more unique piece by making the entire project one big shape!
Outdoor games are always a winner in my book!
You can keep things super simple and lean on quick games like tic-tac-toe or take it up a notch by creating movement-based games such as whimsical relay races, hopscotch paths, or the floor is lava type jumping games!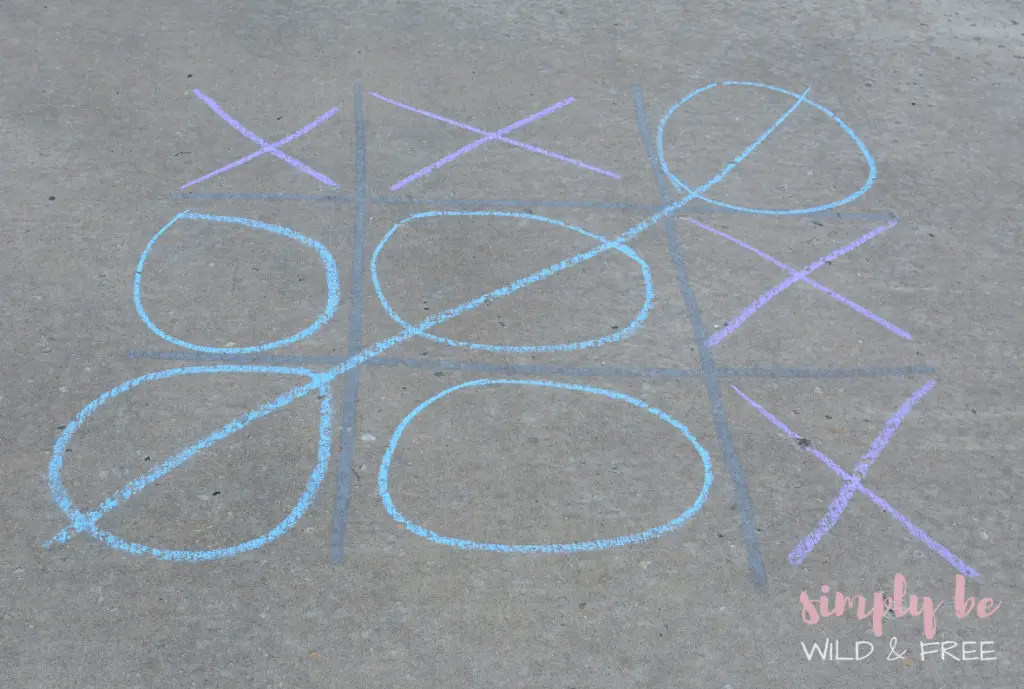 We love games in our house, so this is always one of my favorite sidewalk chalk ideas to lean on during the summer months!
Pretend Play Sidewalk Chalk Ideas
Encourage imaginative, pretend play by having your kiddo draw their neighborhood or by creating an imaginary city map, complete with roads, buildings, and toy cars!
My kids had so much fun working on this one!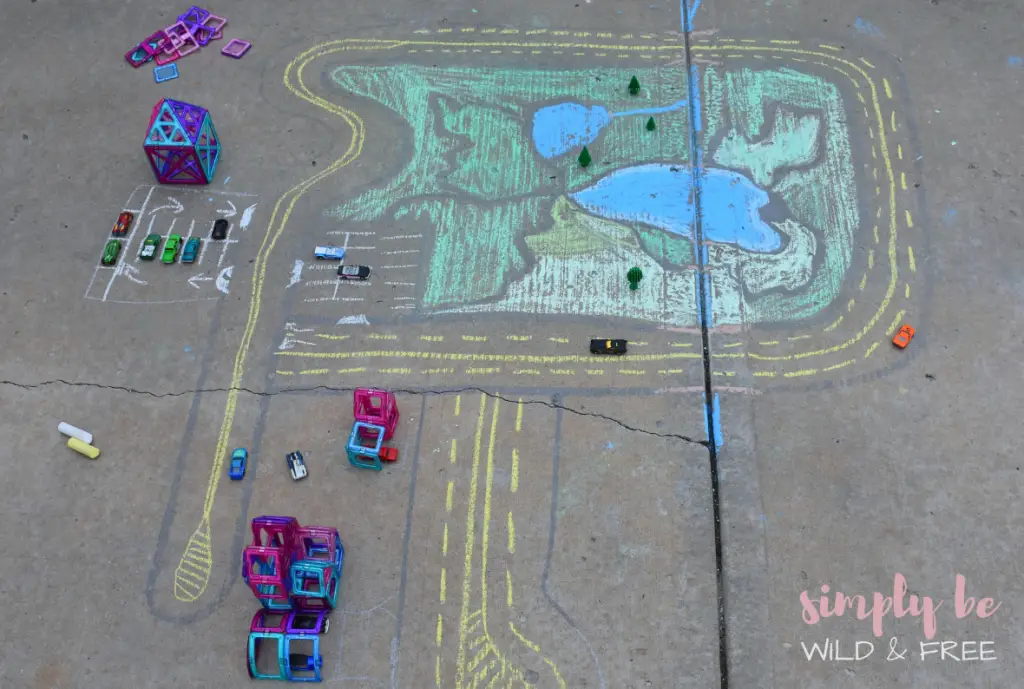 *PRO-TIP:
Encourage kiddos to work on their fine motor skills by using wooden blocks, magnet building toys, or plastic bricks to build their city!
Create a giant road maze for your kids to drive their cars through instead! This works perfectly for little ones that aren't quite ready to practice map-making skills.
Encourage simple summer learning by practicing spelling words or sight words using sidewalk chalk! I actually use this sidewalk chalk activity year-round as a part of our homeschool routine already, so this was a no-brainer summer activity for my kiddos.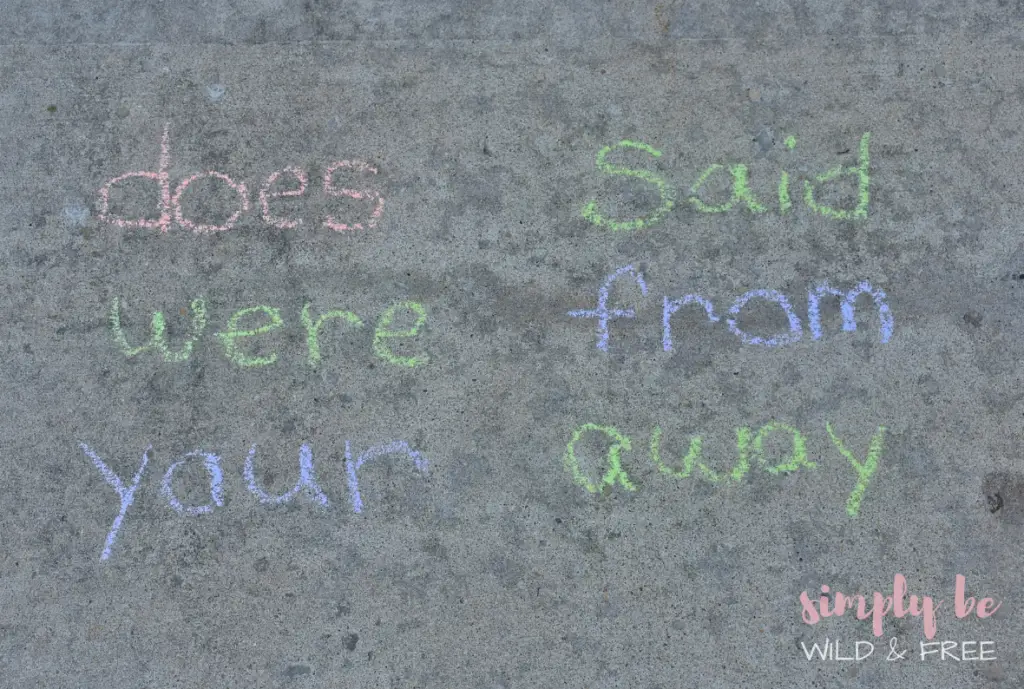 *PRO-TIP:
If simple summer learning is your jam, try some of these other fun options!
Create letter or shape matching games for little ones.
Work on simple math equations or practice multiplication facts.
Encourage your kids to practice handwriting skills by writing their names.
Teach direction following skills by creating step-by-step art.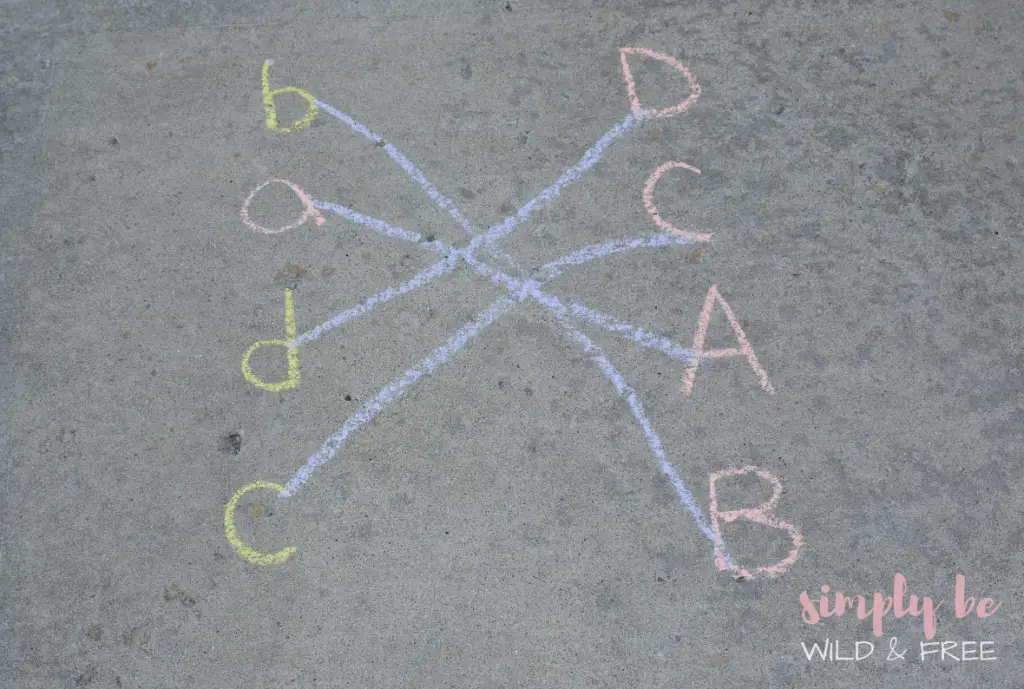 Other Fun Sidewalk Chalk Ideas for Kids
Trace siblings, then give them funny hair or clothes
Write encouraging notes or bible verses for neighbors or delivery drivers
Use (or make your own) stencils and practice pattern making
Sidewalk Chalk Ideas – Indoor Alternative
If you love these sidewalk chalk ideas but the weather simply isn't cooperating, beat the heat (or the rain) by trying this fun alternative!
Indoor Sidewalk Chalk Alternative
Remember the first sidewalk chalk activity we covered? Take it inside to create a similar stained glass look indoors!
Sticking with the same idea, try using masking tape (or art tape if you have it) and section off different shapes and designs onto your paper.
Try creating this fun indoor project with different art mediums like the ones listed below.

Watercolors
Crayons
Colored Pencils
Chalk Pastels
Ink Pads
Markers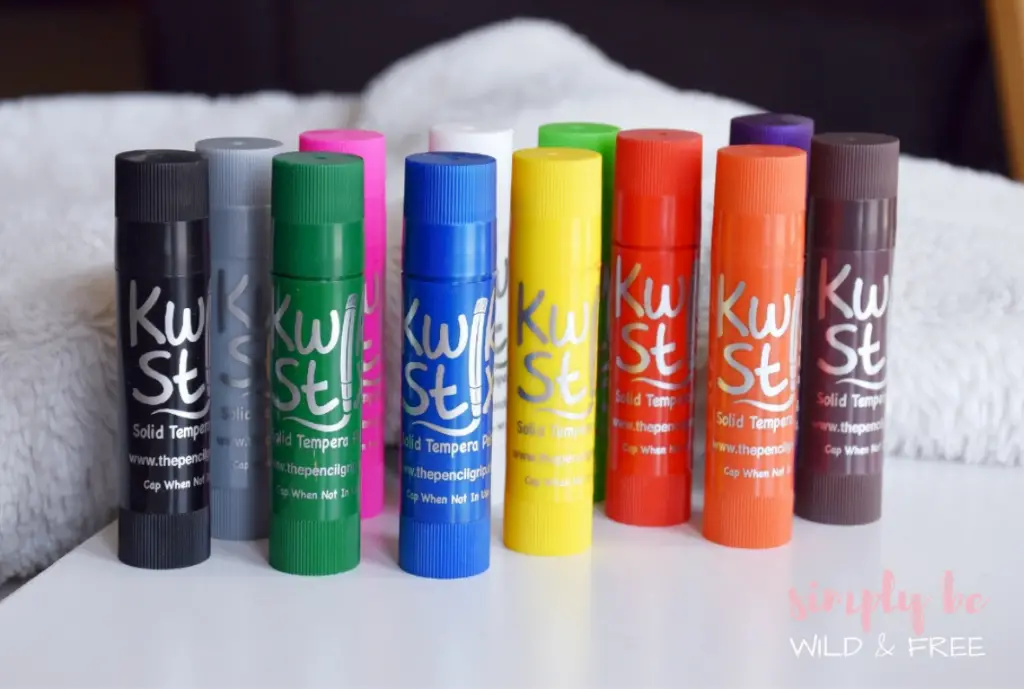 Want a breakdown of all our favorite art supplies? Check out Craft Supplies for Kids to get the down-low on all our top picks!
*PRO TIPS:
Use art tape in place of masking tape for these indoor crafts. They are made for paper and will likely cause fewer tears while removing.
Instead of using printer paper, use art medium-specific paper to create a smoother finish. For example, use watercolor paper for watercolor projects and pastel paper for your pastel version!
Check out these simple ways to keep your child's stained glass art projects for years to come.
Create an art binder with paper-protecting sleeves and a three-ring binder to preserve your 30 days of artwork.
Hang all of your artwork in the windows (facing outside) of your home for people in the neighborhood to enjoy!
Take a picture of your child with their artwork for the day and create a photo book of memories.
*PRO-TIP:
When keeping art made with chalk pastels, you will want to spray it with a sealant spray to preserve it even better — this simply keeps the chalk from rubbing off onto other surfaces. I advise doing this outside or in a well-ventilated area on a large sheet of cardboard or tarp.
Other Kid Activities for Summer
Love these sidewalk chalk ideas, but looking for other simple kid activities to keep your children busy all summer long?
Check out some of our top activity posts for this time of year!
Love this post? Share it on social media today!