Easy Homeschool PE Activities
Finding PE activities that are both cost-effective and easy to fit into your homeschool schedule can be a challenge!
However, if staying home to work out is an option for your homeschool, you can easily fit in simple kid's exercise activities throughout your busy homeschool day and totally count it as PE class.
With that said, sometimes thinking outside the box (or getting out of the house) is an even better option!
Check out some of my favorite homeschool PE activities — outside the home.
On-the-Go Homeschool PE Activities
If working out at home, walking on a trail near your house, or riding bikes around the neighborhood aren't easily accessible options for you and your family, you might consider one of these less budget-friendly options instead!
Recreational or Competitive Sports Leagues
Enrolling your children in sports programs through your local gym, dojo, or parks & rec sporting complexes is a great way to keep your kiddos active.
Plus, the options are almost endless!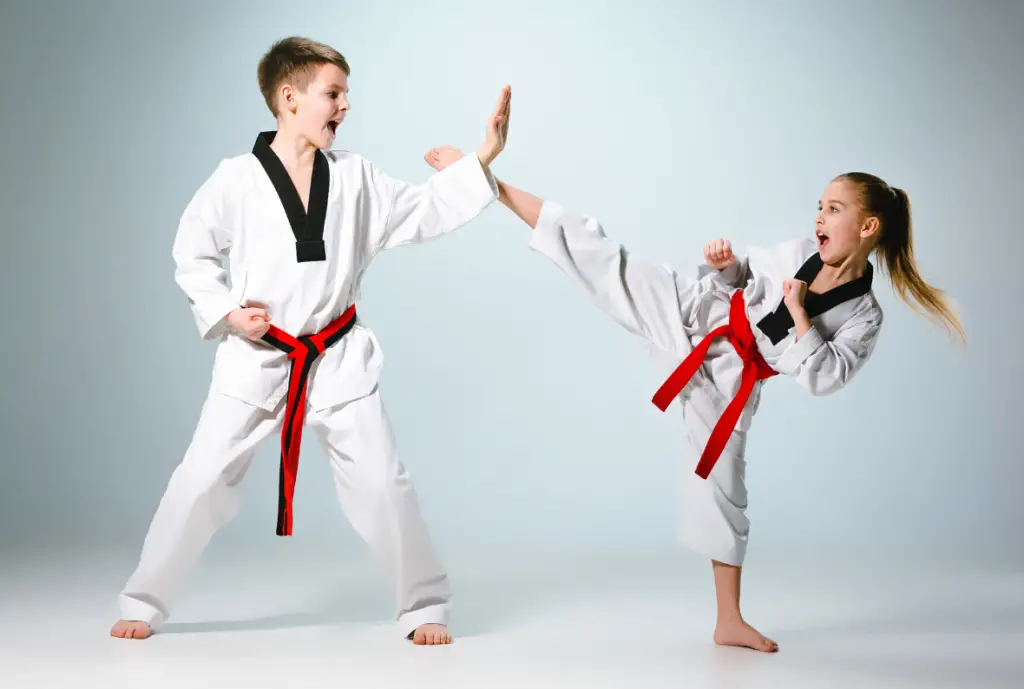 Some of the fun sports programs your children can participate in alongside their peers are (but not limited to) the following!
Archery
Baseball/Tball
Basketball
Bowling
Cheer
Dance/Ballet
Fencing
Football
Gymnastics
Hockey/Ice Skating
Martial Arts
Soccer
Softball
Tennis
Any of these PE activities can easily fit into any homeschool schedule when done as a recreational sport!
However, the more time-consuming competitive leagues can super be fun as well!
Just keep in mind they will cost more and take up more of your time.
If you aren't sure how to find the best sporty fit for your homeschooler, try these simple tips.
First, ask around!
Sometimes the best PE activities and homeschool advice you can find will come from other homeschool moms! I highly recommend joining a local
homeschool community on Facebook
where you can connect with other moms in the area.
Second, take to Google!
You can easily find class schedules and programs at most local studios, gyms, or parks & rec programs online.
Don't forget to look up 4H & UPWARD programs in your area as well.
While most of these programs aren't limited to only homeschoolers and tend to be done in the evening hours, they still totally count as homeschool PE time.
Local Gyms & Fitness Centers
So much this!!
If recreational (or competitive) sporting isn't in the budget because you have a large family, or your children simply aren't into it, local gyms and fitness centers are where it's at.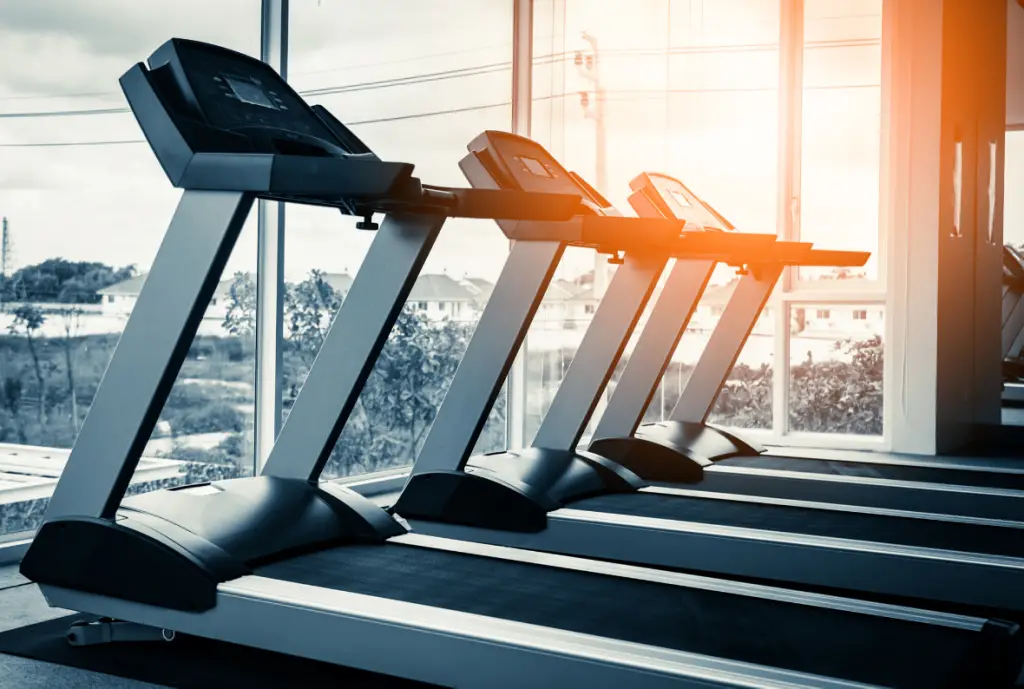 Check out some of our favorite gym options for PE activities below!
Traditional Gym Memberships

If you are only homeschooling middle school & high school, consider purchasing a gym membership for yourself and your teenage children. This is as simple as it can get, you guys!

Why I love this idea: Not only is this easy to fit in to any schedule, but many gyms allow children 13+ to workout alongside their parents.

This can be a great time to bond with your teenagers!
YMCA Memberships

Have a large family with children of all ages? Utilize your local YMCA for homeschool PE time.

Most YMCA memberships include free (or low cost) fitness classes and sports programs!

Many facilities are also equip with lots of great equipment, lap pools, and sometimes even a full running track.

Why I love this idea: Typically this is one of the better options for large families simply because child care for littles is included in your monthly membership pricing.

Plus, with the wide variety of events and programs, you will likely be saving money (compared to putting all your children in separate sporting activities and paying for child care so you can work out at a traditional gym).

When my kids were little, this was our go-to option and the monthly membership was totally worth it!
What?!
Ok, I didn't even know this was a thing until I heard another homeschool mom mention it, and now I can't wait to try this one out for my own kiddos!
Unfortunately, we don't have a local place that offers these classes yet, but I did some research on the topic anyway.
Typical ages appear to be as young as 18 months – 13 years. However, this varies greatly by location.
Check out The Ninja Zone to find a location in your area!
"NinjaZone is a super fun combination of gymnastics, martial arts, and obstacle training. Our NinjaZone program will instill confidence and discipline, and is perfect for your "on the go" child" – Glacier Gymnastics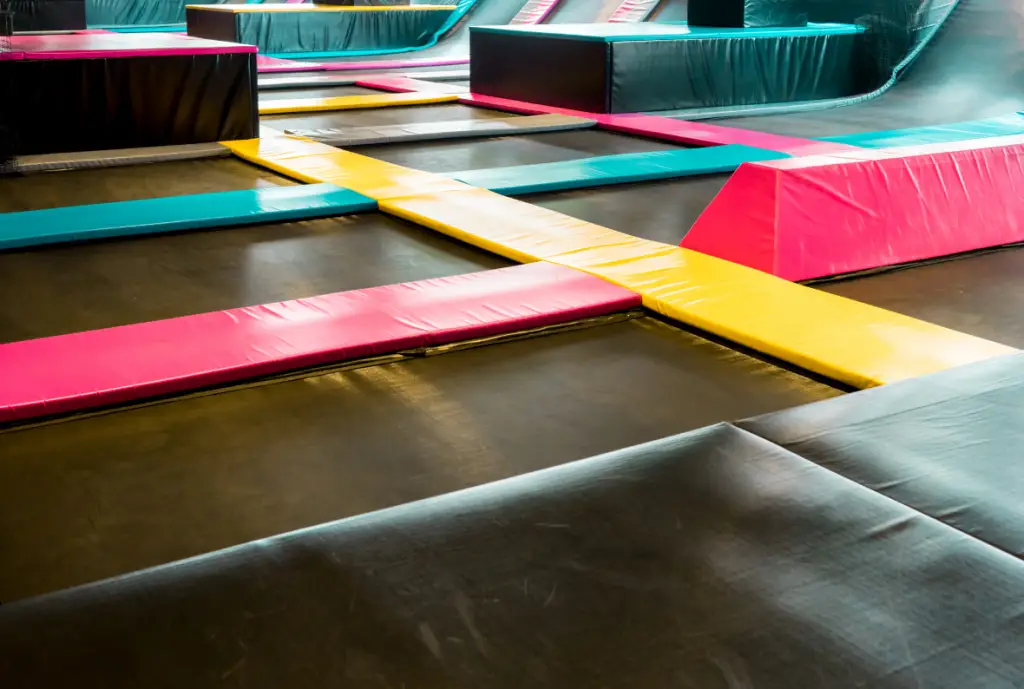 Trampoline parks are so much fun and such great exercise, making them a great go-to option for your homeschool PE class.
This is hands down, one of our top choices for homeschool PE activities!
Our top choice: Sky Zone.
We love this trampoline park because our local one has homeschool PE hour twice a month, as well as many other reasonably priced programs and events!
Sky Zone also has a monthly membership program for those who want to utilize the facilities often.
Another popular trampoline park (this is new to our area) is Urban Air.
We haven't personally been to this one yet, but it looks awesome!
In addition to the trampolines, our local Urban Air also has a rock wall, playground area, and many other fun features that our Sky Zone simply doesn't have.
Like Sky Zone, they do offer membership pricing, but unfortunately don't have a homeschool gym hour.
Public School Classes or Sports Programs
Just because your child is homeschooled, doesn't mean they have to miss out on typical high school experiences — like high school sports.
Getting your child on a school football or track team can easily be just a phone call away.
Just remember – typical tryout rules still apply to homeschoolers.
While we haven't gone through the public school system for sports or PE, we have done it with elective classes such as band and driver's ED!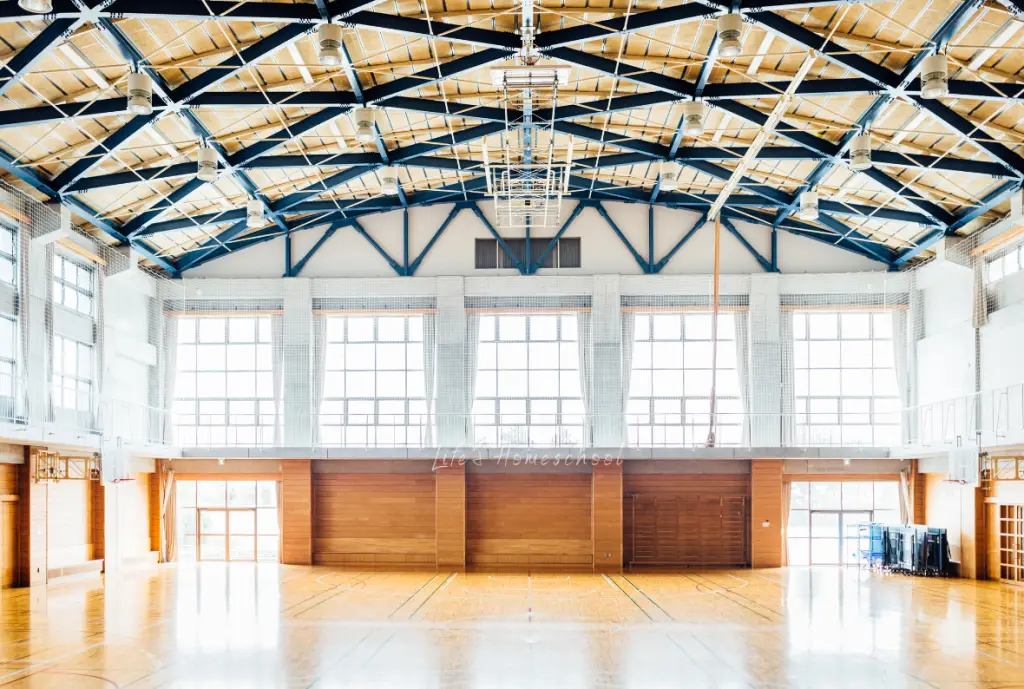 Try contacting your local public (or private) school for the following…
Enroll younger children in PE classes
This is a great option for the energetic child that needs structured activities and engagement with peers.
The best part? Most schools are actually very willing to accommodate homeschoolers for extracurricular activities such as PE!
Have older children try out for sports
Encourage your older children or teens who played competitive soccer or baseball in their elementary years to continue their love for sports by trying out for local high school teams!
Simply contact your local high school's sporting department to see if they have available spots and would be open to letting homeschoolers try out.
This is a great way for your teenagers to stay active in the sports they love while interacting with their peers.
Homeschool Mom-Led Programs and Co-Ops
Co-ops, co-ops, co-ops…
This seems to be one of the most popular words thrown around by homeschoolers these days.
With that said, I have a huge confession to make on this topic.
We aren't in a co-op.
Shocking, I know.
This simply means that everything I list under this category is not and will not ever be my thing.
I'm a huge introvert, so anything that involves working closely with, talking to, or being seen by other people on a regular basis totally freaks me out.
With that said, I feel like this is still a very valid option for many homeschool moms and totally work-sharing!
I just apologize in advance for the lack of details and personal experience on this one, you guys!
With little effort, you should be able to find a co-op in your area!
I know there are many in mine and I have personally been invited to attend a couple of them myself.
The great thing about co-ops?
They tend to cover many different subjects and some even include homeschool PE activities (which is why you are here, right?).
If you can't find a co-op in your area, contact local churches or community centers to see if you can use their facilities to start one of your own!
Simply pick a day that works for you and invite other homeschool moms to get involved.
If you are social and driven to lead, this can be a wonderful option for your homeschool.
Brainstorming with local homeschool homes or in your local social media homeschool groups can both be great places to start.
Other Fun Homeschool PE Activities
If you love the idea of homeschooling outside the home but don't have kiddos who are interested in organized sports and co-ops simply aren't your thing, these fun outside-the-box homeschool PE ideas are totally for you!
Check out my top ideas for random, winging-it homeschool PE activities.
Visit inflatable playplaces
Open play hours at your local inflatable play place is a great way to encourage your children to be more active!
Unfortunately, our local Pump It Up doesn't have any homeschool programs or open jump times during the day, so we would have to opt for the weekend family jumps or after-school program.
However, it is still a fun out-of-the-box idea to add to our list of PE activities.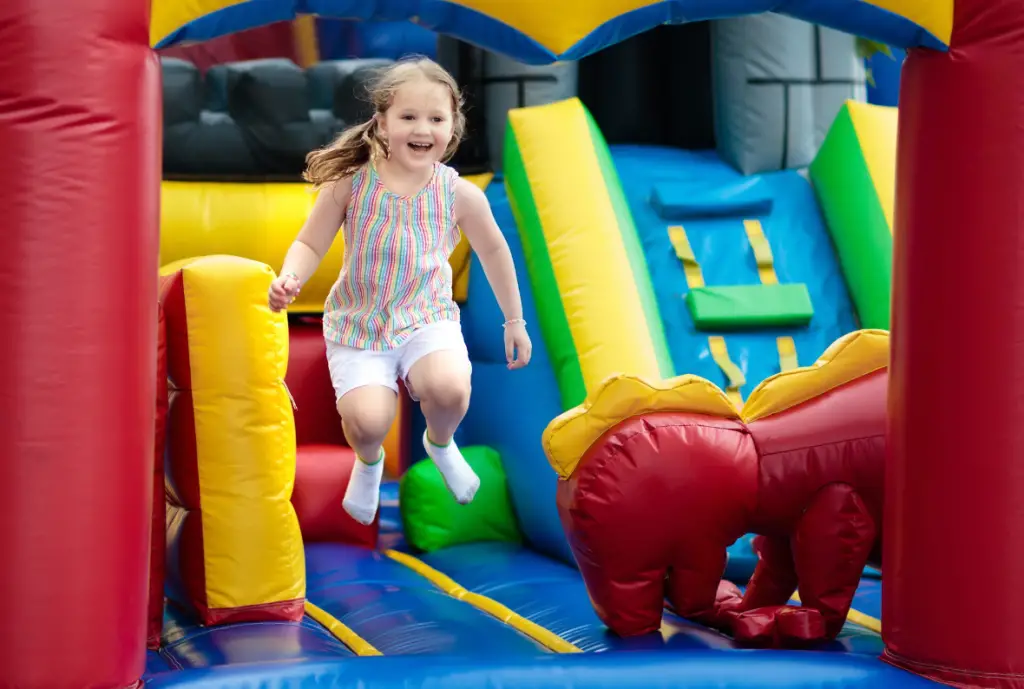 While not labor intensive, this simplistic activity is super fun and engaging for your kiddo.
Not only does it encourage them to get them to get off screens and away from formal sit-down learning, but it also keeps them moving and thinking.
While I must admit, it's a little bit of a stretch and may not be considered exercise by most, but it's, but I had to include it simply because it's a great on-the-whim activity!
What?! Great idea right?
While I'm typically not much for anything that involves a crowd and 5K races definitely fit that bill, I have participated in these kinds of events with my kiddos in the past.
With that said, if crowds or events are your thing, this is a winner for homeschool PE!
With a little research, you are bound to find multiple 5K runs, walks, and other health-related events in your area at any given time.
Such a fun option, you guys!
Definitely not a cost-effective one if you are doing them as your main source of homeschool PE though.
Visit your favorite skating rink
YES!
You might just be surprised by how many roller skating & ice skating rinks host homeschool hours during the school year!
Our local ice skating rink actually has a $3 homeschool skate twice a month AND parents skate completely free.
This is insane, you guys!!
While we only take advantage of this a few times each winter, my kids always have a blast with this one.
Final Homeschool PE Tidbits
Always, always, always ask questions and do your research!
If you don't see a homeschool hour at your local trampoline park or gymnastics studio, simply ask if they already have one in place or might be willing to host one soon.
I think the answer might often surprise you.
Most places are more than willing to open their gyms, rinks, and parks up to homeschoolers during the school year simply because business tends to be slower.
Even though my daughter does gymnastics competitively, she absolutely loves our local gym's homeschool gym hour just as much!
Love this article? Share it on social media today