Snacky Kiddos
If you have a snacky kiddo (or 2 or 3) on your hands, rest assured that you are not alone.
I'm pretty sure snacking is the universal love language of most kids out there — and my kiddos speak it fluently.
They have always been grazers and snack hoarders, which is why I'm always trying to mix things up with alternative healthy snack ideas.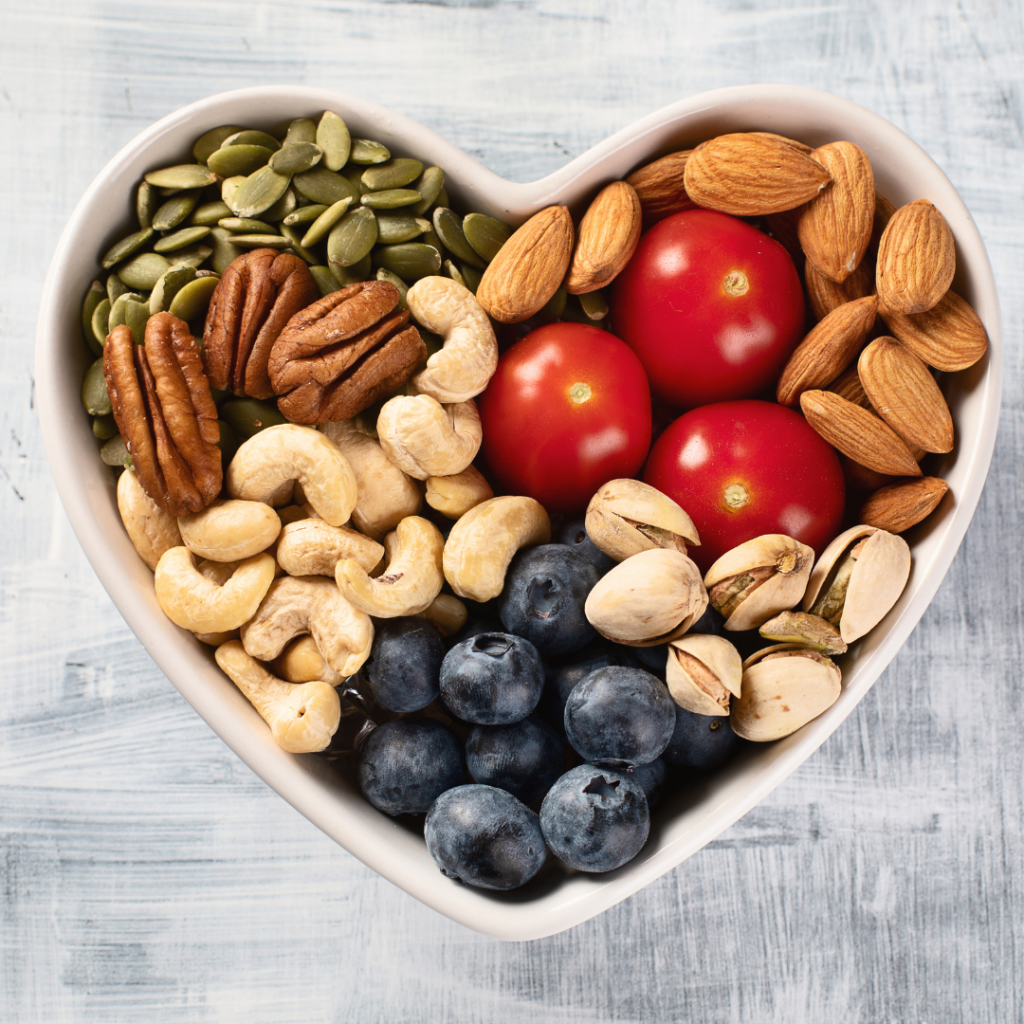 With that said, sometimes it's necessary for our family to lean on pre-packaged snacks for a quick meal replacement or for grabbing on the go.
The Need for a Snack Drawer
Prior to RV life, we had a large pantry in our kitchen as well as an additional pantry space in our basement.
I had all the pre-packaged kid snacks sorted into labeled bins — it was a slice of heaven, you guys!
However, when we moved into our RV I simply didn't have the pantry space I needed to store all the things.
Snack storage was one of the first things I tackled!
Seriously though.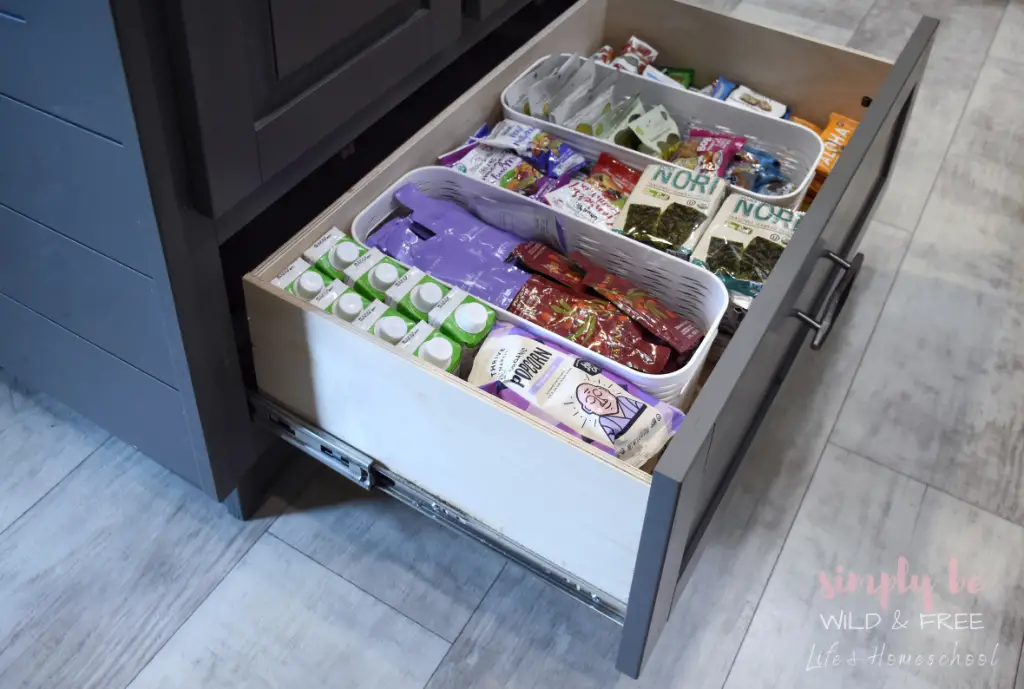 If you are struggling with snack storage in your home due to a lack of space, this one is for you!
Turning a single drawer in our tiny kitchen into a grab & go snack hub for my kids (and even sometimes my husband or myself) was the single best food storage decision I have made in our RV thus far.
It just works, you guys!
Snack Drawer Supplies
Ok, I'm going to be completely honest with you guys here.
This was one of the easiest projects I have ever tackled in my entire adult life.
The supply list is incredibly short on this one, you guys!
First, you will need bins or some type of drawer separators.
Second, you will need snacks.
Third, there is no third because you seriously only need bins & snacks.
Told you it was easy.
With that said, not every drawer is created equal.
We were totally blessed to have a large drawer in our kitchen island and a handful of bins left over from another project that fit this project perfectly.
Simply measure your drawer and do a little online browsing to find your perfect fit.
Snack Drawer Snacks
While I try to lean on low (added) sugar items, we tend to keep a mixture of items in our snack drawer.
Everything from omega-heavy snacks to rice krispie treats alternatives.
With that said, to each, their own when it comes to snacking is my philosophy!
I truly believe kids need balanced nutrition with lots of fresh ingredients, but we also live in a busy world where boxed meals and prepackaged goods are easiest.
I'm not here to preach one way or the other — I'm simply here to share our snack drawer with you all.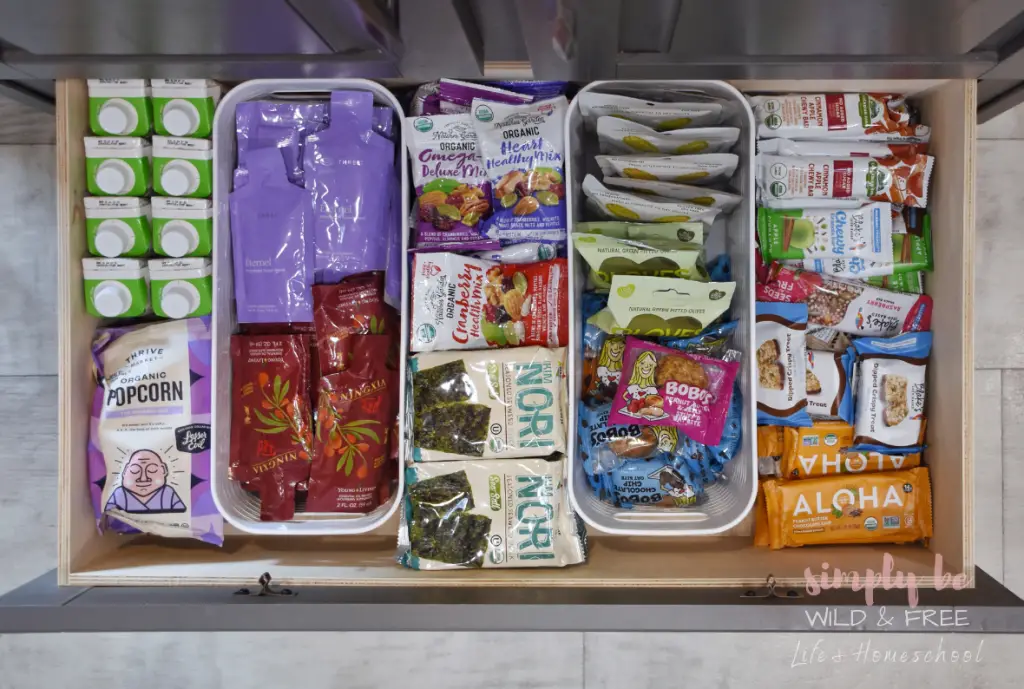 With that said, our family tends to lean towards healthier options when possible, skipping food dyes and other certain ingredients I won't go into detail about.
You can view all our pre-packaged (healthier) snack options below!
Protein shakes
Popcorn/pretzels
Vitamin pouches
Fruit/Chia seed pouches (not pictured as my child ate them all!)
Seaweed
Trailmix
Snack bars
Protein bars
Olive pouches
Rice crispy treats
Choose from some of our favorites, or stock your snack drawer with something totally different.
Other Snacky Goodness
While the snack drawer is a huge deal in our home for pre-packaged goodness, it isn't our only snack masterpiece.
Believe it or not, our snack station tray made the big move to RV life as well!
We love keeping this thing handy for simple dry food snacks and it looks amazing on the table.
With that said, we don't quite use it daily like we did in our sticks-and-bricks home.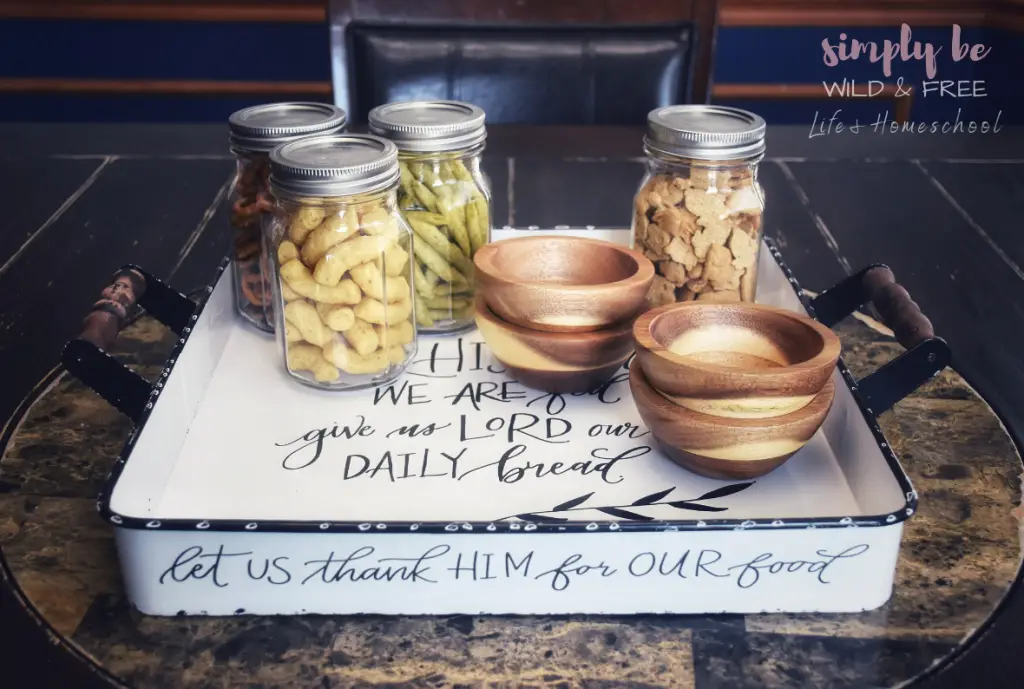 While utilizing a snack tray for bulk dry goods at home is a great option, sometimes you need containers for on-the-go snacking!
Check out my favorite snack containers for your non-pre-packaged snacks!
These guys are perfect for storing portion-sized snacks in the fridge for your kids to grab on their way out the door — making for a super healthy grab-and-go snack!
I tend to fill a few and stash them in the fridge the night before travel days so my daughter can quickly have access to fruits and veggies.
My youngest is 10 and we absolutely love (and still use) these tiny little containers. 
These are perfect for nearly everything your kiddo will want to snack on.
From pantry staples like pretzels or nuts to cheese & salami.
These are perfect for packing lunches, healthy grab-and-go snacks, and everything in between!
This is a new addition to our on-the-go snack storage collection and it is a winner, you guys!
My daughter has 2 of these boxes and we fully pack 1 for RV travel days as a healthy meal replacement box of healthy & fresh snacks.
The second one travels with us in the car but remains empty, just in case my boys stop off somewhere unique and get treats for us all to share — that way she has a travel-ready plate!
They are just so good, you guys!!
Love our snack drawer and other snacky tips? Share this post on social media today!