Simple Summer Learning
If you like the idea of skipping formal lessons over the summer months, this one is for you.
Summer is seriously the perfect time to lean on simple worksheets and printable activities for kids. Not only does this help keep summer boredom at bay, but it also encourages kids to put on their thinking caps and avoid the summer slump!
Summer Worksheets & Activities
This is it, you guys! With the help of some other great bloggers, I put together this simple list of fun summer worksheets for kids!
From super cute coloring sheets to awesome boredom busters — we've got you covered for a great summer of learning fun!
**While most of these great summer worksheet options are completely free, some do cost. 
Want to know my favorite way to use summer worksheets? Check out my method for DIY summer worksheet packs for kids!
Encourage your kiddos to brush up on their language arts skills by leaning on some of these wordy summer worksheets for kids!
Fun summer-themed word worksheets are not only perfect for busting summer boredom, but they also encourage important things like brain building, independence, and creativity.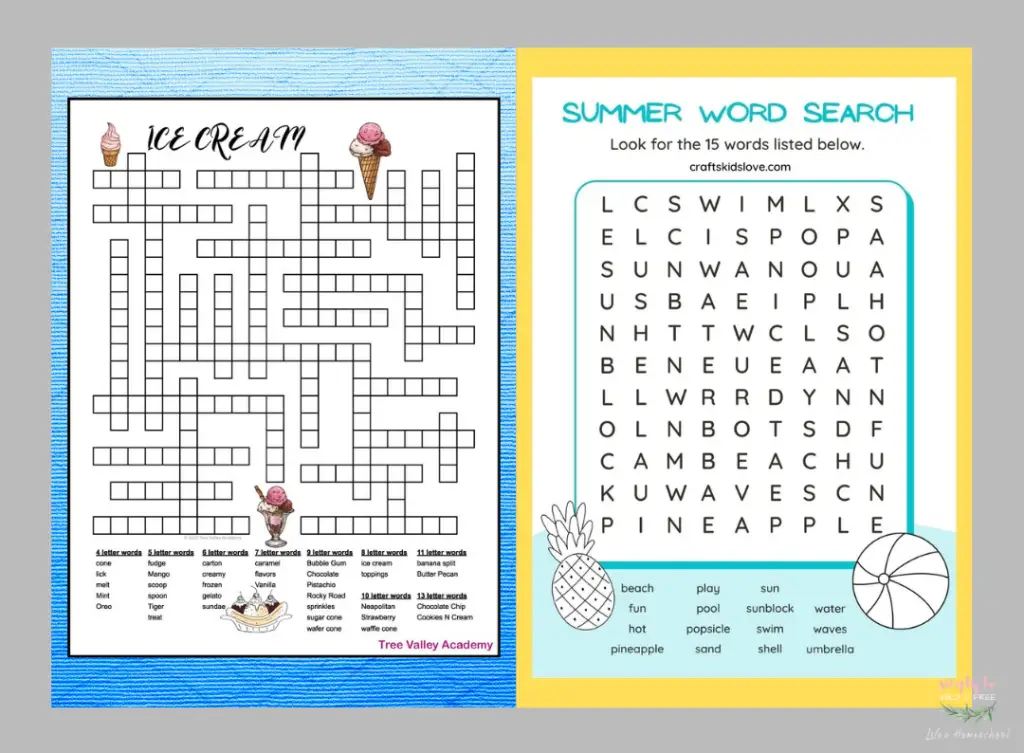 Keep it cool with this ice cream crossword puzzle (left) via Tree Valley Academy or try out this straightforward summer word search (right) via Crafts Kids Love.
Check out some of these other fun word search options perfect for summertime.
So many fun options!!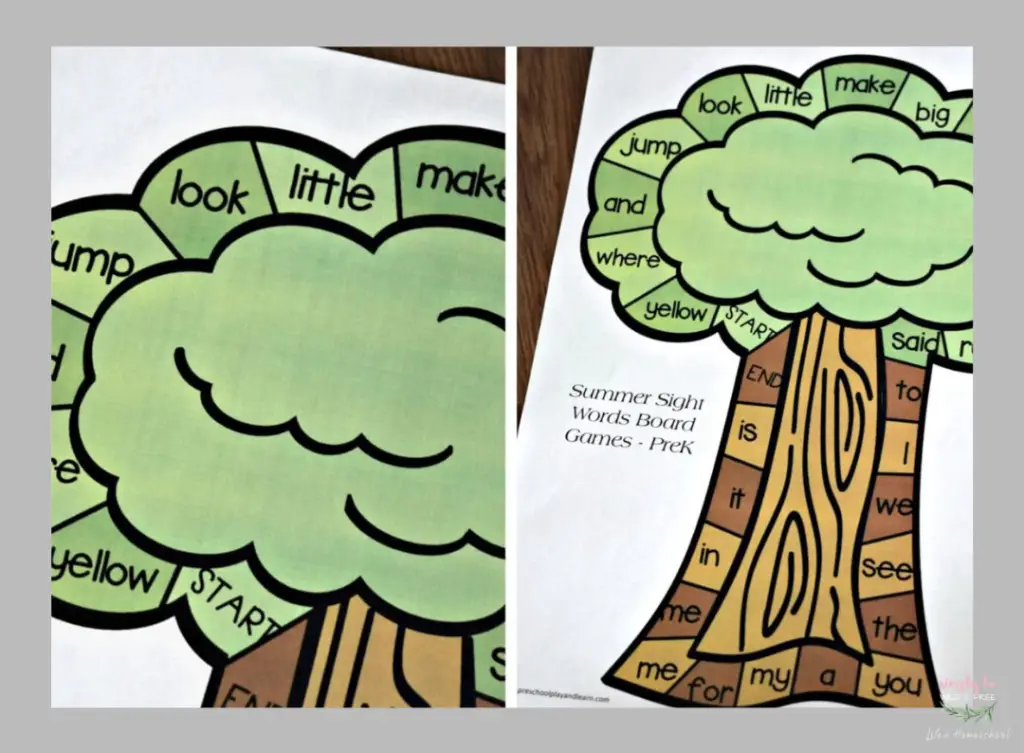 Need simple word fun for little ones? Try out this awesome set of summer sight word games (above) via Preschool Play and Learn.
These are adorable and summer-themed, making them perfect for a little summertime learning!
Summer Reading Printables
Summer is the perfect time to encourage good reading habits & leaning on simple reading printables can help!
Check out some of these awesome reading challenges, reading logs, and printable reading games for kids.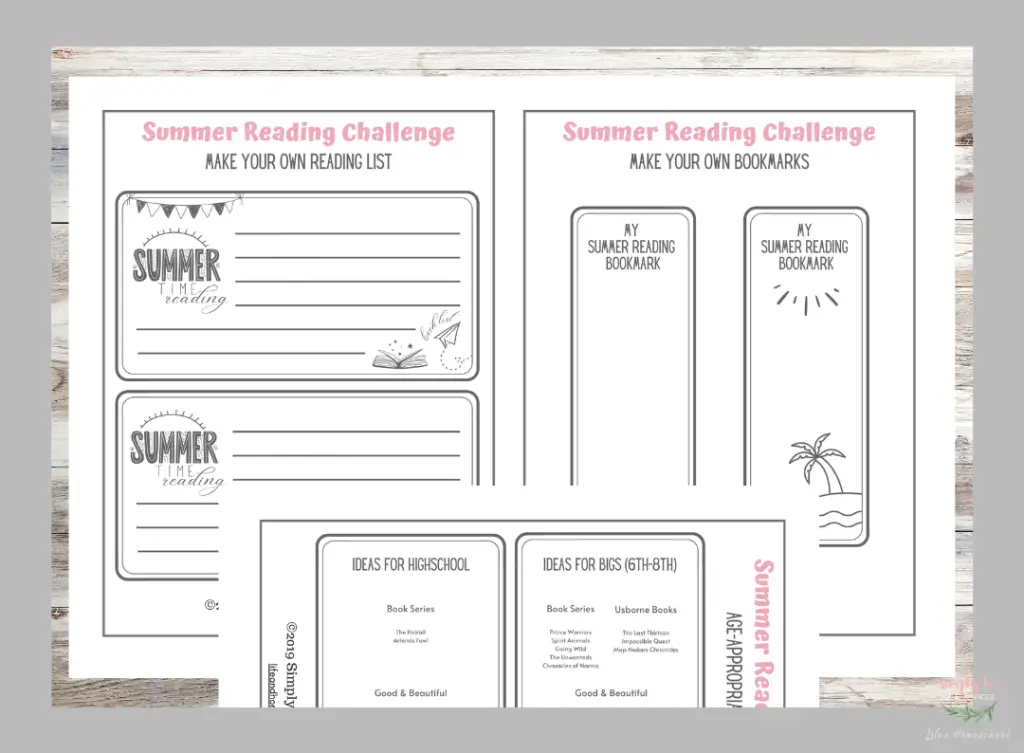 Start your summer off right with this deluxe summer reading challenge bundle via (yours, truly) Life + Homeschool Blog.
While I create most of my free printables with my own children in mind, I'm always excited to share them with other busy moms!
With this bundle, you can help your kids pick wholesome books to create their own reading lists, encourage them to set simple summer goals, and print off fun bookmarks to hold their place.
If reading is your main summer focus, I've got some other wonderful printables for you!
Check out some of these fun options!
There is no better time than summertime to work on some of those pesky motor skills that need a little extra practice!
Encourage your kiddos to sharpen their skills with these fun motor skills worksheets!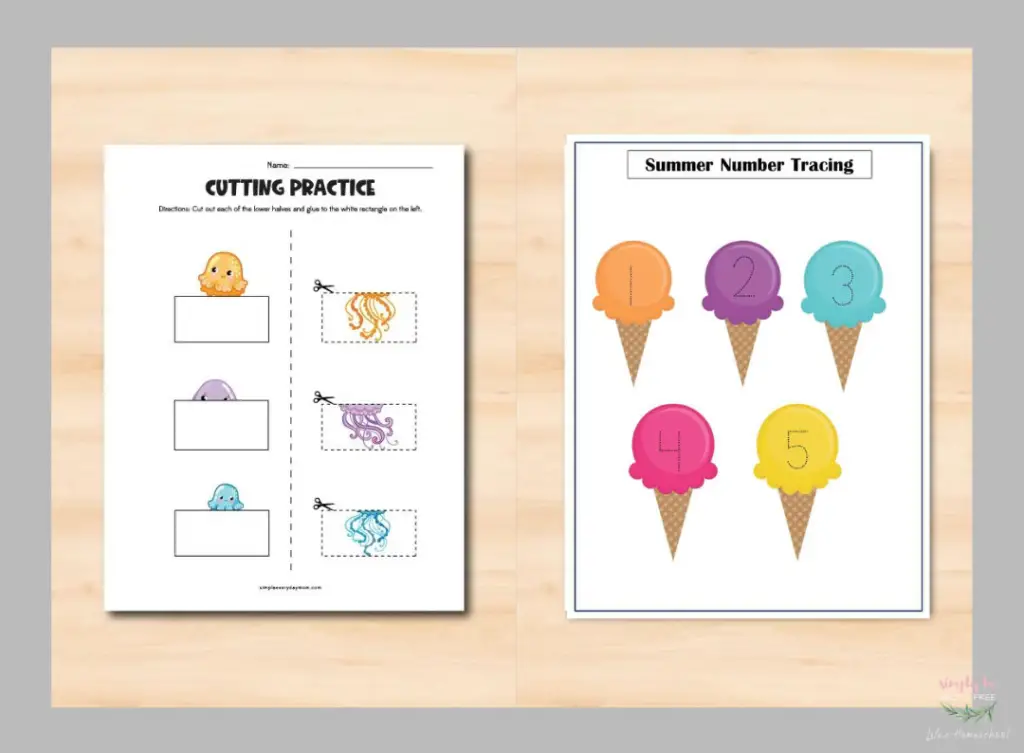 Work on cutting skills with your little one by using these adorable jellyfish cutting practice sheets via Simple Everyday Mom OR practice simple tracing with summer tracing worksheets via Mess for Less.
Check out these other top-notch summer worksheets for motor skills practice! Summer scissors skills worksheets & summer patterns worksheets via Planes and Balloons.
Core Subject Summer Worksheets
Sometimes summer is the perfect time for catching up on school work or brushing up on important core skills.
Encourage your kiddos to work on core subjects over the summer months with these awesome summer worksheets!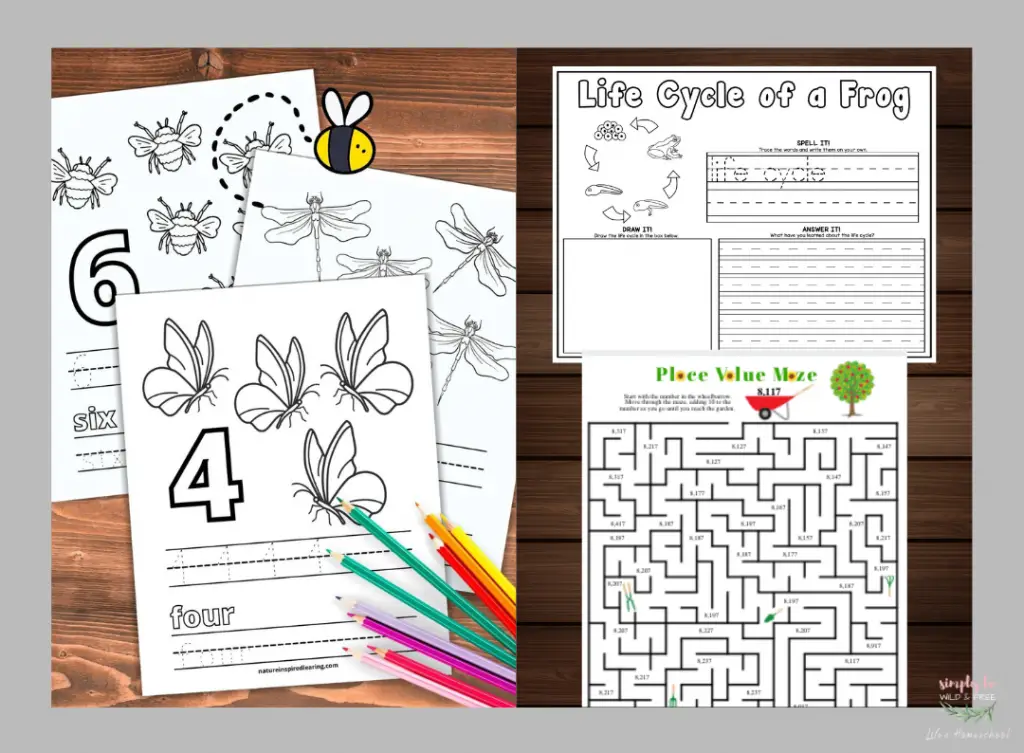 Work on counting & writing practice using these super cute count and write sheets via Nature Inspired Learning OR brush up on math skills with these fun place value games via Orison Orchards!
Looking for some simple science fun? These life cycle of a frog printables via In the Playroom are perfect for simple summer learning!
If you have a struggling reader that needs a little extra encouragement to keep going, check out our summer reading challenge OR try doing a summer reading BINGO challenge via Two Kids and a Coupon.
Get your hands on these great summer bundles for simple everyday learning! Summer fun worksheets via Literacy Learn,  summer math and grammar practice via 3 Boys and a Dog, summer preschool worksheets via ABCs of Literacy, and summer-themed activities via The Primary Parade.
Love Camping and all things outdoors? Try this awesome set of camping letter maze worksheets via ABCs of Literacy. This would be the perfect activity to bring along on a weekend camping trip!
Fourth of July Worksheets
The 4th of July is a big deal around our house! From the smores to the fireworks — we absolutely love it all.
Encourage simple fun for everyone's favorite summer holiday by using these awesome printables!
Kick off your 4th of July celebration with any of these great printables! Start with this set of 4th of July worksheets via Simple Everday Mom, these Fourth of July printables via Mommy Snippets, or lastly this collection of 4th of July worksheets via Mess for Less.
So many fun options, you guys!
Year-Round Kid Activities
Looking for other fun ideas to use all year long? Check out our entire kid activities page on the Life + Homeschool blog!
If you are looking for a summer-themed worksheet, coloring page, or printable that was supposed to be in this post check summer activity pages & summer coloring pages as some of our original content has moved to those posts!