Writing Prompts for Kids
What are writing prompts and how can I use them in my homeschool? 
Writing prompts are a great way for your child to practice their handwriting and creative writing skills at the same time.
Adding simple writing exercises to your homeschool lineup not only provides extra learning time for your little one, but it can also give mom a much-needed breather!
If your child isn't a huge fan of handwriting, these simple writing prompts for kids can turn a mundane task into something exciting and fun!
The Importance of Writing Practice
First, let's talk handwriting practice.
If your young homeschooler is anything like mine, they probably despise handwriting time!
With that said, handwriting is one of the most important things to include in your homeschool routine. Proper pencil grip and practicing correct letter formation are two essential steps to learning the basics of handwriting.
This is why I absolutely love leaning on simple handwriting programs like The Good and the Beautiful to teach the basics, while adding in fun extras like writing prompts.
Next, let's talk creative writing practice.
Encouraging kids to practice their creative writing skills at a young age is so important!
Not only will this help prepare them for larger writing assignments as they move on to new grades, but it will also help them stretch those imagination muscles once in a while.
Printable Writing Prompts for Kids
If you're looking for elaborate, long-winded writing prompts — keep on searching.
However, if you are in need of something incredibly simple just to help your kids think outside the box, I've totally got you!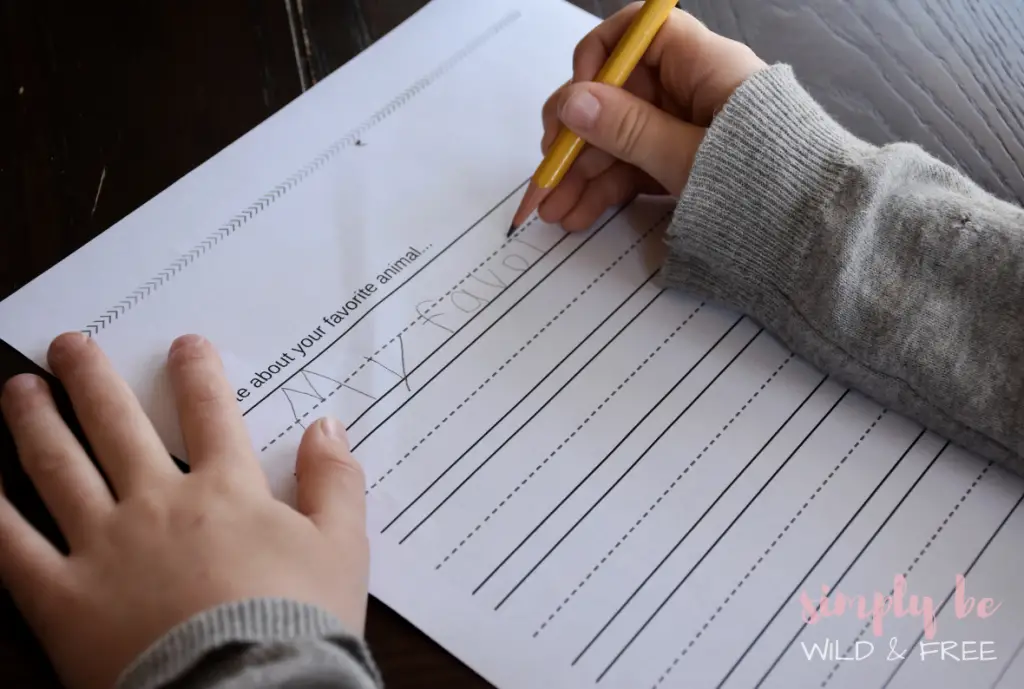 With 2 simple versions to choose from, my writing prompts for kids make a great add-on to any language arts curriculum.
Each set of writing prompts includes 19 individual worksheets to help engage your young learner and to encourage a deep love of writing — all while get getting creative and sharpening those pesky handwriting skills!
These prompts are meant to encourage creativity and spark a love for writing at a young and tender age!
Some topics included in these worksheets are people, feelings, and favorite things.  Your young homeschooler will also be encouraged to write short stories and poems along the way!
Ready to Download Your Writing Prompts?
Simply click the image below to get your printables!
Want to check out our full selection of printables? Head over to the Simply Be Wild and Free Teachers Pay Teachers e-store to browse all of our products!
Love these printables? Take a moment to share this post on social media for other homeschool moms!
Other Homeschool Activities & Printables
Love our printable writing prompts for kids? Check out our entire Homeschool Activities section on the blog as well as some of our favorite Kid Activities and printables!