Mother's Day Gift Ideas
Looking for that perfect gift for Mother's Day this year? Coffee mugs are always a simple go-to option.
Not only are they unique and fun on their own, but they can be filled with Mom's favorite treats or goodies!
Another bonus? You can easily take this Mother's Day gift idea up a notch by combing a unique Mom mug with a hand-flower bouquet or our simple Mother's Day printables!
Mother's Day Mugs for Every Mom
Finding a mug to fit your mom's personality has never been easier!
Check out my top Mother's Day mug picks for every mom.
While it isn't exactly a mug, this handy travel cup is perfect for the busy mom that is always on the go (or always heating her coffee).
This travel cup will always be #1 on my must-have mommy mug list! Why? Because as a work-from-home, homeschool mom, I'm crazy busy, you guys!!
I have one of these and it truly is a lifesaver!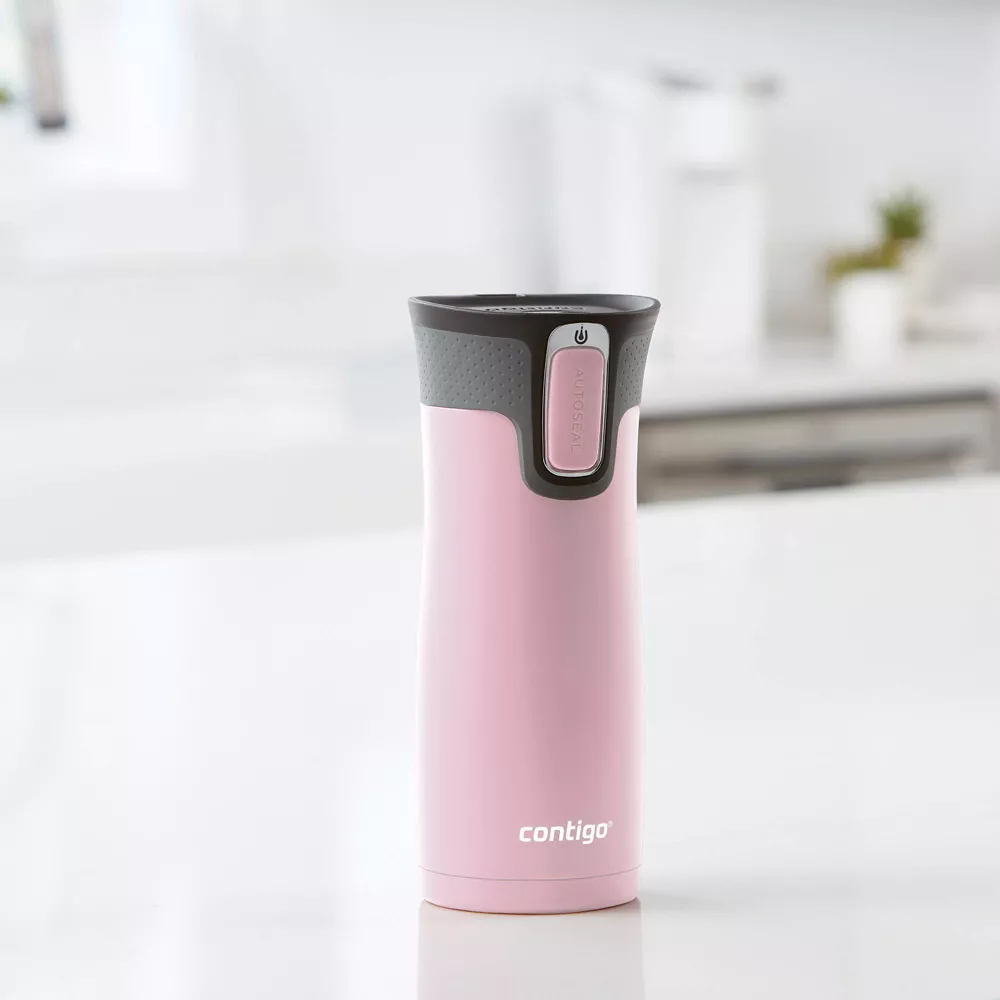 Not only is it great for traveling & quick trips to the park or grocery store, but it also works wonders for the mom that can't seem to sit down long enough to enjoy her cup of coffee while it's still warm.
This mug will seriously keep Mom's coffee warm all day long.
Plus, no more spills with a cup like this!
If the mom you are shopping for has littles, this cup is a total winner!
Shopping for a mom that simply can't function without her morning cup of coffee?
These 3 mugs were totally designed with her in mind!
Pick up an adorable Mama needs more coffee mug (top left) for the coffee-loving-sleep-deprived mama in your life!
Check out these other cute options for the tired mom!
If you're shopping for the savvy, go above and beyond, do it all type mom. These are her mugs.
And guess what?! She totally earned these, you guys!
Show the best mom ever that she's your hero this year with a top-of-the-line mom mug!
Shopping for a mom that protects her kids no matter the costs?
Someone that will advocate, fight for, and suffer through anything to be there for her children always? Sounds like a Mama Bear to me!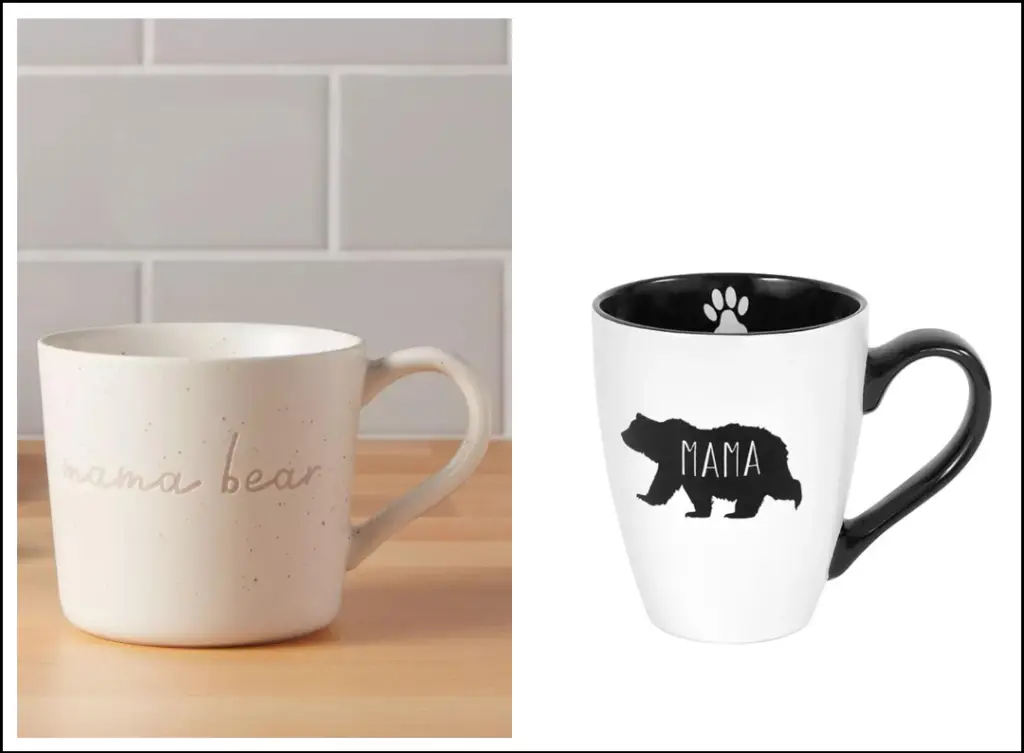 These mugs can speak volumes, you guys.
Ain't no mama bear going to let anyone or anything get between her and her cubs!
Show the mama bear in your life how awesome she is with one of these adorable mama bear mugs!
Feel like you still haven't found that perfect gift? Don't fret.
These simple Mom mugs might be just the ticket!
Some moms don't crave a statement piece or dramatic gifts, they appreciate everything and simply consider it a treasure to be your mom.
These are her mugs.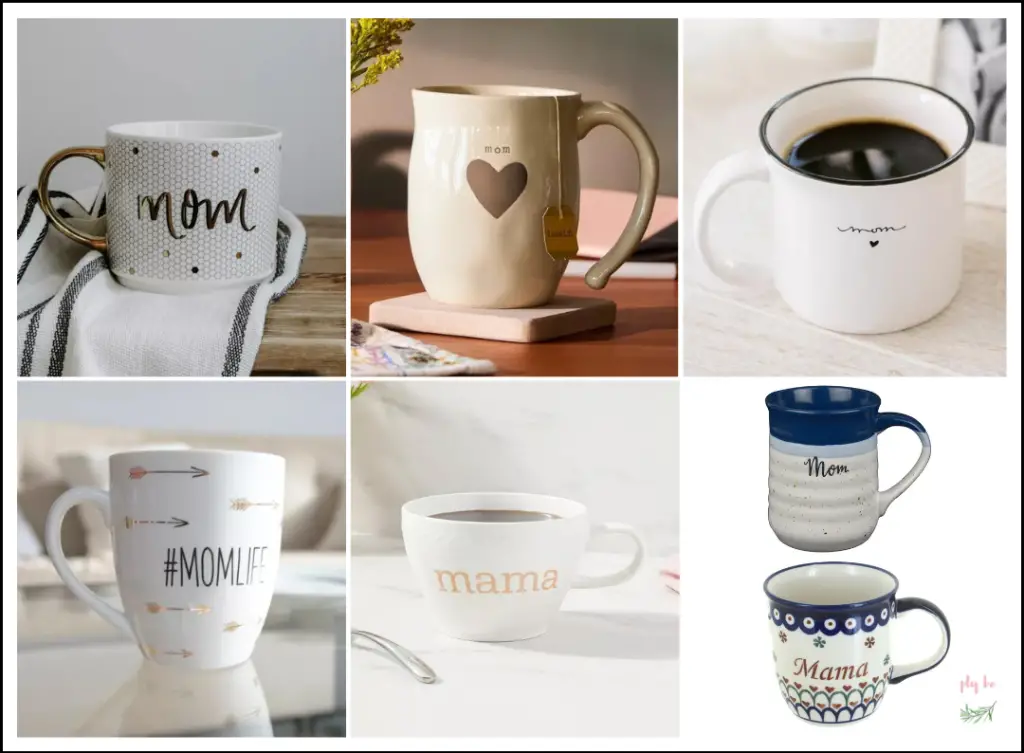 Pick up one of these adorable Mother's Day mugs for the laid-back-easy-to-please mom in your life!
Have a mom that loves meaningful gifts, saves all the things, and needs to hear those three little words often?
These heartfelt mugs will be right up her alley!
Encourage your little one to show Mom just how much she means to all of you with this precious Dear Mom coffee mug (left) or keep it simple and to the point with this cutesie love you Mom mug (right) instead!
Mother's Day Mugs with Dual Purposes
If your Mother's Day celebration is looking a little different this year, these coffee mugs might just be the perfect fit.
Maybe all the kiddos have recently grown up and moved away, you've entered that next phase of life (you know, the grandparent one), or you want something sweet your wife can share with your only daughter.
Either way, these mugs are sure to show Mom how truly special she is this year.
If you're a husband that has found himself shopping for his wife this Mother's Day, these are the mugs you need, my friend!
Tell your wife how much you adore her all year round, by letting her know she's more than just Mom.
Ok, had to add these adorable sets to this list. They are so stinking cute, you guys!
Calling all dads with daughters young and old, this is a super fun buy for your wife and daughter.
Nothing pleases Mom more than a little bit of girly coffee or tea time with her daughter.
Check out these 3 adorable options!
If the days of little ones in the home are behind the mom you're shopping for, this is her section, you guys.
Whether you're shopping for the grandmother to your own children or your wife, the new grandma, these mugs will totally melt her heart!
Mother's Day is the perfect time to show Grandma a little love too.
Check out some of these super cute mugs for the grandma in your life!
Mother's Day Mugs for Fur Mamas
Shopping for the mama without human kids? These are the mugs for her!
Grab something pink and cute for the cat mama with this adorable cat mom mug!
Shopping for the dog mama? No problem! This simple dog mom mug will be the perfect gift.
Mother's Day Mugs & More
While getting something with the word mom printed in a bold text may sound like the perfect option for Mother's Day, some of these other meaningful mugs might just say it better!
Try telling Mom she's your favorite or the best with these generic, yet amazing coffee mugs.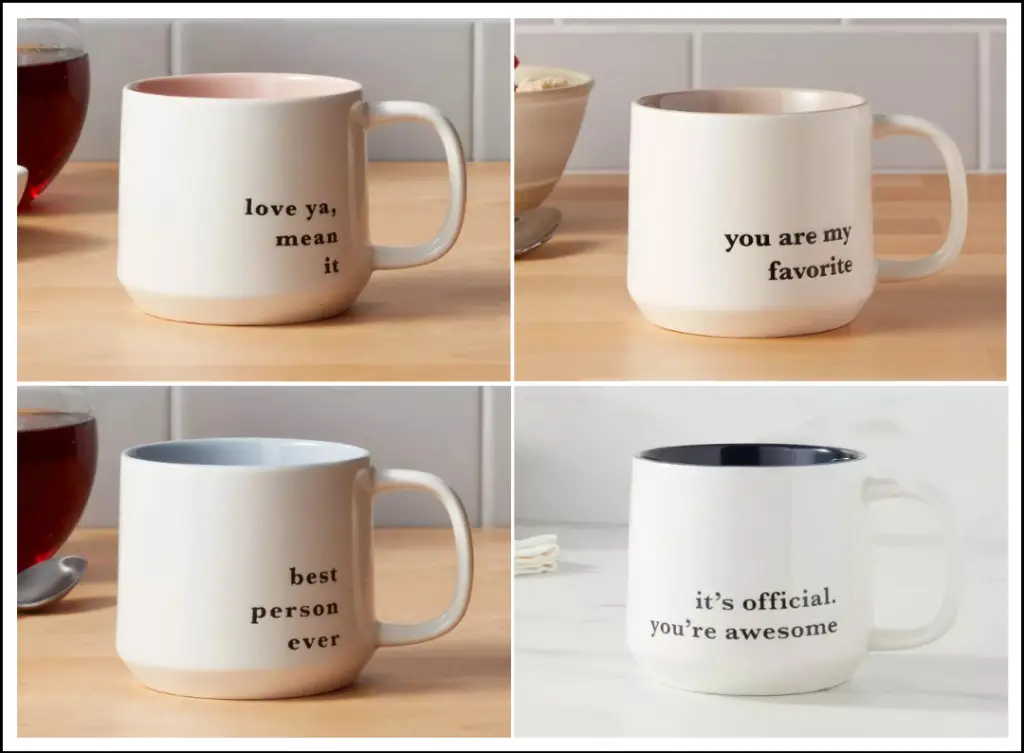 Need to encourage Mom a little bit this year?
Give her a hug in a mug or encourage her to embrace the mess with these uplifting coffee mugs for Mom!
Coffee Recipes to Fill Her Mother's Day Mugs
Once you've found the right mug for Mom, it's time to help her fill her cup. If candies & treats aren't her style, consider making her a keto butter coffee or healthy mocha latte to fill her cup instead!
Love these gift ideas for Mother's Day? Share it on social media today!