Crafting with Kids
When my kids were little, crafting was definitely one of my favorite go-to activities!
I absolutely loved the idea of creating something beautiful and brand new with our favorite craft supplies.
Now that my kids are older and our one-on-one crafting time had dwindled, I've decided to put my focus elsewhere.
This is why I currently spend my time creating fun lists of craft ideas for kids!
I simply want to help young moms enjoy creating memories with one of my favorite past times — crafting with the kiddos.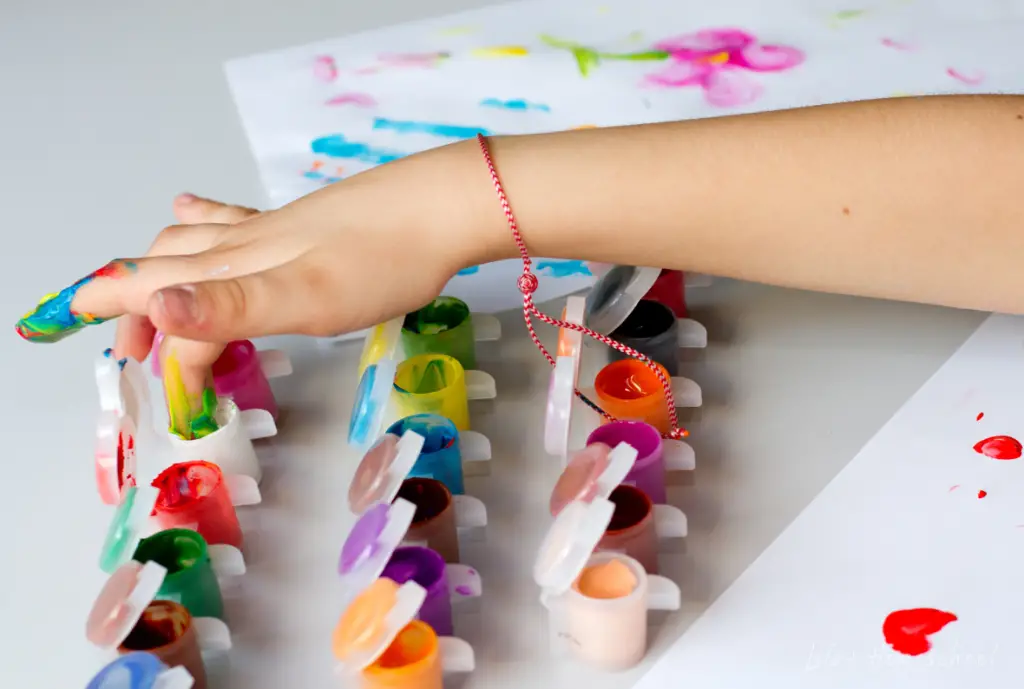 If you have a little one, cherish these moments because they go by way too fast!
Encourage creativity, fun, and yes, even the mess.
Not only is crafting good for their hand-eye coordination and motor skills, but it can also become a wonderful creative outlet for many kiddos.
Check out our entire kid activities page to view all of our favorite craft ideas for kids!
The Importance of Handprints
While crafting for the sake of crafting is always fun, crafting for the sake of memory-keeping is even better.
Little handprint crafts and keepsakes are not only adorable, but they are a wonderful way to preserve your child's growing hands over the years. They are only little for so long and the handprint you capture today, won't be the same handprint they have tomorrow.
Capture all the memories through the years with these fun handprint crafts ideas and keepsakes for kids!
Keepsake Handprint Crafts
This fun collection of hand crafts has what I consider to be the perfect options for gift gifting and memory keeping.
From clay handprint crafts to Mother's Day keepsakes — check them all out below!
Set in Stone Keepsakes
Some of these keepsakes look like so much fun, you guys!
Not only are these types of handprint crafts perfect for preserving the hand of your little one, but they can also make wonderful gift ideas for holidays, for the grandparents, or double as adorable handprint decorations.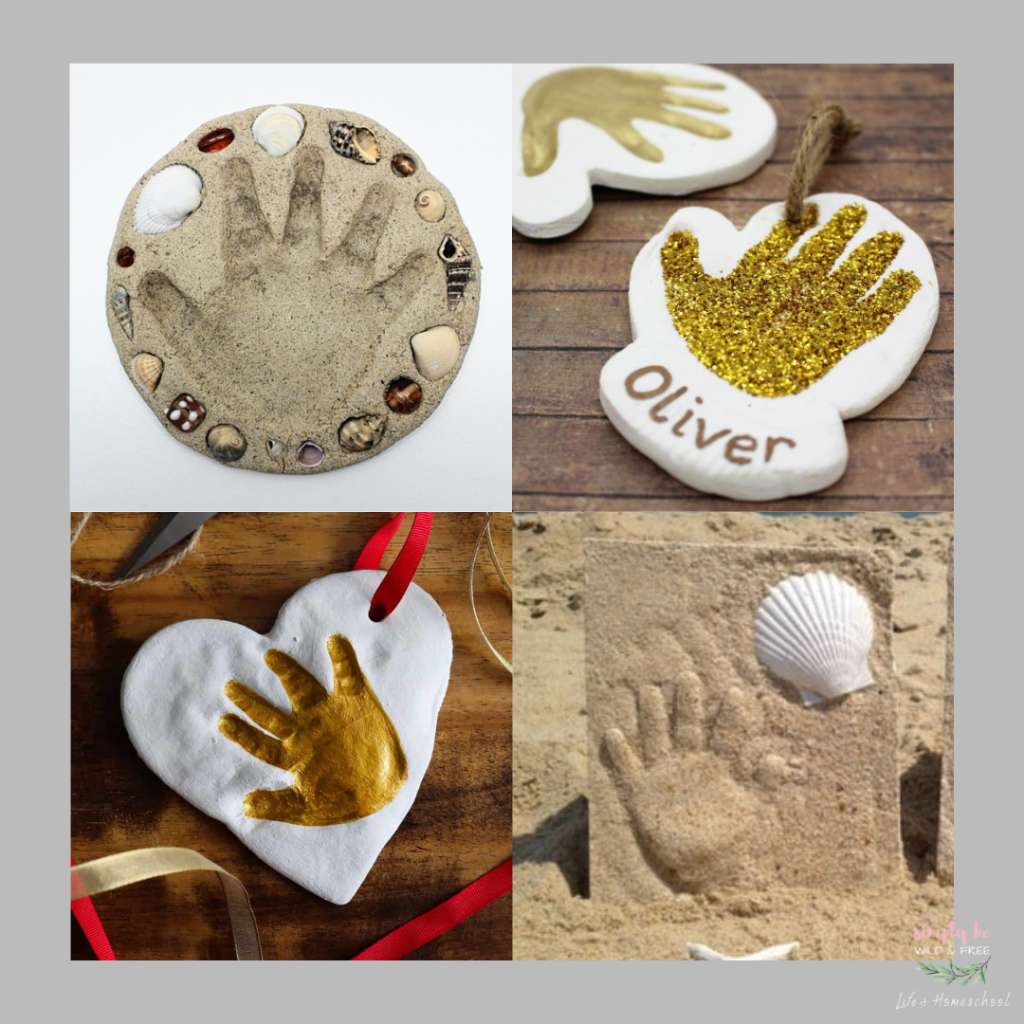 Create an outdoor statement piece with this sand and clay handprint keepsake garden stone (top left) via The Craft at Home Family. 
Want to lean more on the side of simplicity? Try creating a year-round ornament or home decoration with one of these fun hand crafts!
Need something unique to capture your baby's first time at the beach? Consider this adorable beach sand handprint and footprint keepsake (bottom right) via Mama Cheaps
Mother's Day Handprint Crafts
Mother's Day is right around the corner and showering Mom with a personalized hand craft is the perfect way to show her you care.
You can easily pair one of these fun handprint craft ideas with a unique Mother's Day gift or combine it with our FREE Mother's Day printables!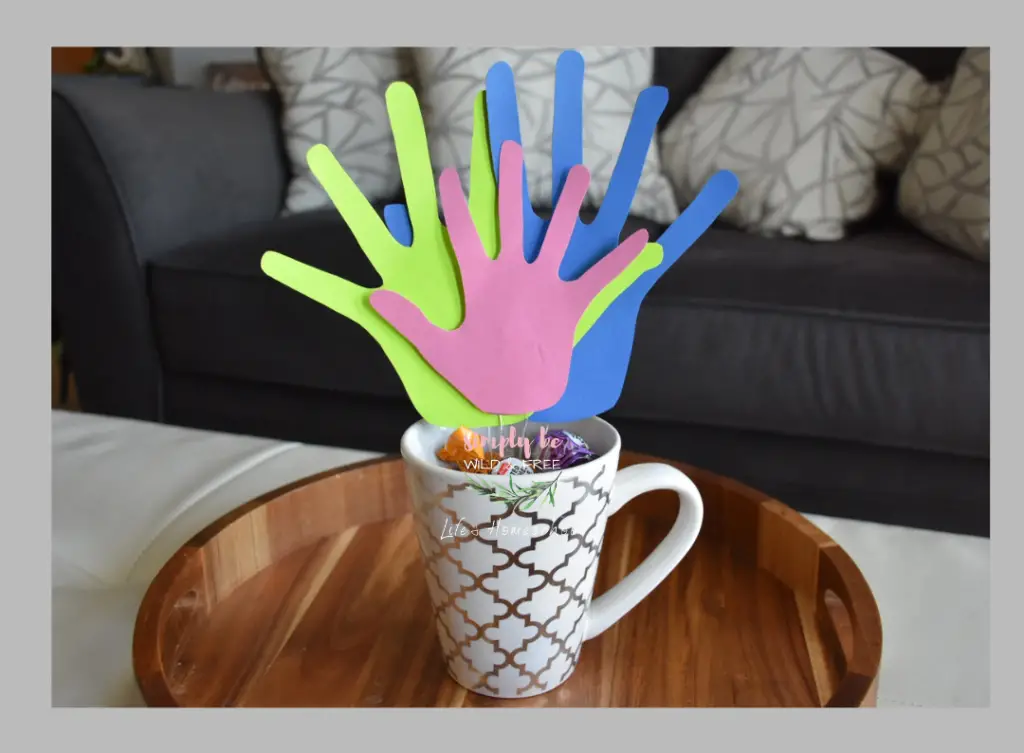 Keep things simple and to the point this year by creating an adorable handprint bouquet (above) via (yours truly) Life + Homeschool blog. This fun idea was something I created for my preschool Sunday school class many moons ago.
Not only is it a meaningful gift, but it can double as a beautiful centerpiece for years to come!
Love the idea of a simple centerpiece for Mom? Check out this fun handprint keepsake using something as simple as a mason jar via Mama of Minis.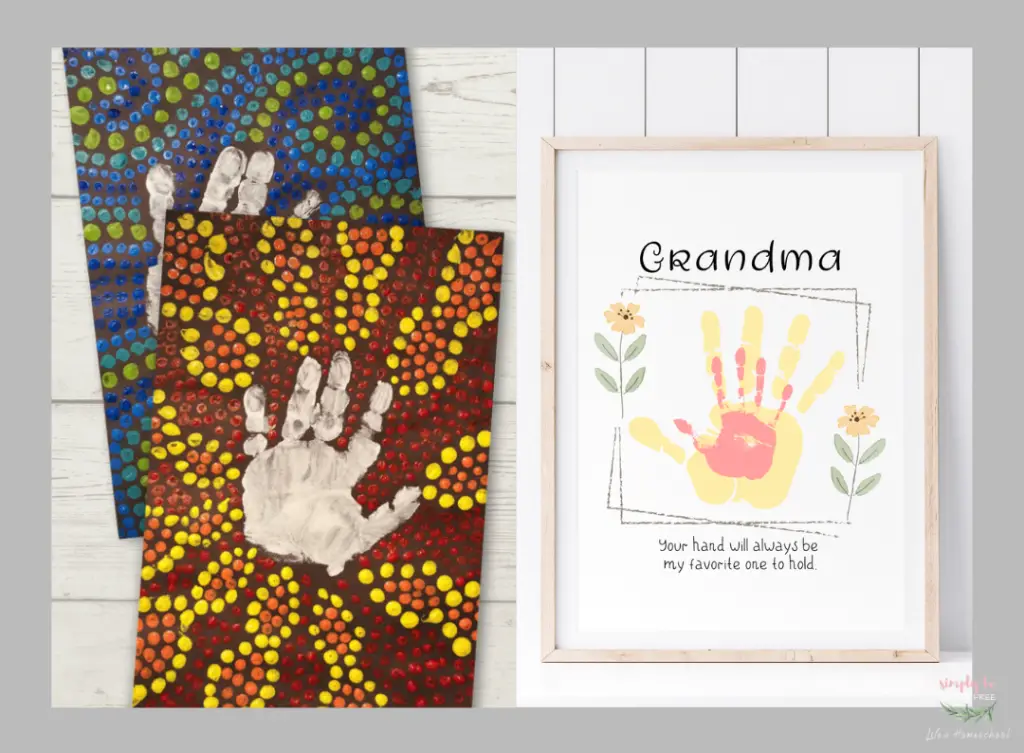 Prefer the idea of turning handprints into wall art for Mom this year? Check out this incredible handprint dot art (left) via Taming Little Monsters or keep it classic with this free printable handprint keepsake (right) via A Hundred Affections
Looking for other fun ideas for Mom? Consider one of these handprint papercrafts!
Father's Day Handprint Crafts
Father's Day is another great time for simple handprint crafting & gifting!
Check out some of these cute ideas.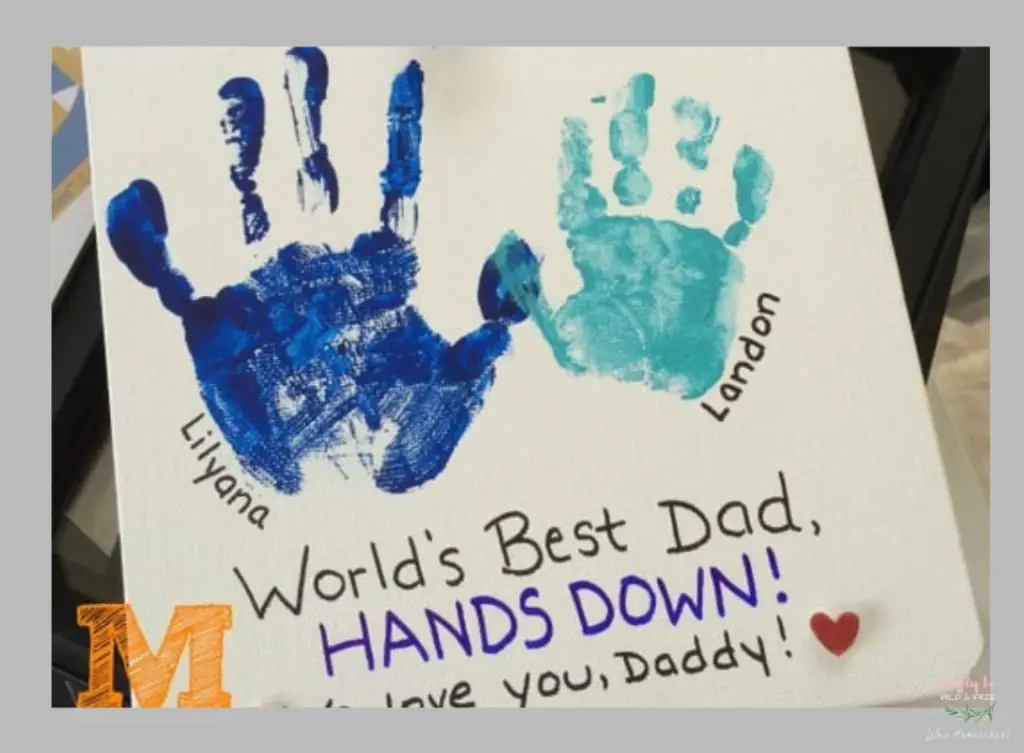 Show Dad he's the best with this hands-down best dad Father's Day craft (above) via Mama Cheaps.
Want to mix it up a bit? Consider one of these other fun ideas for Dad!
Need a little something extra for Dad? Show him just how much you care by pairing one of these fun handprint crafts with our DIY Father's Day photo craft!
Other Keepsakes
While showering Mom & Dad with handprint crafts is a must, there are other simple ways to preserve little hands for keepsake purposes.
Check out this family handprints keepsake via Cobberson & Company. While this craft is actually labeled as a Christmas craft, I personally think it's a multi-generational project that is perfect for any holiday!
Want to track your child's growing hands over the years? These adorable birthday handprint printables via Homemade Heather are the perfect project!
Seasonal Handprint Fun
Craft through the seasons with these unique handprint craft ideas!
All of these fun ideas are perfect for homeschoolers, in-person classes, or simple at-home fun!
Check out my top picks for all four seasons.
Spring Handprint Crafts for Kids
Spring means all things new — from blooming flowers to baby animals.
Get your craft on during the spring season with these adorable handprint crafts for kids!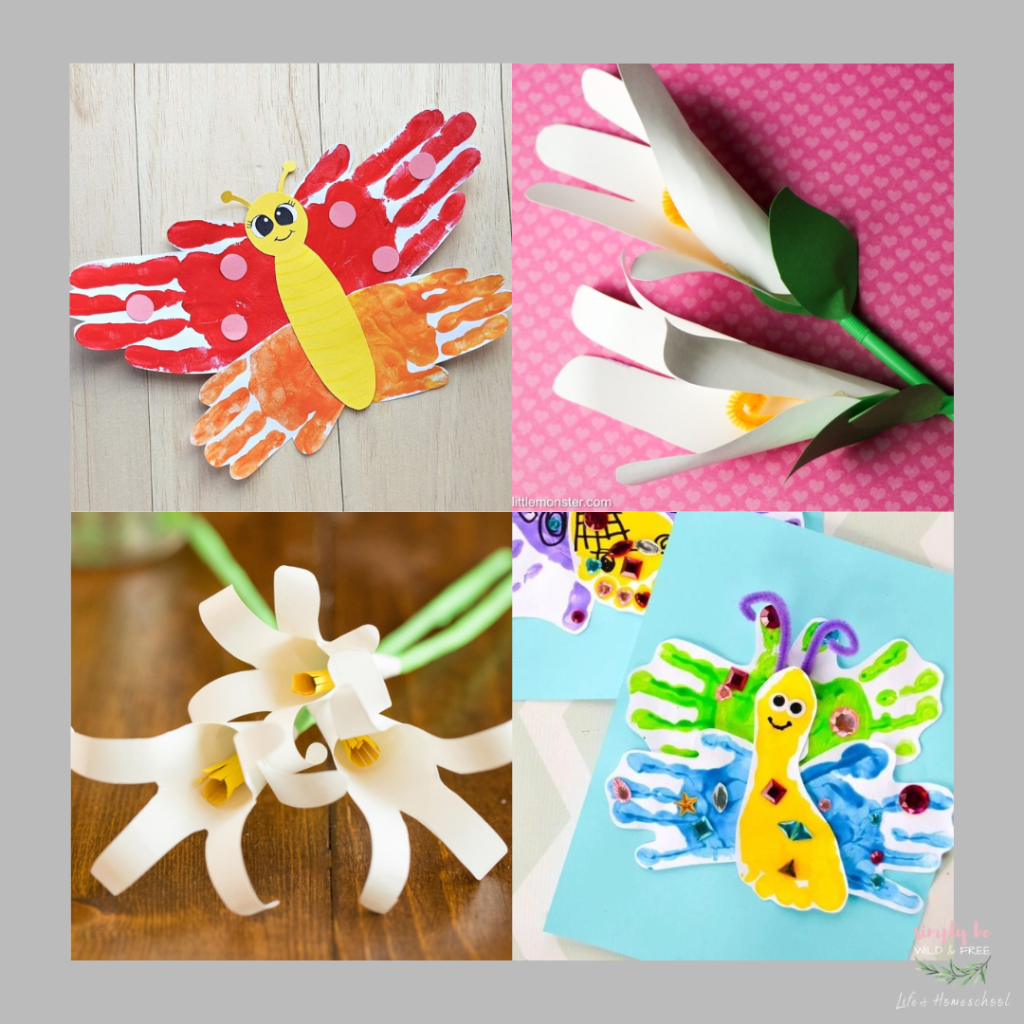 Start your spring hand-crafting with this colorful handprint butterfly (top left) via Mommy Made That or this super cute footprint and handprint butterfly (bottom right) via A Little Pinch of Perfect.
Then, create a beautiful bouquet of flowers for the Easter season with one of the fun options below!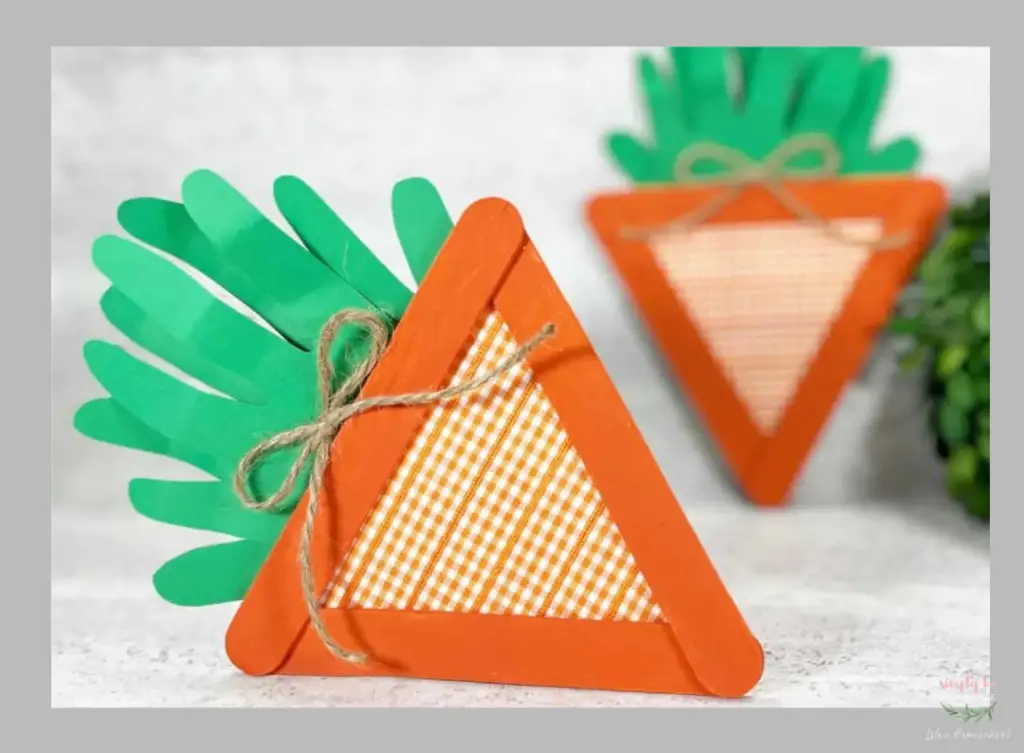 Next, make a handprint carrot (above) via Single Girl's DIY — perfect for the Easter bunny!
Looking for other fun handprint crafts for springtime? Check out these ideas!
Summer Handprint Crafts for Kids
Ready to kick your summer into high gear with a little crazy-crafting fun?
Summer crafting can be such a fun way to beat the heat when you can't get outdoors.
Check out these fun summer handprint crafts!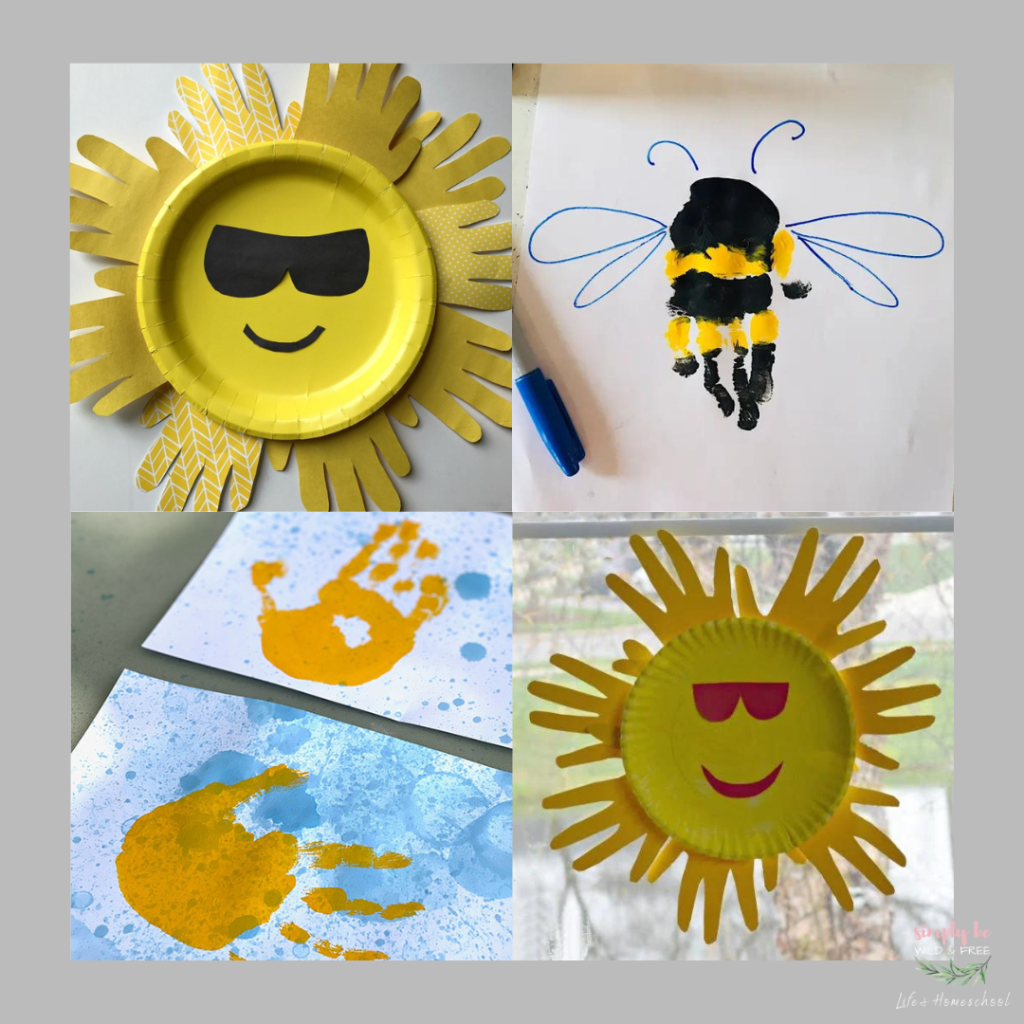 Step into the sun with these adorable sunshine crafts!
Or create this adorable bee handprint via Approaching Home.
Not too hot to get outside? Try this unique take on handprint art using bubbles via DFW Craft Shows instead!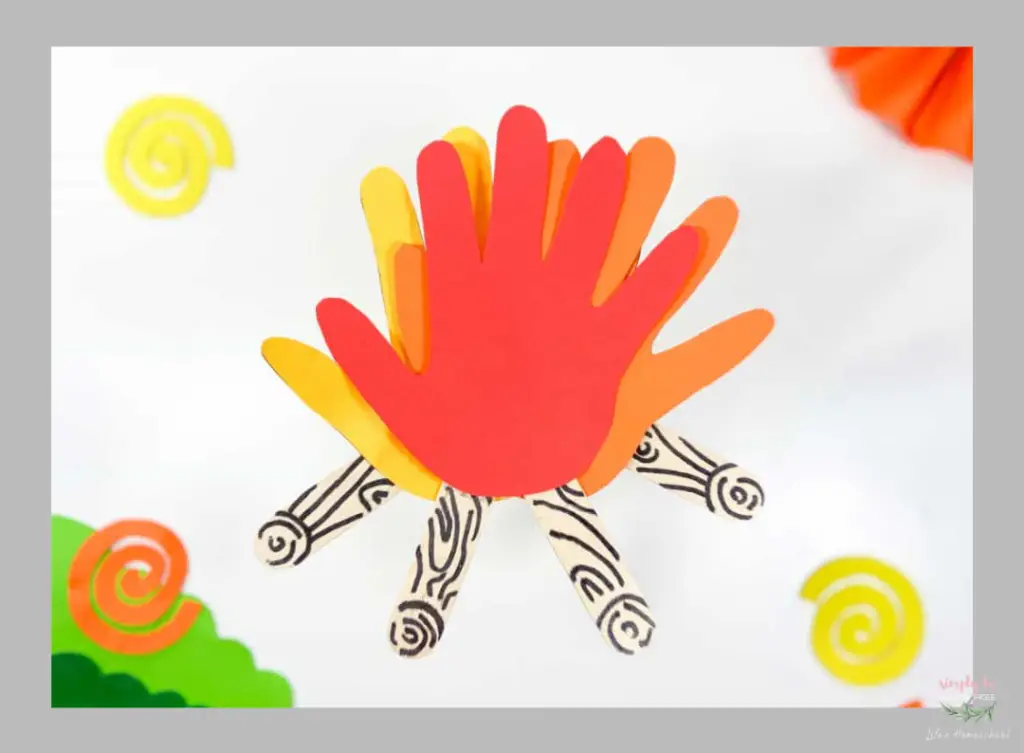 Camping is one of our favorite activities and this adorable campfire paper craft (above) via Glamper Life is seriously the cutest! Being a full-time RVer, this might just be my favorite handprint craft of all!
Check out these other fun ideas for summer handprint craft fun!
Fall Handprint Crafts for Kids
Fall is my absolute favorite season of all time and what better way to spend your favorite season than with some simple fall crafting?
Check out these adorable handprint crafts ideas for fall!
Back to School
Summer is officially over and it's time for the kiddos to head back to school!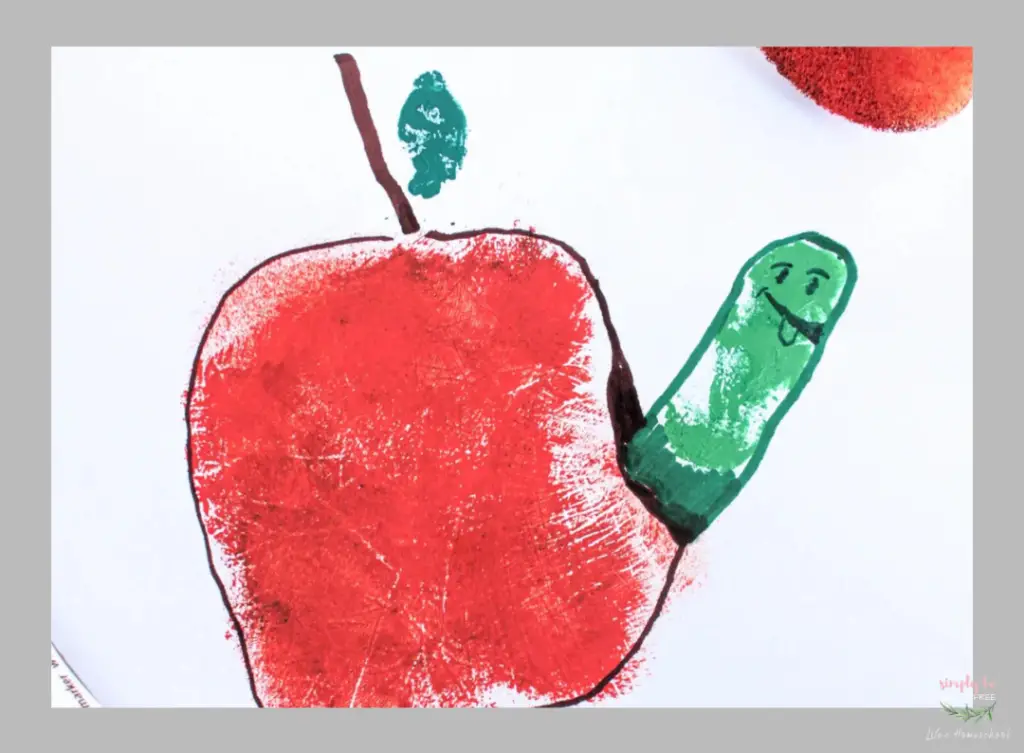 What better way to celebrate that first day back than with this adorable apple handprint craft (above) via Crafting with Kids
Don't forget to check out these awesome back-to-school handprint printables via Rock Your Homeschool as well!
Halloween
Once October rolls around it's time for the Halloween fun to begin!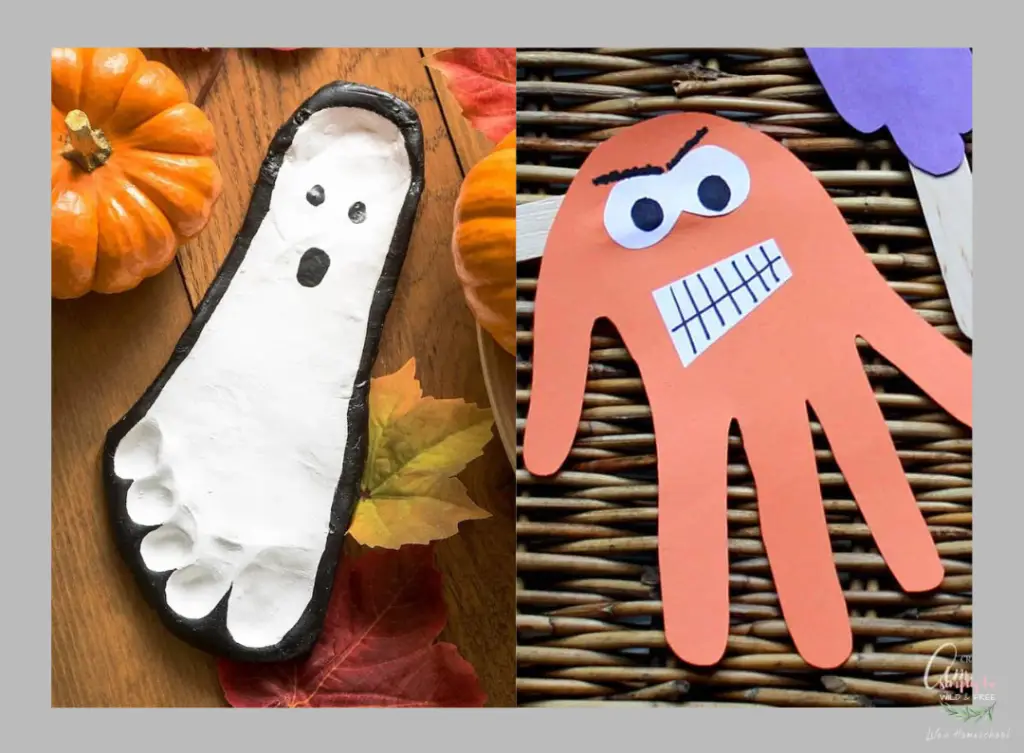 Check out these adorable handprint craft ideas perfect for this spooky holiday.
Thanksgiving
Fall is my favorite season and Thanksgiving is my favorite holiday.
There is just something about the family, the food, reflecting on our blessings, and preparing for the Jesus season that makes my heart happy and complete this time of year!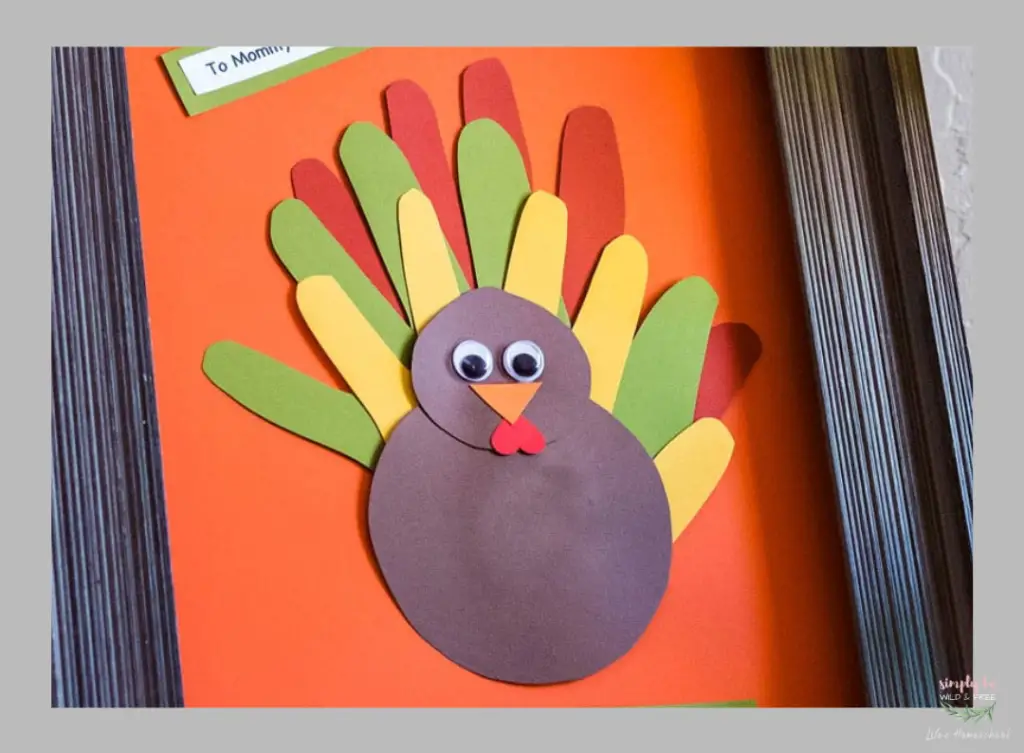 Check out these fun handprint craft ideas perfect for Thanksgiving week!
Create this adorable family handprint turkey (above) via Crafts by Amanda for a Thanksgiving to remember.
This one is seriously so cute, you guys!
Looking for some other awesome handprint turkeys? I've got 'em below!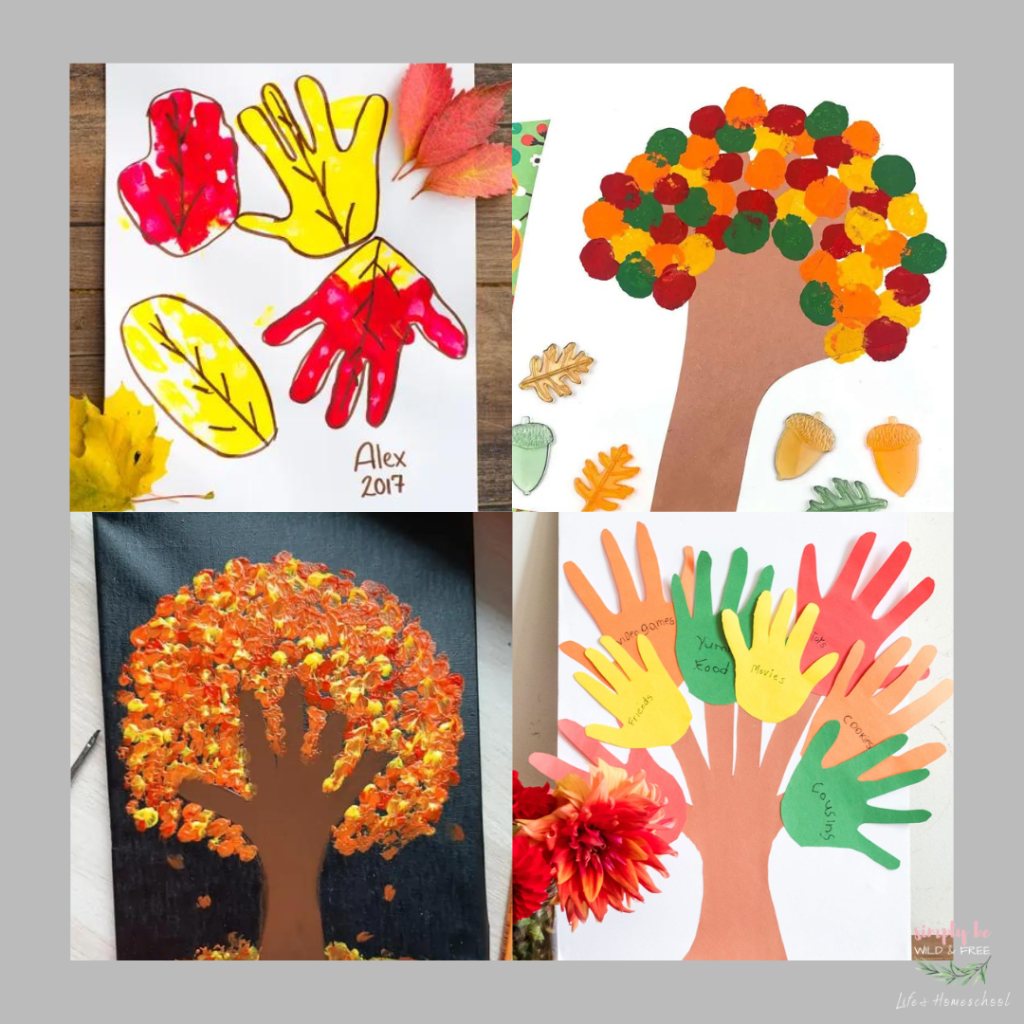 If you love all things fall, you are totally going to love these handprint trees!
Check them out below.
Winter Handprint Crafts for Kids
Ah, winter! Another season I thoroughly enjoy.
While winter can feel drab or depressing to some, I absolutely thrive during the winter months.
There is just something wonderful about hibernating, watching the snow fall, then emerging for a little winter hiking.
Seriously though!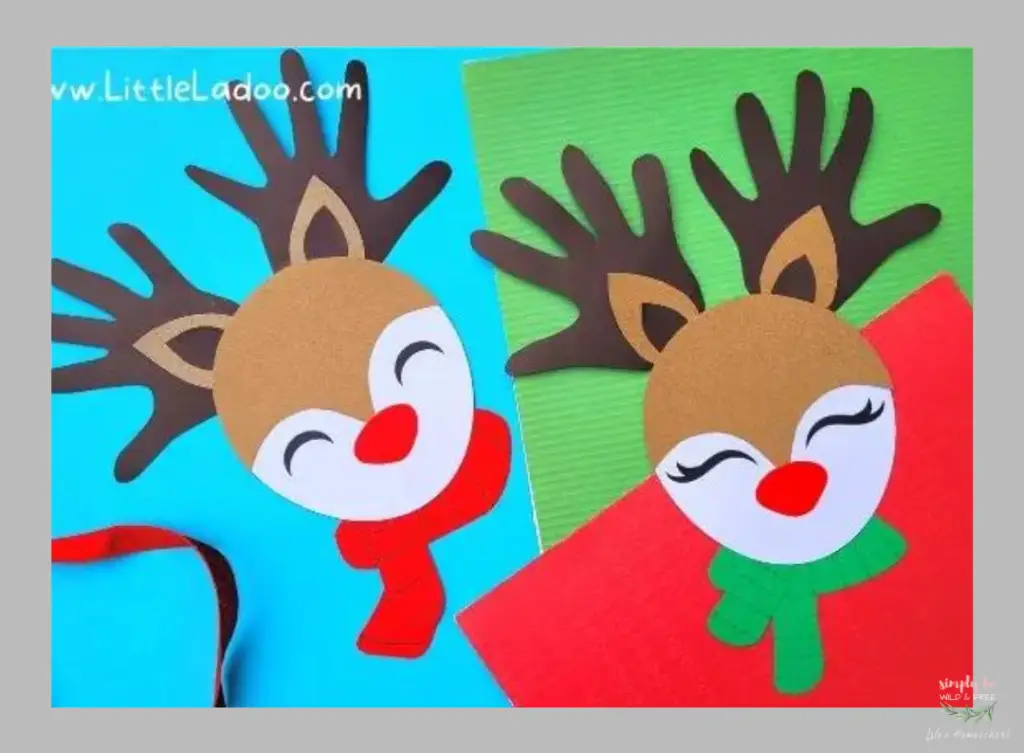 Check out all these fun handprint craft ideas perfect for the magic of wintertime!
OMGEE! This handprint reindeer (above) via Little Ladoo has got to be the cutest handprint I've ever seen in my life. So, stinkin', cute!
If the reindeer doesn't strike your fancy, try one of these winter-themed handprint crafts instead.
Christmas
While some of these are technically keepsakes, I chose to toss them into the winter pile for a little handprint Christmas fun!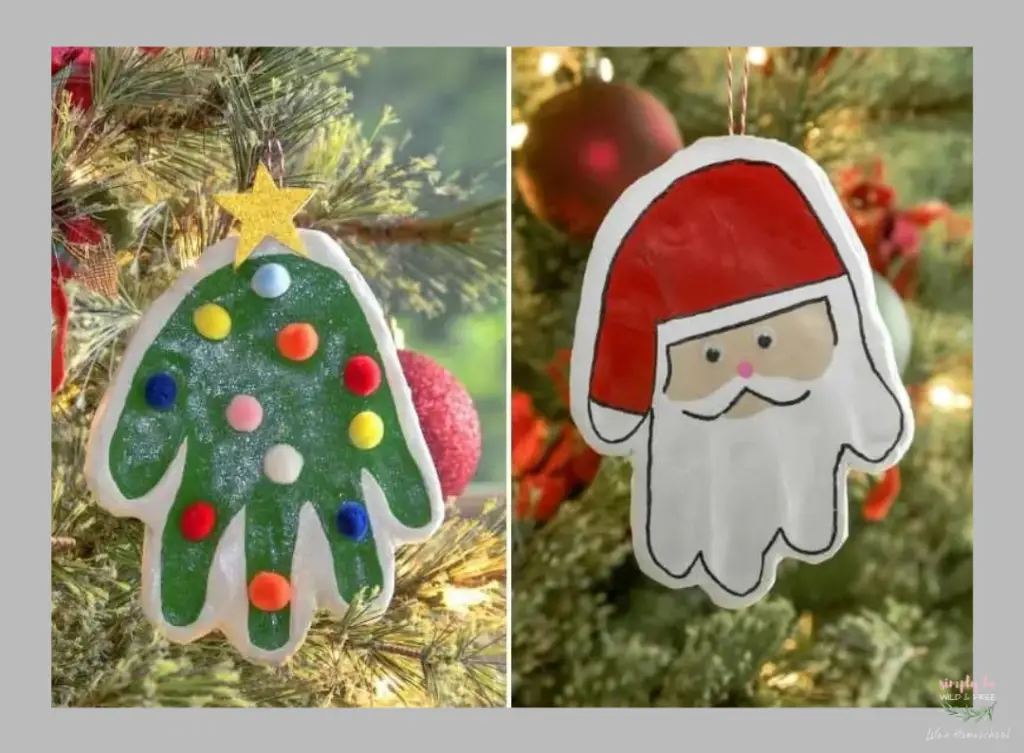 Create something special to remember baby's first Christmas or get sentimental with grandparent gifts with these adorable handprint ornaments (above) via Modge Podge Rocks.
What a fun way to decorate your Christmas tree!
Speaking of Christmas trees! Encourage your kiddos to make one — with their hands (pun intended). This handprint Christmas tree via In Our Spare Time is such a simple idea for Christmastime.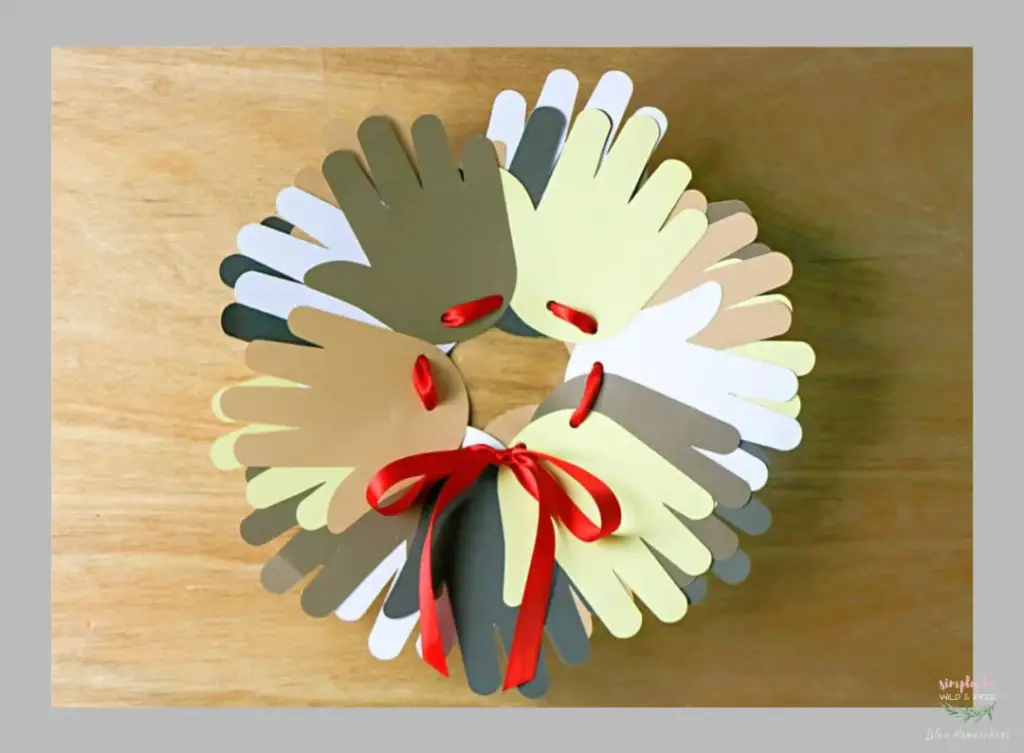 While this beautiful unity handprint wreath (above) via Single Girl's DIY is a great option for Martin Luther King Jr. Day in January, it can easily be adapted for Christmas time as well! Love, love, love this one!
Finally, let's wrap up our seasonal handprints with just a little love.
Check out these adorable Valentine's Day handprints via Busy Blooming Joy
Other Fun Handprint Crafts
Looking for non-seasonal handprint craft ideas?
I've got you.
Check out these adorable options!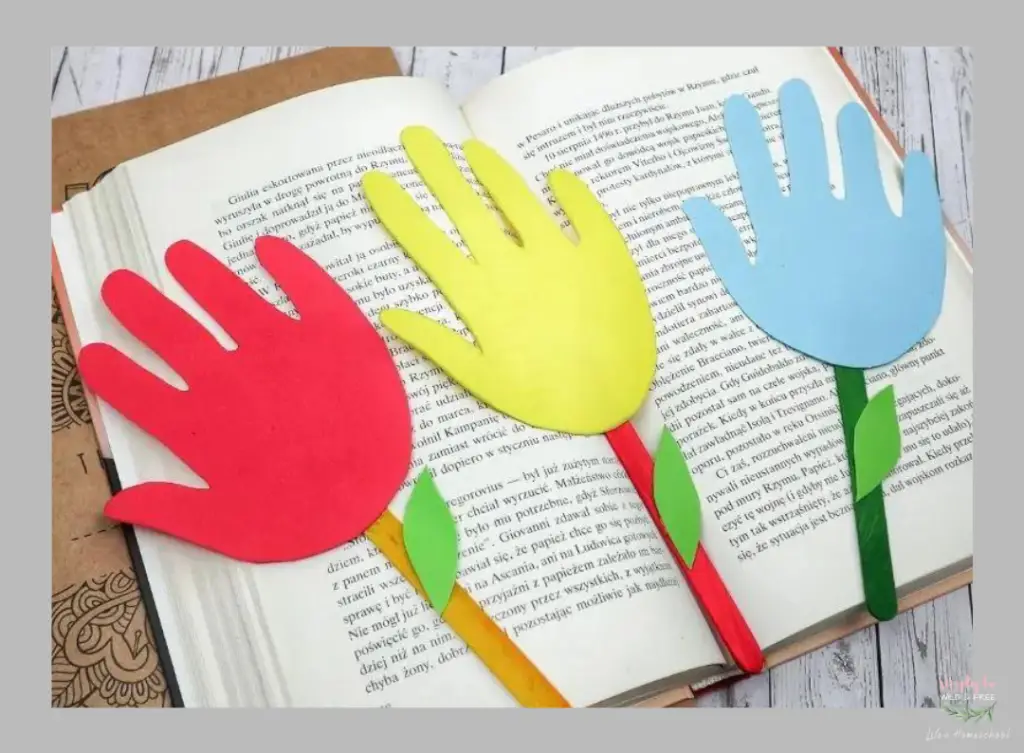 Try making these DIY handprint bookmarks via Craftsy Hacks.
These fun bookmarks can be a super fun way to kick off your summer reading program or you could have your kiddos make them as an end-of-the-year teacher gift!
Dr. Suess Handprint Crafts
Have a Dr. Suess lover in your home?
These hand crafts are seriously the cutest!!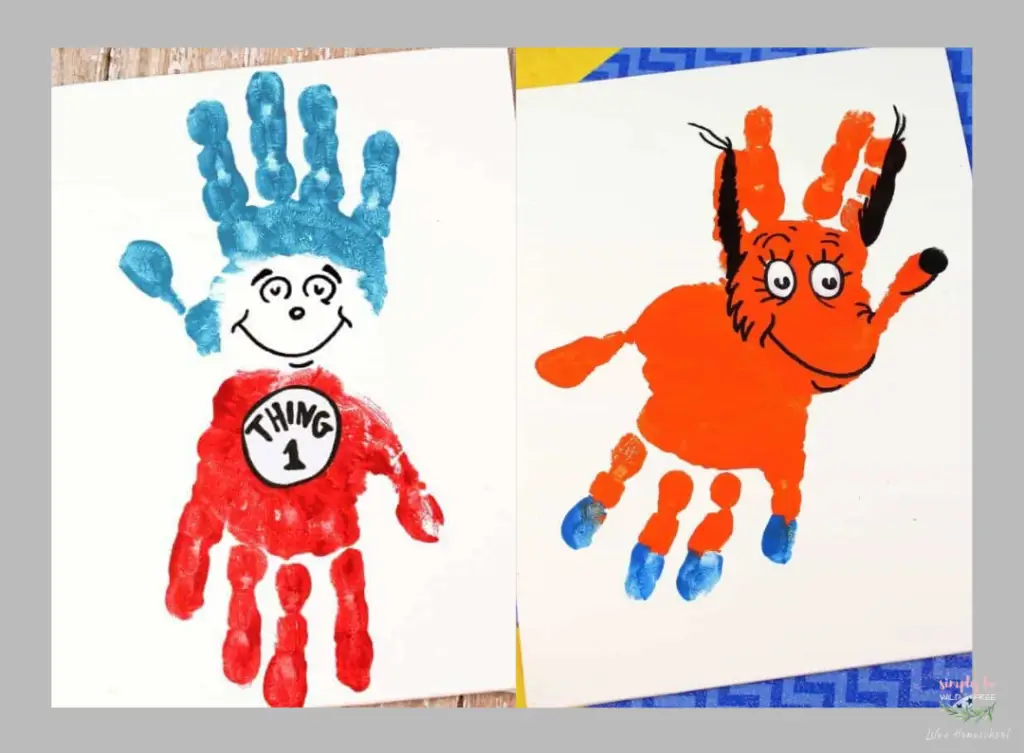 Make thing 1 & thing 2 inspired hand craft (left) or create a Fox in Sox handprint (right) via The Inspiration Edit
Want to take your Dr. Suess game up a notch? Try this Lorax handprint project via Parenting Chaos instead!
Animal Handprint Crafts
Who doesn't love a good animal craft?
Check out these adorable chicken & duck handprint crafts for kids!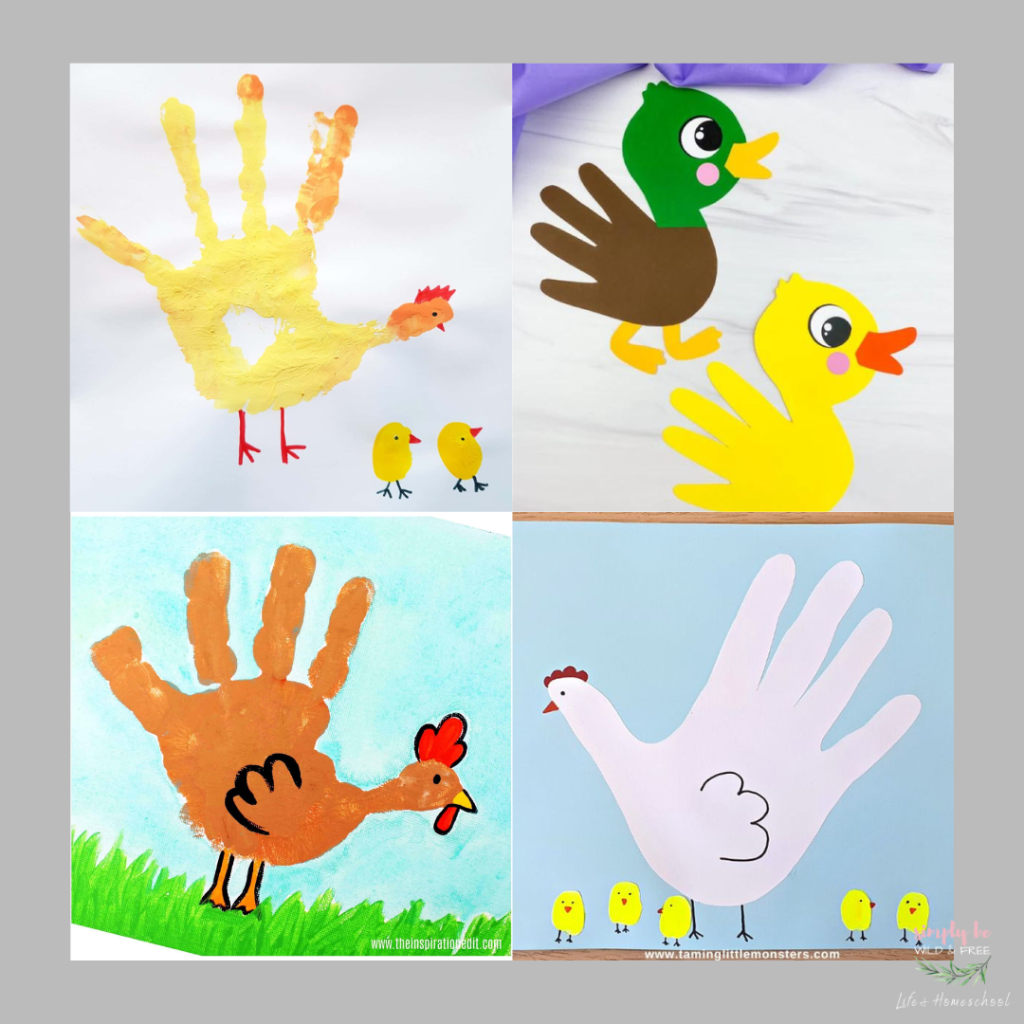 Want a handprint craft without feathers? Try this fun clownfish handprint via Parenting Chaos instead!
Dinos & More
From dinos to unicorns, these adorable hand crafts are perfect for everyday crafting with littles!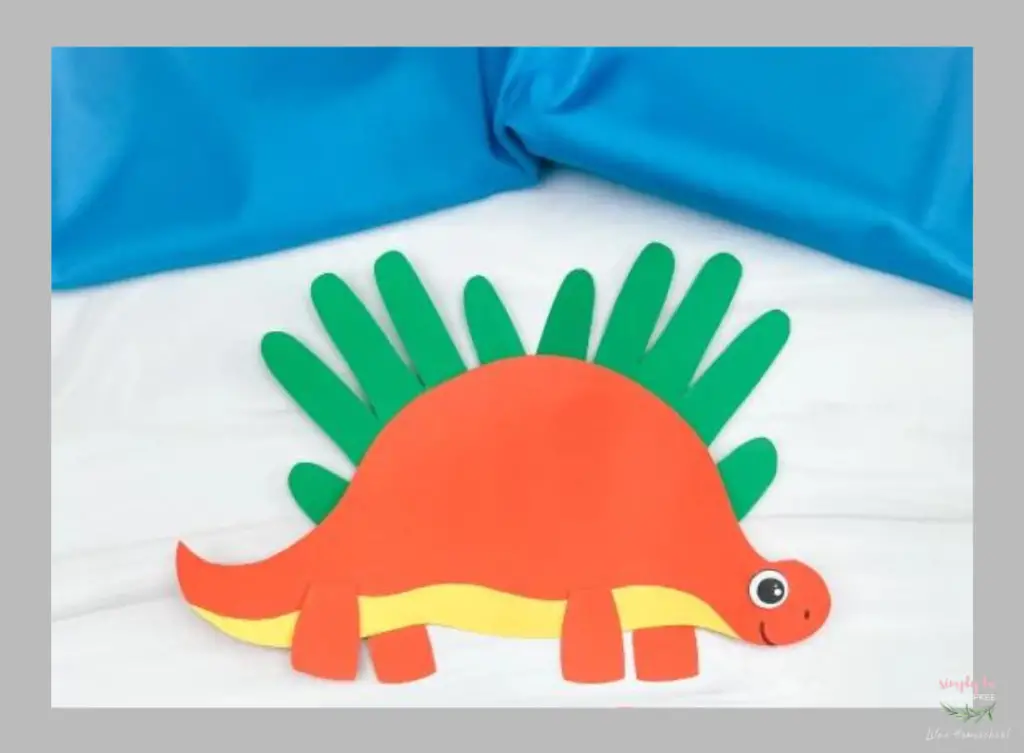 If you have a dino lover in your home, this adorable handprint stegosaurus (above) via Simple Everyday Mom is an absolute must!
So cute, you guys!!
Another fun option for your dinosaur fan? Try this cute dinosaur handprint via Mom Brite.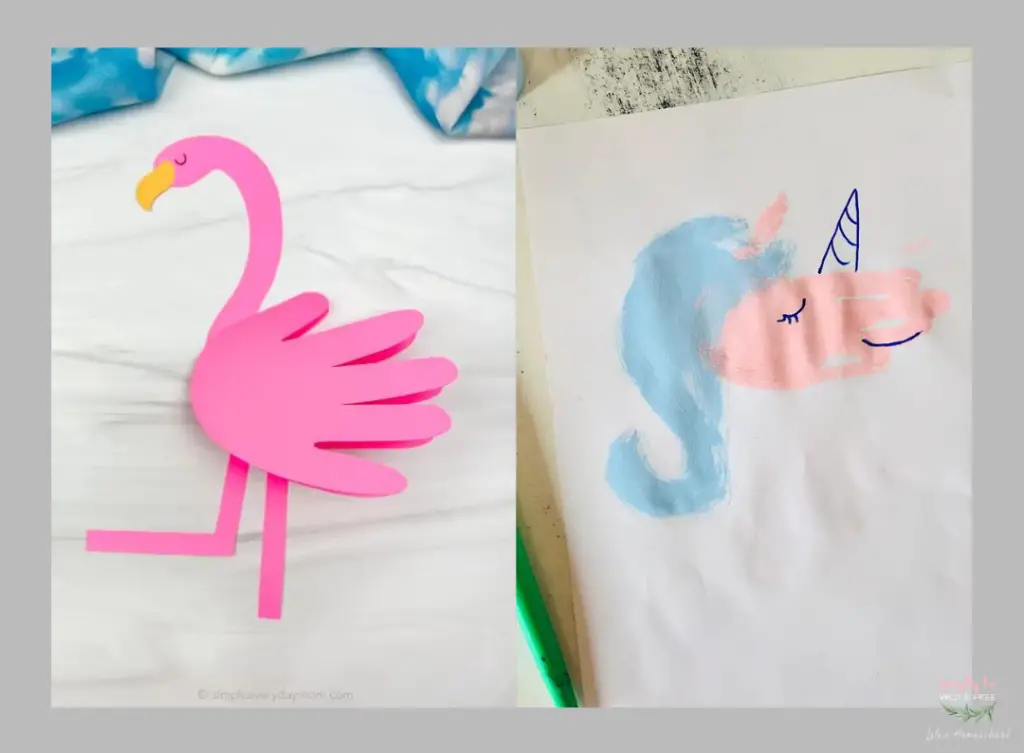 Need something a little more girly? Consider trying this bright pink handprint flamingo (left) or this cute mermaid handprint craft via via Simple Everyday Mom
Another fun option is this adorable unicorn handprint painting (right) via Approaching Home.
So many fun handprint crafts to choose from, and so little time!
Love these fun handprint craft ideas for kids? Share it on social with other parents today!